The all-new 2024 Mazda CX-90 offers a wide array of features and robust performance that make it a competitive option in the SUV market. A suitable mid-size SUV for families of up to eight, this new option from Mazda offers a little something for everyone.
2024 Mazda CX-90 Trims
The 2024 Mazda CX-90 comes available in eight different trims. But even starting with the base trim, the CX-90 comes packed with features and a powerful engine under the hood. Mazda's midsize answer to the CX-5 is one incredible ride no matter which trim you choose. Read on to learn more about the Mazda CX-90 and what each trim has to offer!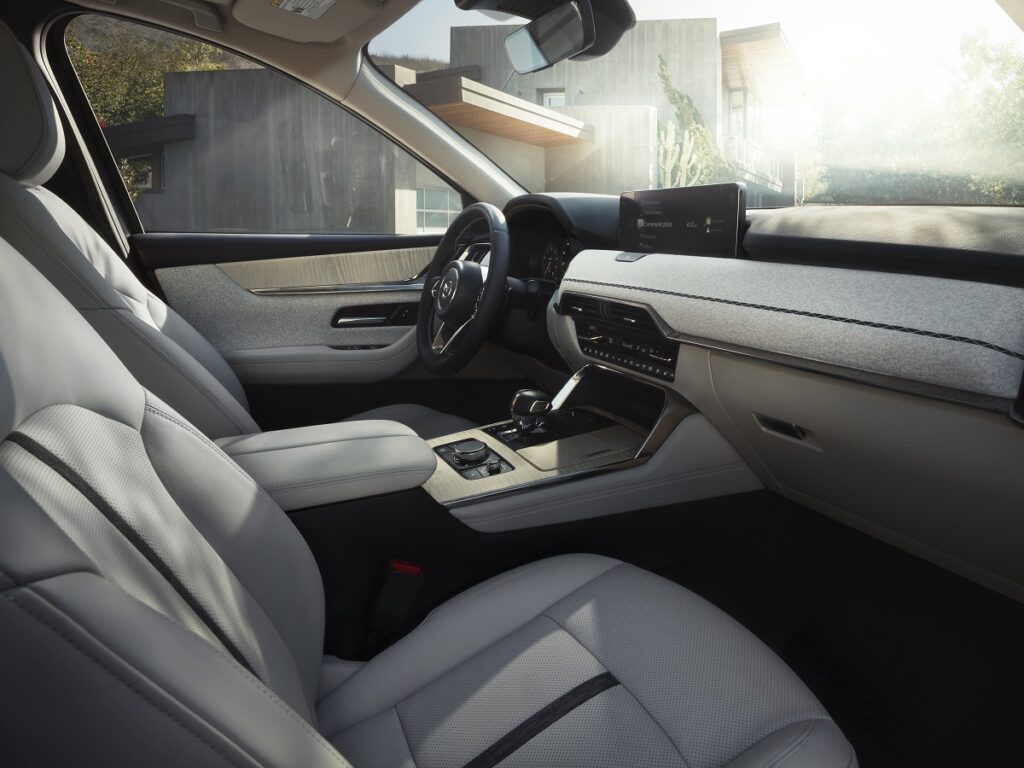 Turbo Select
The Turbo Select trim starts at $39,595.
The base engine is a turbocharged 3.3-liter inline six-cylinder paired with and a 48-volt mild-hybrid system. It generates 280 horsepower and 332 lb-ft of torque. Equipped with an all-wheel drivetrain and eight-speed automatic powertrain, the CX-90 provides satisfying acceleration and speed under most conditions. The vehicle also boasts an impressive fuel economy, getting up to 24 mpg in the city and 28 mpg on the highway.
Its standard features include synthetic leather upholstery, an eight-way power-adjustable driver's seat and manually-adjustable passenger seat. Both the steering wheel and shift knob are leather-wrapped and there's a state-of-the-art digital instrument cluster. The vehicle's 10.25-inch infotainment system allows for wired Android Auto and Apple CarPlay. Listen to HD radio or your own music via Bluetooth on the vehicle's eight speaker stereo. Connect and charge your electronic devices through four USB ports.
Other features include tri-zone automatic climate control, proximity keyless entry and a power liftgate. A suite of standard assistance features includes forward collision warning, blind spot monitoring, driver-attention monitoring and rear cross traffic alert. There's also safety features like forward automatic emergency braking, rear seat alert and vehicle exit warning – just to name a few. And with stop-and-go adaptive cruise control, navigating through freeway traffic has never been easier.
Turbo Preferred
The Turbo Preferred trim, which starts at $43,445, offers a few upgrades from the base model. Instead of synthetic leather, you'll get genuine leather upholstery. Front seats are heated and the passenger seat is power-adjustable instead of manual.
The vehicle also features second-row side-window sunshades, two additional USB ports, and a sunroof.
Turbo Preferred Plus
The Turbo Preferred Plus trim gives you wireless device charging and wireless Android Auto and Apple CarPlay, so you don't have to mess with as many cables in your car. This towing focused trim gives you a higher towing rating (5,000 lbs.) and tow driving mode. This trim starts at $45,900.
Turbo Premium
The Turbo Premium trim, starting at $48,900 comes with more significant upgrades such as a hands-free liftgate, a universal garage door opener, panoramic sunroof, and 21-inch wheels that really elevate your driving experience – no pun intended. The driver's seat offers memory settings and the second-row upgrades to captain's chairs instead of bench seating.
For music lovers, the 12-speaker Bose audio system sounds is a must-have upgrade, and you'll also get satellite radio along with it. Never miss a turn with the vehicle's built-in navigation system.
When it comes to additional driver assistance features, many driver's will appreciate the auto-dimming rearview mirror, front and rear parking sensors, and traffic-sign recognition.
Turbo Premium Plus
Taking things up a level further, the 2024 Mazda CX-90 Turbo Premium Plus gives you luxurious Nappa leather upholstery with ventilated front seats. The passenger seat is eight-way power-adjustable like the driver's seat. Both the steering wheel and second-row seats are heated in this trim.
The biggest changes, however, would have to be the upgraded 12.3-inch touchscreen infotainment system with and 12.3-inch digital instrument cluster. There's also a household power outlet. Additional driver assistance features include front cross traffic alert, reverse automatic emergency braking, and a surround-view parking camera.
Get this trim starting at $52,950.
Turbo S
The Turbo S version features an upgraded powertrain, a turbocharged 3.3-liter inline-six-cylinder and 48-volt mild-hybrid system that generates 340 horsepower and 369 lb-ft of torque. This performance-focused vehicle offers fewer features than the aforementioned trim.
While the Turbo S does offer a 12.3-inch digital instrument cluster, a 12.3-inch infotainment display and power-adjustable driver's seat, the only other things it offers in addition are adaptive headlights.
This trim starts at $51,750
Turbo S Premium
The 2024 Mazda CX-90 Turbo S Premium starts at $56,450. This trim essentially offers the upgraded engine and most of the add-ons of the Turbo Premium Plus trim. However, instead of ventilated front seats and heated second-row seats, you'll get two third-row seats. It also comes with rear pedestrian detection.
Turbo S Premium Plus
Starting at $59,950, the Turbo S Premium Plus trim most notably includes a second-row center console. It adds the ventilated front seats, heated and ventilated second-row seats, and a household-style power outlet, missing from the above-mentioned trim.
(Featured images via Mazda)