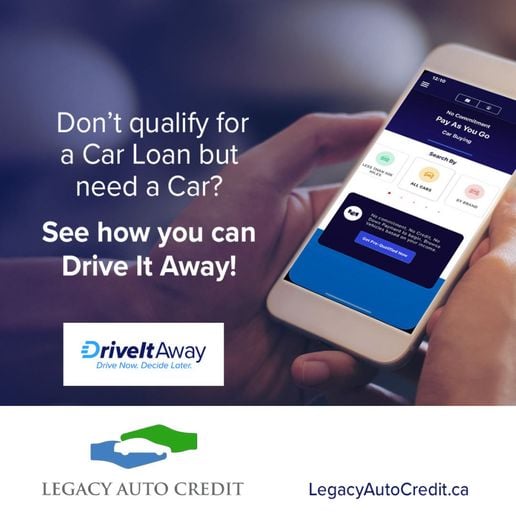 DriveItAway Holdings, Inc. (OTC Marketplace: DWAY), an industry leader in automotive industry new-mobility platforms with a subscription-to-purchase technology, has partnered with Legacy Auto Credit, specialists in helping people who are credit-challenged to drive a new or used vehicle based in Ontario, Canada.
"For decades, Legacy Auto Credit has helped those who are credit-challenged to acquire a new or used vehicle. We are proud to welcome them as a key partner for DriveItAway's unique subscription to ownership platform to expand our service into Canada, enabling more clients to drive their vehicle of choice," says John F. Possumato, founder and CEO of DriveItAway.
"This marks a milestone for DriveItAway, as we now, for the first time, expand our platform outside of the United States with a premier partner experienced in helping people transform their lives by improving credit scores."
The turnkey DriveItAway consumer application and platform were created for car dealers and finance organizations to enable all consumers, regardless of credit score or cash down payment, to drive and then buy the vehicle of their choice. The DriveItAway platform is also suited for curious but hesitant electric-vehicle buyers, since, by design, it spreads out the upfront purchase cost of the vehicle while they drive on a subscription. It serves as an "unlimited test drive" with no long-term financial obligation for the driver but with the option to purchase available at any time, with most of the pay-as-you-go money paid applied toward the purchase price.
"We are very excited to partner with DriveItAway and be the organization that opens up the subscription-to-ownership platform in Canada," said Wayne Henhoeffer, general manager of Legacy Auto Credit. "We see great potential in market acceptance and look forward to scaling this service rapidly to help our subprime clients, first in our greater Ontario market, and then expanding throughout Canada."
Legacy Auto Credit works with people who have experienced financial difficulties that limit them from being approved for a vehicle loan. Legacy specializes in helping people who are struggling to get auto credit for a new or used vehicle. Legacy's "Credit Helpers" program provides debt solutions and credit-rebuilding tools to help reduce debt and improve credit scores.
Originally posted on F&I and Showroom