Stellantis on Wednesday revealed some technical highlights of its STLA Medium platform, one of four dedicated EV platforms in development for future electric models.
The automaker revealed its STLA platform strategy two years ago this month, unveiling STLA Medium alongside the STLA Small, STLA Large, and STLA Frame platforms, but up until now it hasn't released much more information about the technical layout. It's now confirming some details for the STLA Medium platform.
STLA Medium is designed for mid-size cars in what is known in the industry as the C- and D-segments, a Stellantis press release said. The automaker noted that it currently has 26 nameplates globally in those segments, and will have manufacturing capacity for up to two million STLA-Medium-based vehicles per year spread across several plants, with the first vehicles coming from Europe.
Stellantis STLA Medium platform
A Standard Pack and Performance Pack will be available, offering up to 310 miles and 435 miles of range, respectively, as measured on the European WLTP testing cycle (corresponding U.S. EPA figures will be lower). Stellantis didn't break out specific capacity numbers, but said vehicles based on the STLA Medium platform will have a maximum 98 kwh of usable energy and will target energy consumption of less than 14 kwh per 100 km.
Stellantis is sticking with a 400-volt electrical architecture, rather than 800-volt, but is still aiming for a 20% to 80% charge in 27 minutes with DC fast charging, a rate of 2.4 kwh per minute, according to the company.
The platform can accommodate single-motor front-wheel drive or dual-motor all-wheel drive powertrains, with targeted outputs between 214 hp and 382 hp.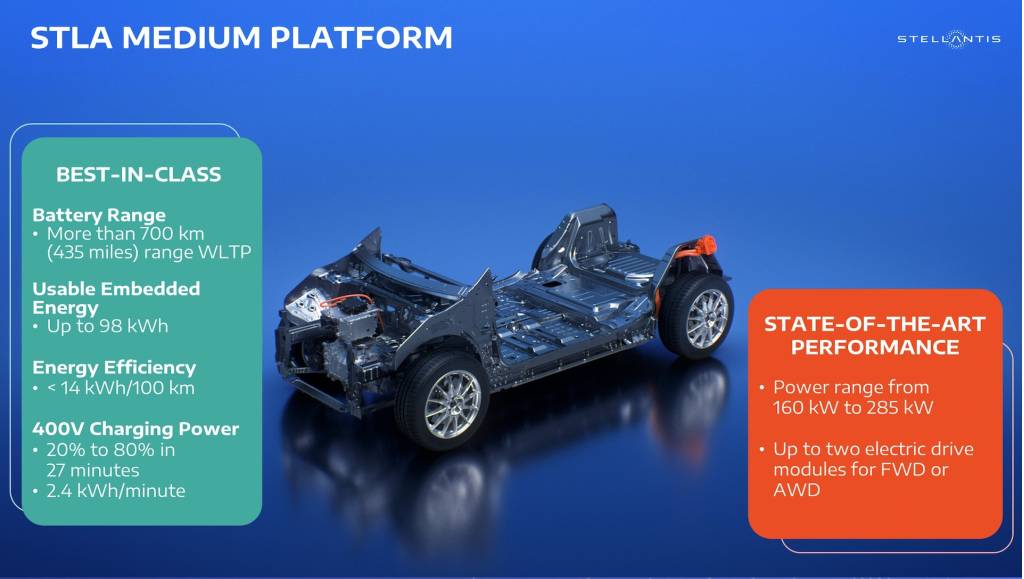 Stellantis STLA Medium platform
Planned body styles include "passenger cars, crossovers, and SUVs," according to Stellantis. The platform can accommodate wheelbase lengths of 106.2 inches to 114.1 inches, overall lengths of 169.2 inches to 192.9 inches, plus ground clearance of more than 8.6 inches for off-road vehicles.
Off-road competence will likely be important, as one of several planned Jeep electric SUVs could be based on the STLA Medium platform. Stellantis plans to launch 25 EVs in the U.S. by 2030, including a Dodge electric muscle car based on the STLA Large Platform and a fully electric and range-extended Ram electric truck. And STLA Medium may form the basis for heart-of-the-market crossovers from Peugeot, Citroën, and Fiat in Europe.
The company has acted to localize production of core systems for these platforms—with drive modules from Indiana and batteries potentially from Indiana and Canada. Last week the automaker also gave a glimpse of how it plans to aggregate EV charging information, but it didn't yet say whether it might jump to the Tesla NACS standard.