Ford and GM recently both announced plans to install the Tesla NACS port in future vehicles, and together, this could mark the start of a more effective electric vehicle charging infrastructure in the U.S. But things may look even more uncertain before they get better.
Ironically, the shift to NACS means GM and Ford both abandoning a standard that they helped establish.
The CCS standard was started in 2011 with collaboration between U.S. and German automakers, and it later became overseen by CharIn, a group of automakers, suppliers, and other stakeholders. GM was the first automaker to install the CCS1, or SAE Combo 1 version of the fast-charging standard for America in a production vehicle—the 2014 Chevy Spark EV. The BMW i3 was also one of the first vehicles offered in the U.S. with the charging standard.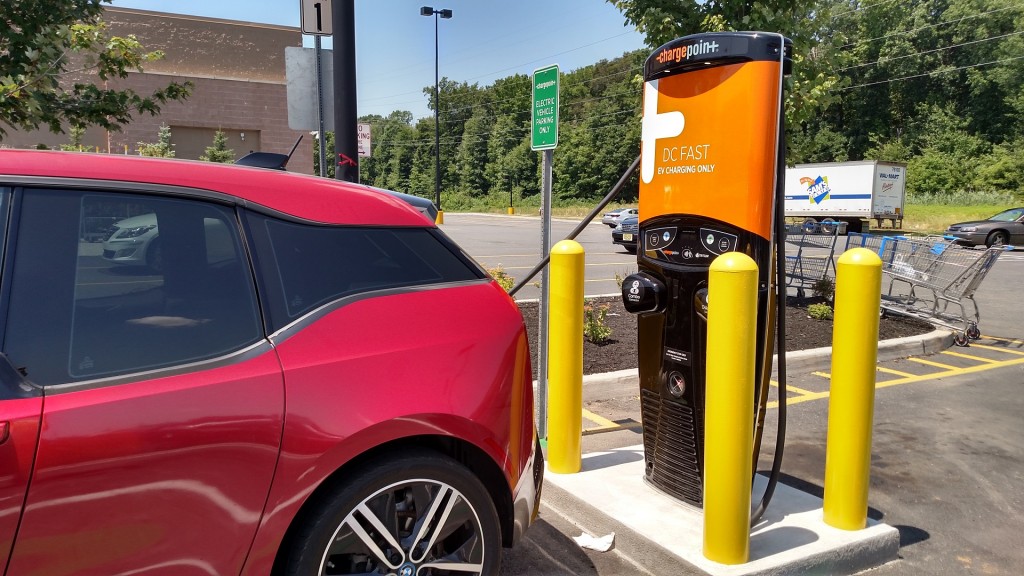 2014 BMW i3 REx fast-charging at Chargepoint site, June 2016 [photo: Tom Moloughney]
By the time the CCS fast-chargers were being installed in significant numbers, in 2015, CHAdeMO fast chargers and Tesla Superchargers were already far more widely available in the U.S. West Coast. With Tesla seen as a proprietary standard, many automakers teetered between CHAdeMO and CCS, ultimately landing on the side of CCS. Volvo plugged into CCS in 2016, for instance, and Hyundai and Kia committed to CCS in 2018, after trying a bit of both with its EVs up until then.
In July of 2020, Nissan confirmed it planned to abandon the CHAdeMO fast-charging standard with its Ariya crossover SUV and migrate to CCS-format DC fast-charging.
That, combined with the perceived technical superiority of CCS, with 800-volt, 350-kw charging capability enabling the Porsche Taycan, for instance, made CCS seem like the future. So did the shift of Tesla to CCS in Europe.
Tesla Supercharger
That said, in 2023 there remain three fast-charging standards for electric vehicles in the U.S.: CHAdeMO, CCS, and Tesla (also called NACS, or the North American Charging System). And as NACS heads into V4, it may soon be able to charge those 800V vehicles originally intended for CCS at their peak rate.
Just two new vehicles are sold with the CHAdeMO fast-charge port: the Nissan Leaf and the Mitsubishi Outlander Plug-In Hybrid.
Among EVs, it's unlikely there will be a single new EV with the CHAdeMO port past mid-decade when the current Leaf is expected to go out of production. A successor is likely to be made starting in 2026.
But between CCS and NACS, that leaves two dueling electric-car fast-charging standards for the foreseeable future. Here's how they compare now in number of ports in the U.S.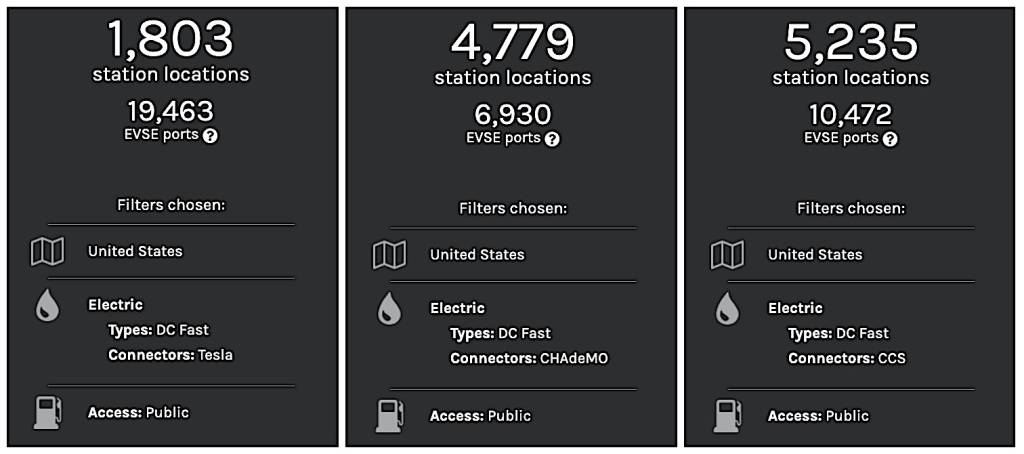 Tesla (NACS) vs CHAdeMO vs CCS – U.S. Alternative Fuels Data Center, 6/16/2023
Ford and GM pivoted to a new standard that's at far fewer charging stations than the current/old one.
According to this current Department of Energy data there are far more fast-charging stations offering the CCS connector—5,235 for CCS, versus 1,803 for the Tesla connector.
Technically, the DOE lays it out in ports rather than connectors—representing the number of vehicles that can be charged simultaneously.
That said, there are more Tesla/NACS ports in the U.S. than all the CHAdeMO and CCS ports combined.
Green Car Reports has looked at this balance of each standard at regular intervals over the years. Approximately two years ago CCS hadn't yet caught up to CHAdeMO in the number of stations. Two years before that, in 2019, CHAdeMO was still the clear winner over CCS. A year before that, in 2020, CHAdMO was still the champion in availability by stations, while it was starting to lag by outlet.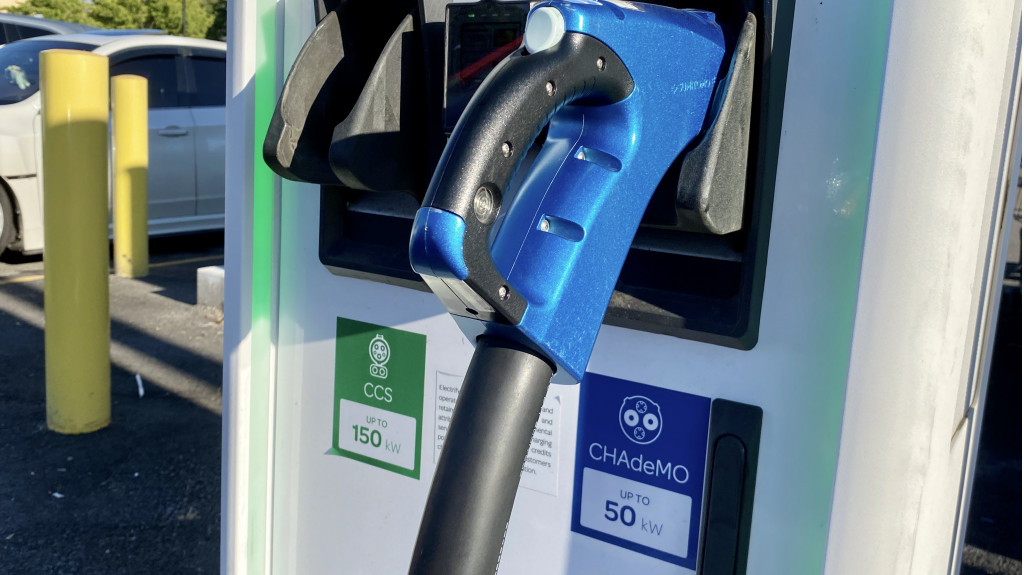 Electrify America hardware with CCS and CHAdeMO – Hood River, Oregon – July 2020
The CHAdeMO connector, which keeps road-tripping Nissan Leafs and a few other used EVs charged up, offers nearly as many connectors in all. And while most CHAdeMO connectors don't charge above 50 kw (a limited number of them charge at 125 kw), there are also far more stations offering them than Tesla connectors.
This past week has brought a groundswell of charging hardware makers and charging networks embracing—to various levels—the NACS standard. Stellantis may also soon be on board. It told Reuters this past week: "At this time, we continue to evaluate the NACS standard and look forward to discussing more in the future,"
The White House hasn't yet clarified whether and how CCS adapters for NACS will prove interoperability in order for Tesla or other operators prioritizing NACS to tap into federal funds, and the Joint Office that interprets rules for the federally funded charging infrastructure hasn't yet replied to requests for detail.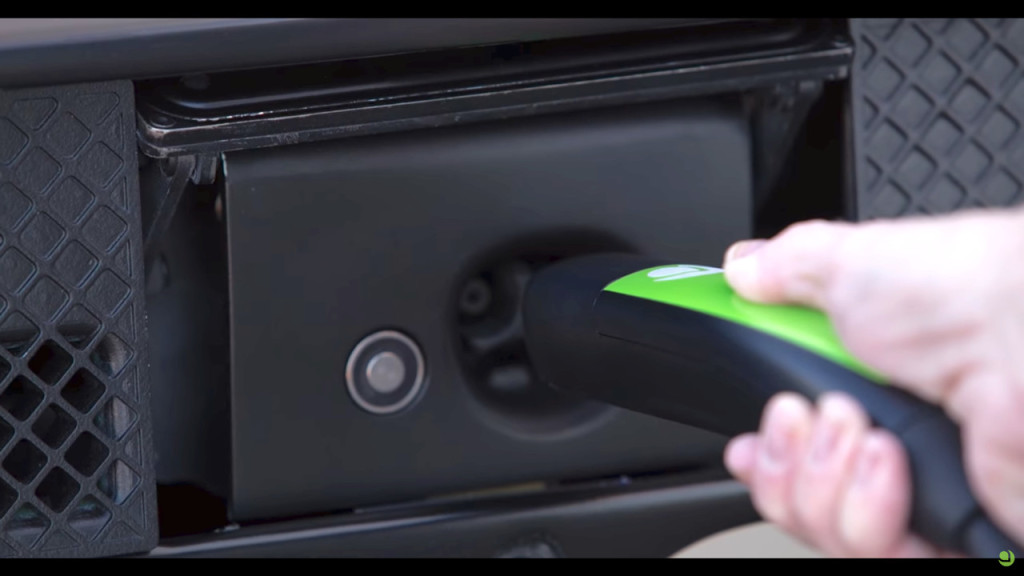 Aptera using Tesla NACS connector
CharIn, the group behind CCS, this past week put out a statement declaring that "NACS is not yet a standard and does not provide an open charging ecosystem for industry to build upon." It suggested NACS be put through a standards process through the group—a request that, given Tesla's control over its standard, seen as superior for its relative simplicity, seems unlikely.
While the future of the standards themselves may still be in upheaval, Tesla has won, and now we know what the American charge port looks like.