The Aston Martin Vantage is a sleek and powerful sports car that is sure to turn heads on the road. Known for its refined British design and performance, the Aston Martin Vantage is pure luxury that offers both speed and style. You don't have to be James Bond to enjoy this impressive sports car!
2023 Aston Martin Vantage Trims
The Aston Martin Vantage is offered at two different trim levels with two different configurations, so you can find just the right model for you. With powerful engine options and cool features at every level, the Aston Martin Vantage is worth every penny of its $100K+ price tag. Read on to learn more about the 2023 Aston Martin trim levels in our comparison guide…
Vantage
The 2023 Aston Martin Vantage is offered as either a coupe or convertible. The coupe starts at $146,986, while the convertible starts at $158,186. Most models at this trim level feature a 4.0-liter twin-turbo V8 engine that generates a whopping 503 horsepower and 505 lb-ft of torque. This is paired with an eight-speed automatic. That might be disappointing news for those who prefer manually, but it's a smooth transmission, nonetheless.
The vehicle performs incredibly well in most respects, boasting superb acceleration and maneuvering. The vehicle can jump from 0 to 60 mph in just 3.6 seconds. The V12 edition, limited to only 333 models and now sold out, was even better. Its engine generates 690 horsepower and 555 lb-ft of torque with a slight acceleration improvement of 3.4 seconds. On top of that – a top speed of 200 mph.
Fuel economy isn't terrible for a car like this, getting 18 mpg in the city and 24 mpg on the highway, but that's not really the point of a car like this, so let's move on…
At its base level, the Aston Martin Vantage comes loaded with features that should satisfy most drivers. The infotainment system includes an 8.0-inch LCD screen and a basic audio system. Smartphone integration, USB ports, Bluetooth, HD radio and navigation are some of the features that come standard. Other features include dual-zone automatic climate control, push-button start, and heated memory seats.
As for safety features, you'll get essential like a back-up camera, blind spot monitoring, braking assist, front and rear parking sensors, a 360-degree parking camera and cruise control.
F1 Edition
The F1 Edition ups the luxury with some special edition graphics, black and chrome accents, racing-styled seats with contrast stripes and stitching, and a lower body kit, among other things.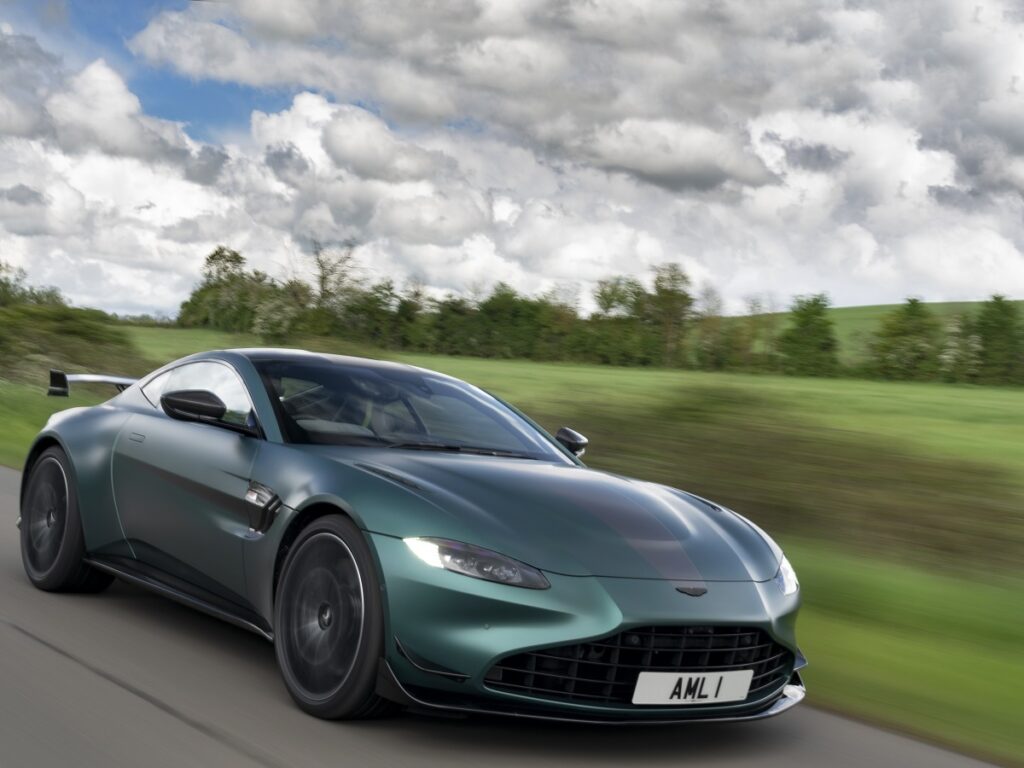 (Images via Aston Martin)
The F1 features a carbon fiber roof and upper to reduce vehicle weight, allowing the F1 version to generate 527 horsepower. The vehicle also features a premium audio system, a unique grill and cast-iron brakes. This trim starts at $171,586.
Conclusion
The Aston Martin Vantage offers sophistication and power in car that embodies the luxury and performance. With its stunning design, high-quality materials, and exceptional driving experience, the Vantage stands out. However, if you are looking for a luxury-performance car that's a little less pricey, there are plenty of other options.