The 2023 Cadillac CT5 is the fourth iteration of one of Cadillac's newest models. It offers a relatively low starting price and a ton of standard features for your money.
CT5 Trim Options
While the base engine is somewhat lacking, you do have the option for some excellent upgrades. The CT5 offers an array of standard safety features and excellent performance across the board. Along with that are five other trims to choose from.
Luxury
With base model alone, the Cadillac brand want to make sure you feel like you are getting a luxury car, so they are putting it in the name. The CT5 Luxury has a starting price of just $38,195 and for that amount, you are getting a whole lot. The vehicle comes equipped with a 237-horsepower turbocharged four-cylinder engine and a 10-speed automatic transmission. It's not the best powertrain the CT5 has to offer but it's not terrible. Rear-wheel-drive is also standard. On the upside, it offers the best fuel economy, getting 23 mpg in the city and 33 mpg on the highway.
When it comes to features, you certainly won't feel short-changed by its 10-inch touchscreen infotainment system nor the nine-speaker audio system. Other Standard features include wireless Apple CarPlay, Android Auto and wireless device charging. HD Radio, satellite radio, and a Wi-Fi hotspot are also standard. Connect your devices via Bluetooth or three USB ports. Comfort and convenience features include dual-zone automatic climate control, synthetic leather upholstery, push-button start and proximity keyless entry, among others.
The base CT5 doesn't hold back on safety features, you get the essentials like blind spot monitoring, forward automatic emergency braking, forward collision warning and pedestrian detection, lane departure warning, lane keeping assist, rear cross traffic alert, and rear parking sensors. On top of this, the vehicle features the GM-exclusive Teen Driver and Safety Alert Seat systems.
Premium Luxury
The Premium Luxury trim starts at $42,695. With this trim you'll get genuine leather upholstery and ambient interior lighting. As for added safety, there's standard front parking sensors and adaptive cruise control.
For an additional $3,500, you can opt for the twin-turbo V6 engine upgrade that generates 335 horsepower.
Sport
The Sport model starts at $43,895. Options from the previous trims carry over. The main differences with this model are the synthetic leather performance front seats with larger side bolsters and 19-inch wheels. All-in-all, this one is probably not worth the extra cost to be honest.
CT5-V
The CT5 V trim starts at $50,995. This comes standard with the twin-turbo V6 engine and several other performance upgrades such as adaptive suspension, Brembo brakes, a limited-slip rear differential and launch control.
Most optional features carry over from the previous trims, but one added standard feature worth noting is the 15-speaker stereo.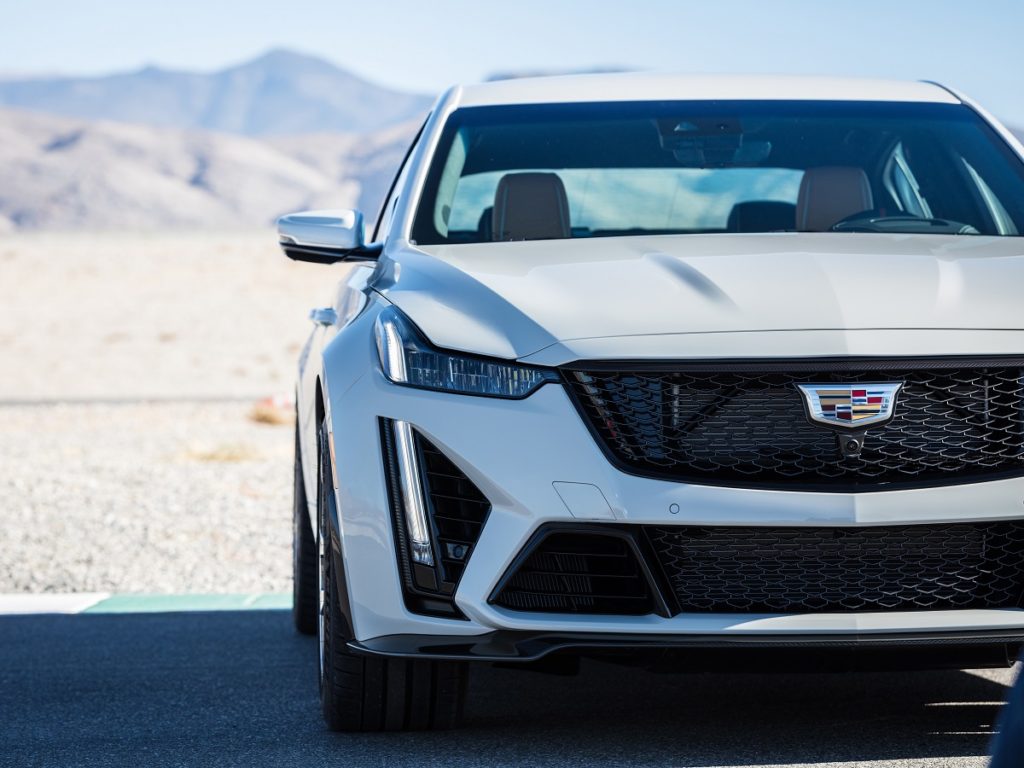 CT5-V Blackwing
The top-of-the-line CT5-V Blackwing is easily the most expensive trim starting at a whopping $90,995. That's over $30K over the previous trim level! Why is it so expensive?
Well, for one, you get an a 668-horsepower supercharged V8 engine and a six-speed manual transmission. You'll get genuine leather upholstery, heated, ventilated and massaging front seats, and a heated steering wheel in the interior. Furthermore, there's a navigation system built-in, as well as a digital gauge cluster, heads-up display and surround view parking camera system. The audio system is upgraded to a premium 16-speaker stereo.
It will be up to you to decide whether this special edition is really worth your money. Keep in mind that even at that price, you won't get everything. The 10-speed automatic transmission and high-performance carbon-ceramic brakes are both optional.
Nevertheless, the CT5-V Blackwing offers the most luxurious experience and the best performance out of all available trims. It is truly the model for those who love to drive.
(Featured Image via Cadillac)