The Jeep Wrangler is the quintessential off-road SUV. Introduced in 1986, the Wrangler has become one of the most recognizable cars on the road. Everything from the design to the name itself sparks a vivid picture in the heads of consumers. It's like the Beetle of Jeeps. And each year since it was first produced, it just keeps getting better and better.
2023 Jeep Wrangler Comparison
The 2023 Jeep Wrangler dazzles with incredible off-road performance, a spacious interior and impressive specifications. Discover engine specs, comfort features, safety features and much more as we compare all six available trims in the Jeep Wrangler lineup.
It should also be noted that the Wrangler is more customizable than ever before. Not only are there a dozen of color options to choose from, but you'll also have a variety of optional features and packages too.
Sport
The Wrangler Sport is the base trim of the 2023 Jeep Wrangler. It boasts a 285-horsepower V6 engine paired with a six-speed manual transmission and also has four-wheel drive. Other features include a two-speed transfer case, skid plates, a Sunrider folding soft-top. For $1,500, you can opt in for an eight-speed automatic transmission, or for $3,000 – eTorque mild-hybrid assist system with an eight-speed automatic.
In the interior are manual windows and door locks, a push-button start ignition, a rearview camera and three 12-volt power outlets. The infotainment system consists of a 7-inch display, Bluetooth, a USB port and an eight-speaker audio system. Air conditioning and smartphone integration features (Android Auto, Apple CarPlay) are now standard with the sport model.
Get the Sport model starting at $30,295 for two-door model and $34,165 for the four-door model. However, this trim comes with plenty of other engine options, such as a 270-horspower turbocharged four-cylinder engine and a 260-horsepower, 3.0-liter V6 turbodiesel engine with an eight-speed automatic transmission. Among the optional features are a Class II tow hitch receiver, all-terrain tires, keyless entry and leather upholstery. All of these things can add on to your overall cost.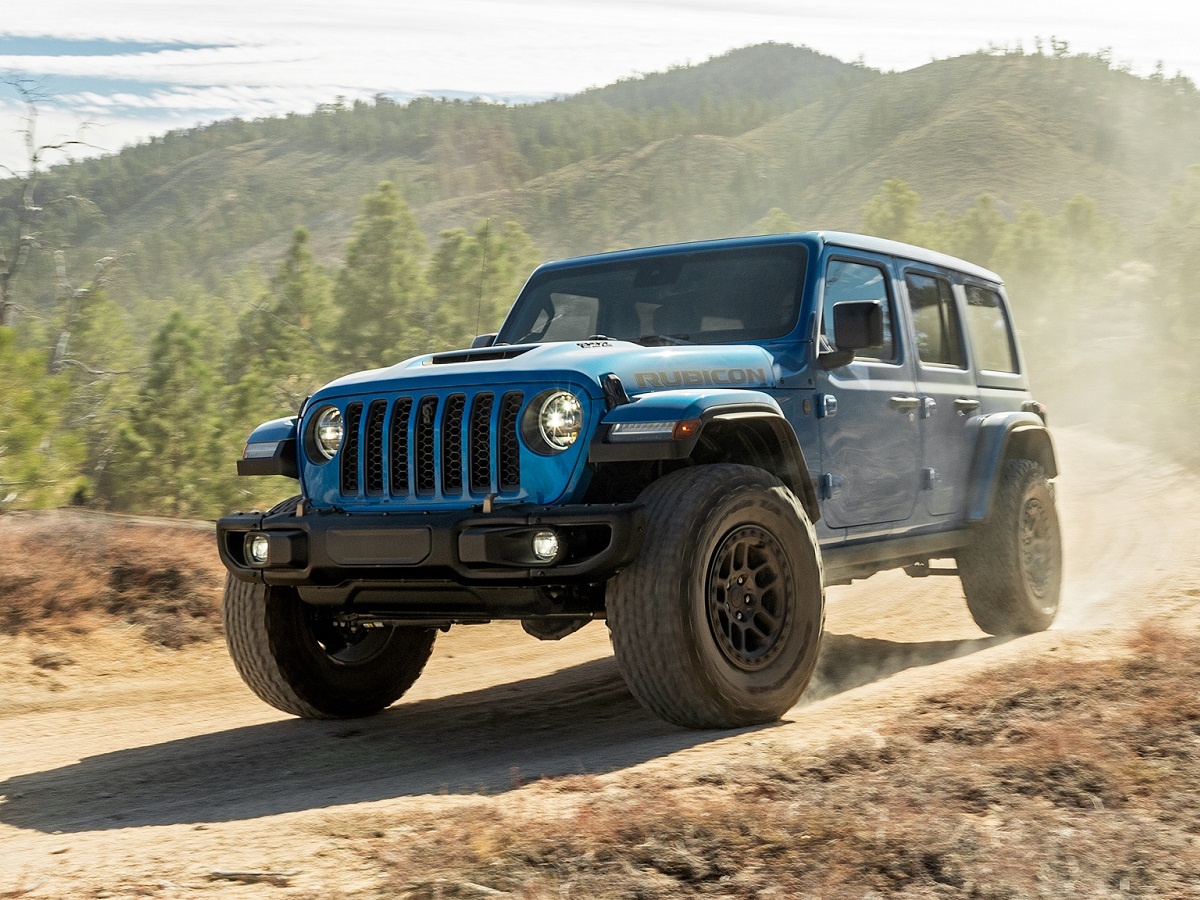 Willys Sport
Willys Sport trims start at $32,6055 for two-door models and $36,475 for the four-door model. The trim adds aesthetic features like a Willys hood decals, as well as 32-inch mud tires, side steps and a limited-slip differential. With the Xtreme Recon package, you can add on 35-inch tires and an upgraded suspension.
Sport S
The Sport S starts at $33,495 for the two-door model and $37,365 for the four-door model. It comes standard with air-conditioning, power windows and locks, and remote keyless entry. Most of the same features, powertrains and transmissions are carried over from the Sport trim. A 7-inch touchscreen, Android Auto and Apple CarPlay are all standard.
There are, however, several optional features and packages you can choose from that are not available with the Sport trim. For one, you can get a nine-speaker Alpine stereo or remote start. A cold weather package adds remote start as well as heated front seats and a steering wheel. Other features include a superior 8.4-inch touchscreen infotainment system, as well as automatic climate control, navigation, HD radio, a Wi-Fi hotspot, and a 120-volt power outlet. In four-door models, you can add a superior 8.4-inch touchscreen infotainment system with HD radio, navigation and a Wi-Fi hotspot.
The Safety Group adds to your vehicle a suite of useful safety features. Blind spot monitoring, rear cross-traffic alert and parking sensors are all part of this package. The Jeep Advanced Safety package adds forward collision warning, adaptive cruise control and automatic emergency braking.
Willys
You can get the Willys trim starting at $36,890 for the two-door model or $40,760 for the four-door. This trim adds fog lights and LED headlights, while combining the features of both the Sport S and Willys Sport.
Sahara
With the four-door Sahara, starting at $44,320, you get plenty of optional features to choose from and superior standard features too. The 8.4-inch touch display infotainment system, additional USB ports, navigation and dual-zone automatic climate control are standard features. A nine-speaker stereo, HD radio, and side steps are other standard pieces of equipment with this model as well. This model also includes 18-inch alloy wheels.
It's also worth noting that this is the first trim level to offer the 375-horsepower 4xe plug-in-hybrid system that boasts a turbocharged 2.0-liter four-cylinder engine with electric motor.
Rubicon
The Rubicon starts at $42,100 for the two-door model and $46,000 for the four-door model, It includes most of the features from the Sahara trim in addition to rock rails, a sway bar, locking front and rear differentials, and upgraded 4WD and transfer case. The Rubicon also comes equipped with heavy-duty shock absorbers, rock sliders, 17-inch bedlock wheels, and 33-inch all-terrain tires.
High Altitude
The High Altitude trim starts at $53,415. This model includes all of the features in the Sahara, as well as leather upholstery, a hard top, 20-inch wheels, side steps and additional safety features. The added safety features include blind spot monitoring, rear cross traffic alert and rear parking sensors.
Rubicon 392
If you are looking for the most powerful Wrangler of the bunch, you'll want the Rubicon 392, which starts at $79,995. Like the Sahara, it is a four-door only model. The Rubicon 392 offers unique interior and exterior accents, steel front and rear bumpers and performance shocks. The most impressive inclusion, however, would have to be the V8 engine that delivers a whopping 470 horsepower and 470 lb-ft of torque.
As for the interior, you'll get leather upholstery, a heated steering wheel, and heated front seats. Safety features include adaptive cruise control, forward collision warning, and automatic emergency braking.