The all-new 2023 Nissan Ariya joins Nissan's electric lineup, which proves a worthy contender in the electric SUV market. The Nissan Airya offers a comfortable ride and long driving range that make it a solid choice for families looking to reduce their carbon footprint.
2023 Nissan Ariya Trim Comparison
The 2023 Nissan Ariya is offered in seven different trims with additional features at every level. Driving range and horsepower vary at each level as well. With that said, let's take a look at the differences in our 2023 Nissan Ariya trim comparison guide.
Venture+
The 2023 Nissan Ariya Venture+ trim starts at $47,190. The vehicle boasts an 87-kWh lithium-ion battery and electric motor that generate 238 horsepower. The Venture+ only comes in front-wheel drive and features 19-inch wheels. When fully charged, you can get around 304 miles of range.
There's no shortage of standard features with the Ariya. Seats may be basic cloth upholstery and manually adjustable, but the rear seats are split-folding. The vehicle comes equipped with a 12.3-inch touchscreen infotainment system and a 12.3-inch digital gauge cluster. Navigation, smartphone integration, satellite radio, and HD radio are all supported. You can even integrate Amazon Alexa, or nearly any mobile device via Bluetooth.
Listen to your favorite tunes through a standard six-speaker audio system. Set your vehicle's temperature to your exact preferences with dual-zone automatic climate control. Ambient lighting, keyless entry, and push-button start are also welcome standard features.
Of course, that's not all. The Nissan Ariya comes with a huge suite of driver assistance features. Some of these features include blind-spot monitoring, front and rear parking sensors, rear cross-traffic alert and lane departure warning, as well as forward and reverse collision warning. Semi-autonomous features include lane-keeping assist, forward automatic emergency braking, traffic-sign recognition, and adaptive cruise control with automatic lane centering.
Engage
If you are looking for something slightly more affordable, the Engage starts at $43,190. On the downside, this model features a smaller 63-kWh battery, generating only 214 horsepower and a 216-mile range. However, it does add synthetic leather upholstery, heated front seats and heated rear seats. Additionally, you'll get a power-adjustable driver's seat, heated steering wheel, a head-up display, and a power-sliding center console.
Now, if you want all those features but in a vehicle that packs a bigger punch, you can opt-in for the all-wheel drive model for $47,190. It gives you 335 horsepower but gets only a 205-mile range, so it's definitely a trade-off.
Engage+
In terms of features, the Engage+ is virtually the same as the Engage. You'll get everything in the Venture+ trim and everything additional with the Engage trim. The only real difference with this model is that it features an 87-kWh battery and comes with all-wheel drive. This version generates 389 horsepower and has a 270-mile range.
The 2023 Nissan Ariya Engage+ starts at $51,190.
Evolve+
Every variation of the Nissan Ariya Evolve+ features an 87-kWh battery. For $50,190, you can get the front-wheel drive option or for $54,190, the all-wheel drive option. The all-wheel drive model offers greater horsepower, generating 389 horsepower, while the front-wheel drive model offers better range – 289 miles when fully charged.
The Evolve+ does offer additional features too. For one, you'll get a power-adjustable front passenger seat. A panoramic moonroof, wireless device charging, power liftgate and a power-retractable tray table are other great additions. Furthermore, when it comes to further driver assistance features, the Evolve+ boasts a rear-camera mirror, a surround-view parking camera system and rain-sensing windshield wipers.
Empower+
The 2023 Nissan Ariya Empower+ starts at $53,690. The Empower+ offers only with a 87-kWh battery and front-wheel drive, generating 238 horsepower and 289 miles of range. The biggest difference between this trim and the trims mentioned above are the inclusions of hands-free parking assist and hands-free highway driving mode – two autonomous driving modes.
Premiere
Next, The Premiere trim is a limited edition model starting at $54,690 that is virtually the same as the Empower+ but with some unique styling elements.
Platinum+
Finally, the top-of-the-line Platinum+ trim starts at $60,190. It comes with an 87-kWh battery and all-wheel drive, generating 389 horsepower while having a range of 265 miles. This trim gives you everything the Empower+ model offers but with some notable upgrades.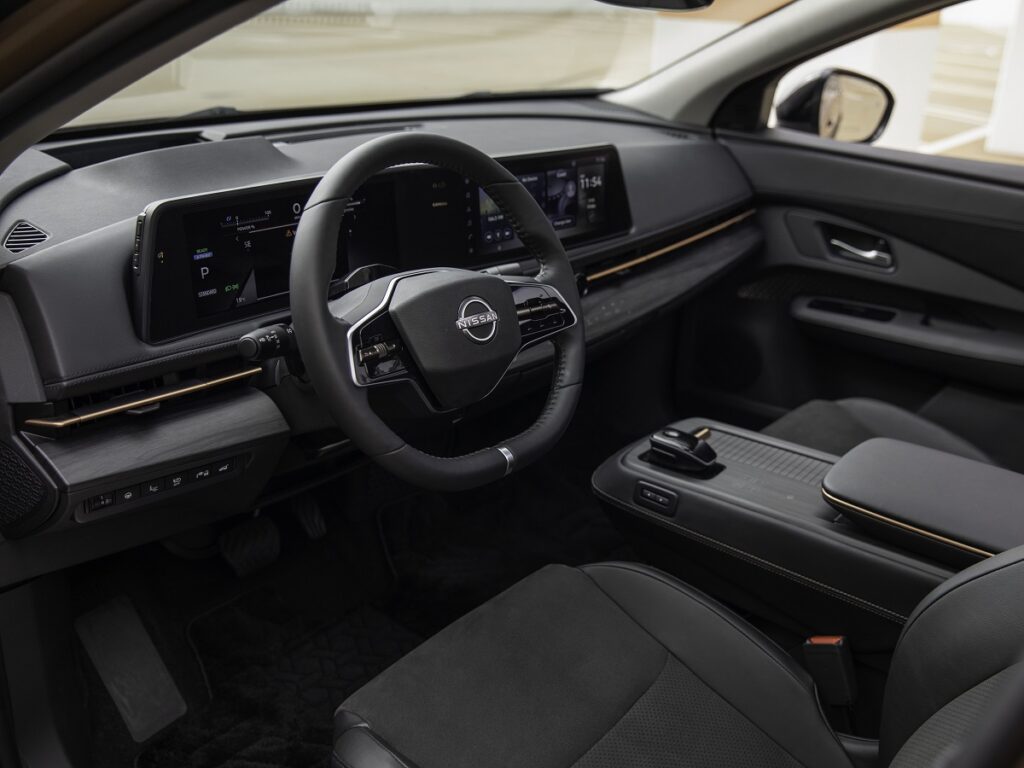 Here, you'll get luxurious genuine leather upholstery. A 10-speaker audio system, ventilated front seats and a hands-free power liftgate are standard as well.
Other Notes
No matter which model you choose, the spacious Ariya provides comfortable seating for up to five passengers. Cargo space is somewhat limited, however, giving you only 22.8 cubic feet of cargo space behind the rear seats and 59.7 cubic feet with the seats folded.
(Featured images via Nissan)