The Volkswagen ID.4 returns after its introduction to the VW family back in 2021. The 2023 VW ID.4 is one of the finest electric SUVs on the market, with a long list of standard safety features, and an attractive interior. Combined with its satisfying ride, each of the Volkswagen ID.4 trims offers tremendous value for its price.
2023 Volkswagen ID.4 Trims
The 2023 Volkswagen ID.4 is offered at three different trim levels. From the base-level S trim to the S Plus trim, all of the 2023 Volkswagen ID.4 trims can be purchased with standard rear-wheel-drive or available all-wheel-drive. On top of that, you can upgrade to a larger battery, designated as the Pro model. With that said, let's take a closer look at each of the trim levels in our comparison guide…
Standard/Pro
The 2023 Volkswagen ID.4 Standard trim starts at $38,995. The base trim features rear-wheel drive, powered by a 62-kWh battery and single electric motor that generates 201 horsepower and 229 lb-ft of torque.
With the 62-kWh battery, you'll only have a range of about 209 miles. Ultimately, we recommend purchasing the Pro model with rear-wheel-drive for $43,995. With the 2023 VW ID.4 Pro trim, you can get a range of up to 275 miles thanks to a larger 82-kWh battery. For an additional $3,800, you can upgrade that trim to the all-wheel-drive model. However, this will drop the driving range to about 255 miles. The Pro model also features two electric motors that generate a combined 295 horsepower and 328 lb-ft of torque.
Features
With the Standard and Pro 2023 Volkswagen ID.4 trims, the features are the same. Seats are decorated with combination cloth and vegan-friendly synthetic leather upholstery. Front seats are only manually adjustable but they are heated.
You'll get a high-tech cockpit with plenty of standard features. Some of the features included at these levels are a 12-inch touchscreen infotainment system with HD radio, navigation, smartphone integration, and voice recognition. The 5.3-inch digital instrument cluster, a Wi-Fi hotspot and wireless charging are welcome features as well.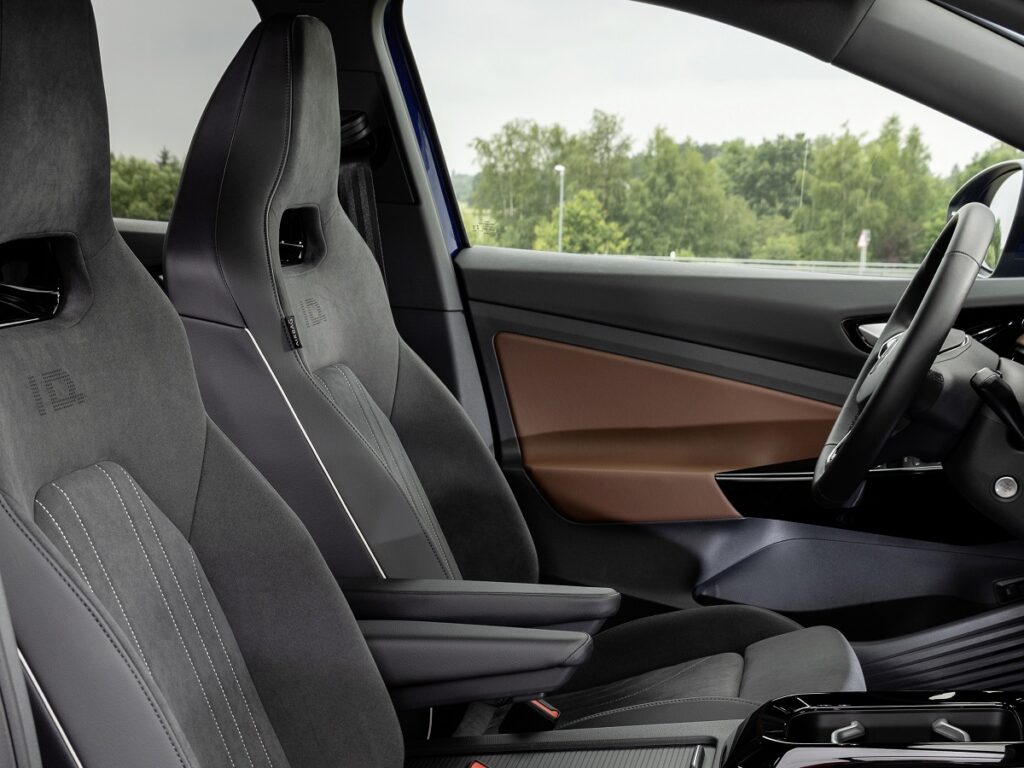 Plus, listen to all your favorite tunes on a seven-speaker stereo system. The interior also features four USB ports with enough room for the family to stay connected.
Other features included with the Standard and Pro trims are dual-zone automatic climate control, proximity keyless entry, and an auto-dimming rearview mirror. Further, you'll get plenty of driver assistance safety features.
Many of the driver assistance features are standard inclusions with luxury SUVs, but otherwise, ones you typically have to pay extra for. Among those features are blind spot monitoring, rear cross traffic alert, lane-departure warning, lane-keep assist, and adaptive cruise control. Additionally, you'll get forward collision warning, pedestrian detection, traffic sign recognition and automatic emergency braking. If your biggest struggle out on the road is parking, you'll especially appreciate the vehicle's park assist feature, using front and rear parking sensors.
S/Pro S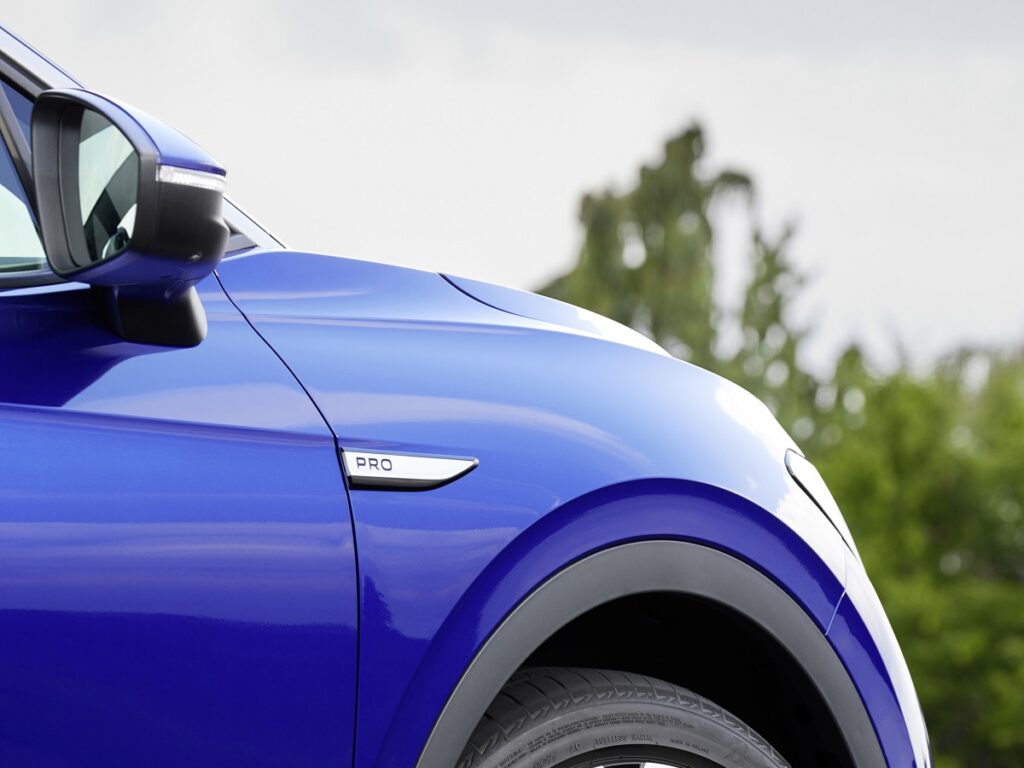 The 2023 Volkswagen S starts at $43,995, while the Pro S starts at $48,995. These trims feature larger 20-inch wheels, a hands-free liftgate and adaptive headlights. The vehicle features a panoramic sunroof, a heated steering wheel and 30-color ambient interior lighting. The seats upgrade to full synthetic leather, while the front seats are both 12-way power-adjustable and massaging. On top of that, they have memory settings.
S Plus
There's no Pro version of the 2023 VW ID.4 S Plus, because this vehicle only comes with the larger 82-kWh battery. Starting at $51,445, the S Plus adds heated rear seats, tri-zone climate control, power-folding side mirrors, and a surround-view parking camera system.
Given that the price difference between the Pro S and S Plus is almost negligible, you might as well pay to upgrade to the S Plus if you are considering the Pro S.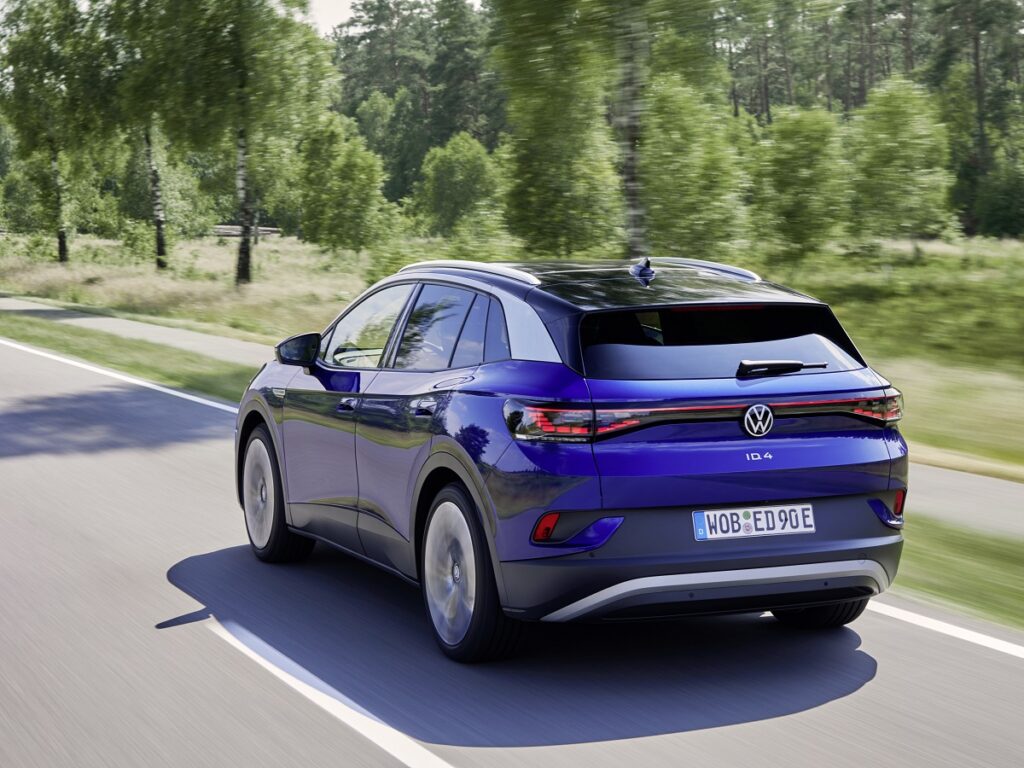 The ID.4 doesn't offer the very best range compared to other electric SUVs on the market, but it's far from the worst. For those looking for a quality SUV to handle their daily commute to work or run errands around town, the ID.4 is more than up to the task.
The vehicle also boasts a five-star safety rating from the NHTSA.
(Featured images via Volkswagen)