Previously known simply as the e-Tron, the 2024 Audi Q8 e-tron comes revamped with improved driving range and a high-end interior. While the Audi Q8 e-tron comes at a high starting price, you'll get for your money one of the best electric SUVs on the market.
2024 Audi Q8 e-tron Trim Levels
The 2024 Audi Q8 e-tron is available in four different trims and two separate body styles, allowing you to select a Q8 model tailored just for you. Each trim offers improved features, while the top-of-the-line Launch Edition trim elevates both performance and luxury. Let's take a look at each of the options…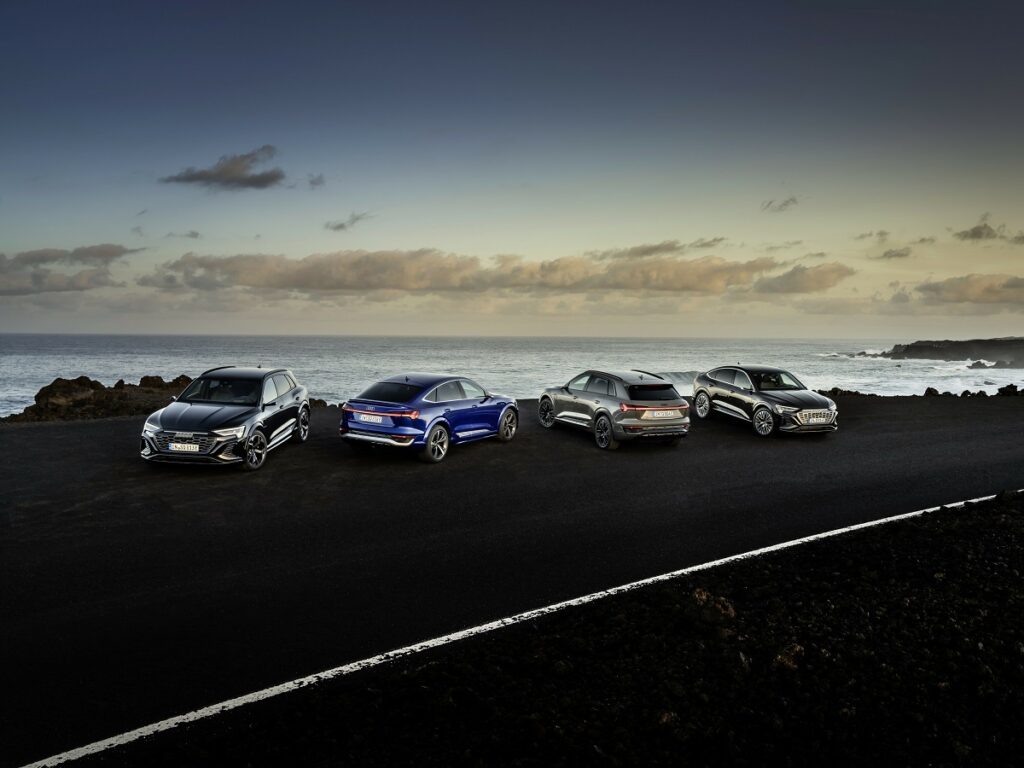 Premium
The base-level trim is the Premium trim which starts at $74,000 for the SUV body style or $77,800 for the sleeker Sportback model. It features synthetic leather upholstery with heated and power-adjustable front seats. The steering wheel comes heated as well. Quad-zone climate control ensures everyone inside can optimize the temperature to their exact preferences. Meanwhile, a panoramic sunroof illuminates the cabin with some natural light.
Other features of convenience include a 12.3-inch digital gauge cluster, two USB ports, proximity keyless entry, and a power liftgate. As for the vehicle's infotainment system, you'll get both a 10.1-inch and 8.6-inch touchscreen, along with built-in navigation, Apple CarPlay and Android Auto, HD radio and satellite radio.
The Q8 e-tron's safety suite includes front and rear parking sensors, lane-departure warning, forward collision warning, forward automatic emergency braking, blind-spot monitoring and rear cross-traffic alert. On top of that, the vehicle comes with automatic high beams.
Premium Plus
The next step up from the Premium trim is the Premium Plus, which starts at $78,800 for the SUV and $82,200 for the Sportback. This trim level gains heated rear seats and ventilated front ones. A Bang & Olufsen audio system comes standard, as does wireless device charging.
Safety features gained with the Premium Plus include adaptive cruise control, lane-keeping assist, a surround-view parking camera and traffic sign recognition.
For another $2,000, you can add on optional 21-inch wheels, all-season tires, and black styling accents. For $1,850, you can get an AC charging package with a passenger charging port and a 19.2-kW charger.
Prestige
The Prestige, which starts at $84,800 for the SUV and $88,200 for the Sportback, lives up to its name. It's the only model that offers real leather upholstery and massage seats. The trim also gains park assist and digital LED headlights.
Lastly, the optional features of the Premium Plus carry over.
Powertrain
The Prestige, and the rest of the trim levels mentioned above, boast two electric motors and a 114-kWh lithium-ion battery that deliver a combined 355 horsepower and 414 lb-ft of torque. However, with Boost mode enabled, it can achieve 402 horsepower and 490 lb-ft of torque.
The driving range of the 2024 Audi Q8 e-tron is said to be 285 miles for the SUV version and 300 for the Sportback, according to Audi. Charging time can take up to 10 hours if you charge it to 100%.
Additionally, each trim is offered with an optimal powertrain that offers superior performance. Labeled as the SQ8, you'll get a 429-horsepower powertrain that generates 496 horsepower in Boost mode.
Pricing for the SQ8 Premium, Premium Plus and Prestige are not known at this time of writing.
Launch Edition
The Launch Edition models start at $87,550 for the SUV and $91,950 for the Sportback. The model offers all of the lower-level trim features mentioned above. On top of that, it gains 21-inch wheels in black metallic, sportier styling elements and black accents. Thus, this trim is mostly centered on aesthetic improvements.
All in All, the 2024 Audi Q8 -e-tron is one luxurious electric SUV. It offers a superior driving range, a high-end build, and incredible performance – if you can pay the premium price.
(Images via Audi)