Take the wheels off the Le Mans-winning Ferrari 499P, and there you'll find brakes that look alien. Same with all the hypercars against which it competes, LMP2 cars, and Formula 1 machinery. All of them use "carbon-carbon" brakes that operate using a ton of the same principles as conventional road-car disc brakes, but are otherwise about as different as can be.
Cast iron has long been the material of choice for brake discs for the same reason it's great for skillets—it's not a great conductor of heat. It's also cheap. Obviously, when brake pad meets brake rotor, the resulting friction generates heat. Not all the heat generated by the pad transfers to the rotor itself, but heat that does transfer lingers. This means it's straightforward to keep a cast-iron disc in a nice operating range. In other words, it doesn't get too hot or too cold.
Carbon-carbon brakes—which are not the carbon-ceramic brakes seen in high-performance road cars—were developed for a cost-no-object project, the Concorde. Weight savings were the highest priority during Concorde development and, according to a paper written by Dunlop engineers, the use of carbon-carbon brakes rather than the steel common in aircraft saved over 1320 pounds. The supersonic jet's high takeoff speed of 250 mph also made powerful brakes a necessity.
Soon, carbon-carbon brakes migrated to Formula 1. Brabham was first, experimenting with carbon brakes in the mid Seventies. The teams started with a sort of carbon-steel composite rotor, then with full-carbon discs. It wasn't until 1982 that a carbon-brake F1 car won a Grand Prix—Nelson Piquet driving a Brabham BT49B at Brazil. But their advantages were obvious and, by the end of the decade, carbon-carbon brakes were ubiquitous in F1.
Brembo invited R&T to both Le Mans and its racing products factory around an hour outside of Milan to learn about its sports-car competition brakes. GT regulations ban the use of carbon-carbon brakes, so all the GT4s, GT3s, and GTEs racing across the globe use traditional cast-iron discs, but both the Hypercar and LMP2 classes employ these fancier systems.
Brembo isn't the only supplier, but between it and subsidiary AP Racing, the company estimated that around 90 percent of the cars on the grid had at least one of its components.
The Hypercar class in the FIA World Endurance Championship (WEC) and IMSA's GTP Class consist of prototypes built to two different sets of regulations, LMH and LMDh. Consequently, Brembo offers a different braking system for each. Just as in the Concorde, the carbon-carbon rotors save a lot of weight. LMH rotors weigh 6.6 pounds, LMDh rotors weigh 7 pounds, and LMP2 rotors weigh just 6.2 pounds. Contrast this with the cast-iron rotors used in the GTE class, which weigh 24 pounds. Ok, so not quite the same weight savings achieved with the Concorde, but it's all relative. The airliner weighed 173,500 pounds empty; a Le Mans Hypercar weighs 2271 pounds.
Modern race cars all have minimum weight requirements, so it isn't necessary to save every gram possible, but brake rotors are a particularly useful place to shave weight. Cutting both unsprung and rotational mass helps the car accelerate, handle, ride, and yes, stop better.
The thermal properties of carbon-carbon discs are different than traditional cast-iron units and even carbon-ceramics. Carbon-carbon doesn't really work when cold, but they withstand more heat than cast-iron brakes. On the flip side, carbon-carbon is even better than cast-iron at staying within an ideal operating window.
While both LMH and LMDh cars use the same material makeup in their rotors and pads, there are some key differences. LMDh cars have an electric motor sandwiched between the engine and gearbox, so all the regenerative braking comes from the rear axle. LMH cars—excepting non-hybrid privateer entries—have electric motors on the front axle, so all regen comes from the front. In essence, this means that the front rotors in an LMDh car have must do more work, while an LMH car's nose anchors have some hybrid help. This defines the cooling requirements for each.
For both classes, thickness—width of pad plus rotor—is defined by the regulations, too. LMDh brakes are a little thicker. Gianluca Zonca, Brembo Racing's marketing manager, told R&T that Brembo's carbon-carbon material is so good now, the company could build much thinner brakes that can easily last for an entire running of Le Mans—over 3700 miles in the prototypes—but its offerings are built to the size requirements. So, they're bigger.
The calipers themselves are industrial art. Brembo machines them from solid billet aluminum, and depending on spec, they weigh between five and six pounds. LMP2 calipers come in at under five pounds, as a result of their lower cooling burden. All three prototype calipers are nickel plated, and each use six pistons to clamp the carbon-carbon pads. Brembo uses the same manufacturing process for its Formula 1 calipers too, which in 2022, were used by all but one team on the grid. (That team used AP Racing calipers.)
Also, as in F1, LMH and LMDh cars use a unique spline mounting system where the rotors are driven by a titanium rotor hat. Zonca explained that this further helps cooling by improving airflow through the middle of the disc.
In Italy, we saw how these brakes, and all other Brembo Racing products are made. A carbon-carbon disc takes around four months to be turned from individual carbon fibers to a product ready to be bolted to a race car. Thin layers of fabric-like carbon fiber weave are made into shape, and a needler machine stitches these together to make the basic form of the disc. The material then goes through a variety of carbonization processes at extreme heat, up to 4532 degrees fahrenheit, in batches of around eight. Each batch of discs is given a code name, so they can be tracked throughout the process, if any problems arise. Once all this is done, each rotor gets placed in a five-axis machine that drills all the individual cooling holes, each of which is checked by a technician.
What's astonishing is that the factory where the discs are made are full of machines, but not people. The automated processes to form the disc takes such a long time that not many personnel are needed at any given time.
There are more people in the building where calipers are machined and components assembled. Around 40 people split over two shifts work in Brembo's race shop, quality controlling and hand assembling all the braking components the company offers, which includes all the open-wheel and GT racing products, motorcycle components, and the CCM-R brakes offered in a number of high-end road cars.
Finished components can take weeks if the shop is particularly busy, but it's worth it to ensure quality. Older components are also sent into the shop for checking and rebuilding. Top teams send in calipers after every race weekend to be rebuilt, and this is, of course, expensive.
When approaching carbon-carbon brakes, it's not quite "forget everything you know about brakes," because we're still talking about pads clamping on discs to slow the car down, but it's close. Carbon-carbon brakes look alien because, well, they are.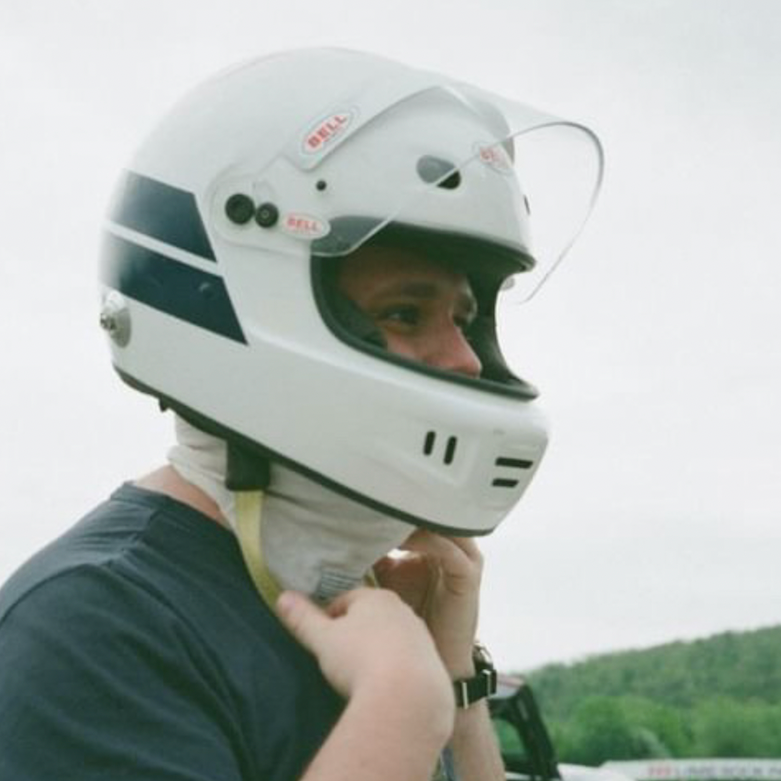 Senior Reporter
A car enthusiast since childhood, Chris Perkins is Road & Track's engineering nerd and Porsche apologist. He joined the staff in 2016 and no one has figured out a way to fire him since. He street-parks a Porsche Boxster in Brooklyn, New York, much to the horror of everyone who sees the car, not least the author himself. He also insists he's not a convertible person, despite owning three.