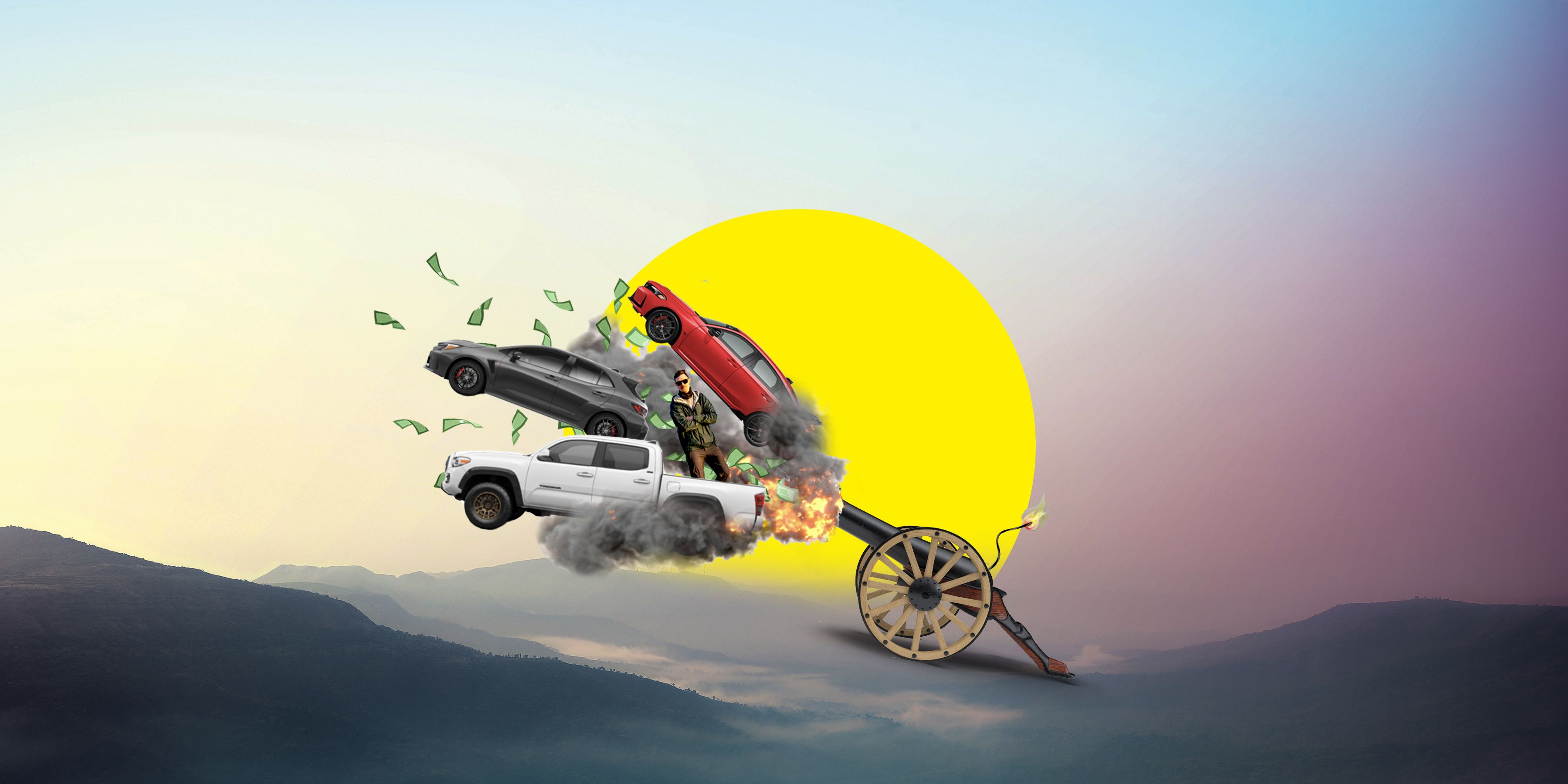 A funny thing happened on Reddit the other week. No, not the escaped Zebra. Rather, Toyota teased its next-gen Tacoma. This hugely anticipated truck should've been received like enthusiast catnip. Instead of praise, a "meh" echoed from the commentariat. "Who cares?" the masses moaned. "We can't buy new Tacomas anyways."
When we published the Honda Civic Type R vs. Toyota GR Corolla comparo, a similar "meh" rang out on Reddit. As the commenters pointed out, the CTR and GR Corolla feel equally immaterial.
There's of course one catch to all that griping: you can buy these cars. Many new examples sit idle across the country. Just cruise your local car lot for proof. There are hot young Civics in YOUR neighborhood. For a price.
Welcome to Kinardi Line, mouthpiece of the free world's most curious auto writer. Home to short musings, long sighs, and shitbox worship.
In addition to the Manufacturer's Suggested Retail Price (MSRP)—generally the accepted value from which price is bargained down—dealers now heap a heavy "market adjustment" on top.
To anyone who's shopped for a car lately, this isn't news. Whether it's a base Toyota Tacoma, a loaded Kia Telluride, or a new Ferrari; if you want any desirable new car today, you're paying thousands in markup just for the privilege of buying that car. Or you're not getting the car you want, period.
Many will point out that these "adjustments" simply bridge the gap between supply and demand. In the wake of COVID and the logistics apocalypse it created, OEMs have struggled to meet demand for years. Dealers are cashing in. That's the free market, even if I don't like it. Fair enough.
Macroeconomics may explain the grift, but that's hardly a spoonful of sugar. This gouging matters to us. It matters to R&T's readers. More importantly, it's harming car enthusiasm.
Just this week, a reader emailed to complain directly. He'd searched high and low for a Mustang Mach-E. Nearby dealers insisted upon a $6000 markup for any Mach-E on the lot, which our reader rightly refused to pay. After a complaint to Ford customer service about the gouging, he was informed of an alternative. Last September, he spec'd a Mach-E directly from Ford's website.
When Ford delivered a matching Mach-E to a dealer about 90 minutes away—after six months of waiting—our reader took his wife along to collect. On top of the price cited on Ford's site, the dealer tacked on a $3000, non-negotiable insurance package, which was not a part of the original build sheet, our reader claims. He viewed that as a breach of contract on Ford's part and refused to buy the car.
This is not an isolated incident. Rather, dealer chicanery has become the norm. The good stuff is all marked up. So is most of the bad stuff, but especially the great stuff. You want that shiny new GT4 RS from our 2023 Performance Car of the Year test? Throw $50,000 on top of the $141,700 MSRP, and you'll still be tenth in line for "an allocation." It's no secret that buying less-desirable Porsches will increase your cachet with any dealer, moving you higher up the dealer's allocation list, but you won't even get a bottle of chintzy champagne to help choke down the grift.
More than just a problem for individual buyers, data suggests this gouging contributed to our economy's overall inflation. So while dealers enjoyed record profits last year, more than triple of pre-pandemic levels, Americans were hurting. Many needed a new vehicle, and by necessity, were forced to pony up at the dealer or go without reliable, warrantied transportation.
That's rotten to the core.
How much of that cash boom trickled down to the techs, service coordinators, and lot detailers who keep a dealership humming from the ground floor? From a quick query of friends in the industry and the parts guy at my local dealership: Zero.
The dealers are laughing all the way to the bank, so I don't expect they'll want this to change; they've got consumers' wallets in a headlock. The automakers, however, should care about this. Gouged customers are unhappy ones. Unhappy customers are willing to take their business elsewhere. For example, our Mach-E buyer swore off Ford forever. Tesla gets his cash now, exactly because that manufacturer will honor its list price. It's that simple.
Same goes for one R&T editor who tried to buy a GR Corolla. After months of chasing, one single dealer in Chicagoland promised him a GR Corolla at MSRP. Nearly a year later, that dealer couldn't even lock down a car for him in even the most basic "Core" trim. Meanwhile, other dealers across the country sold more-desirable specs at five-figure markups. Tired of waiting for a Toyota hatchback at MSRP, our editor hauled off and bought a five-year-old BMW. That may be the last crack Toyota gets at roping our editor in for life.
What's to be done?
At a time of distinct imbalance in the manufacturer-dealer-consumer sales model, manufacturers must do more to eliminate the grift and protect their customers. The dealers are doing just fine without markups. Even without fleecing customers, 2022 would've been a banner year.
An ounce of transparency would work wonders here, given demand seems unlikely to dwindle in the short term. Something as simple as an allocation waitlist that's established and maintained by the manufacturer would suffice. It could be as visible and imperfect as the one for Chris Reeve Knives, or as exacting and excruciating as the one for Decware tube amps. These are tiny mom-and-pop companies that aren't capable of scaling up dramatically to meet booming demand, but understand that gouging their customers isn't the way forward.
If you just can't wait four years to buy that Sebenza 31 from Chris Reeve at MSRP, you're free to buy on the secondary market at a steep markup. Usually that means your money goes directly into the pockets of another American, rather than a crooked dealer. But for those of us with patience, we know we'll get the knife at a fixed price, in time. That assurance alone could solve this problem.
Failing that, a lottery system could work for the most-desirable cars with the highest markups. If your number is called, you get an allocation on the national waitlist and a web link that shows your real-time spot in line. No dealer games. No need to buy three Cayennes for access to a GT3 build slot.
When your number's called by the manufacturer, pick a dealer, pick your spec, sign on the dotted line and put down a deposit. There's no negotiation and very little overhead for the dealer in this process, and it streamlines a good portion of their business model. The process provides transparency for the consumer, and automakers keep moving metal.
Why does any of this matter? Besides my distaste for financial defenestration in broad daylight, the grift hurts enthusiast culture. Stand next to a new Civic Type R at cars and coffee on Sunday morning and take a listen. Instead of questions about limit handling, you'll only hear this:
"Dude, how much markup did you pay?!"
"Who'd you have to service at the dealership to get this thing?!"
"Can you help me get one?"
The problem here? This gouging has turned cars from objects of passion into commodities. If you spring an extra twenty grand to buy a Toyota hatchback—and especially if you somehow manage to buy one at MSRP—are you more likely to drive the wheels off it, or keep it safe in the garage knowing you'll never replace that car at a reasonable price? The good stuff is mostly being packed away by people who care more about the cachet of having a "gotta-have-it" car than actually driving the thing.
When the buzz of seeing an enthusiast car derives from how much you were gouged to acquire it, instead of the way that car performs, who wins?
It's not enthusiasts. Maybe that's fine for the automakers, for now. But what happens when this pent-up demand—itself a hangover from COVID shortages—rolls back in earnest? You allowed the very customers you need most, the ones who advocate for your brand, to be bled out by dealers.
And for the dealers whose BS forced us away from their predatory sales model, and embittered us to the process of buying cars the old-fashioned way: do you think anyone will rush to your aid when manufacturers move to sell directly to consumers at fixed prices (like Tesla and an increasing number of other luxury brands outside the car space)? How long can you keep lobbying to keep dealerships around when everyone knows you spent the pandemic years funneling those extra thousands from our pockets?
I don't have the answers, but it seems that dealers – and the manufacturers that enable their greed – are intent upon finding out.