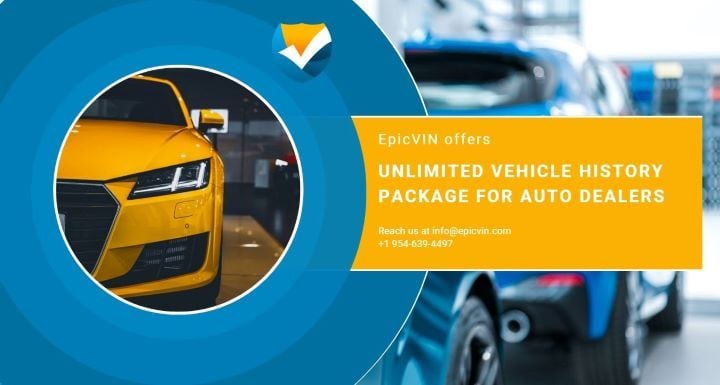 EpicVIN launched of an exclusive Unlimited Vehicle History Package, which offers auto dealers an unlimited number of vehicle history reports for a monthly fee. The package gives auto dealers the ability to get frequent access to comprehensive vehicle history reports, saving them significant money and time.
The Unlimited Vehicle History package provides auto dealers with significant cost savings compared to leading competitors, EpicVIN says. Auto dealers are encouraged to take advantage of the special offer that grants them unlimited access to vehicle history reports free of charge for three months.
Time and Money Savings
Following the three-month trial period, customers with a dealer account can have continued access to unlimited vehicle history reports for an affordable fixed monthly cost that can be canceled and reinstated at any time.
All of EpicVIN's subscription-based vehicle history report packages are designed with auto dealers in mind so that they can have the quick, affordable access to the data they need before making multiple vehicle purchases. Auto dealers can choose from the Unlimited Vehicle History Package, or to receive a limited number of 10, 25 or 50 vehicle history reports per month. After choosing an option, auto dealers simply enter any vehicle's VIN into EpicVIN's decoder and are granted access to an easy-to-read report in less than a minute, without the hassle of having to re-enter their card details each time.
Reports Contain Valuable Data
Each vehicle history report provided by EpicVIN contains trusted, regularly updated information from top industry leader data sources, including government agencies, insurance providers and car industry partners, so auto dealers can choose the best cars for their inventories and make informed trade-ins.
Dealerships can even use the information found in vehicle history reports to accompany their sales listings and provide car buyers the data they are looking for, increasing sales and building a better reputation with customers through transparency.
Each EpicVIN vehicle history report includes:
Ownership and title histories
Accident, damage, auto repair and safety recall histories
Junk, salvage and insurance records
Past odometer readings
Stolen vehicle checks
Sales history and advanced market price analysis
Photos
Aside from vehicle history subscription packages, EpicVIN also offers auto dealers tools and ways to operate more efficiently and expand their business reach the following ways:
Car Marketplace – a free platform to reach more customers with vehicle listings that connects buyers and sellers nationwide. The car marketplace is designed to help increase car dealerships' visibility and enhance sales online, with advanced automobile listings that customers can view online or in a mobile app. It's a great place for auto dealers to find more leads on potential car buyers.
Predictive Tool – a price analytics tool that offers a forecast to empower auto dealers to make informed decisions on pricing and time on the lot. Price analytics save dealerships valuable time in pricing their inventories. Sign up for the feedback program to use the predictive tool for one year free.
EpicVIN's Global Partnership – the partnership can provide new business opportunities to auto dealers by helping them sell cars worldwide and deliver them directly.
One Year for Free
EpicVIN's mission is to constantly improve and update the services and tools they provide auto dealers, so they are encouraged to try out the subscription-based vehicle history packages, car marketplace, predictive tool and more, and leave feedback. Auto dealers who join the Predictive Tool Feedback Program will receive one year of free use as a token of appreciation. Auto dealers can visit EpicVIN or contact them at [email protected] for more information on the subscription-based vehicles history packages, to start the free 90-day trial of the Unlimited Vehicle History Package, and to join the Predictive Tool Feedback Program for one year of free access.