The Toyota RAV4 and Nissan Rogue both offer an excellent combination of affordability, efficiency, spaciousness, and versatility. It's easy to see why these are two of the most popular compact crossover SUVs.
These multi-talented vehicles embody the crossover craze and underscore why shoppers have shifted from sedans to this form factor. With a higher seating position, they're easy to get in and out of, and they're more reconfigurable for kids and cargo. They ride and handle more like cars than trucks, yet there's a hint of rugged trail ability and a little more ground clearance. And the best-equipped versions of both of these models slot in well under today's average price of a new vehicle, which is climbing toward $50,000.
The RAV4 also stakes out some high ground for value, based on the performance and efficiency boost of its hybrid system. But which of these two popular models comes out on top?
Nissan Rogue vs. Toyota RAV4 prices and features
Base versions of both cost around $29,000

RAV4 is offered in hybrid and Prime plug-in hybrid versions

Best picks: Rogue SL, RAV4 Hybrid SE, RAV4 Prime SE
2023 Nissan Rogue
How much is a Nissan Rogue?
The Nissan Rogue starts at nearly $29,000 in its base S form. It has an 8.0-inch touchscreen with Apple CarPlay and Android Auto, cloth seats, and automatic emergency braking. SL and SV versions are the heart of the lineup, while top-trim Platinum versions start at about $40,000. Across any of those trims, you can add all-wheel drive at a $1,500 premium. A loaded Rogue Platinum can top $42,000.
The options list on the Rogue is limited to a few comfort-oriented items plus a few tech pieces. For an extra $620 on the Platinum you can add the Premium Package and its rear heated seats, tri-zone climate control, and a head-up display. A Midnight Edition for the mid-trim versions gets a blacked-out look, including wheels, for $1,535 extra.
SV versions add upsized wheels, a power driver's seat, and dual-zone climate control. The Rogue SL probably represents the best value, and it can be optioned with a Premium Package that adds a power tailgate, upgraded infotainment, and Bose audio, among other extras, adding up to about $38,000.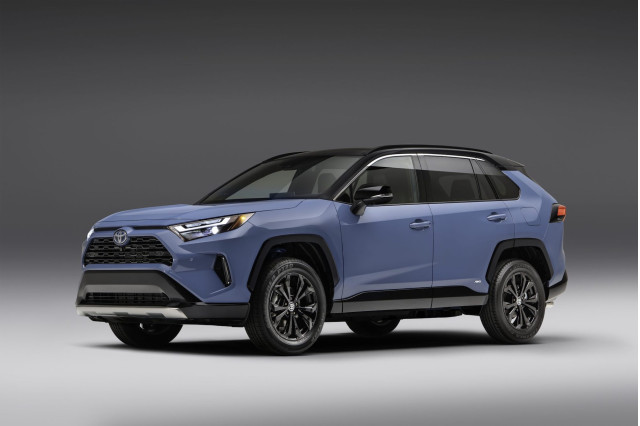 2023 Toyota RAV4
How much is a Toyota RAV4?
While choosing the right Rogue starts with choosing a trim level and deciding if you want AWD or not, choosing a RAV4 starts with whether or not you want a hybrid or plug-in hybrid. The RAV4 starts at around $29,000 for the base LE and runs up to more than $50,000 for a fully optioned RAV4 Prime XSE. The base LE has similar standard features to the Rogue except smartphone connectivity is wireless and adaptive cruise control is standard.
Hybrids are AWD-only and start with the Hybrid LE at about $31,000—just $1,350 more versus a non-hybrid LE AWD. The non-Prime RAV4 lineup tops out with the $40,000 Hybrid Limited, adding up to $43,000 when optioned with a panoramic roof, heated and cooled front seats, a heated steering wheel, and the Advanced Technology Package.
RAV4 models are offered in a daunting array of models, including LE, XLE, SE, XSE, and Limited, with the SE track getting a sportier look and more tech-focused equipment while the XLE is a little more comfort-focused. The Hybrid SE is a good mid-level pick for value, at about $35,000.
Adventure and TRD Off-Road versions are, true to the name, fitted with some extras that will position them as the best in the lineup if campsite trails or unpaved roads are a regular thing; these two models aren't offered in Hybrid form and start at about $36,000 and $39,000, respectively.
Advantage: The Toyota RAV4, because you can make it a high-mpg hybrid with AWD without any significant premium.
2023 Nissan Rogue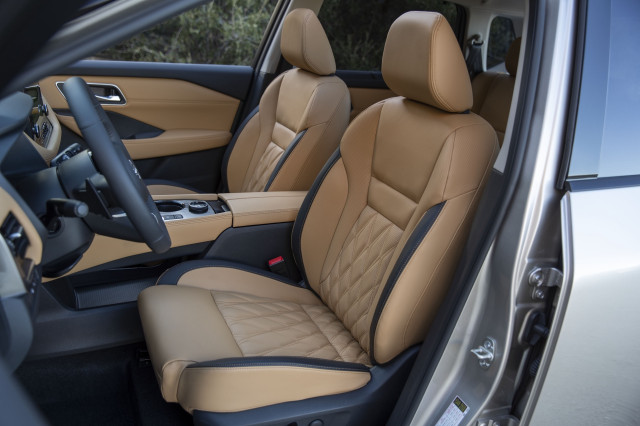 2023 Nissan Rogue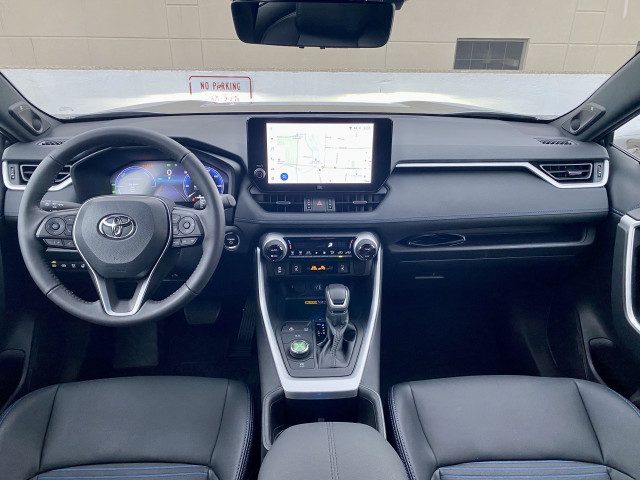 2023 Toyota RAV4 Hybrid XSE AWD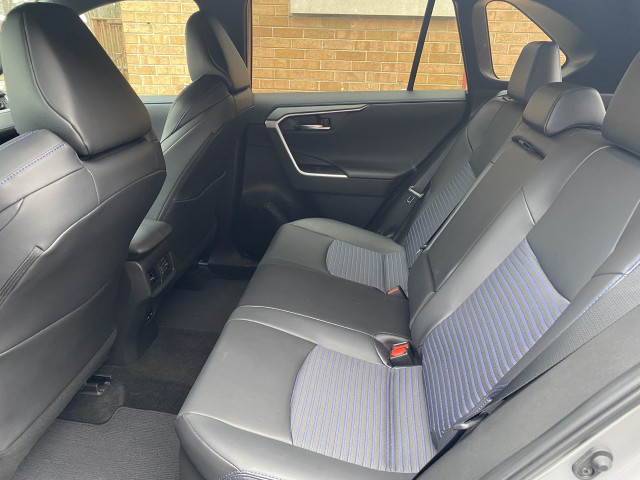 2023 Toyota RAV4 Hybrid XSE AWD
Toyota RAV4 vs. Nissan Rogue size, seating capacity, and cargo space
Rogue and RAV4 are within an inch in most dimensions

RAV4 has more cargo space with the seats up; Rogue has more passenger volume

Rogue makes more of the available space with better seats
The Nissan Rogue, Toyota RAV4, and many other close rivals like the Honda CR-V and Subaru Forester are all sized within an inch or two of each other in key dimensions. The Toyota RAV4 rides on a wheelbase about 106 inches and measures about 181 inches long, 73 inches wide, and 67 inches high in its most popular versions. The Rogue, on the other hand, measures about 183 inches long, 72 inches wide, and 67 inches high, with a wheelbase of also about 107 inches.
By passenger volume, the Rogue is the clear winner, though, with more than 105 cubic feet, versus just 99 cubic feet for the RAV4. And this is an example in which first impressions correlate with that number; the RAV4 feels like it has a higher floor relative to the roofline, with the Rogue more spacious and airy.
In cargo space, the difference evens out a bit. Cargo space with the seats up amounts to 36.5 cubic feet in Rogue SL and Platinum levels, or 37.5 cubic feet in the RAV4. Fold the seats down and there's 74 cubic feet behind the front seat in the Rogue vs. about 70 in the RAV4.
While there's not much of a difference to parse out in cabin space based on measurements, there are some distinct differences in real-world usability. The RAV4 has just acceptable front seats, while the Rogue's are much more supportive. In back, the Rogue somehow allows much more headroom while the RAV4 leaves taller back-seat riders' heads skimming the ceiling.
Advantage: Rogue.

Toyota RAV4 vs Nissan Rogue towing
RAV4 Adventure and RAV4 TRD can tow up to 3,500 pounds

Skip the Rogue if even occasional towing is a consideration

Don't dismiss the idea of towing—a little bit—with a hybrid
You can tow 1,750 pounds with the RAV4 Hybrid, according to Toyota, while gasoline models are rated up to 1,500 pounds in most forms. Adventure and TRD Off-Road models are the exception; they can tow up to 3,500 pounds. Plug-in Prime versions of the RAV4 are good for 2,500 pounds.
The Rogue is approved to tow just 1,500 pounds, with just 150 pounds on the tongue. Its CVT design tends to be inferior for towing.
Advantage: Toyota RAV4.
Toyota RAV4 TRD Off-Road
Nissan Rogue vs Toyota RAV4 off-roading
RAV4 has several versions focused on trail use

Rogue and RAV4 lineups have more than 8 inches of ground clearance

RAV4 Woodland Edition combines hybrid power and off-road utility
The Nissan Rogue offers 8.2 inches of ground clearance, but ground clearance in the RAV4 varies based on trim level. Choose the RAV4 in its trail-oriented Adventure or TRD Off-Road gasoline versions and you get up to 8.6 inches of ground clearance.
All-wheel-drive versions of the Rogue have a minimal amount of off-road capability, and their road-tuned suspension is forgiving enough for short stretches of trail use on gravel or forest paths. But it's best kept to that.
The RAV4 Prime is a strong achiever in all areas of performance, and that means off-road as well. By keeping it in its electric mode, drivers will find a nuanced, effective, and surprisingly strong level of off-road prowess that minimizes wheelspin—whereas thePrime's off-road mode starts up the engine and dials up wheelspin for different needs.
For 2023, Toyota added an off-road-tuned version of the RAV4 Hybrid, called the Woodland Edition, with twin-tube shocks, all-terrain tires, and black roof rails—plus a 120-volt inverter—that may make it a good weekend-camping pick.
Advantage: RAV4, for its trail-focused versions.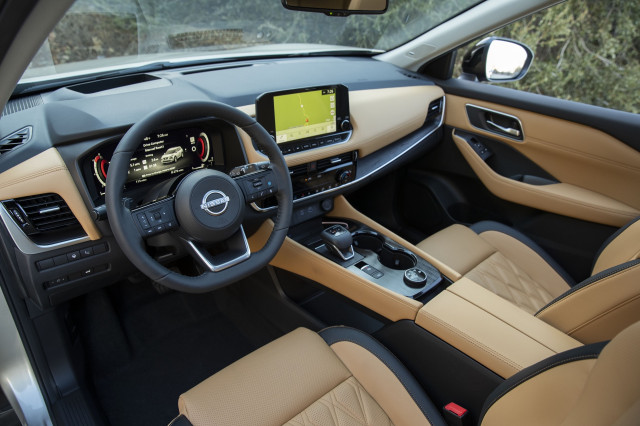 2023 Nissan Rogue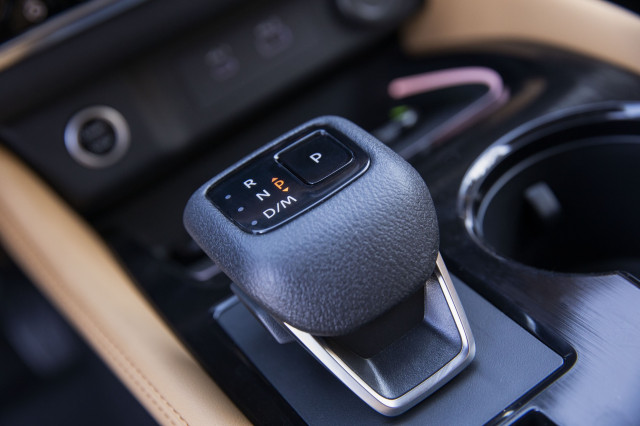 2023 Nissan Rogue
2023 Nissan Rogue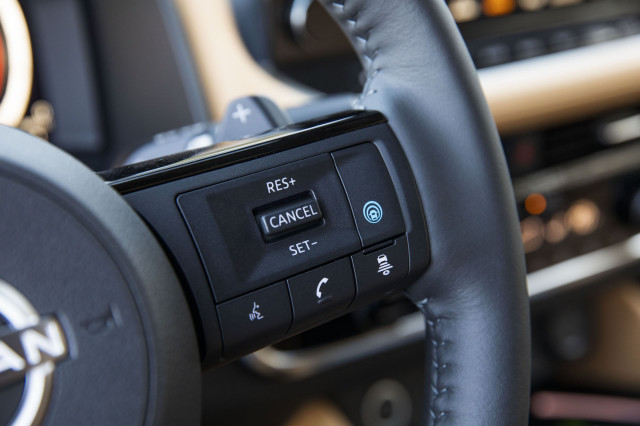 2023 Nissan Rogue
Toyota RAV4 vs Nissan Rogue safety
Neither have earned top-tier safety scores across the board

RAV4 crash-test scores are better overall

Blind-spot monitors are standard on Rogue but not RAV4
The Toyota RAV4 delivers upper-tier but not quite top-tier safety ratings. That includes five stars from the less-challenging federal NCAP program, while it misses the Top Safety Pick+ bow from the IIHS and earns Top Safety Pick instead as its updated side-impact test results were only "Acceptable." Of note: The RAV4 Prime does better in the moderate-overlap front test.
Under tighter IIHS criteria, the Nissan Rogue is no longer in either of the agency's upper echelons for safety. "Marginal" moderate overlap front results and "Acceptable" side impact results for the updated test add up to a showing that's good but not great. A four-star result for frontal crash misses the federal NCAP top tier, too.
Both of these models offer automatic emergency braking, adaptive cruise control, and active lane control, while blind spot monitors are standard on the Rogue and optional on the RAV4. Headlights on both models have tested well.
Advantage: Toyota RAV4.
2023 Toyota RAV4 Hybrid XSE AWD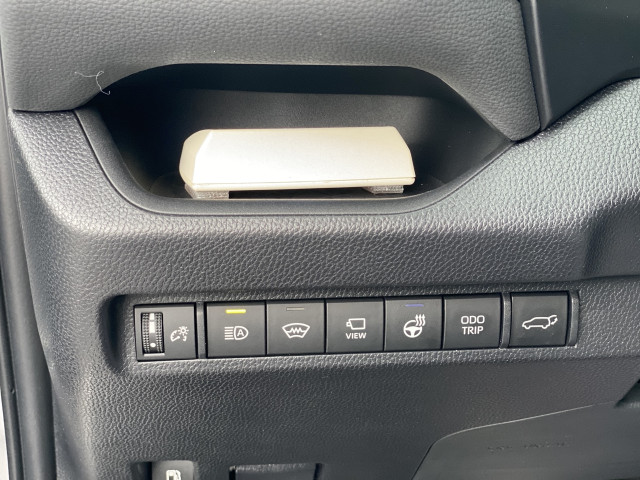 2023 Toyota RAV4 Hybrid XSE AWD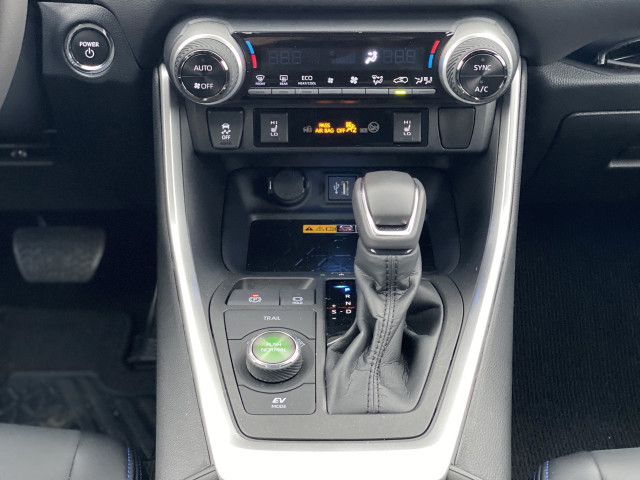 2023 Toyota RAV4 Hybrid XSE AWD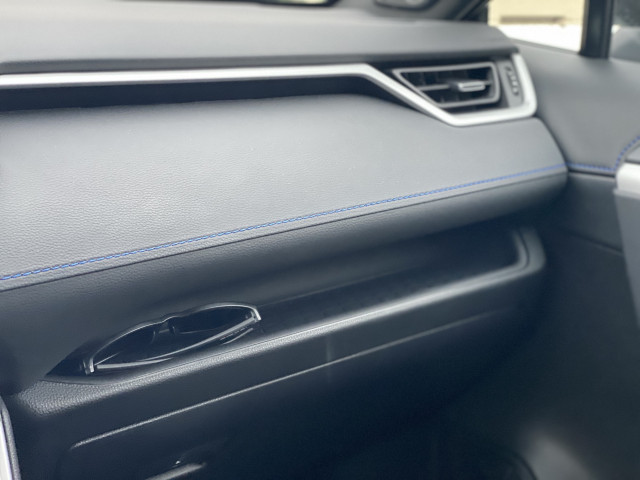 2023 Toyota RAV4 Hybrid XSE AWD
Nissan Rogue vs Toyota RAV4 performance
Rogue's turbo-3 and CVT are smooth, but sluggish for passing

RAV4 Hybrid includes all-wheel drive, better drivability

Depending on the trim, RAV4 versions can handle quite differently

RAV4 Prime is more than a plug-in eco-warrior; it's a performance flagship
The Nissan Rogue and Toyota RAV4 are similar vehicles with base engines that make about the same power, but they employ different philosophies about what to put under the hood.
A 1.5-liter turbo-3 in the Rogue represents the trend of engine downsizing, to mixed real-world results. It's paired to a continuously variable automatic transmission (CVT), and while the power's there it feels particularly slow to perk up for quick passes. If going quick is no priority, it's a very smooth combination.
Base RAV4 models come with a 2.5-liter inline-4 making 203 hp and 184 lb-ft of torque, and with a responsive 8-speed automatic it's quick enough although not so refined. By the stopwatch and a 0-60 mph dash the Rogue is quicker, but you wouldn't guess so in real-world driving.
It's what the Rogue doesn't offer that's the RAV4 lineup's ace card: hybrid systems that not only make the RAV4 more efficient but quicker too. Toyota's hybrid system here includes a separate motor for the rear wheels and makes a combined 219 hp—feeling much quicker than the modest power boost over the base engine might suggest.
The RAV4 Prime takes the hybrid strengths to an extreme—adding a big 18.1-kwh battery pack good for 42 miles of all-electric driving or a combined 5.7-second 0-60 mph time.
In terms of ride and handling, the Rogue and RAV4 feel quite different. The Rogue is more nimble and refined in the way it rides. RAV4 versions run the gamut, depending on the trim level and the respective powertrain, but overall they feel a bit less nimble and coordinated.
Advantage: Toyota RAV4, for its perky all-wheel-drive hybrid power, Prime or not.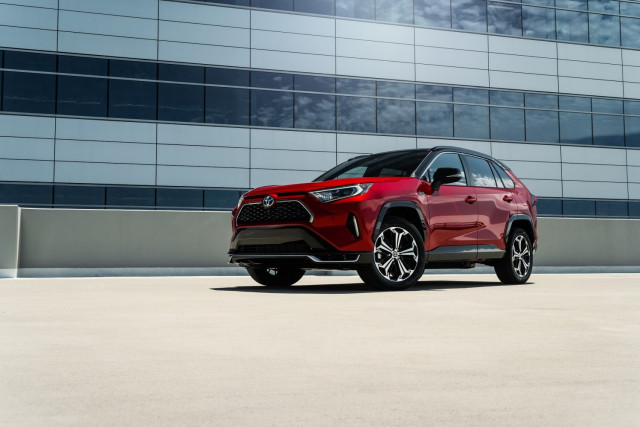 Toyota RAV4 Prime
Toyota RAV4 vs Nissan Rogue fuel economy
Base-level Nissan Rogue is more efficient than base-level RAV4

RAV4 Hybrid versions get 40 mpg combined for most versions

RAV4 Prime gets 38 mpg even after using its 42 electric miles

Beware that off-road and trail-oriented versions will have lower ratings
The Nissan Rogue lineup is impressive in its efficiency with the standard turbo-3 engine. It gets up to 30 mpg city, 37 highway 33 combined in base versions. Others in the lineup get 1 mpg less, at 32 mpg combined. All-wheel-drive versions drop it to 31 mpg combined.
Base-level RAV4 versions with front-wheel drive earn EPA ratings of 27 mpg city, 35 highway, 30 combined. AWD versions span down to 28 mpg combined. But Hybrid versions, which don't cost that much more, are the efficiency stars of the lineup, at 41 mpg city 38 highway, 40 combined for most combinations, with 37 combined for the new trail-oriented Hybrid Woodland Edition.
The RAV4 Prime, which goes 42 electric miles on a charge, is rated at 38 mpg combined once the charge is used up. Altogether, it adds up to a jaw-dropping driving range of 600 miles.
Advantage: RAV4—in hybrid form, of course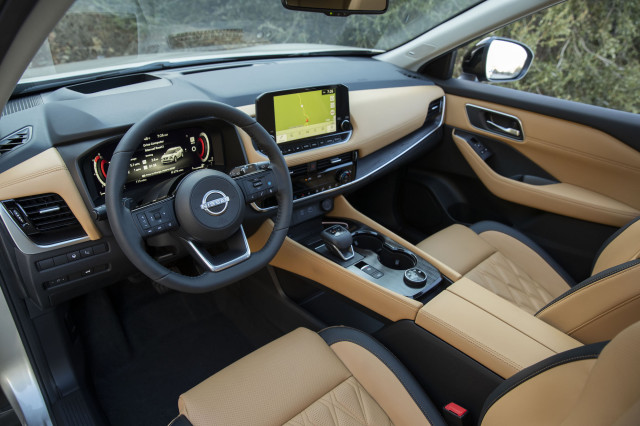 2023 Nissan Rogue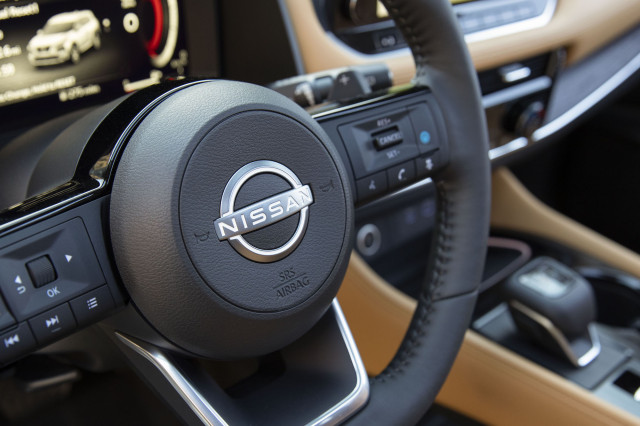 2023 Nissan Rogue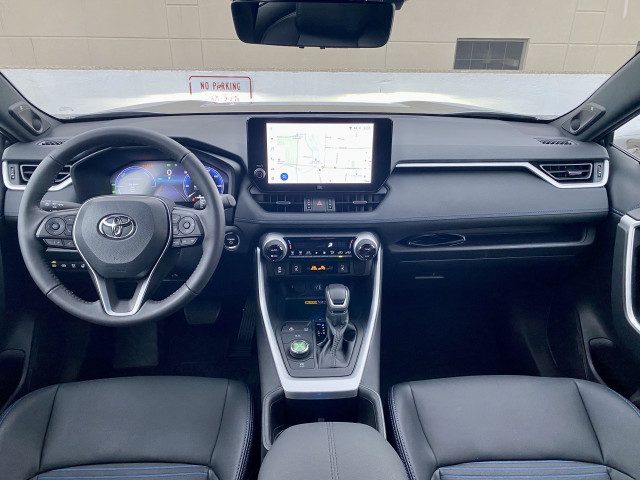 2023 Toyota RAV4 Hybrid XSE AWD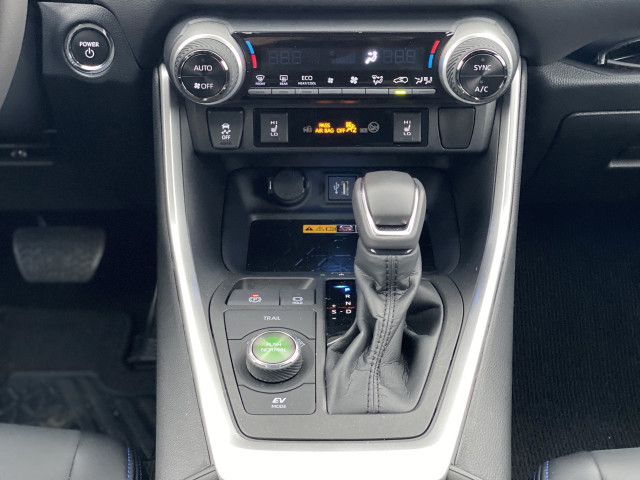 2023 Toyota RAV4 Hybrid XSE AWD
Nissan Rogue vs Toyota RAV4 interior and tech
Starting with 2023, RAV4 gets larger base touchscreen

Top Rogue Platinum offers some comforts and tech you don't get in RAV4 Limited

Adaptive cruise control standard on all RAV4
Across both versions of these models, even basic trims include infotainment systems (8.0-inch and larger) with Apple CarPlay and Android Auto. Both models can be optioned with parking-assist systems and adaptive cruise control, and the latter is included even on the base RAV4 LE. About the only tech piece offered in the Rogue but not the RAV4 is a head-up display.
Starting with the 2023 model year, the RAV4 gets a standard 8.0-inch touchscreen infotainment system, while TRD Off-Road, Hybrid XSE, Prime XSE, and all Limited models come with a 10.5-inch system. Top Prime XSE and Limited models now also include a 12.3-inch reconfigurable gauge display. These systems now feature Google-based point-of-interest search, and they're now over-the-air upgradable.
That said, base LE versions of the RAV4 feel the part in trims and surfaces, and there's a real difference in cabin feel between XLE and XLE Premium adding faux-leather upholstery, a leather-wrapped wheel, and rear-seat vents, plus available 11-speaker JBL sound. Mid-range Rogue SL versions get heated front seats and second-row sunshades, plus a surround-view system and they stand out as a good value. RAV4 SE versions are also good value and an aesthetic preference; they tend to go the way of blacked-out contrast trim rather than brightwork.
The Rogue brings a few more standard features in its base versions and does a more convincing job of looking upscale inside, with better-coordinated touch points and trims. At the top of the lineup, in Platinum guise, you get a tri-zone climate system and can add a panoramic sunroof, nappa leather seats, and Bose audio.
Advantage: The Nissan Rogue, for its richer cabin look and feel in affordable versions.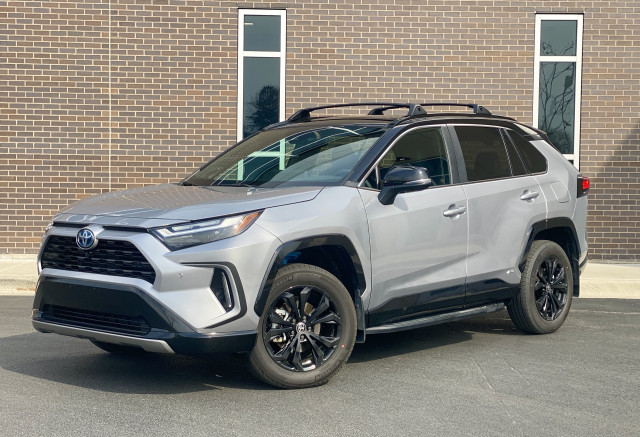 2023 Toyota RAV4 Hybrid XSE AWD
Which is better: Rogue or RAV4?
Both of these models, the Nissan Rogue and the Toyota RAV4, earn a TCC Rating of 6.5 out of 10. (Read more about how we rate cars.) With the Rogue just slightly ahead in features and comfort but the RAV4 well ahead in performance and efficiency, it depends on where your priorities stand. But with a wider range of purpose-built trim levels, the performance and efficiency of the hybrids, most shoppers will probably be fine with a little compromise in favor of the Toyota.
Winner: The Toyota RAV4.