Which EV fast-charging network doesn't have terrible reliability?
Which company that's "all-in" on EVs pushed back against regulators' targets?
This is our look back at the Week In Reverse—right here at Green Car Reports—for the week ending July 7, 2023.
Ford broke new ground in making a hybrid powertrain standard when it introduced its Maverick compact truck two years ago. But the 37-mpg hybrid now costs $1,500 extra in the 2024 Ford Maverick and means the entry price of the Maverick Hybrid is more than $5,000 higher than it originally was.
2023 Ford Maverick
Rolls-Royce committed to going fully electric by 2030 a couple years ago, but it starts that journey later this year with first deliveries of its first EV ever. The backstory of how the Rolls-Royce Spectre EV took form is interesting in itself, although you'll also want to read this Rolls-Royce Spectre first drive.
Rivian made progress ramping up EV production in the second quarter of the year, according to results released by the company earlier this week. It says the numbers "remain in line with company expectations" as R1T pickups, R1S SUVs, and EDV vans roll out of its Illinois assembly plant.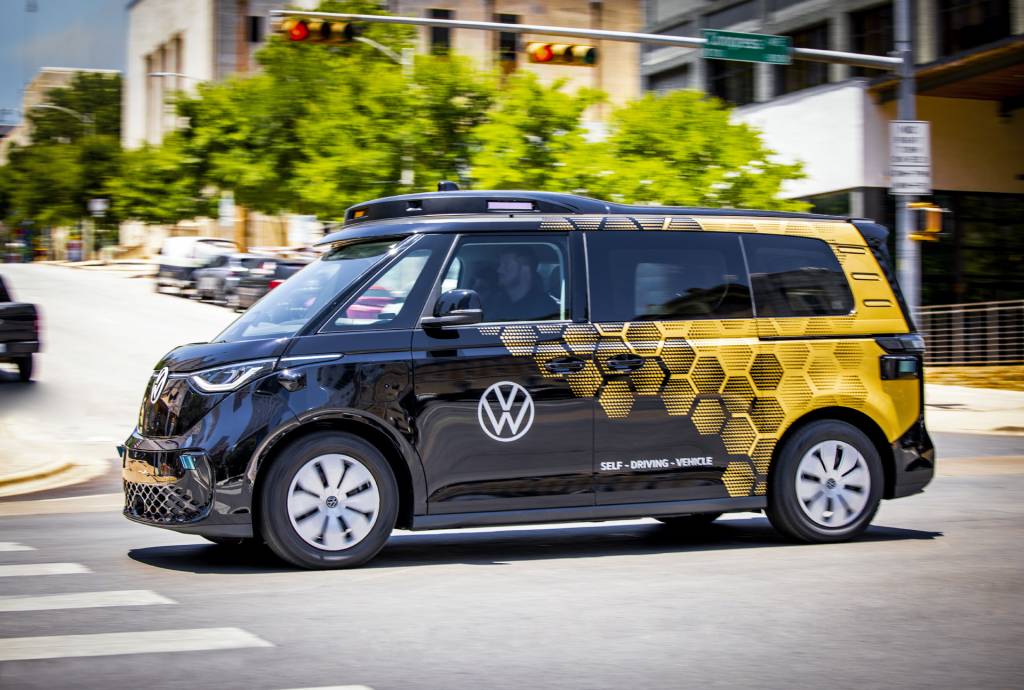 Volkswagen ID.Buzz self-driving prototype testing in Austin, Texas – July 2023
Volkswagen is moving its autonomous-vehicle program on after the now-defunct Argo.AI, and it's using its ID.Buzz electric van for U.S. autonomous-tech testing—initially on the streets of Austin. But it should be noted that VW's using the shorter-wheelbase version it won't sell to Americans.
Fiat on Wednesday showed its tiny Topolino electric minicar, as well as the 600e compact crossover that aligns closely with the 500X crossover that's been offered in the U.S. There are no American plans for either of these models, though, according to Fiat, but the 500e EV remains on schedule for early 2024.
2024 Fiat Topolino
Fiat's parent company, Stellantis, also detailed one of the four platforms that will underpin up to 2 million EVs annually across its many brands. The STLA Medium platform will offer fast charging and well over 300 miles of range in some forms. It's expected to be the backbone of several important mainstream EVs for Europe—think Peugeot, Citroën, and perhaps Fiat—and will form the basis for models that are primarily compact by U.S. standards.
This week marked the end of the EPA's comment period for pending light-vehicle emissions rules that would require vastly greater EV sales over the next decade, and among many arguments GM's comments stood out. Despite its aspiration to make its entire light-duty vehicle lineup all-electric by 2035, GM is concerned about meeting 50% EVs by 2030 in a range of vehicle sets defined by regulators.
2023 Tesla Model X – Courtesy of Tesla, Inc.
In response to a petition, the National Highway Traffic Safety Administration (NHTSA) this week reopened an investigation into unintended acceleration in Tesla vehicles. Potentially affecting every Tesla ever made, the investigation will look into allegations suggesting a design flaw in Tesla's inverters.
General Motors has acquired a firm that makes software helping to identify EV battery issues, including thermal runaway events and other battery failures. The firm's solutions are especially attractive, GM explains, because they don't require additional hardware or sensors.
Michelin Uptis airless tire on French postal van
Airless tire tech has long been seen as a key technology for electric and autonomous vehicles. Now France's postal service will be testing Michelin's Uptis airless tires in delivery vans, in what may become an important real-world proof point.
The automotive supplier ZF last week suggested that, with a Porsche Taycan as its prototype, it's able to boost cold-weather EV range by up to a third with a revamped thermal management system and propane-based heat pump. It shows there may still be some significant range gains to achieve without upsizing batteries.
Tesla Supercharger
And recent J.D. Power data suggests that fast-charging reliability is abysmal when looking at all but Tesla Supercharging. Will the shift to Tesla's NACS connector in future EVs extend Tesla's consistent experience to other brands?
_______________________________________