"I designed the carbon tub that saved your life," Adam Thomson exclaimed. "I'm so, so happy to meet you."
Thomson, then a top engineer for the supercar marque, and I were in the South of France for the launch of McLaren's GT model, and Thomson had pieced together I was the passenger in a horrific 2018 crash wherein I'd been driven straight off a mountain in a McLaren 570S Spider, based on very specific safety cell queries I'd posed.
Overcome with emotion, I immediately embraced Thomson with a bear hug, and I'm pretty sure he welled up. I definitely did. "I can't imagine how scary that must've been," he said, wide-eyed. "Those crash numbers are absolutely staggering."
Boy, are they. I worked with a NASA rocket scientist and an accident engineering firm to determine we'd left the road around 65 mph, spending three seconds airborne as we fell 80 feet down the mountain, coming to rest 300 feet from our launch point. We barrel-rolled twice, with an initial 50G impact, missing a spate of imposing trees and two three-foot wide drainage pipes.
That Car and Driver story omits all the experts somberly revealing had our trajectory been an inch or two different, I'd be dead.
Whenever I drive a mountain road now, the notion of that razor-thin margin flashes in my brain, brighter than the ESC light of the 570's dash blinking seconds before we left the road. On the five-year anniversary of my brush with mortality, piloting a 2023 McLaren Artura on a similar sojourn from Los Angeles to Monterey's Car Week unleashes a torrent of memories. I pass the same parking lot from which I originally departed, stop at the same gas station, grab breakfast from the same cafe; even the dawn fog blanketing Malibu is eerily similar.
While the exact route I'd previously driven—Ojai's treacherous Route 33—was closed due to mudslides, Route 154 outside of Santa Barbara is an equally dynamic, mountainous alternative. Midway through those twisties, a precipitous drop to my left, sans guardrails, sparks light panic. Reflexively, my foot knocks against the Artura's carbon fiber tub in the footwell; a calming safety blanket.
The aim for any safety cell is a reduction of joints, while increasing the amount of component integrations. "Every time you bolt something together, that joint is the weakest part of the system," shares Andy Sylvester-Thorne, McLaren's Head of Body-In-White Engineering. (Thomson has since left McLaren.). "Wherever you have single points of contact, we seek to eliminate those points and, accordingly, make the overall structure stiffer, stronger, and lighter. If our tub comprised, say, aluminum stampings, we'd have 50 different components which would require thousands of welds to create the whole. Each of those welds is a potential failure point."
It's an arduous process. In part, challenges surrounding remarkably safe composite material design are innumerable, particularly when compared to metal. "We understand the properties of metal in a crash. Metals largely behave the same in every crash simulation," he says. "Carbon composite crash models are 100 times more complicated. You can tailor the fibers in any direction, to be stronger depending on where it'll take the most load. The number of different opportunities we have to get right explodes. It requires a strong methodology in how we build those crash simulations."
All of those hours in crash studies seem to have paid off in the evolution of the 570S into this Artura. "The Artura's monocoque carbon tub is stiffer and stronger than the 570S," Sylvester-Thorne explains.
Now in its third-generation, McLaren's carbon monocoque demonstrates the engineers' supreme understanding of how to manage stresses within the structure, eliminating unnecessary portions, in an unrelenting bid for lightness and rigidity.
The Artura's carbon cell is heavier than the 570S', owing to more incorporations of things like the Artura's hybrid battery cell, and the rear B-pillars. That monocoque is the first to roll off McLaren's proprietary production line, too; previous tubs hailed from Carbo Tech, an Austrian supplier.
"Once it's all under one roof, design and manufacturing can more easily align to find clever ways through complicated problems that were harder with an external supplier," Sylvester-Thorne says. The proof of that synergy comes from the scales; despite the addition of a hybrid system, the Artura clocks in mere pounds above the 570S curb weight.
Myriad potential crash scenarios are calculated during a carbon tub's development, though Sylvester-Thorne quips that "a high-speed, seven-story crash off a mountain" isn't among them. "With 40,000 McLarens now on the road, there've been a handful of significant accidents. Yours was one of those 'hold your breath' moments which clearly had a terrific outcome." But these unexpected real-world crashes are definite learning points for McLaren engineers.
From such catastrophes, McLaren looks to see whether the vehicle performed as expected. "Ideally, all bits outside of the carbon safety cell are designed to fall away as they absorb the energy from the crash," he says. "They've done their job, and that significant energy can't translate to the driver or passenger."
Anecdotally, that's what happened to the 570S; the front end of the car was decimated, the frunk completely demolished, though my enclosed luggage somehow managed to remain intact. The left rear wheel kindly took a pummeling during the corkscrew mountain fall, bending significantly, as did the right rear buttress. Yet the only physical injuries myself and the talentless driver incurred largely came in the form of scratches and small nicks during the clamber up the bramble-filled, 40-degree hill back to the road.
(Incidentally, upon reaching the asphalt, a responding California Highway Patrol officer dryly remarked, "That hill is littered with rattlesnakes. Lucky you didn't get bit." Imagine surviving the wildest crash of your life to be killed by a poisonous snake when leaving the vehicle?)
"Given the drop and the speed, I was surprised when I saw your car's photos; I'd have assumed it would be in a lot more pieces," Sylvester-Thorne says. "But it wasn't shocking that the safety cell of the car was in one piece. That's expected." (My 570S carcass now resides in Texas, at McLaren's U.S. headquarters, where the after-sales team uses it as a training and learning tool for mechanics and technicians.)
Inquire as to McLaren's specific plans for its carbon fiber tub technology and Sylvester-Thorne politely demurs: "That's tricky to answer without giving away a few secrets from our technology roadmap." What he can divulge is that there's a continual push for improvement in McLaren's understanding of the manufacturing process of these resin systems.
"We can't improve the fiber itself. The perfect fiber is a pure carbon fiber, with absolutely no contaminants to it," he says. "Those applications are for aerospace technology and for Formula One cars; to bring it into a road car would be 20 or 30 times pricier than what we could justify, while only giving a miniscule performance improvement."
Still, there are learnings from how those fibers are produced, informing McLaren's engineering team as they focus on making carbon tubs in a more sustainable and efficient manner. "If we have less waste and less time spent in the way we transform raw carbon fiber into the end product, our safety cell, those are good gains," he says.
Overall, "safety isn't sexy, but it's very important," surmises Slyvester-Thorne. "When an article like yours comes out, detailing a big crash, suddenly everyone is more interested in what we're doing." Internal recognition for the engineers responsible for the tub skyrocketed after McLaren CEO Mike Flewitt circulated my recounting in a company-wide email. (Flewitt also personally emailed to say, "This is one of the most moving articles I've ever read. Very powerful. I thank God you survived unhurt.")
There are no Thelma and Louise moments during my five-hour drive in the Artura. The closest those Pirellis get to the edge of a cliff are when I stop for some photos. Spirited sprints in the agile and compliant 671-horsepower coupe are confidence-inspiring, though nothing tempers anxiety faster than realizing your carbon cocoon is the pinnacle of years of tireless work by Thomson, Sylvester-Thorne, and countless others.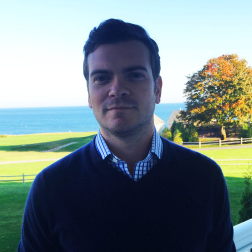 Digital Director, Men's Health
Sean Evans' bylines have appeared in New York Magazine, Fast Company, Conde Nast Traveler, The Drive, Entertainment Weekly, New York Daily News, and more.