Which automaker started offering weekly EV leases for Uber drivers?
Which upcoming EV will get a single-screen interface much like that of the Tesla Model 3/Y?
This is our look back at the Week In Reverse—right here at Green Car Reports—for the week ending June 2, 2023.
The electric Volkswagen Bus has been a long time coming, and VW at last provided a look this week at the 2025 VW ID.Buzz Americans will be able to buy, in its extended-length three-row version. With seating for seven, a bigger battery, more power, and available all-wheel drive, it's no longer a counterpoint to compact crossovers, but it channels all the same nostalgia.
2025 Volkswagen ID.Buzz
Toyota confirmed a three-row electric SUV for U.S. production starting in 2025. The model will use batteries from its North Carolina battery hub and is expected to be built on next-generation software, electronics, and body/chassis platforms.
Volvo has teased that its upcoming EX30 crossover EV will go simple in its interface—with a single, Tesla-like screen layout handling it all. That helps free up space for a dash-wide soundbar, more storage and, perhaps, a feeling of calm. But we'll have to wait until June 7 for all the details.
Volvo EX30 interior and interface
Fisker confirmed an EPA range rating of 360 miles for the Ocean electric SUV. The rating applies to the Ocean Extreme, which uses a 113-kwh battery pack, although that's likely to also apply to the Ocean One launch edition. Fisker also says the Ocean Extreme has all the necessary certifications for U.S. deliveries, set to start June 19.
The base 2023 Kia EV6 Light is returning to the U.S. lineup—sort of. At $43,925, and offering up a 220-mile range from its single-motor rear-drive layout and modest 58-kwh battery pack, the 2023 EV6 Light could be what a lot of budget-minded EV households still want. But according to Kia it's limited to 10 western states.
2022 Kia EV6
The startup Atlas E-Mobility announced plans last week to build the first EV designed and engineered in Africa. It aims to start making EVs in Morocco in 2026 for Africa, Europe, and the Middle East, with a wider release in 2027.
Another EV startup, Italy's Aehra, has revealed more about its vehicle architecture, and it stands out versus some other premium electric vehicles. It's talking about excellent dynamic performance, but with an emphasis on efficiency over all-out performance, plus maximum "sustainability and battery repairability." It revealed an SUV last October and plans to reveal a sedan in June.
Ford Drive – Uber pilot program with Mustang Mach-E
Ford is offering Uber drivers flexible leases of the Mustang Mach-E EV starting at $199 a week. That's a better deal than what Hertz has been offering on the Model 3 to Uber drivers, and Uber says it will earn an extra $1 for drivers for each electric trip.
The 2019-2024 Jaguar I-Pace has been recalled over battery-fire concerns. In nearly 6,400 potentially affected vehicles, battery control software will be updated to help monitor the situation and change parameters, and battery modules will be replaced if necessary. While the problem presents as overheating, the automaker hasn't yet disclosed a root-cause description of the issue.
2023 Jaguar I-Pace
The U.S. and Canada have announced plans for a joint binational EV charging corridor that will connect the two countries—effectively spanning the traditional auto-industry heartlands of each respective nation, from Kalamazoo, Michigan, to Quebec City, Quebec, and keeping with the infrastructure law's 50-mile intervals.
A study looking into car care products served as a reminder that tailpipe emissions aren't the only ones we need to be concerned about. Yes, wiper fluid is a source of harmful vehicle emissions, too.
Ford CEO Jim Farley said Wednesday that, for most automakers, EV vs. ICE cost parity isn't going to happen by 2025. EVs will remain more expensive to manufacture than gasoline models until the end of the decade. But future generations of EVs will accomplish it with vast simplification and, likely, continued battery-cost gains.
Even those who understand that dealer franchises have become a backbone of regional and small-town economies may find it a bit surprising that dealerships anticipate spending $5.5 billion on EV-related infrastructure.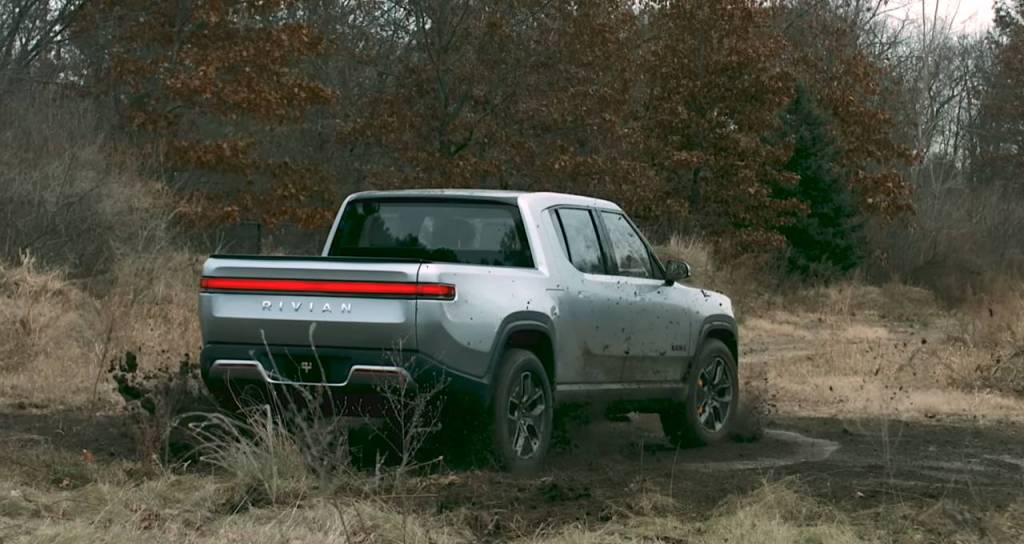 Rivian Tank Turn in action
And in an Instagram Q&A session right before the holiday weekend, Rivian CEO RJ Scaringe explained why its jaw-dropping Tank Turn mode isn't happening in production trucks. The maneuver, which would run the left and right motors of Quad Motor versions opposite directions—with sophisticated electronic controls, of course—isn't coming for a simple reason: It doesn't tread lightly.
_______________________________________