Some people may say that an environmentally friendly SUV is an oxymoron. But let's face it. In America, SUVs are selling like hotcakes, and if you want them to start adopting a lifestyle that's not as heavily based on fossil fuels, then a hybrid or electric SUV isn't a bad place to start.
Everything from traditional hybrids (non-plugs) to plug-ins to fully electric vehicles are included on this list. In fact, many are superior to their traditional gasoline counterparts thanks to the added horsepower and instant torque of electric motors. It seems the newest trend is to offer a hybrid SUV with 4WD standard.
We rank 26 hybrid & electric SUVs from best to worst by combining their ratings on driving performance, standard features, design, and value.
28. 2023 Lexus NX Hybrid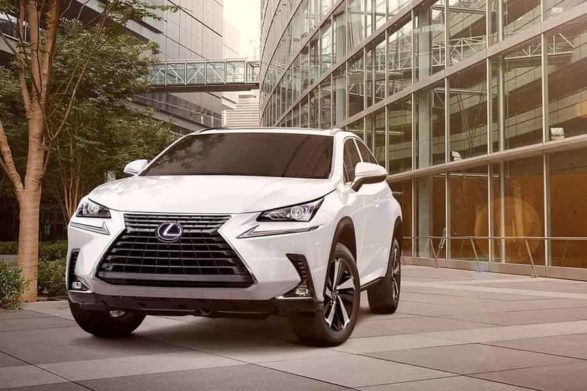 (image via Facebook)
Like most other Lexus vehicles, the NX Hybrid has top-notch reliability ratings. It also has one of the best fuel economy ratings of any gas-powered SUV: 41 MPG in the city and 37 MPG on the highway. So what dragged the NX Hybrid down to the bottom of the list? Frankly, one of the worst infotainment layouts on any vehicle. Lexus console styling has never been our preference, but this is frankly bizarre. It also has below-average cargo space for this class of SUV.
27. 2023 Lexus UX Hybrid
(image via Facebook)
The Lexus UX Hybrid was brand-new for model year 2019. Even smaller than its NX Hybrid sibling, the UX Hybrid doesn't fare much better on this list. The infotainment layout is confusing and, frankly, distracting. Its smaller size also doesn't allow for much cargo, but that means it's agile on packed city streets. Impressive fuel economy and taught responsiveness round out the positives.
26. 2023 Ford Explorer Hybrid
(image via Facebook)
The Ford Explorer was completely redesigned from the ground up for the 2020 model year. This new generation includes a hybrid offering, but it's really only the mildest of mild hybrids. Fuel economy increases to a 28 mpg combined rating for RWD compared to 24 mpg for the gas model. That's not a huge jump, especially considering the price increase. If you're really looking for fuel efficiency, the Explorer Hybrid isn't the vehicle for you. On the other hand, if you want to ease your environmental guilt about purchasing a three-row hauler while needing all that cargo space, the Ford Explorer Hybrid fits the bill.
25. 2023 Lexus RX Hybrid
(image via Facebook)
We keep picking on Lexus for their confusing infotainment system, but they really do make it hard to love! We'll skip beyond that criticism because, otherwise, there is much to love with the RX Hybrid. The cabin is upscale and roomy. The ride is gentle, and the regenerative breaks are some of the best in the biz. The redesigned RX Hybrid offers an array of features but the infotainment system is a bit – old.
24. 2023 Kia Niro (& Plug-In Hybrid & EV)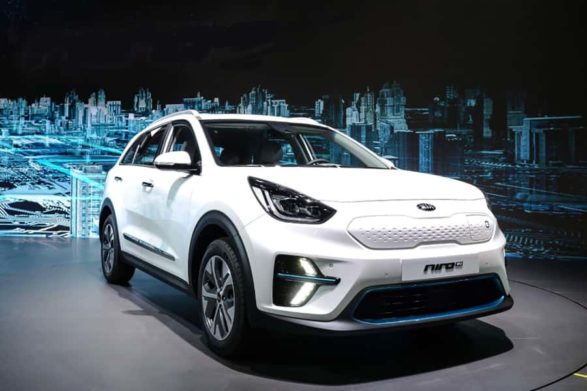 (image via Facebook)
The redesigned Kia Niro is an interesting vehicle in that it doesn't come with a traditional gas-only engine. Instead, there are 3 flavors: a traditional hybrid (with up to 50 MPG combined ratings), a plug-in hybrid (which offers the equivalent of 108 mpg), and a true EV (with a top range of 253 miles). The range of the EV is one of the longest currently on the market.
On the downside, it is one of the smallest options on this list, and there is no AWD model. That's probably because this is honestly a lifted hatchback instead of a true SUV. The handling is also a little mushy and could be more responsive.
23. 2023 Lincoln Corsair Plug-In Hybrid
(image via Facebook)
The Lincoln Corsair was brand new in 2020 and is already Lincoln's top-selling vehicle. It replaced the old MKC when Lincoln dropped the letter naming convention on its models. We are fans of the Corsair's exterior styling. Inside, this compact luxury SUV is spacious and cushy. It also has a sizeable amount of standard features compared to competitors. On the downside, the interior is a little less luxurious than one would expect. Rivals have larger infotainment screens, for example. The plug-in hybrid model can travel 28 miles on electricity alone, which is a plus.
22. 2023 Toyota Venza
(image via Facebook)
The Toyota Venza returns this year. The nameplate may sound familiar as it was in use as recently as 2015, but that vehicle looked more like a stretched Camry wagon or perhaps a shrunken minivan. This new Venza is more clearly a mid-size crossover SUV that only comes in a hybrid powertrain option. It's essentially a RAV4 Hybrid with a more sophisticated (rather than aggressively rugged) design scheme. The interior is reaching for luxury brands, even if the center stack layout is a little odd. It seems the designers just stuck a tablet on top? Regardless, the 39 mpg combined rating is nice to see.
21. 2023 Lincoln Aviator Plug-In Hybrid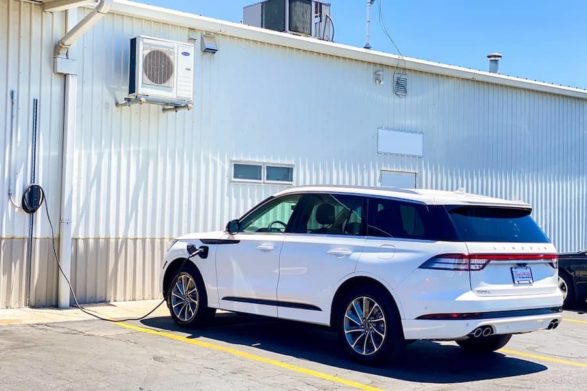 (image via Facebook)
Like its smaller sibling, the Lincoln Aviator offers a plug-in hybrid configuration that can travel 21 miles per charge on electricity before the gasoline engine fires up. Because it is larger, it doesn't go quite as far as the Corsair. But for the price premium that buyers pay, the hybrid option wouldn't exactly be considered a good deal. That being said, the interior is nice and airy. The driving dynamics, particularly the ride quality, are top-notch. Even though it does have a third row, things are rather tight back there.
20. 2023 Subaru Crosstrek Hybrid
(image via Facebook)
The Subaru Crosstrek Hybrid is a plug-in version of the traditional Crosstrek. On a full charge, the Crosstrek Hybrid can get the equivalent of 90 mpg in EV mode or 35 mpg in hybrid mode. That's not as far as some competitors, but it's nothing to scoff at. It has standard AWD and plenty of features for the price point, but you won't be loading it up with much cargo thanks to the small dimensions.
19. 2023 Tesla Model X
(image via Facebook)
The Tesla Model X is all-electric, so if you're looking to get rid of gasoline altogether, this is an option for you. A fully charged battery will take you a whopping 348 miles (a distance only exceeded by its sedan sibling) on the Long Range Plus model. The Model X has quick acceleration and an airy cabin, partially thanks to the glass roof.
Yet, Tesla as a whole has some major quality control issues. Additionally, the X-Wing doors (which open upward, not outward) on the Model X are a notorious maintenance problem.
18. 2023 Ford Escape Hybrid (& Plug-In Hybrid)
(image via Facebook)
The gas-fueled Ford Escape already got pretty good gas mileage for its class: a 30 mpg combined rating for the FWD model. The Ford Escape Hybrid bumps that combined rating up to 40 mpg! The 2020 model had a complete redesign inside and out, so there are only minor upgrades for this year. New for 2023 is a stylish front end and a standard 8-inch digital gauge display.
17. 2023 Tesla Model Y
(image via Facebook)
The Tesla Model Y is the newest addition to the Tesla fleet. It's a compact crossover based on the successful Model 3. Notice that it doesn't have the vertical opening doors of the larger Model X. Range isn't a problem with the Model Y. The Long Range AWD version is rated at 326 miles per charge. The Performance model is more expensive but has a shorter 303-mile range. The zippy electric speed and cool Tesla tech are here, but the large touchscreen-centric controls are an annoyance.
16. 2023 Kia Sorento Hybrid
(image via Facebook)
The Kia Sorento was completely updated for 2021 and returns in 2023 with even more. First, let's get the negatives out of the way. There is a third row, however, it isn't very comfortable. Cargo space is smaller than other competitors, as well. On the plus side, the front of the cabin is spacious and comfortable and much more upscale and modern than the outgoing model. The hybrid version ups the combined mpg ratings from 26 to 37, well worth it in our opinion. The new plug-in hybrid model features a 261 horsepower engine and a combined 79 mpg equivalent. It can travel up to 32 miles on electric power alone.
15. 2023 Honda CR-V Hybrid
(image via Facebook)
The CR-V's main competition, the RAV4, has had a hybrid model since 2016. Four years later, Honda decided to get in on the action. The Hybrid version of the CR-V bumps up combined fuel economy ratings from 29 mpg to 38 mpg. On a full tank of gas, you can drive up to 518 miles before you need to refill. The Honda CR-V Hybrid also comes standard with an all-wheel-drive powertrain. Like the gas version, The CR-V Hybrid has a smooth ride and some of the best cargo space in its class. The infotainment layout could use a little updating, however.
14. 2023 Volvo XC40 Recharge Pure Electric
(image via Facebook)
The wordily named Volvo XC40 Recharge Pure Electric is a true EV version of the company's lauded XC40. It looks virtually identical to its gasoline counterpart save for a closed-off front grille. The XC40 Recharge gets just about everything right. It has a handsome, upscale, and well-laid-out cabin. Build quality is stellar, and we are big fans of the overall design inside and out. There's also lots of standard tech and, of course, safety features. That's Volvo's bread and butter. The big downside is that, with a high price approaching near $60K, the XC40 Recharge is only rated at 223 miles. That's not only well behind Tesla, but also less than competitors from Jaguar and Audi.
13. 2023 Toyota Highlander Hybrid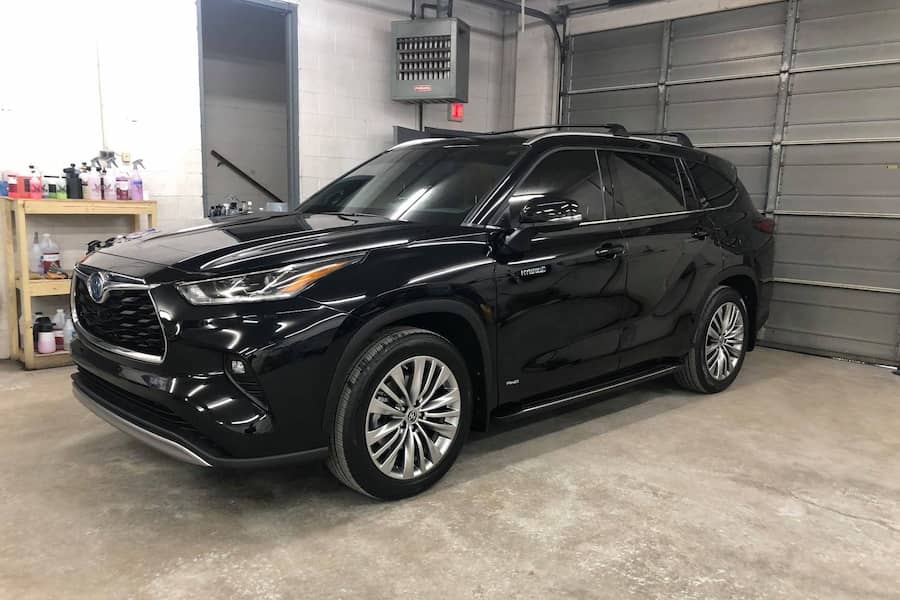 (image via Facebook)
Starting out with our dislikes, the Toyota Highlander Hybrid has a non-intuitive infotainment layout and the handling seems a little all-over-the-place. But it does have some positives. It's one of the few three-row options, which means it's also plenty spacious. It also has some in-demand standard safety features and good reliability ratings. A 3-row SUV with a 36 mpg combined fuel economy rating? Now that's something to smile about.
12. 2023 Hyundai Santa Fe Hybrid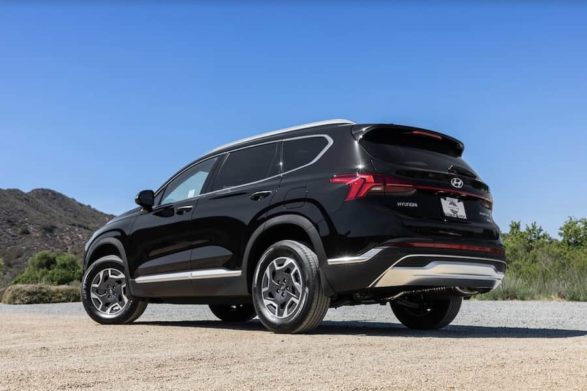 (image via Facebook)
The Hyundai Santa Fe is sporting a new recent "facelift" to make it more cohesive with newly released models, particularly its front grille. It's not completely redesigned, but the hybrid version is somewhat new, having been introduced in 2022. The EPA fuel economy ratings are 34 mpg combined on gasoline and 76 mpg-equivalent under electric power. That's a big improvement on the 26 mpg combined ratings of the traditional gas version. The interior is a little hard plastic-heavy for our tastes, but the handling is spot-on. The long list of standard features doesn't hurt either.
11. 2023 Volkswagen ID.4
(image via Facebook)
Volkswagen's first mass-market EV for North America is making a splash. The all-new model is a compact crossover that has decent interior space, speedy electric acceleration, and taught handling. The infotainment style is a little on the cheap side for us. And just a sidenote for VW, a white steering wheel (something that is required to be touched by hands) is just a cleaning nightmare. So maybe don't opt for the 1st Edition trim. The ID.4 Pro trim is rated at 275 miles per charge which is very good!
10. 2022 Toyota RAV4 Hybrid (& RAV4 Prime)
(image via Facebook)
The Toyota RAV4 Hybrid is the best-selling hybrid in the United States. Yes, that's right. Toyota even sold more RAV4 Hybrids than the Prius. Remember what we said at the beginning? SUVs are selling like hotcakes!
The 2023 RAV4 Hybrid had a complete redesign a few years ago, so this year's model only has minor updates. The newest major addition for is the RAV4 Prime, a plug-in hybrid version. Using electricity alone, it can travel up to 42 miles. That's the longest range of any PHEV on the market.
9. 2023 Hyundai Kona Electric
(image via Facebook)
We rated the Hyundai Kona highly in our subcompact SUV rankings (#1, in fact). The EV version of the Kona is even better. On a full charge, the Kona Electric will travel 258 miles, which is one of the longest ranges of any non-Tesla car.
The Kona Electric is also zippy and athletic with great handling. Even though it's marketed as an SUV, we would probably classify this vehicle as a lifted wagon. Therefore, the rear seats are snug, and cargo space is on the lower end of the spectrum.
8. 2023 Porsche Cayenne E-Hybrid
(image via Facebook)
The Porsche Cayenne E-Hybrid is a plug-in version of the Cayenne SUV. It can travel 17 miles on battery alone when fully charged. Is that a lot? No, but it's something. As Porsche is known for, the Cayenne E-Hybrid has a responsive powertrain, powerful engines, and taught handling. The interior cabin is just as lush as the gasoline-only model. Does it have the best fuel economy ratings for a hybrid? Not really, but if you're wanting a Porsche, you're probably more interested in driving dynamics anyway.
7. 2023 Volvo XC60 Recharge Plug-In Hybrid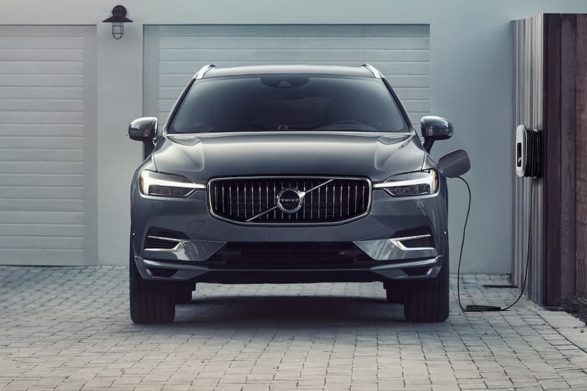 (image via Facebook)
Here comes Volvo with the long names again. The XC60 Recharge Plug-In Hybrid is stately inside and out. Volvo has some of our favorite interiors in the biz. The seating is especially comfortable, and there is good cargo space. The driving experience is a little ho-hum, but the hybrid model does offer a little more get-up-and-go. Being a plug-in hybrid, it is capable of traveling 48 miles on electricity before the gas engine kicks in. Other plug-ins have better numbers, but the XC60 Recharge is a better all-around car than many of them.
6. 2023 Volvo XC90 Recharge Plug-In Hybrid
(image via Facebook)
The Volvo XC90 Recharge Plug-In Hybrid is just a hair better than its smaller sibling. That's mostly due to the mid-size proportions that give even more cargo room. But the bigger size also comes with even more standard technology and safety features. It truly fits the luxury class moniker. As it is a little larger, the XC90 recharge only goes 18 miles on electricity. There are options for larger wheel sizes, but we advise against going bigger. They seem to negatively impact the serene ride quality.
5. 2023 Chrysler Pacifica Hybrid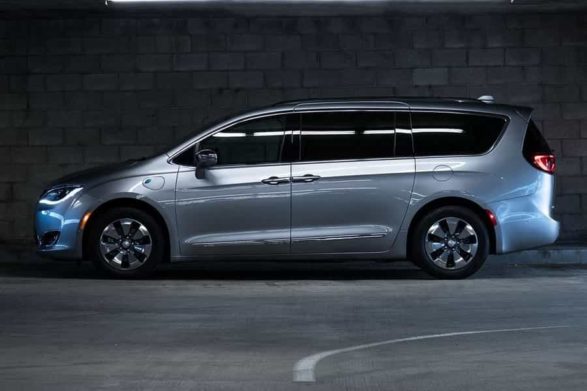 (image via Facebook)
Thanks right. We placed a minivan at #3 on this list, and we aren't embarrassed about it. The Chrysler Pacifica Hybrid is a plug-in variant of Chrysler's popular minivan. On a full charge, it can travel 32 miles on battery alone. That's almost double the Subaru Crosstrek from earlier in the list, and a decent "running errands" distance before the battery kicks in.
It has composed handling, a comfortable ride, a lengthy list of features, and an intuitive infotainment layout. The interior is large and spacious with enough room for the whole family and all of their cargo. The only drawback is that the second row doesn't fold into the floor like the non-hybrid version.
4. 2023 Kia Sportage
The 2023 Kia Sportage Hybrid is a brand-new model for the year. The vehicle boasts a stellar fuel economy, getting up to 44 mpg on the highway, depending on which model you choose, and features a luxurious interior with a fully digital cockpit including a standard 8-inch touchscreen and a 12.2-inch digital instrument cluster. safety features are plentiful, and you'll get wireless Android Auto and Apple CarPlay with it as well.
3. 2023 Audi e-Tron
(image via Facebook)
The Audi e-Tron SUV will go 225 miles on a single charge, and it will get you to your destination using state-of-the-art technology and upscale cabin materials. It's comfortable and responsive, even if a little expensive. Cheaper competitors can travel further on a charge, but right now, we think it's one of the top performers.
2. 2023 Ford Mustang Mach-E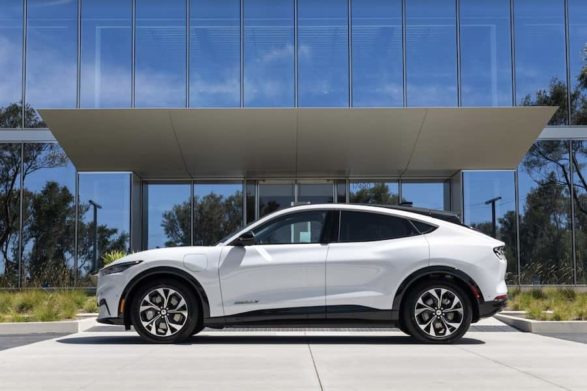 (image via Facebook)
This may be a surprise to some, but the Ford Mustang Mach-E is top-of-the-pack for us. Regardless of how you feel about it bearing the "mustang" moniker, the Mach-E is powerful, energetic, and just plain fun to drive! The base RWD model is rated for 247 miles, which isn't bad. An "extended" model also exists which bumps that rating up to 312 miles, beating anything that doesn't have a Tesla badge. We aren't a fan of the large tablet as a console. We think it could be better integrated, but we do appreciate the tactile turnstile knob. And there's no denying that this Ford is well-built and thought-out!
1. Hyundai Tucson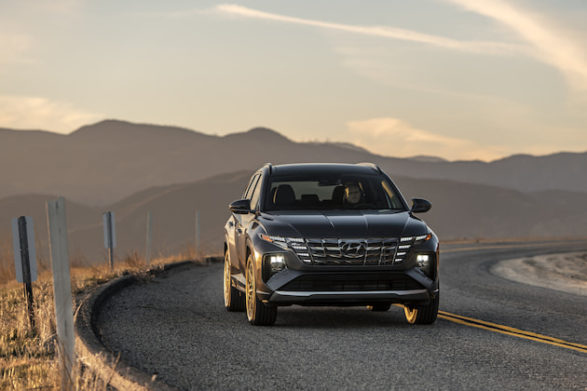 (Image via Hyundai)
The 2023 Hyundai Tucson Hybrid is an incredible SUV that delivers exceptional performance, style, and fuel economy. This new hybrid model is a perfect combination of fuel efficiency and advanced technology. It boasts a sleek and aerodynamic design, a powerful engine, and electric motors that deliver fuel economy of up to 38 mpg on the highway. Apart from the exceptional fuel economy, the Tucson Hybrid offers a spacious and comfortable cabin with advanced features like a panoramic sunroof, wireless charging, a digitized cockpit, and a range of the latest safety features. With its cutting-edge technology, dynamic design, and impressive fuel economy, the 2023 Hyundai Tucson Hybrid is certain to be a popular choice for anyone seeking an eco-friendly, efficient, and stylish SUV.
(Featured image via Ford)