A shift to Tesla's NACS connector in future EVs, and Tesla Supercharger compatibility even sooner, has now been announced by enough automakers to declare it the majority charging standard for EVs in North America for the foreseeable future. And while automaker press releases and statements have pointed primarily to the number of charge points that the Tesla network adds, there's a subtext to it all that's arguably much more important: reliability.
That reliability, as the federal government is starting to keep tabs on, isn't guaranteed, and it will be a litmus test of what Tesla has built and whether it can make the translation. Up until now Tesla Supercharging has effectively been a closed system. With no other automakers' EVs capable of charging on the Tesla network quite yet—or officially capable using Tesla's NACS connector, natively or otherwise—it's a gamble.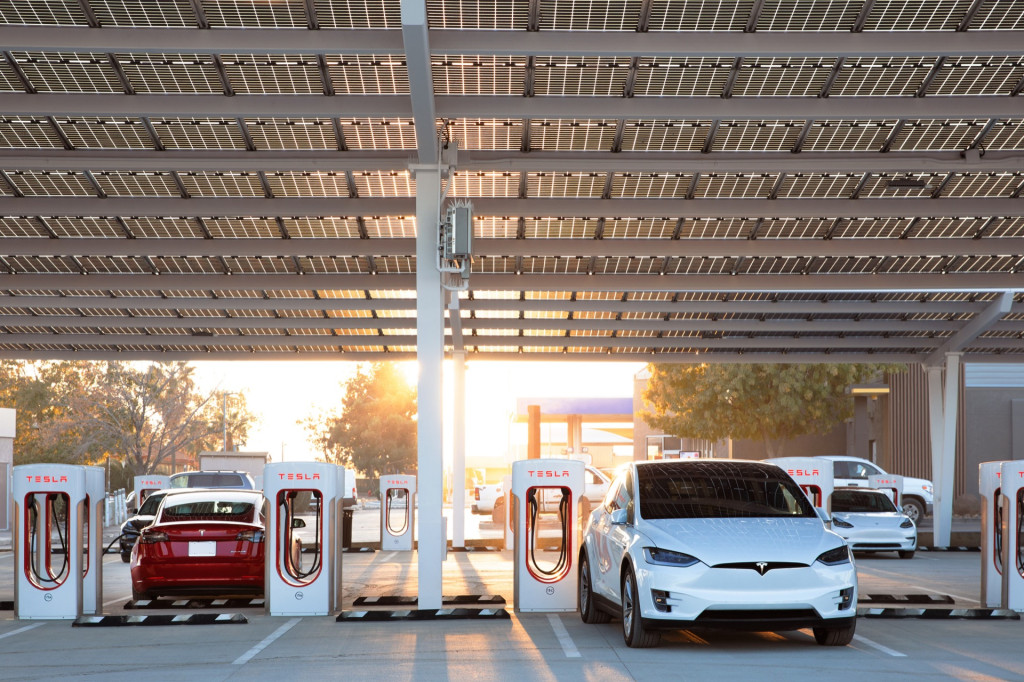 Tesla Supercharger
The gamble is almost certainly driven by far superior reliability ratings that continue to trounce EVs and networks using the CCS connector. The automotive survey giant J.D. Power has ranked the Supercharger network highest in consumer satisfaction, and according to Power's latest E-Vision Intelligence Report, released Friday, looking at data for the first quarter of 2023, a far lower portion of Tesla drivers find themselves unable to charge at a Supercharger stop. Just 3.9% of respondents reported being "unable to charge" on the Tesla Supercharger network, versus 21.6% on all other networks, minus Tesla Destination chargers.
That translates directly to much higher satisfaction levels with public charging networks, as part of the EV ownership experience, with Tesla owners at 734 on Power's 1,000-point scale, versus 558 for all other manufacturers.
"When it comes to reliability, no other provider is even close to Tesla," Power summed.
J.D. Power public charging satisfaction by brand
Whether it's the connector itself, as some have argued, or whether it's the hardware, the standard, or the EVs themselves, it matters tremendously for EV adoption, at a time when GM, Ford, and many other legacy automakers are aiming to ramp up their EV production. According to Power, the lack of public charging infrastructure has been the top consumer barrier to EV adoption over the past year. It's followed by range anxiety, charge time, and a lack of home or work charging.
Tesla added 1,292 Supercharger ports in the first quarter of the year, up to nearly 19,500 ports nationwide at that point. According to the U.S. Department of Energy, Tesla now offers 2,025 station locations and 21,713 ports. The Supercharger network may lag in locations compared to CCS—which will continue to be supported, via adapters—but it's reliable and fast and that makes a difference for owners.
Many critical questions remain. For instance, will a switch to the Tesla standard, when run by other charge network operators, lead to a measurable boost in reliability versus CCS?
GM EVs get Tesla Supercharger access in 2024
That's almost certainly a consideration for automakers that are adopting the Tesla NACS connector so far. Including Ford, GM, Rivian, Volvo, and Polestar—all of which have announced compatibility (via an adapter) with the Tesla fast-charging format starting in 2024, that will suddenly make more than 70% of the new EV market NACS-compatible. With Hyundai, Stellantis, and the Volkswagen Group of brands all now evaluating the idea, and the SAE making it a true standard for interoperability and manufacturing, it's hard to imagine EVs with the CCS port being more than a small fraction of the market.
Another related question is whether satisfaction in Tesla's Supercharger network will remain as high when drivers of other brands' EVs are visiting it. Further, will scaling up the Supercharger network amount to a net positive or negative for Tesla owners?
Ford Mustang Mach-E at Tesla Supercharger station
"It is less clear whether making Tesla's network available to other brands will negatively or positively influence Tesla consideration," Power says. While it could lead to longer queues at Supercharger stations on busy weekends, it might also have quite the opposite effect, leading to an even faster buildout of the brand's superior V4 hardware that's needed for GM products like the GMC Hummer EV and Chevy Silverado EV, as well as the Tesla Cybertruck.