It may feel like mid-year because it is, but new 2024 models debuted this week and should be arriving in dealer lots before you can say how quick summer passed. In addition to a refreshed Volkswagen Atlas and Atlas Cross Sport, we got some seat time in Buick's promising new model, the Envista compact crossover.
Hyundai and Mitsubishi revealed changes to their 2024 model lineups, and we pit some popular bestsellers against one another in our latest stretch of new car comparisons.
Here's what moved us at The Car Connection this week. Thanks for reading.
Reviews
Buick bumps its spacey, spacious Envista hatchback to first class with racy style, but performance takes a seat in coach. It earns a TCC Rating of 6.0 out of 10.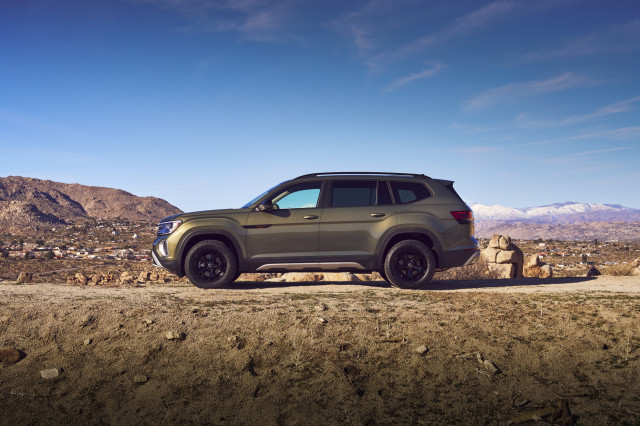 VW's Rock 'Em Sock 'Em SUV stuffs a better turbo-4 under the hood, and slicks up its interior. The three-row Atlas and two-row Atlas Cross Sport combine for a TCC Rating of 6.5 out of 10.
Brimming with upscale features and boasting a supple ride, the 2024 Kia Telluride lacks only a frugal hybrid powertrain.
Nissan's small electric hatchback carries on as a budget counterpart to the newer, flashier Ariya.
With a low entry price and plenty of refinement, the Nissan Sentra is held back only by its crash-test scores.
The Mazda 3 sedan boasts the best attributes of the compact segment, with lovely styling and great driving dynamics.
Highlights of the 2024 model year for Hyundai include a redesigned Kona, a new Santa Fe, and fresh looks for the Elantra and Sonata.
What's New for 2024: Mitsubishi
Mitsubishi mostly stands pat for the 2024 model year as it prepares for an electric future.
Kia EV6 GT-Line, red, and Hyundai Ioniq 5 Limited
Head-to-head compares
Hyundai Ioniq 5 vs. Kia EV6: Compare Electric Cars
The Kia EV6 and Hyundai Ioniq 5 are trendsetters. On one side they're true leading-edge technology proof points for EV range and charging, and serious challengers to the Tesla Model Y.
Ford Maverick vs Hyundai Santa Cruz: Compare Pickup Trucks
Both of these crossover-based vehicles give shoppers an open bed and a more adventurous edge than compact crossover SUVs that fill roads like construction zones in summertime.
Acura TLX vs. Lexus ES: Compare Cars
The 2023 Acura TLX and 2023 Lexus ES are both based on front-wheel-drive platforms and they sit below rear-drive-based luxury stalwarts from Audi, BMW, and Mercedes-Benz in price and market position. Still, they both deliver luxury and satisfying road manners but with better value.
Volkswagen Tiguan vs. Subaru Forester: Compare Crossover SUVs
Fundamentally, these two compact crossovers appeal to quite different types of shoppers, and you won't see them confusing the Forester and Tiguan on shopping lists.
Jeep Wagoneer vs. Chevrolet Tahoe: Compare Large SUVs
The Jeep Wagoneer eclipses its Tahoe benchmark in the full-size SUV class, but it's expensive and Chevy presents a better value in the Tahoe.
Acura MDX vs. Lexus RX: Compare SUVs
The Acura MDX's third row is small and only meant for occasional use, but the new Lexus RX ditches the tiny third row it had in its last generation.