The mid-size SUV is the default hauler for many American families, even among luxury vehicles. Two- and three-row crossovers offer plenty of interior room and comfort to go with their leather seats, high-end audio, and touchscreen infotainment.
Two of the most popular luxury SUVs are built in North America, and sold by upscale brands from Japanese automakers.
The 2023 Acura MDX delivers style, sportiness, space, and luxury. Based on the platform from the Honda Odyssey minivan and Pilot SUV, it's a cooler, more upscale alternative to both.
The 2023 Lexus RX comes from Toyota's luxury brand and similarly offers more luxury and cachet than the mainstream family haulers. It offers a pair of hybrids while the MDX sticks to gas models, and a plug-in hybrid RX is on the way as well.
But not all mid-size luxury SUVs are created equal. The Acura MDX's third row is small and only meant for occasional use, but it's there if needed in a pinch. Meanwhile, the new Lexus RX does away with the tiny third row it had in its last generation.
Both of these SUVs serve families with a sense of style tinged with luxury. When it's time to buy, however, which one is better?
2023 Acura MDX
2023 Acura MDX
2023 Acura MDX
MDX vs. RX prices and features
Base MDX costs about $51,000

Base RX costs about $49,000

Recommendations: MDX A-Spec and RX 350 Premium+
How much is an Acura MDX?
The MDX comes as the base model with optional Technology, A-Spec, and Advance packages or the Type S with the optional Advance package.
The front-wheel-drive base model costs about $51,000, and all-wheel drive adds another $2,200. Its standard features include a panoramic sunroof, a power tailgate, LED headlights, 19-inch alloy wheels, a 12.3-inch digital instrument cluster, a 12.3-inch infotainment screen, wireless smartphone charging, wireless Apple CarPlay and Android Auto, 12-way power heated front seats, and synthetic leather upholstery. It's backed by a 4-year/50,000-mile warranty with 2 years or 24,000 miles of scheduled maintenance.
The base with the Technology Package costs about $55,000. It adds navigation, a 12-speaker 550-watt ELS audio system, ambient lighting, leather upholstery, front and rear parking sensors, and 20-inch wheels.
We recommend going for all-wheel drive with the A-Spec package for about $60,000. It gets a sport exterior package, blacked-out trim, heated and cooled leather sport seats, a flat-bottom steering wheel, stainless steel pedals, and a 16-speaker ELS audio system.
We couldn't blame anyone for choosing the roughly $68,000 Type S as it's sportier and more powerful. It comes with an air suspension, adaptive dampers, a firmer suspension tune, bigger Brembo brakes, and 21-inch wheels. Add the Advance Package and the MDX Type S costs about $74,000. It's loaded with a hands-free tailgate, 16-way power front seats, a heated steering wheel, heated rear outboard seats, a head-up display, a 25-speaker ELS sound system, and a surround-view camera system.
How much is the Lexus RX?
Lexus sells the RX in RX 350, hybrid RX 350h, and more powerful hybrid RX 500h models, with available base, Premium, Premium+, Luxury, F Sport Handling, and F Sport Performance trim levels. Every RX gets a 4-year/50,000-mile basic warranty with two free scheduled maintenance visits in the first year of ownership.
The base RX costs more than $49,000 and comes standard with synthetic leather upholstery, heated 8-way power front seats, a power tilt/telescope steering column, a 9.8-inch touchscreen with wireless Apple CarPlay and Android Auto, navigation, a wifi hotspot, a 12-speaker sound system, ambient lighting, and 19-inch alloy wheels.
We recommend moving up to the RX 350 Premium+, which adds leather upholstery, a 14.0-inch touchscreen, cooled front seats, a heated wood steering wheel, wireless smartphone charging, and a sunroof. It costs about $54,000 with front drive or $56,000 with all-wheel drive.
The top of the heap is the RX 500h, which comes only as the F Sport Performance trim with AWD for about $63,000. It comes with leather and suede sport seats, aluminum pedals, a head-up display, cosmetic black exterior trim, rear-wheel steering, a sport-tuned suspension, adjustable dampers, bigger brakes, and 21-inch wheels.
Advantage: A draw for similar prices and values.
2023 Lexus RX
2023 Lexus RX
2023 Lexus RX
MDX vs. RX performance and fuel economy
MDX makes 290 or 355 hp

RX offers 246-366 hp

RX has a pair of hybrids
In its base form, the MDX packs decent punch from a 290-hp 3.5-liter V-6 that's capable of producing 0-60 mph times in the seven-second range. It's hooked to a smooth-shifting 10-speed automatic that usually has the right gear, but the paddle shifters come in handy for freeway passing. The base engine is EPA rated at 19 mpg city, 26 highway, 22 combined with front-wheel drive and 19/25/21 mpg with AWD.
The MDX feels more controlled, and almost sporty compared to the RX thanks in part to direct steering and prompt responses through the double-wishbone front suspension and multilink independent rear suspension. While the brakes are up to the job, the brake pedal has a non-linear feel with more response at the midpoint of its travel.
The Type S model cranks up the power and handling prowess. It gets a turbocharged 3.0-liter V-6 that ups the output to 355 hp and drops the 0-60 mph time to around six seconds. It drinks fuel at a rate of 17/21/19 mpg.
Adaptive dampers and a standard air suspension help firm up the Type S's responses without hurting the good ride quality, despite 21-inch wheels. Available Sport and Sport+ modes lower the ground clearance 0.6 inch as well for a lower center of gravity and sharper moves. The air suspension can also raise the ride height 2.0 inches to clear off-road obstacles, but the Type S doesn't have the tires or underbody protection to be an off-roader. Brembo front brake calipers fix the brake issues we have with the base models.
With all-wheel drive, the MDX can tow 5,000 pounds, and that drops to 3,000 pounds with front-wheel drive.
Lexus RX buyers have more powertrain choices. The base RX 350's 2.4-liter turbo-4 makes 275 hp, pushing the RX from 0-60 mph in 7.6 seconds with front-wheel drive or 7.2 seconds with AWD. It's mated to an 8-speed automatic that responds readily. It's rated at 22/29/25 mpg with front-drive and 21/28/24 mpg with AWD.
RX 350h customers get a 2.5-liter 4-cylinder and an electric motor to make 246 hp. The hybrid's continuously variable automatic transmission can keep the revs high and droning under power, disrupting the RX's typical quiet demeanor. It rates at a thrifty 34/37/36 mpg.
Lexus has a more powerful hybrid as well called the RX 500h F Sport Performance. It gets the RX 350's 2.4-liter turbo-4 as well as a front motor-generator and a rear motor to make a total of 366 hp. It shifts through a 6-speed automatic transmission that feels more responsive than the RX 350h's CVT, and it drops the 0-60 mph time to 5.9 seconds. The EPA rates it at 27/28/27 mpg.
The RX features front MacPherson struts and a multilink rear suspension. The 350 F Sport Handling model adds adaptive dampers, and the RX 500h F Sport Performance gets those dampers plus rear-wheel steering.
In its base form, the RX is more controlled than it has been in the past, though it's not quite up to the MDX's level. It has a slightly better ride, though. The F Sport models are sharper than anything from Cadillac, Infiniti, or Lincoln, and the F Sport Performance approaches the MDX Type S's moves, thanks in part to the rear-wheel steering that can virtually shorten the wheelbase by turning the rear wheels up to 4 degrees opposite of the fronts at lower speeds.
The RX can tow up to 3,494 pounds.
Advantage: RX for fuel economy.
2023 Acura MDX
MDX vs. RX off-road and 4×4 systems
Both come with front- or all-wheel drive

The MDX's all-wheel drive aids performance

Low-range gearing not available for either
Both the MDX and RX have front-wheel drive standard and all-wheel drive is optional. For the MDX, all-wheel drive runs $2,200. It sends power front to rear, with up to 70% going to the back, and it can also split power along the rear axle to help the MDX turn.
The RX has two types of all-wheel-drive systems. The standard system in RX 350 models varies the power from a 75/25 front bias to 50/50. In the RX 350h and RX 500h, the front tires are driven by the engine and an electric rear motor engages to give the vehicles all-wheel drive. The RX 500 Performance model's Direct4 AWD system sends 70% of the power to the front axle and 30% to the rear entering a turn, and switches it to 20/80 coming out of a turn.
Neither system is meant for off-roading and neither comes with low-range gearing.
Advantage: Draw.
2023 Acura MDX
2023 Acura MDX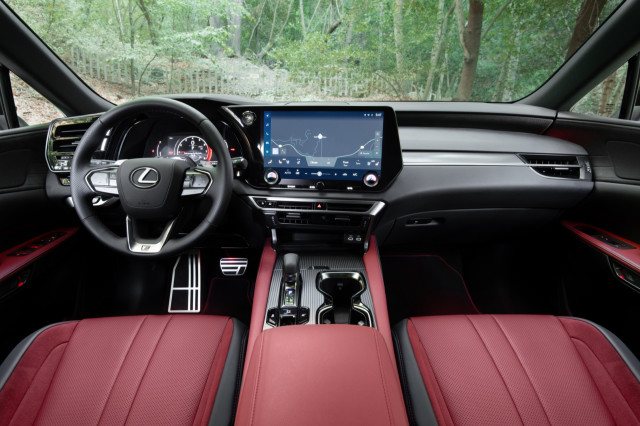 2023 Lexus RX
2023 Lexus RX 500h
MDX vs. RX size, space, and seating capacity, and bed space
MDX is longer

RX seats five

MDX seats seven
How big is the Acura MDX?
The MDX is the bigger of these two SUVs. It has a 113.8-inch wheelbase and stretches 198.4 inches long. With three seating rows, it handles up to seven passengers.
Front-seat passengers sit on heated 12-way power seats that are upholstered in leather in all but the base model with no packages. The MDX front seat has good space in every dimension.
The MDX comes standard with a three-passenger second row, but the middle seat can be removed to open a path to the third row and its seatback can be folded down to reveal cupholders, an armrest, and a small tray. It's smart packaging. Second-row passengers also have 38.5 inches of legroom, which will accommodate most adults, and it can move forward and back 5.9 inches to optimize legroom for the rear seating rows.
The second-row seats have pushbuttons to tuck and slide forward, which opens up an easy path to the third row. Once back there, two occupants have a miniscule 29.1 inches of legroom, which will only work for kids.
Cargo space maxes out at 71.4 cubic feet behind the first two, 48.4 cubes behind the second row, and 16.3 cubes behind the third row.
How big is the Lexus RX?
As a two-row SUV, the RX doesn't need to be as big as the MDX. It's 192.5 inches long on a wheelbase of 112.2 inches.
Every RX has 8-way power-adjustable front seats and synthetic leather comes standard, as does a power tilt/telescoping steering column to create a comfortable seating position. Semi-aniline leather, power lumbar support, and heating and cooling are available, but all RX front seats are all-day comfortable.
The second row has 37.4 inches of legroom, which will again work for most passengers, and three can fit across, especially if they are kids.
Lexus offers a power-folding second-row seat, and the plug-in hybrid model thas power buttons on the console-side of the front passenger seat to allow front or rear occupants move it. With the rear seats up, the RX has 29.6 cubic feet of cargo space and that expands to 46.2 cubic feet with the rear seats folded down. Hybrids have no less space.
Advantage: Draw but go with the MDX if you want a third row or more cargo space.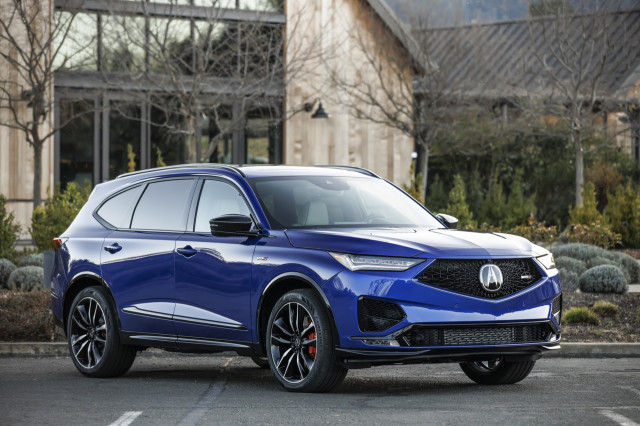 2023 Acura MDX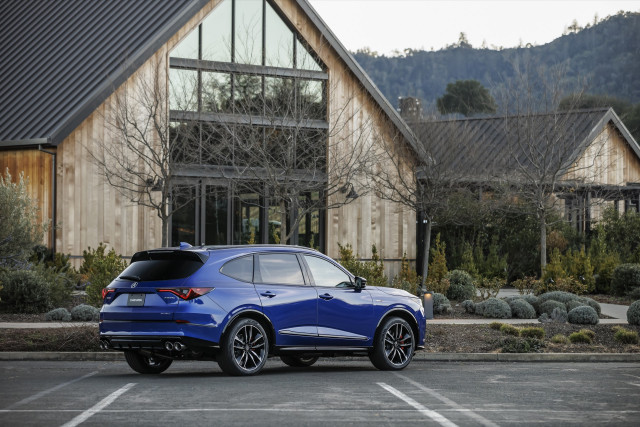 2023 Acura MDX
2023 Lexus RX 450+ plug-in hybrid (Euro-spec)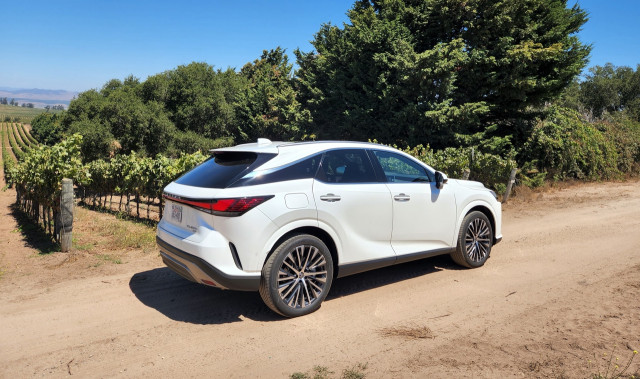 2023 Lexus RX 450+ plug-in hybrid (Euro-spec)
MDX vs. RX styling
The MDX benefits from Acura styling that has settled in as sporty and graceful. A shield-shaped grille with a large Acura logo highlights a wide, low nose. Horizontal LED headlights wrap from the grille into the sides of the front fenders, and below them sit outboard air intakes above an almost-full-width lower air intake.
Along the sides, a shoulder line runs straight from front to back where it intersects the taillights. Down low sits a character line that tucks in at the hips to create the hint of a Coke-bottle shape. The profile features a long hood, rear pillars that tilt forward, and a window line made to look sporty with rear windows that draw back to a triangular shape. The standard 19-inch wheels fill out the wells nicely, but the Type S's 21s make it look more planted.
The MDX's cabin has an upscale and techy look, in part because many of the controls are centered around the questionable infotainment system. It features a touchpad in front of a stitched handrest and a center screen without touch control. The drive mode selector stands out as a silver dial located low on the dash. Well-chosen wood, aluminum, and leather materials provide the premium feel.
Over at Lexus, the RX takes a more streamlined approach with this generation that does away with the awkward lines. The hood is longer, the nose dips down up front, and a toned-down trapezoidal grille has a strip of body-color mesh up top and black mesh below. Thin headlights flank the grille, as do vertical air intakes.
Along the sides, most of the creases are gone, though a character line rises from the front to the rear wheel cutouts to create a sense of motion. Up top, it still has a floating roof that angles down drastically at the rear and it is topped by a built-in spoiler. The rear end sports a full-width taillight that incorporates the Lexus name, as well as air vents along the sides and in the rear bumper.
A curved bank of screens is the centerpoint of the cabin. The 7.0-inch digital instrument cluster is accompanied by a 9.8-inch or 14.0-inch touchscreen. It's a much better system than Lexus' old trackpad. The rest of the cabin is simple and attractive, with available leather and wood to warm up the ambiance. The pushbutton door handles work well, but it takes time to acclimate to them.
Advantage: MDX.
2023 Lexus RX 450h+
MDX vs. RX safety
Both earn IIHS Top Safety Pick+ honors

MDX gets five stars from the NHTSA

Thick rear pillars disrupt outward visibility in both
How safe is the Acura MDX?
Both of these vehicles rise to the top of the class for safety. The MDX earns Top Safety Pick+ honors from the IIHS and five stars from the NHTSA, both the highest possible ratings.
The MDX comes standard with automatic emergency braking, active lane control, adaptive cruise control, blind-spot monitors with rear cross-traffic alerts, automatic high beams, traffic sign recognition, and a system that takes over the controls in a traffic jam. Also available are front and rear parking sensors and a surround-view camera system.
Rearward vision is partially blocked by thick rear pillars and the rear headrests.
How safe is the Lexus RX?
The RX only has a disadvantage here because it hasn't been tested yet by the NHTSA. It should earn a five-star rating, but we can't assume that until it happens.
Lexus outfits the RX with standard automatic emergency braking with pedestrian and cyclist detection, adaptive cruise control, blind-spot monitors, active lane control, and automatic high beams. Also available are a surround-view camera system, automatic lane changes, and its own traffic jam-assist system.
The RX also has thick rear pillars that team with small rear quarter windows to disrupt vision to the rear.
Advantage: MDX for now.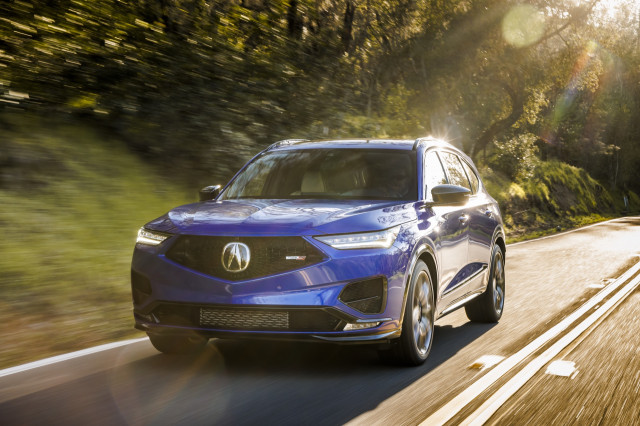 2023 Acura MDX
Which is better: MDX or RX?
This is a close matchup, but the Acura MDX gets the win here with a TCC Rating of 7.2 out of 10 versus 7.0 for the Lexus. (Read more about how we rate cars.) However, the RX will likely get a 7.2 rating once it is tested by the NHTSA.
If and when that happens, the MDX will still be the choice for anyone who wants a third-row seat, even though it is rather small. In our view, the MDX also has better looks, while the RX gets better fuel economy, especially from its hybrid and plug-in hybrid powertrains. Both are excellent and luxurious family haulers, and you can't go wrong either way.
Winner: MDX, but barely.