Jeep finally entered the land of large people movers when it launched the Wagoneer full-size SUV in 2022. But it'll have to take on the bestselling Chevrolet Tahoe that bundles three-row roominess with family-budget value.
The return of the Wagoneer nameplate, with wood-paneled sides that made their mark on history from 1963 to 1993, commenced with a luxury entrant in the Grand Wagoneer, similar to how GM uses the GMC Yukon Denali and the Cadillac Escalade as luxurious takes on the full-size SUV. It's clear Jeep used GM's largest passenger vehicles as a benchmark, then decided to one-up the General. It's 4.0 inches longer than the Tahoe and offers up more cargo and passenger room, it can tow more, but it also costs more. For this compare, we'll stick to the standard-wheelbase Wagoneer and the Tahoe.
America favors youth and newness, but that doesn't necessarily make the Wagoneer superior to the Tahoe. The big old dog has plenty of tricks up its rows. Here's how the two match up, and where the big barkers diverge.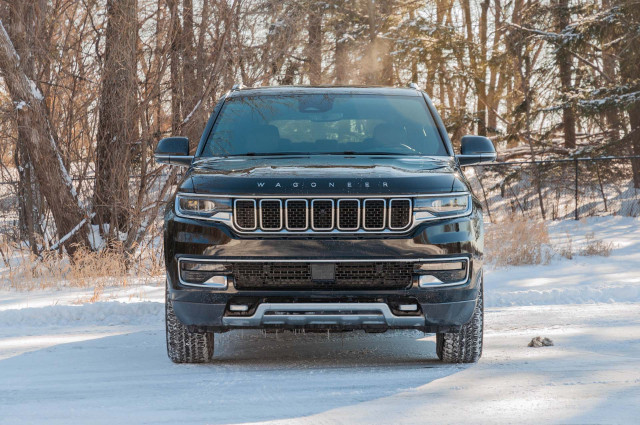 2022 Jeep Wagoneer Series II 4×4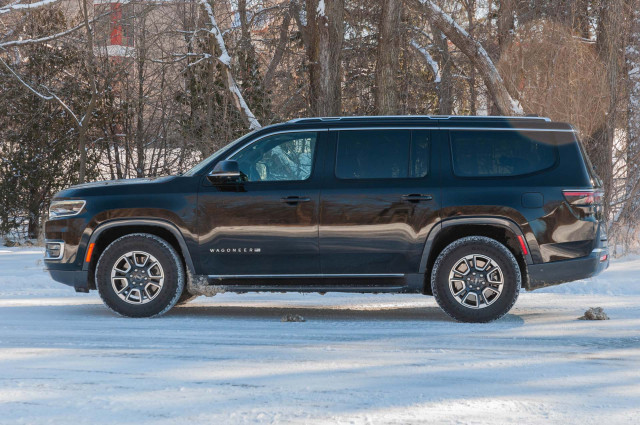 2022 Jeep Wagoneer Series II 4×4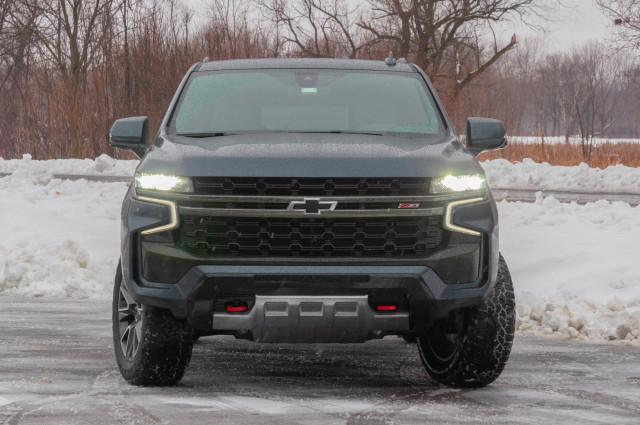 2021 Chevrolet Tahoe Z71
2021 Chevrolet Tahoe Z71
Jeep Wagoneer vs Chevy Tahoe specs, performance, and towing
Jeep Wagoneer's 5.7-liter V-8 makes 392 hp and 404 lb-ft of torque

Wagoneer's available 3.0-liter twin-turbo inline-6 makes 420 hp and 468 lb-ft

Base Chevy Tahoe's 5.3-liter V-8 makes 355 hp and 383 lb-ft

Tahoe 3.0-liter turbodiesel inline-6 makes 277 hp and 460 lb-ft

Tahoe's top 6.2-liter V-8 makes 420 hp and 460 lb-ft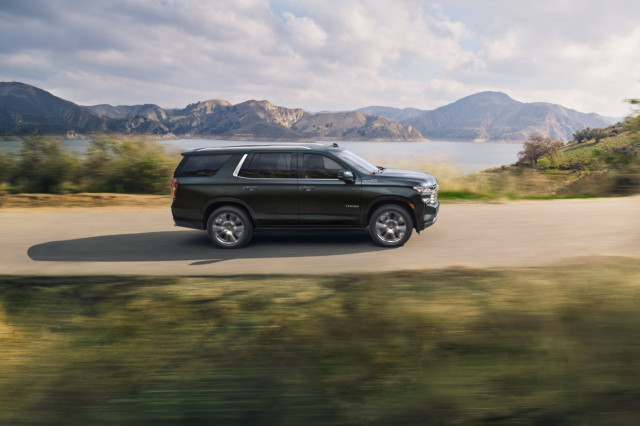 2023 Chevrolet Tahoe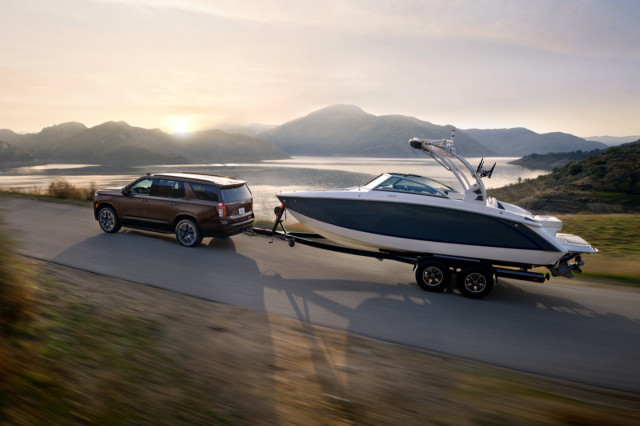 2023 Chevrolet Tahoe
How fast is the Chevy Tahoe?
These beasts are built for comfort, and the full-size segment conspires with pickup trucks to keep the V-8 engine alive. GM's are the best, especially now that they're paired with a seamless 10-speed automatic that's almost telepathic except when the pedal is floored. Then it stays in low gears, roaring toward a redline. Tahoe's best version, the 6.2-liter V-8, hustles the land barge to 60 mph in the mid seven-second range. It's available on all but the LS and LT trims.
The base 5.3-liter V-8 claims the highest tow rating of 8,400 pounds with rear-wheel drive. For frequent towing and regular highway hauling, the 3.0-liter turbodiesel blends smoothness with low-end grunt like few other engines. Quieter, cleaner, and all around better than older diesels, it's only a $1,000 upcharge over the base V-8. It tows up to 8,200 pounds.
Is the Chevrolet Tahoe 4WD?
Rear-wheel drive comes standard, but four-wheel drive with a 2-speed transfer case for low-speed off-roading is available across the lineup for $3,000.
Chevy fits the Tahoe with a fully independent suspension that counteracts the SUV's prodigious weight to make it feel lighter and more agile. The available magnetic ride control dampers smother road imperfections even better, and an available air suspension can raise or lower the big rig by nearly four inches. The Tahoe remains flatter around corners and has a firmer, more controlled ride than the Wagoneer, but the Wagoneer's softer setup smothers road imperfections better.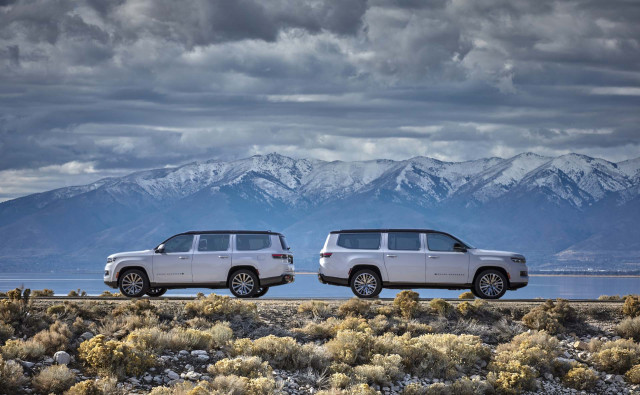 2023 Jeep Grand Wagoneer L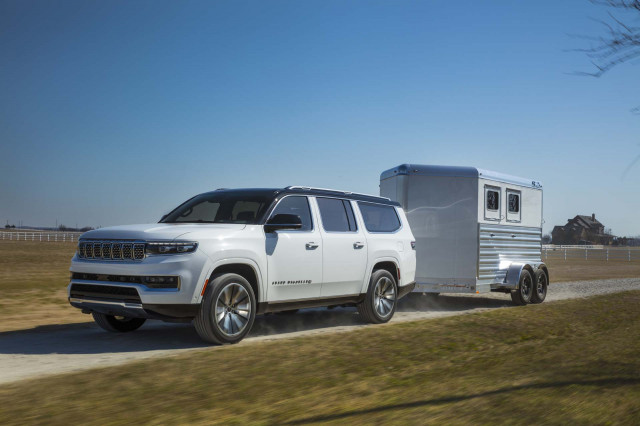 2023 Jeep Grand Wagoneer L
How fast is the Jeep Wagoneer?
It's quick for its cinder-block shape and size. The base 5.7-liter V-8 rears back to 60 mph in 7.3 seconds, according to Jeep. Other Wagoneers—Series II, Carbide, and Series III—use a twin-turbo 3.0-liter inline-6 that shaves a full second off the 0-60 mph time. The front end lifts and the big block pounces on the pavement. It's remarkable for a vehicle weighing more than 5,800 pounds. Both engines pair with an 8-speed automatic transmission, but at speed the twin-turbo requires a deeper stab of the throttle to get it to downshift.
The quickness comes at the cost of towing capacity, however. The Wagoneer V-8 can tow 7,180 pounds, but the twin-turbo tows up to 6,130 pounds. To maximize towing, prepare to spend up on the Grand Wagoneer with its standard air suspension and larger engines. The 510-hp 3.0-liter twin-turbo with rear-wheel drive fitted with the Max Tow package can tow 9,750 pounds, while the massive 6.4-liter V-8 on the Grand Wagoneer maxes out at 9,850 pounds.
Is the Jeep Wagoneer 4WD?
To put it simply, yes. But nothing's simple on a Jeep except for the crawling. Rear-wheel drive comes standard, but four-wheel drive is available for $3,000 across the lineup. It comes in three different grades, however, with Quadra-Drive adding a 2-speed transfer case on demand and Snow, Sand, Mud, and Rock modes to apportion the most torque to the axle with the most grip. Quadra-Drive II adds an electronic limited-slip rear differential and a better crawl ratio for more tenacious off-roading. A rear load-leveling suspension comes standard to balance heavy cargo loads or when towing. An available air suspension and adaptive dampers cushion the ride on the road, and the suspension raises the ground clearance from 8.0 inches to 10.0 inches for off-roading.
Advantage: Wagoneer, but it gets expensive.
2023 Jeep Wagoneer L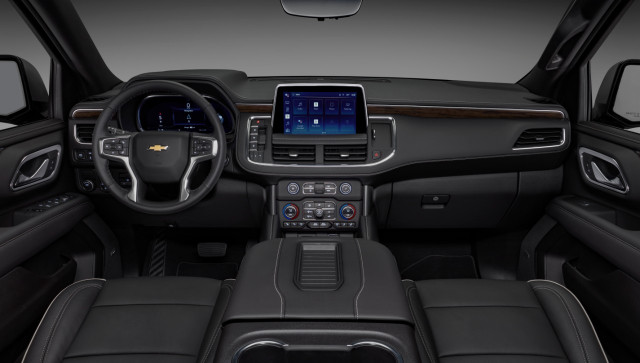 2023 Chevrolet Tahoe
Jeep Wagoneer vs Chevy Tahoe fuel economy
Tahoe turbodiesel rates at 21 mpg city, 28 highway, 24 combined with rear-wheel drive

Base Tahoe V-8 drops to 15/20/17 mpg with RWD

Tahoe 6.2-liter V-8 rates at 16 mpg combined with RWD or 4WD

Base Wagoneer V-8 rates at 16/22/18 mpg with RWD; 4WD costs it 1 mpg

Wagoneer twin-turbo inline-6 rates at 17/24/20 mpg; 4WD drops to 16/23/19 mpg
These are among the most efficient V-8s on the market, thanks to innovations such as cylinder deactivation that shuts down up to six cylinders at highway cruising speeds in the case of the Chevy. Jeep employs a 48-volt mild-hybrid system to handle the electrical load and start-stop functions in the Wagoneer. Despite diesel's tarnished rep in recent years, it's an excellent option for users who log mostly highway miles. It, along with twin-turbo V-6 engines and hybrid systems from rivals have proven a winning replacement for displacement.
Advantage: Tahoe turbodiesel.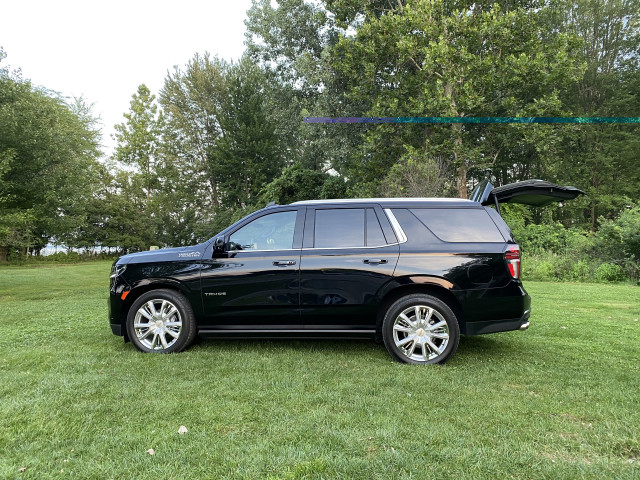 2021 Chevrolet Tahoe
2021 Chevrolet Tahoe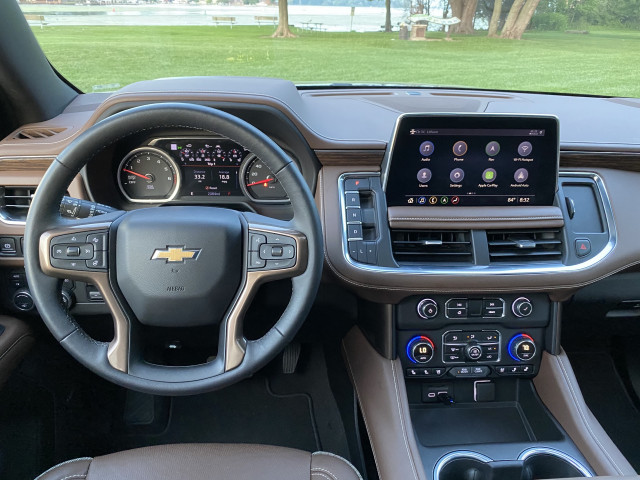 2021 Chevrolet Tahoe
Tahoe vs. Wagoneer prices, trims, and warranty coverage
Base Tahoe LS costs about $56,000

Base Wagoneer costs about $63,000

4WD adds $3,000 to each model

Best picks: Wagoneer Series II, Tahoe LT
How much does a Jeep Wagoneer cost?
With a starting price of about $63,000, the Wagoneer seems expensive relative to the competition. Part of that is from the highest destination fee we've come across: $2,000, sneaked in under the list prices. But the base Wagoneer comes very well-equipped, with a power tailgate, a 10.1-inch touchscreen, wireless smartphone charging, a 10.3-inch digital instrument cluster, leather upholstery, heated and cooled front seats, a 9-speaker Alpine audio system, and 18-inch alloy wheels. The options add up, starting with a long-wheelbase Wagoneer L that adds $3,000 to $3,500, or Grand Wagoneer models that start at more than $90,000 and can run above Escalade territory at $115,000.
Which Jeep Wagoneer should I buy?
Skipping the wheelbase and Grand Wagoneer propositions, the Jeep Wagoneer is sold in base, Series II, Carbide, and Series III grades. The twin-turbo engine starts on the Series II for $5,800 more to a starting price of just shy of $69,000, and it boosts wheel size from 18 inches to 20 inches. On the inside, the upgrade includes nappa leather upholstery, adaptive cruise control to a stop, active lane control, and luxurious options such as power-folding third-row seats, second-row captain's chairs, and a rear entertainment system.
The $75,000 Series III adds second-row heated seats and some nicer interior finishes, but we'd stick with the Series II.
Every Wagoneer has an average 3-year/36,000-mile basic warranty with 5 years/60,000 miles for the powertrain.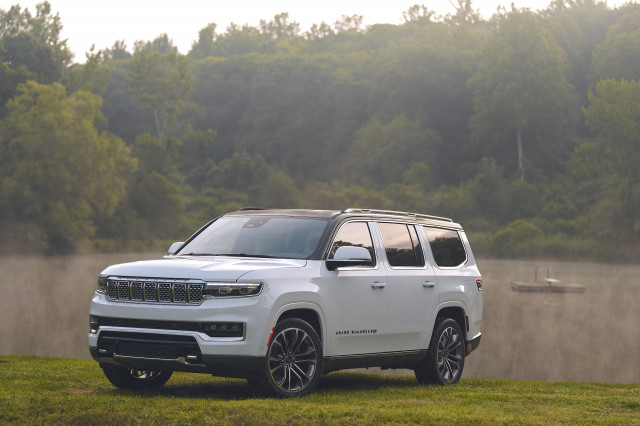 2022 Jeep Wagoneer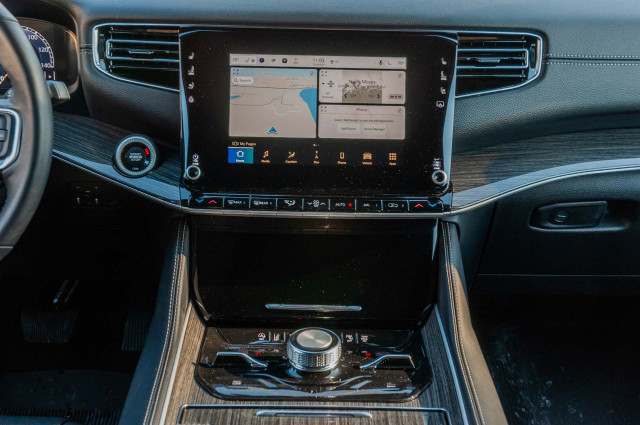 2022 Jeep Wagoneer Series II 4×4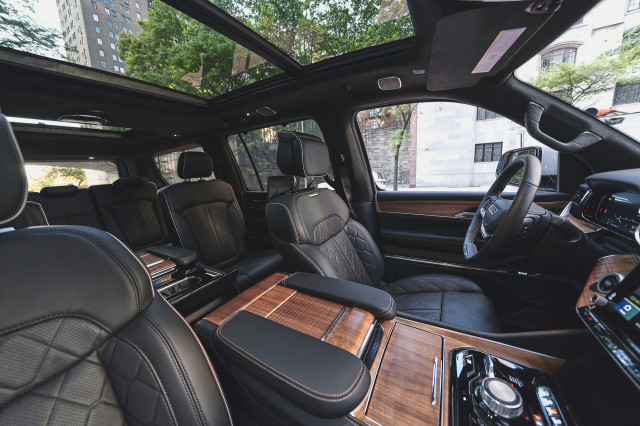 2022 Jeep Wagoneer
How much does a Chevrolet Tahoe cost?
It varies based on the three powertrain options, but the base LS costs a bit over $56,000 with rear-wheel drive and the 5.3-liter V-8. The 6.2-liter V-8 available on RST, Z71, Premier, and High Country trims costs between $2,000 to $8,000 more.
Standard gear includes power-adjustable front seats, Apple CarPlay and Android Auto compatibility, keyless and remote start, but the Tahoe can't match the Wagoneer's loaded equipment list. The warranties are aligned, however.
Which Chevy Tahoe should I buy?
The $62,000 LT model upgrades from an 8.0-inch touchscreen to a 10.2-inch touchscreen with wireless smartphone compatibility, as well as wireless smartphone charging, a 12.0-inch digital instrument cluster, a hands-free power tailgate, Bose audio, and leather upholstery.
The top High Country model nudges into Grand Wagoneer terrain with its adaptive damping, heated second-row seats, and power-folding third row but, at $80,000, it's a bit much.
Advantage: Tahoe for value, Wagoneer Series II for the twin-turbo inline-6.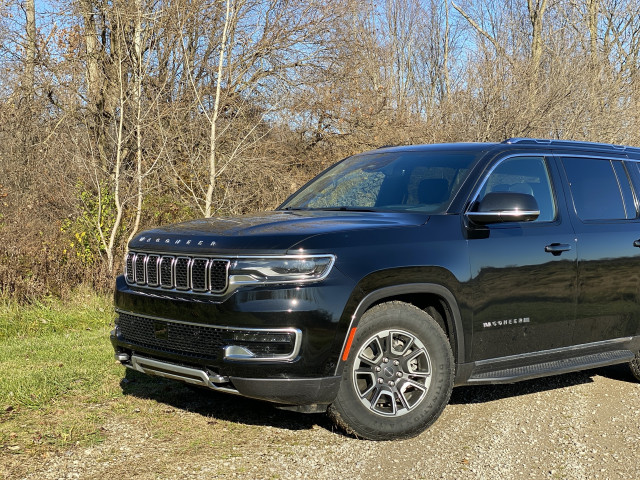 2022 Jeep Wagoneer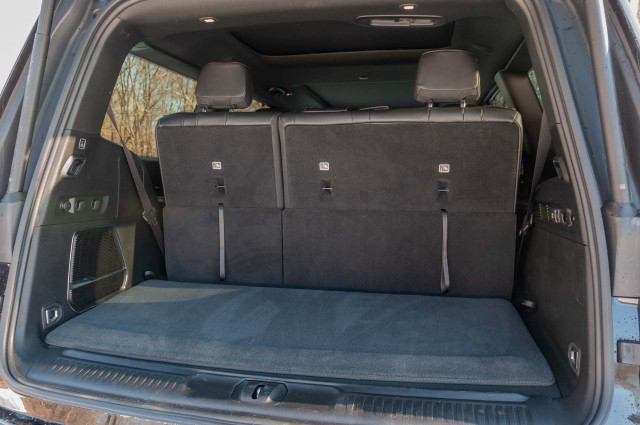 2022 Jeep Wagoneer Series II 4×4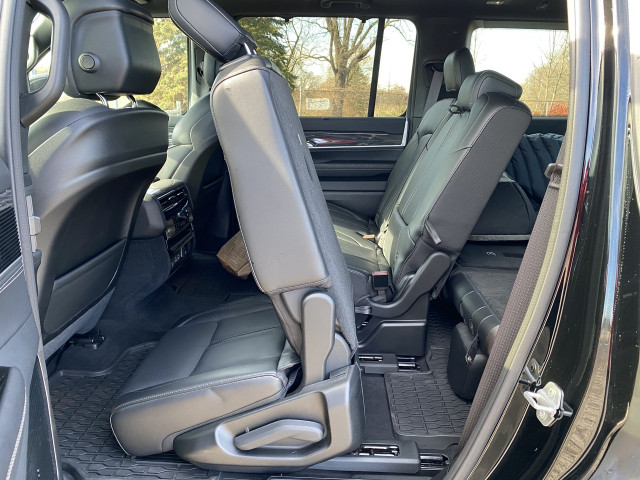 2022 Jeep Wagoneer
Tahoe vs. Wagoneer specs and dimensions
The Tahoe stretches to 210.7 inches long with a 120.9-inch wheelbase

Wagoneer measures 214.7 inches long with a 123.0-inch wheelbase

Tahoe cargo volume is 25.5 cubic feet, or 72.6 cubes with the third row down

Wagoneer cargo volume is 27.4 cubic feet, or 70.8 cubes with the third row down
2023 Chevrolet Tahoe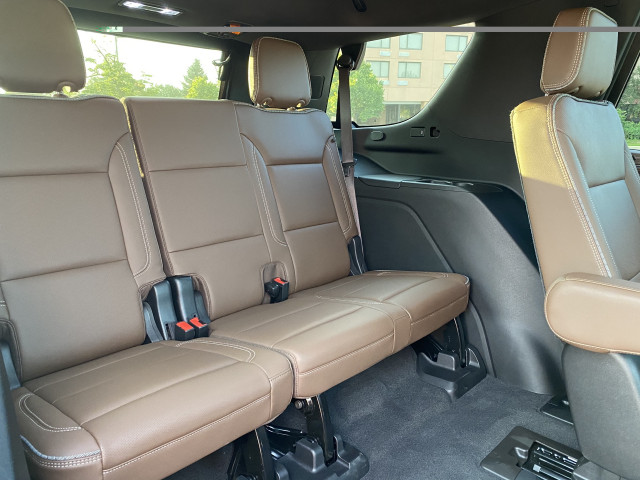 2021 Chevrolet Tahoe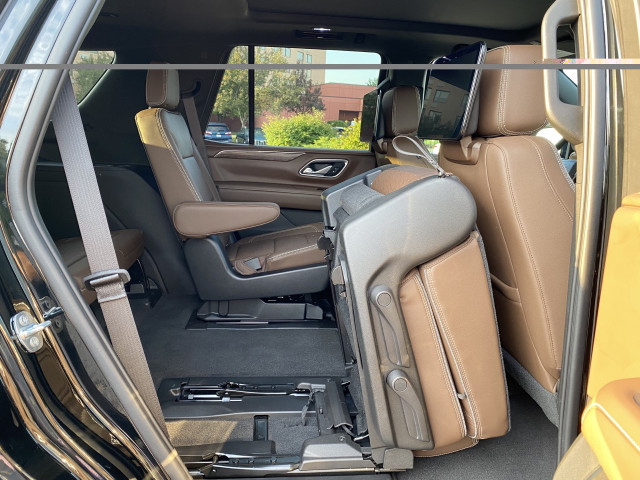 2021 Chevrolet Tahoe
Is the Jeep Wagoneer bigger than the Chevy Tahoe?
Yes, in both standard- and extended-wheelbase editions. It's as if Jeep benchmarked, then one-upped Chevy. Shocking, we know. Even the Wagoneer L measures exactly one inch longer than the Chevy Suburban.
In either case, both full-size SUVs fit up to eight full-size passengers. If Dick Van Patten were wrong and eight isn't enough, Chevy still offers a $250 front bench seat to fit in nine people. Most shoppers opt for second-row captain's chairs to seat seven.
The Tahoe has 25.5 cubic feet of space behind its third row, and adults can functionally sit in the wayback with 34.9 inches of rear legroom, which is as much space as the second row of many compact crossovers. But the Wagoneer offers 36.6 inches of rearmost legroom, and good enough thigh support to seat two adults in comfort for extended journeys. Jeep outdoes Chevy in the front row, too, with comfy buckets standard with power adjustments, as well as heating and cooling.
The Wagoneer has pushbutton second-row seats that are simple to operate for every age, and the captain's chairs are even easier to move. The Tahoe's second-row seats slide and collapse with two levers. When both rear rows are folded flat, it opens up 122.9 cubic feet of cargo room versus 116.7 in the Wagoneer.
Advantage: Wagoneer.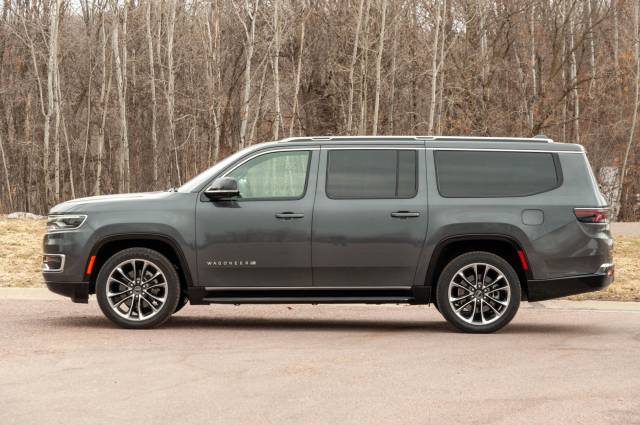 2023 Jeep Wagoneer L
Tahoe vs. Wagoneer exterior design and interior quality
Both SUVs share a platform with pickup trucks

The Wagoneer design channels its retro namesake, without wood paneling

The Tahoe mimics the blocky elements of the Chevy Silverado
Is the Jeep Wagoneer a good-looking SUV?
Big and beautiful, bald and beautiful, it takes a believer. The Wagoneer embraces the square ends of its original model, but it shares a platform with the Ram 1500 pickup truck and is so much bigger than any Wagoneer that came before it. It's all about proportions, and the long nose and brawny stance of the 1980s Wagoneer has been replaced with a stout, vertical nose adorned with Jeep's seven-slot grille. That grille is the only obvious relation to the Jeep brand as the Wagoneer and Grand Wagoneer portend a breakout luxury sub-brand. The massive greenhouse occupies much of the visual space down the side, in lieu of wood paneling, and the blockiness appears too pronounced in the rearmost windows, where it's offset by a body-color D-pillar like the original instead of visually wrapping into the rear windshield as in the Tahoe. Automotive tastes have changed in 40 years.
Inside, Jeep leans into its luxury promise with a wing-like dash tipped in chrome, and upholstery decked in richer grades of leather and cross-stitching up the lineup. With an available 45 inches of screens spanning the front, it doesn't overwhelm the fine materials on the dash, though we'd skip the optional passenger screen.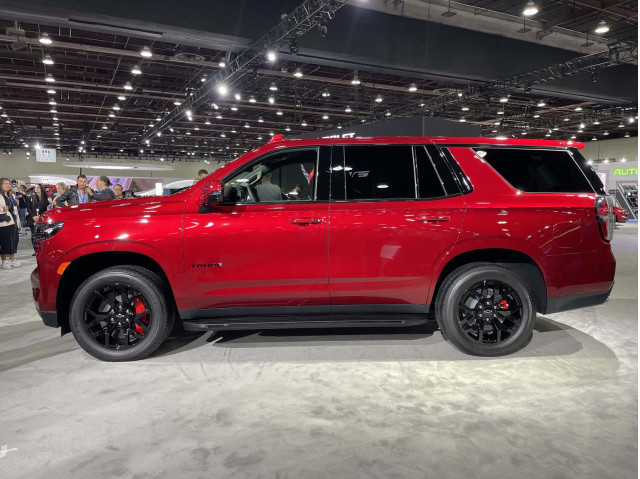 2023 Chevrolet Tahoe RST Performance Edition
Is the Chevy Tahoe a good-looking SUV?
It's more traditional, in the sense that Chevy created and keeps redefining the full-size segment. Most Tahoes feature a 10.2-inch touchscreen with a vertical gear panel on the left side. It's a no-frills arrangement, much like the Silverado pickup, until you get to top trims like High Country that reach into Denali and Escalade territory.
Outside, the Tahoe can ride on 22-inch wheels that make the sharp horizontal bands on its steep face even more imposing in rear-view mirrors. The rear end is more unified than the Wagoneer, even with the odd triangular mast over the rear door pillars. Advantage: Chevy Tahoe.
2023 Jeep Wagoneer L
2023 Jeep Wagoneer L
2022 Chevrolet Tahoe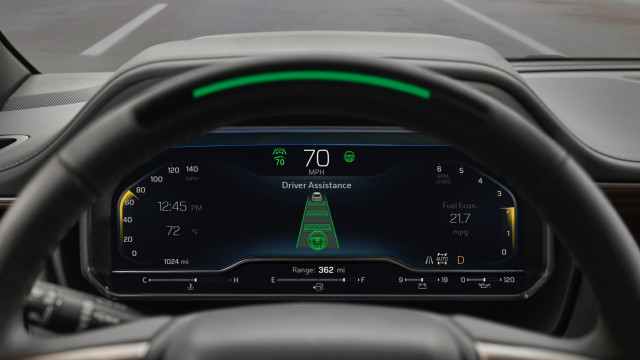 2023 Chevrolet Tahoe with Super Cruise
Tahoe vs. Wagoneer safety
Tahoe gets four stars from the NHTSA, including a three-star rollover rating

Wagoneer has not been tested by the NHTSA

Neither model has been tested by the IIHS

Automatic emergency braking is standard on both
How do the Jeep Wagoneer safety features compare to the Chevy Tahoe?
The Tahoe comes better equipped and with more sophisticated driver-assist options. Automatic emergency braking, parking sensors, and blind-spot monitors are standard on both, and they really need to be with the huge blind spots over either shoulder, but Chevy tacks on active lane control as standard.
Adaptive cruise control and surround-view camera systems are optional on both. The Tahoe can be fitted with the Super Cruise limited hands-free driving system that gives a welcome assist on road trips, but Jeep offers a night-vision system on the Wagoneer.
Advantage: Chevy Tahoe.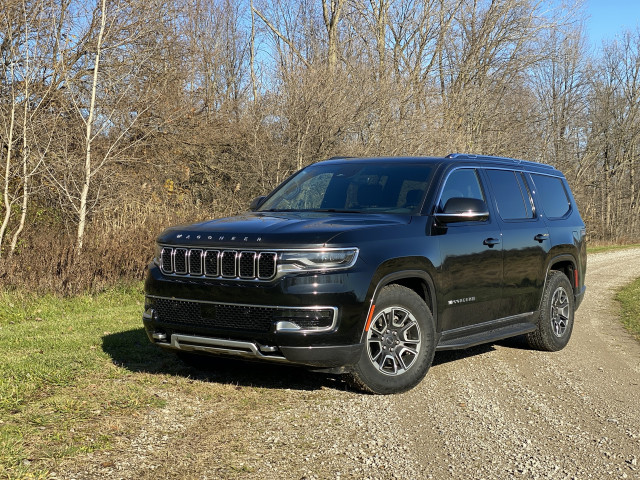 Jeep Wagoneer vs. Chevy Tahoe: Which is better?
The Jeep Wagoneer eclipses its benchmark, mostly due to its loaded feature set. The extra roomy interior and its physics-defying twin-turbo inline-6 give it an edge, as well. It earns a TCC Rating of 6.6 out of 10. But it's expensive, and the Tahoe's overall value and established dominance in the segment still earn a high TCC Rating of 6.4 out of 10. You can't go wrong with either, but before making that decision, make sure they can fit in your garage.
Winner: Jeep Wagoneer.