The Ford Mustang is a classic American car with a long heritage and a well-earned reputation. For 2024, the Ford Mustang has received a full redesign and the debut of an all-new trim. In a market where muscle cars are slowly fading away, the Mustang still remains a major player when it comes to the sportscar arena.
Comparing Mustang Trims
The 2024 Ford Mustang is offered in six different trim levels, including the all-new Dark Horse trim. These new, performance-focused models replace the Shelby trims from the previous generation. Check out each of the Mustang's trims in our comparison guide…
EcoBoost Fastback
The 2024 Ford Mustang EcoBoost Fastback has a starting MSRP of $30,920 for the Fastback or $39,020 for the convertible version. Both vehicles feature a 2.3-liter EcoBoost engine that outputs 310 hp and 350 lb-ft of torque. A 10-speed automatic transmission comes standard, but drivers can change that to an optional manual transmission if they want a little more control.
In terms of features, you can expect better features than ever before, such as a 12.4-inch digital gauge cluster and a 13.2-inch touchscreen infotainment system. The system utilizes a FordPass Connect interface and offers Apple CarPlay and Android Auto smartphone integration. Drivers and passengers can also connect devices through a Wi-Fi hot spot and a USB port, while listening to music through a six-speaker audio system. Other features include automatic climate control and proximity keyless entry.
While this base trim may boast plenty of comfort and convenience features, it is lacking when it comes to its seating arrangement, as it includes only cloth upholstery and manually adjustable seats. Of course, for some, that's a win! However, with the EcoBoost High package, priced at $2,600, you'll get heated front seats, as well as a six-way power-adjustable driver's seat with lumbar support. Additionally, the High package offers satellite radio, a nine-speaker audio system upgrade, dual-zone automatic climate control, and 18-inch wheels.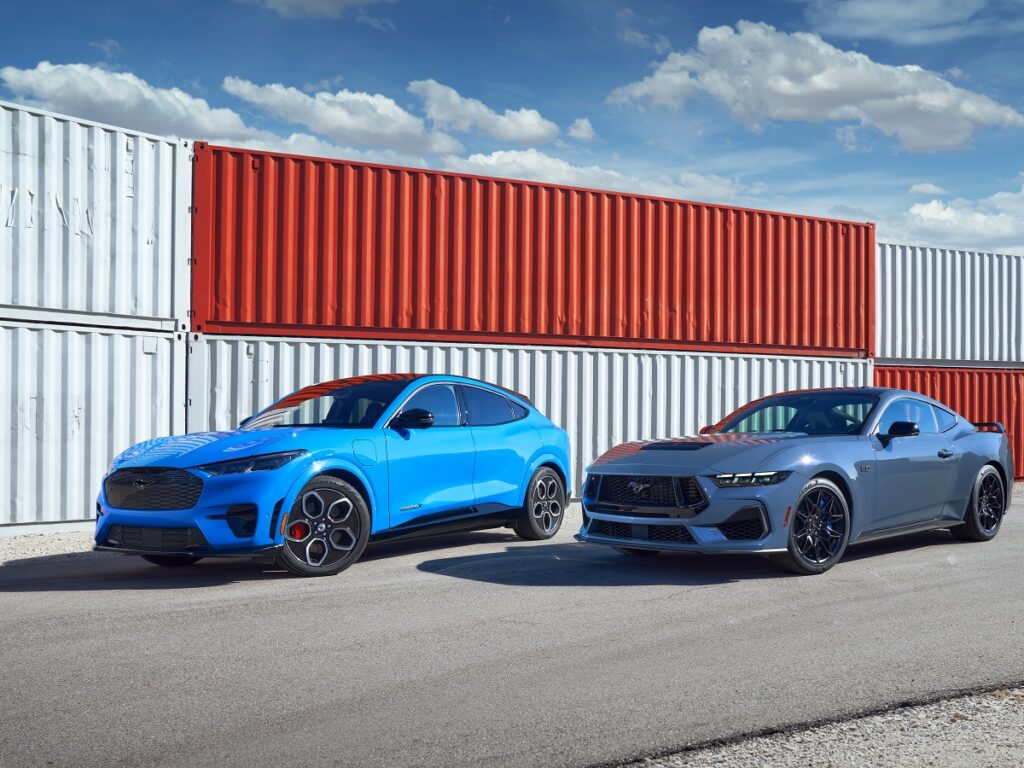 A slew of driver assistance features come standard. These features include blind spot monitoring, lane departure warning, forward collision warning, pedestrian detection and lane keeping assist, among other features.
EcoBoost Premium
If you're looking for more in terms of features but not necessarily more engine power, the 2024 Ford Mustang EcoBoost Premium trim may be your best bet. It has a starting MSRP of $36,445 for the fastback and $41,945 for the convertible model. Much of this trim features interior upgrades. You'll get synthetic leather upholstery throughout, on top of power-adjustable front seats with heating and ventilation. Additionally, the trim offers a heated steering wheel.
Other features include satellite radio, HD Radio, and a nine-speaker stereo. Charge devices wirelessly and connect multiple devices through additional USB ports. Dual-zone automatic climate control and ambient lighting are also standard.
This trim's optional package is the EcoBoost Premium High package for $3,000. Since most of the features from the base trim package are standard at this trim level, there are huge differences with this premium model's package. For one, it offers unique color schemes and a premium Bang and Olufsen stereo system. Driver's seat memory settings, a garage door opener, and adaptive cruise control are all included, as well as traffic sign recognition for your convenience.
GT
The 2024 Ford Mustang GT coupe has a starting MSRP of $42,495 and is designed with superior power. It has a much stronger engine – a 5.0-liter Ti-VCT V8. This does lower the fuel economy, but it also gives you a whopping 480 hp and 410lb-ft of torque. This is paired with a six-speed manual transmission. Handling improves with larger front and rear brake rotors. The electronic line lock, for locking the front brakes for burnout, is a perfect addition to this performance-based trim.
Additionally, the GT features trim-specific styling and power-adjustable front seats. Most other standard features are similar to those found in the base Ecoboost trim. As for optional features, most of them carry over to this trim. On top of that you can switch out the manual transmission for the 10-speed automatic transmission for another $1,595.
There are no GT Convertible or Fastback offerings at this level.
GT Premium
But that's where the next trim level comes into play. The 2024 Ford Mustang GT Premium starts at $47,015 for the fastback or $52,515 for the convertible. Giving you the best of both worlds, the GT Premium comes with the V8 engine and all the features of the Ecoboost Premium. Further, you get the best upholstery option: genuine leather upholstery.
Darkhorse
The Darkhorse trim takes the Mustang to a whole new level. With this trim, you'll get a 5.0-liter V8 engine that manages to generate a whopping 500 horsepower and 415 pound-feet of torque. It offers everything included in the GT Premium trim in terms of features but includes unique styling and performance.
Brembo brakes provide unmatched stopping power, instilling confidence in every high-speed maneuver. For those who crave the exhilaration of controlled drifts, the electronic drift brake lever offers precise handling control. The MagneRide adaptive suspension ensures a smooth ride on any surface, adapting to changing road conditions. With a larger radiator and additional oil coolers, this Mustang stays cool even under intense pressure. Furthermore, the enhanced chassis and unique steering deliver precision handling, making this Mustang a thrill to drive.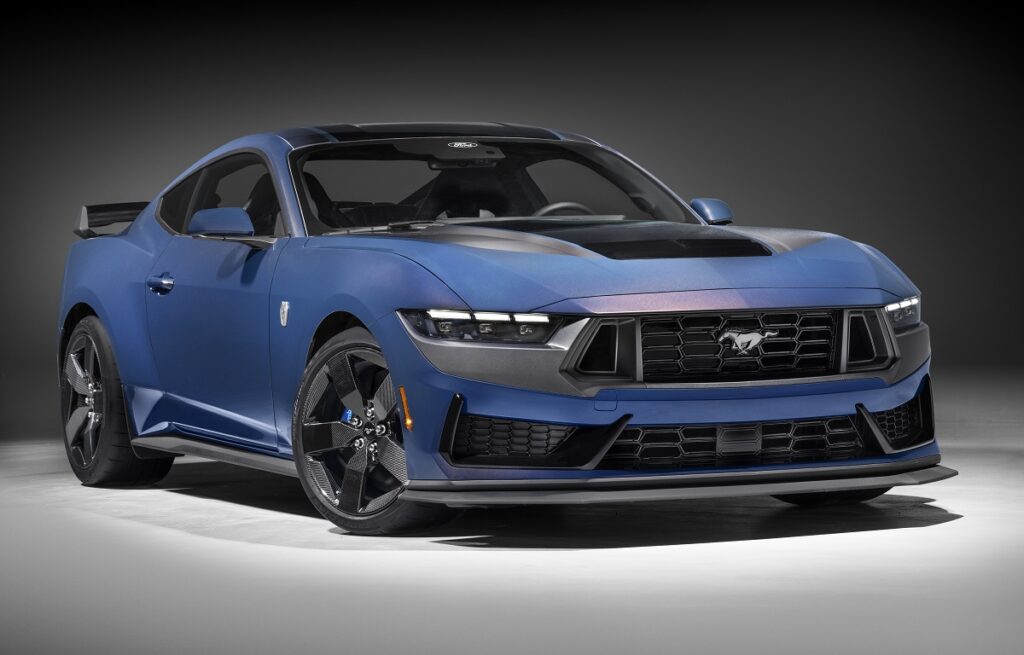 Other performance-focused features include 19-inch wheels, summer tires, and a performance rear spoiler, improving the vehicle's aerodynamics – and overall, cool factor.
Optional features are much like in the previous trims, but it is worth noting that the Darkhorse trim comes standard with traffic sign recognition, adaptive cruise control, and 12-speaker Bang & Olufsen stereo.
Darkhorse Premium
Only available as a Fastback, the 2024 Ford Mustang Darkhorse Premium starts at $63,265. It's virtually the same as the Darkhorse, with the exception of standard ventilated front seats and aluminum pedals. It's up to you to decide whether it's worth the extra $3,000 for those two features.
With the Camaro and Charger out of the way, there are very few muscle cars left on the market. Nevertheless, the Mustang is going strong. While the fuel economy isn't terrible, getting only 22 mpg in the city and 33 mpg on the highway, that's not really the point of a car like this, so get it while you still can! If you want something more environmentally friendly, you may want to consider the Mach-E.
(Images via Ford)