The 2024 Honda Accord returns this year with a full redesign. And to simplify things this time, Honda only offers two trim levels for their gas models, while hybrid models are available in four different trims. Read on to learn more about one of the best mid-size cars of the year.
Honda Accord Trims
The two trim options for gas-powered models aren't drastically different, but it's worth looking at the differences. But if you are shelling out the money for a hybrid this year, you'll find you'll have more options. Here's a breakdown of each trim's standard offerings so you can determine if it's the best bang for your buck.
LX
The 2024 Honda Accord LX is the least expensive option, with a starting MSRP of $27,895. Even though it's the cheapest, it has tons of standard features that some sedans lack, such as a 10-inch digital gauge cluster and proximity keyless entry. The infotainment system features a 7-inch touchscreen infotainment system, four-speaker audio, Bluetooth, Android Auto and Apple CarPlay. There's also a multi-angle rearview camera, automatic climate control and more.
The Accord LX is equipped with a 1.5-liter turbo four-cylinder engine, which produces 192-horsepower and 192 lbs.-ft. of torque. It gets 30 mpg in the city and 38 mpg on the highway. That some of the best EPA fuel economy ratings on a non-hybrid vehicle.
Along with the features above, the Accord LX has plenty of other things that make a daily drive much more enjoyable and safe! Forward collision warning, road departure mitigation, automatic emergency braking, lane keeping assist and traffic sign recognition are all offered. On top of this, there's adaptive cruise control and driver drowsiness monitoring.
EX
Starting at $29,910, the EX adds power-adjustable heated front seats and split-folding rear seats. The audio system is upgraded to an eight-speaker one and dual-zone climate control is standard as well. Added safety features are blind-spot monitoring and rear cross-traffic alert.
To top things off, quite literally, there's a standard moonroof.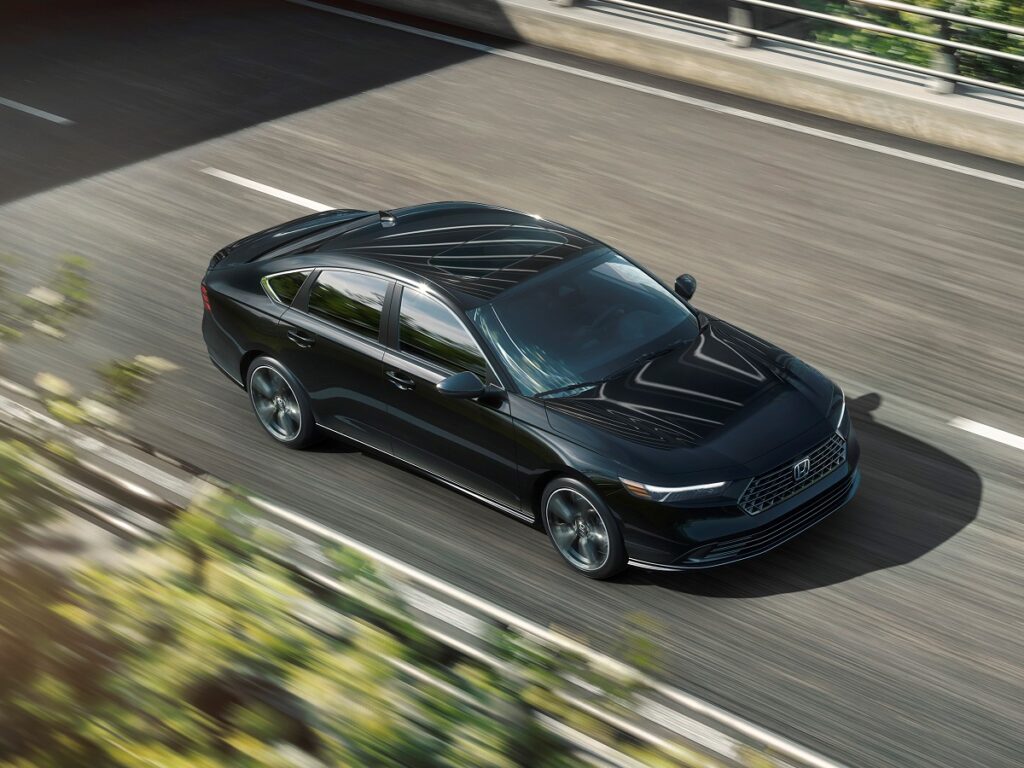 Sport
The 2024 Honda Accord Sport features a hybrid powertrain with a 2.0-liter four-cylinder engine and two electric motors that generate a combined total of 204 horsepower and 247 lb-ft of torque. If you are looking to save on gas, this option will give you up to 46 mpg in the city and 41 mpg on the highway.
Manual transmissions are no longer offered for this or any other Accord model. The Accord Sport also has many small adjustments that are meant to fine-tune the car's driving performance. The entire thing sits on 19-inch wheels instead of 17 inches. Furthermore, it introduces LED daytime running lights, rather than halogen.
Cloth seating comes standard, along with a power-adjustable driver's seat and split-folding rear seats. The infotainment system is larger than that of any of the gas-powered models. It measures 12.3 inches. Meanwhile, the eight-speaker audio system from the EX model carries over here. The moonroof, dual-zone climate control and proximity keyless entry carry over as well.
The gauge cluster is a 10.2-inch digital one that is pretty impressive. Apple CarPlay and Android Auto work wirelessly and the vehicle includes a Wi-Fi hotspot as well. As for safety, you'll get a ton of standard features that include most of what is offered in the LX and EX trims.
Get this trim starting at $32,195. At an additional cost, you can also get add-ons like wireless device charging is available for $350, or an automatic-dimming rearview mirror and universal garage door opener for $305.
EX-L
This starts the MSRP at $33,840. The Accord EX-L offers a superior fuel economy compared to all other Accord trims, giving you up to 51 mpg in the city and 44 mpg on the highway.
The Accord EX-L trim gains 17-inch wheels, front and rear parking sensors, and two additional USB ports in the back seats. The seating is real leather upholstery, while the front seats also come heated. The passenger seat comes upgraded as a four-way power-adjustable seat.
Options for the sport model carry over to this trim.
Sport-L
The Sport-L trim starts at $34,175. It retains the 19-inch wheels from the sport trim but comes with all the other additions from the EX-L model, with the exception of the rear parking sensors.
Touring
Finally, the 2024 Honda Accord Touring is the top-tier trim. It has a starting MSRP of $38,190 and offers a number of extra features on top of the inclusions of the Sport-L trim. Music lovers will especially appreciate the 12-speaker audio system and HD radio. Other luxury features include heated rear seats, ventilated front seats, wireless device charging, and a heads-up display.
On top of this, front and rear parking sensors and rain-sensing windshield wipers are additional features of convenience.
If you are looking for a comfortable and stellar performing mid-size car, you can't go wrong with the 2024 Honda Accord. If you are looking for something a tad smaller, there's always the 2024 Honda Civic.
(Featured image via Honda)