Automotive supplier Bosch expects hydrogen tech—including both fuel cells and hydrogen internal combustion—to play a big role in the future trucking industry.
The company expects sales of $3.5 billion from fuel cells, hydrogen combustion engines, and electrolyzers that make hydrogen, according to a press release issued last week that announced the start of fuel-cell module production at Bosch's Stuttgart-Feuerbach facility in Germany.
Those first fuel-cell modules will go to Nikola, which plans to start production of its Tre Class 8 fuel-cell semi truck in Coolidge, Arizona, later this year. Nikola also has a license to manufacture Bosch fuel cells at that location. Bosch also plans to manufacture fuel-cell components at its own U.S. plant in Anderson, South Carolina.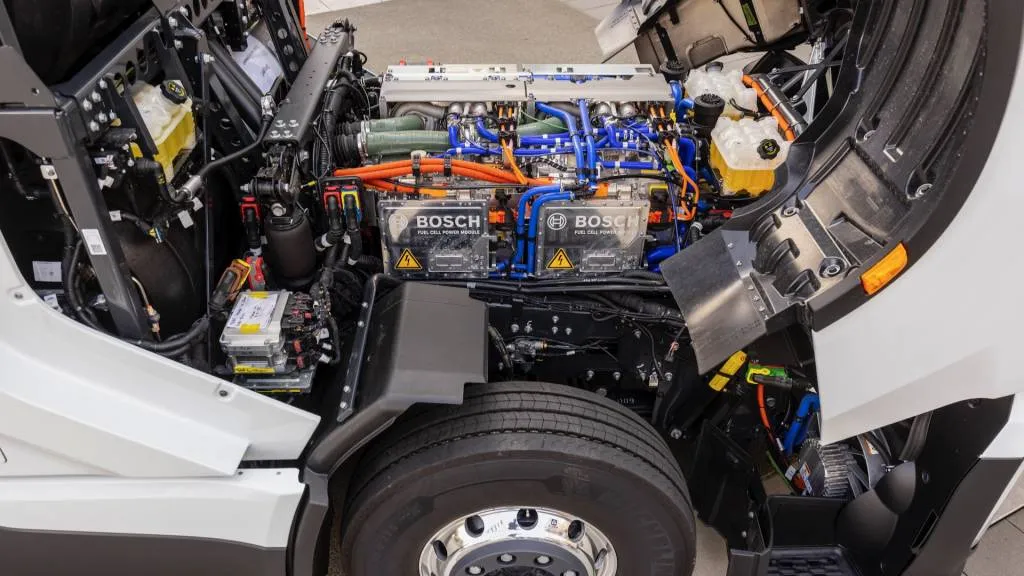 Bosch hydrogen fuel-cell powertrain for semi trucks
The company expects that globally one in five new trucks weighing more than six tons will be sold with a fuel-cell powertrain by 2030. But Bosch is also investing in hydrogen combustion that, instead of feeding hydrogen into a fuel cell to generate electricity, simply burns it in an internal-combustion engine in place of diesel or gasoline.
Bosch plans to launch a hydrogen combustion engine in 2024. The company claims to have four orders for "production projects" so far, and expects six-figure sales volumes by 2030.
"A hydrogen engine can do everything a diesel engine does, but on top of that, it is climate neutral," Markus Heyn, chairman of Bosch mobility, said in a statement. That leaves out the emissions that are a byproduct of hydrogen combustion, however. Hydrogen combustion engines still produce pollutants like NOx—the health and climate hazards of which were highlighted in the Volkswagen diesel emissions scandal.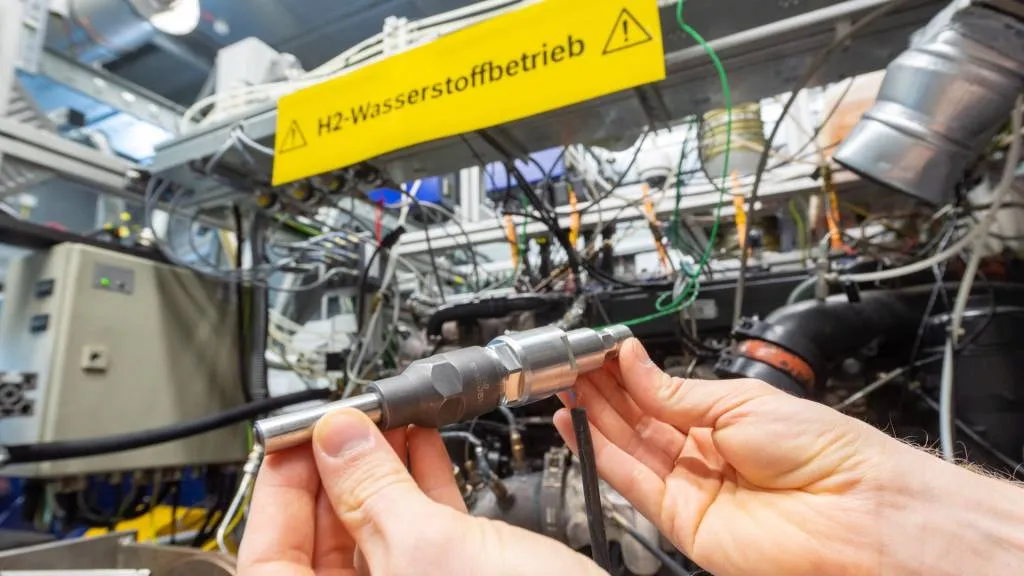 Bosch hydrogen internal-combustion engine
Bosch was implicated as a supplier to VW for diesel-powertrain components, but in 2019 the company put the diesel scandal behind it with an announcement to support EVs and fuel-cell vehicles. But in 2021 it also said that it would continue to invest in combustion-engine tech into the 2040s. This project cements why.
Bosch's interest in hydrogen for big applications like commercial trucks is supported by some analysis. Some top energy experts like those at the Rocky Mountain Institute (RMI) expect green hydrogen to scale up this decade, providing a supply of hydrogen that will be truly cleaner than diesel. In addition to fuel-cells for trucking, hydrogen could gradually replace other liquid fuels for airplanes, trains, and other large transport where batteries aren't practical.
Not everyone agrees that hydrogen will go big this time. Some see the wider availability of megawatt charging for battery-powered semis as making all the hurdles of a hydrogen infrastructure not worth the trouble.