While the U.S.EV charging buildout happening as part of the Bipartisan Infrastructure Law requires 150-kw DC fast chargers every 50 miles as part of a national charging network, Europe is already aiming a bit higher—with it's built-in requirement for truck charging and hydrogen refueling by 2031.
Europe's vision includes a requirement for stations spaced at least every 60 km (37 miles) and accessible in each direction of travel, with at least 600 kw per site pool and at least two charge points of at least 150 kw per site, by 2027. As an interim requirement, at least 400 kw output is required per pool, with a charge point output of at least 150 kw, installed by the end of 2025.
Ionity fast-charging network
It's part of a sweeping package adopted by the European Parliament earlier this week, applying to what's considered the TEN-T core road network.
The new rules also require that charging not require a subscription, and that payment at recharging points can be made quickly with payment card or contactless devices, with a price clearly displayed per kwh or by the minute or session, as it applies.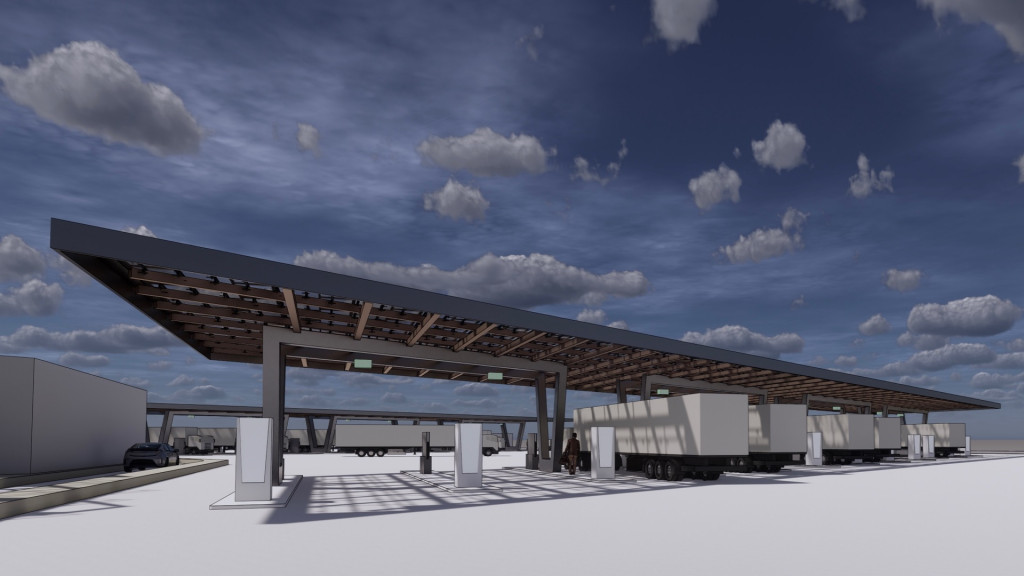 WattEV electric truck stop rendering
The EU requirements passed this week call for charging stations for trucks and buses provided every 120 km (75 miles). Those stations will have outputs of 1.4 to 2.8 megawatts depending on the road.
Also, in support of an expected field of hydrogen-fueled semis, the rule requires that hydrogen stations be deployed along the same core TEN-T network at least every 200 km (124 miles) by 2031.
Hydrogen stations will need to deliver a minimum cumulative capacity of 1,000 kg per day from a 700-bar dispenser—enough for 20 to 30 long-distance fuel-cell semis—by the end of 2030. Which means they could be a viable alternative to megawatt charging stations by then.
Rendering of proposed Daimler Trucks Greenlane charging and hydrogen fueling site.
Along very low-traffic highways, member states can reduce capacity, so isolated highways will still have the spacing but not necessarily the same number of charge points or total power.
The new charging infrastructure rules will apply starting six months after Council approval of the final language.
The package of new rules are part of the Fit for 55 package, part of the European Climate Law passed in 2021—which is all part of European Green Deal rules seeking for a 2035 end date for internal combustion sales and to cut greenhouse gas emissions by at least 55% by 2030 versus 1990 levels.