The Toyota Corolla Cross, a crossover SUV that combines versatility, style, and cutting-edge technology. Built upon the foundation of the beloved Corolla sedan, this newest addition to the Toyota lineup offers a captivating blend of compact size and spaciousness. With its sleek design, advanced safety features, and efficient performance, the 2023 Toyota Corolla Cross sets a new standard for compact SUVs.
2023 Toyota Corolla Cross Trims
The 2023 Toyota Corolla Cross comes available in three different gas-powered options, as well as three hybrid options. Whether you are looking for a more fuel-efficient SUV or a more powerful compact for your daily driving needs, the Corolla Cross has got you covered.
Cross L vs. S
The Cross L and hybrid S are virtually the same in terms of features offered. You'll get a standard 4.2-inch digital instrument cluster display and an 8-inch touchscreen infotainment system. The infotainment system supports Apple CarPlay, Android Auto and Amazon Alexa integration, as well as satellite radio. Both models also come standard with a six-speaker stereo.
As for driver assistance features, the Cross L and hybrid S comes equipped with forward collision warning, forward automatic emergency braking, lane-departure warning, adaptive cruise control and pedestrian detection. Of course, you'll also get the industry standard rearview camera as well. Other features include rear seat alert and automatic highbeams.
Starting at $23,610, the 2023 Toyota Corolla Cross L engine is a 2.0-liter four-cylinder that generates 169 horsepower. The Hybrid S, which starts at $27,970, boasts a 2.0-liter four-cylinder engine and three electric motors that generate 196 horsepower combined.
If you are looking for the best fuel economy, the hybrid easily bests the gas-only model, getting 45 mpg in the city and 38 mpg on the highway. By comparison, the gas version gets 31 mpg in the city and 33 mpg on the highway.
LE vs. SE
The LE and the SE both offer the same respective gas-only and hybrid powertrains. The LE starts at $25,940, while the SE starts at $29,290.
Added features include luxuries like a leather-trimmed steering wheel, alloy wheels and automatic climate control. You also get conveniences like wireless device charging, additionally USB ports, and proximity keyless entry. As for driver assistance features, the LE and SE add blind-spot monitoring and rear cross-traffic alert.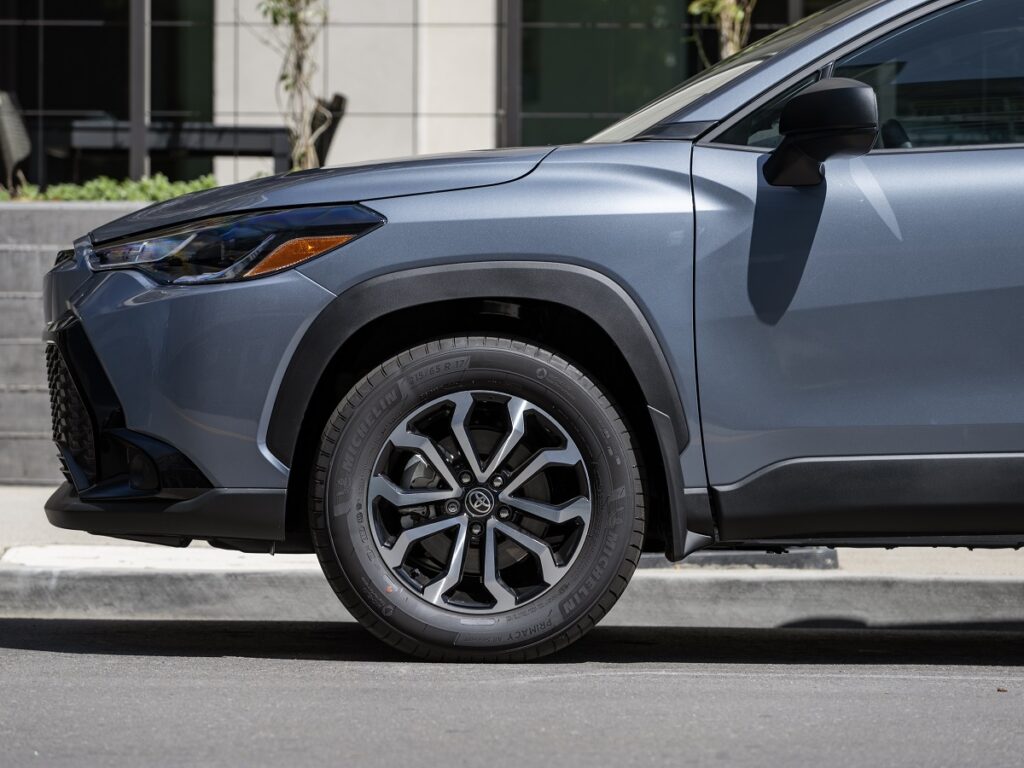 A moonroof is optional for another $940 for either trim. Otherwise, you can add both a moonroof and a nine-speaker JBL premium audio system costs for $1,740.
XLE vs. XSE
The XLE starts at $27,715, while the XSE starts at $31,065. With these trims you'll get synthetic leather upholstery, a 7-inch multi-information display, 10-way power-adjustable driver's seat and heated front seats. On top of that, a rear-seat folding armrest, and dual-zone automatic climate control provide further touches of comfort.
Driver's assistance features added with both trims are front and rear parking sensors and reverse automatic emergency braking.
When it comes to optional features, the moonroof and a power liftgate cost $1,250, or you can get those features plus a nine-speaker JBL premium audio system for $2,050. The last package gives you all of that plus adaptive headlights for $2,665.
Final Word
Both the hybrid and standard gas powertrain options offer virtually the same features as one another, but expect to pay around $4K more for the hybrid option. Ultimately, depending on how much you drive, that additional cost may be worth it when you consider the savings on gas.