At a time when the average transaction price for a new car exceeds $46,000, it's rare for a vehicle to feel like a value. The 2024 Subaru Crosstrek small crossover is the exception. Subaru refined its smallest SUV without losing any of its known capabilities or by significantly raising the price.
The 2.5-liter inline-4 hits the sweet spot in the lineup with more power, a less strained powertrain, and little to no penalty in terms of fuel economy. And the Sport trim for $30,290 (including $1,295 for destination) hits the sweet spot for value.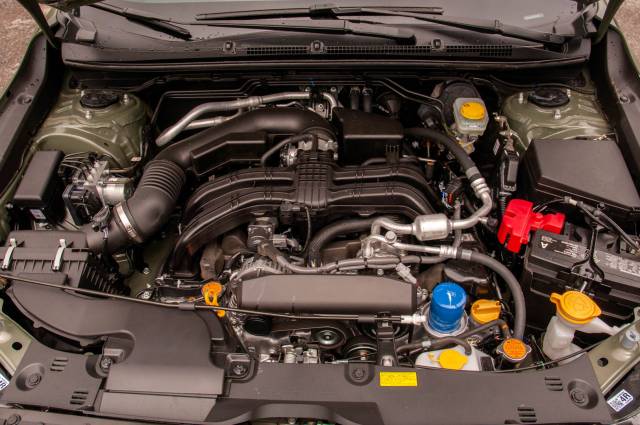 2924 Subaru Crosstrek
Crosstrek adds power
The 2.5-liter inline-4 in the Crosstrek Sport jumps from the base and Premium model's 2.0-liter inline-4. The larger engine makes 182 hp and 178 lb-ft of torque, which is 30 more horsepower and 36 lb-ft more torque than the base motor.
With the 2.5-liter inline-4 the Crosstrek isn't fast, but my butt dyno guesstimates it shaves probably almost two seconds off the 9.0-second 0-60 mph time of the base engine. This translates to plenty of power for merging onto a highway and even highway passing power. It's a shame a Subaru WRX engine hasn't been, and likely won't be, shoved into the Crosstrek as that would be a hoot.
The steering is still a bit on the light side with minor corrections needed at highway speeds, but the CVT blends into the background with its simulated gear changes. Steering-wheel mounted paddle shifters allow the driver to engine brake down a hill or force the revs to stay up.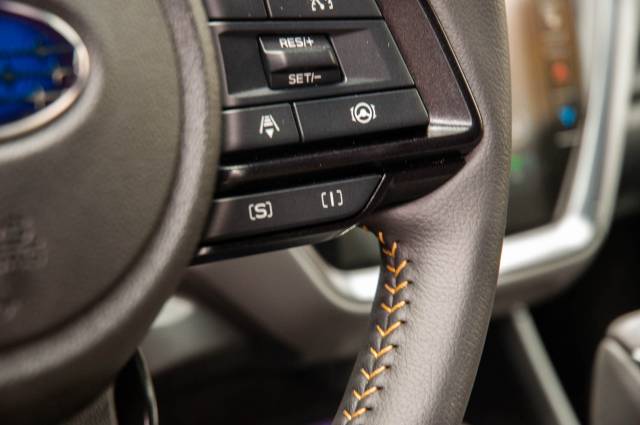 2924 Subaru Crosstrek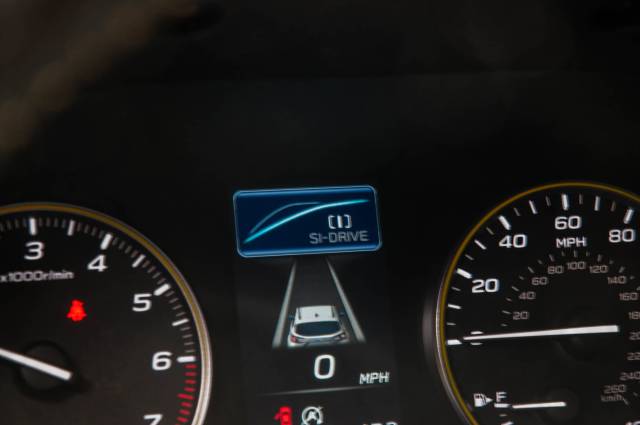 2924 Subaru Crosstrek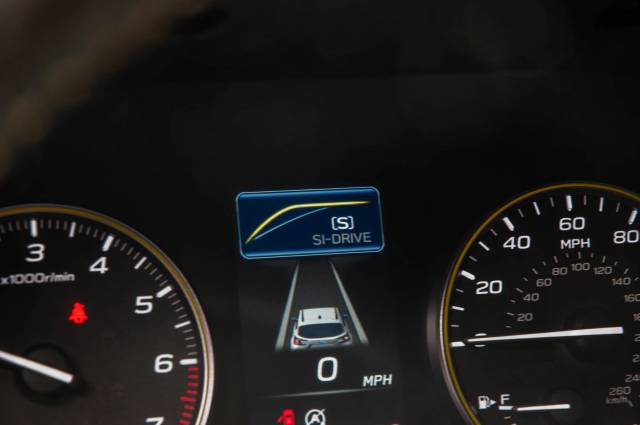 2924 Subaru Crosstrek
The default drive mode is called Intelligent and it doesn't offend, but Sport mode puts a little pep in the Crosstrek's step by raising the revs and keeping them high. Sport mode acts as if it's dropping the transmission a simulated gear or two, depending on the speed and how aggressive the throttle's being pushed.
The 2.5-liter only loses 1 mpg city and highway to the base engine, with an EPA fuel economy rating of 26 mpg city, 33 highway, and 29 combined. The reason the 2.5-liter engine doesn't lose much in terms of efficiency is because it doesn't have to work as hard as the smaller 2.0-liter thanks to its larger displacement, according to Subaru product planners. Over the course of about 75 miles in 42 degree weather and rain I saw an average of 26.6 mpg in mixed driving. We look forward to spending more time with the Crosstrek in the real world to get a better sense of its efficiency.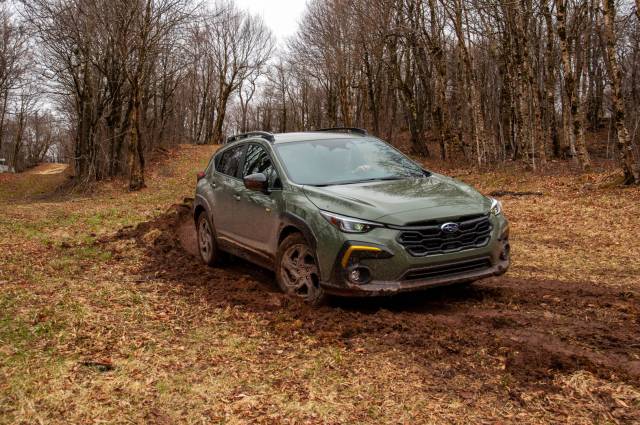 2924 Subaru Crosstrek
Subaru Crosstrek can go off-road
The Crosstrek isn't a Jeep, there's no Trail Rated badge, but out of the box it's far more capable than nearly every direct competitor such as the front-wheel-drive Hyundai Kona and base Honda HR-V.
Every Crosstrek has all-wheel drive and 8.7 inches of ground clearance (the forthcoming Wilderness model will up that to 9.3 inches). Subaru's all-wheel-drive system has an open differential, which means when wheel slip is detected it can hobble the car's forward momentum. To get around this Subaru developed X-Mode, which uses the braking system to cut throttle to the wheels without traction to continue moving forward. The larger engine adds a Deep Snow/Mud mode that does the exact opposite by loosening the electronic stability control system and traction control to allow wheel slip. This enables the Crosstrek to claw and spin its way through mud, over (smallish) slick rocks, and over rutted trails. It won't conquer Moab, but it proved plenty capable of getting me up and over wet and muddy ski slopes of Plattekill Mountain in the Catskills in early May
2024 Subaru Crosstrek
.
Subaru made the Crosstrek quieter
The most notable part of driving the latest Crosstrek is how much more pleasant it is to ride in or drive. The outgoing Crosstrek was a loud, noisy, vehicle with crass sounds and vibrations. The new 2024 model has almost none of that.
Subaru ditched the resin engine mounts for aluminum mounts on all 2024 models. There's more sound deadening, a 10% stiffer chassis, a reinforced engine block, and a reinforced casing on the CVT. It adds up to a car that is quiet compared to every Crosstrek that came before it, or even some of its competitors.
2924 Subaru Crosstrek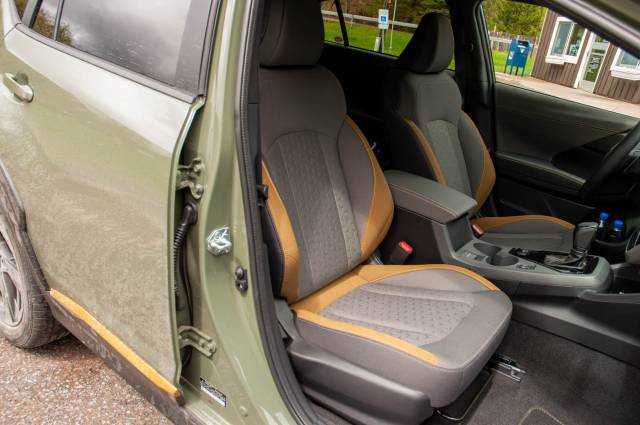 2924 Subaru Crosstrek
There's still plenty of hardtouch plastics inside, but the arm rests on the door panels now feature thick, pillowy cushions that almost feel like they are stuffed with marshmallows. Your elbows will no longer be sore after a long road trip.
Taller drivers may note the front seat bottoms feel a bit short, but the redesigned bottom and back are supportive with bolstering that keeps you in place even while going up and down a ski slope.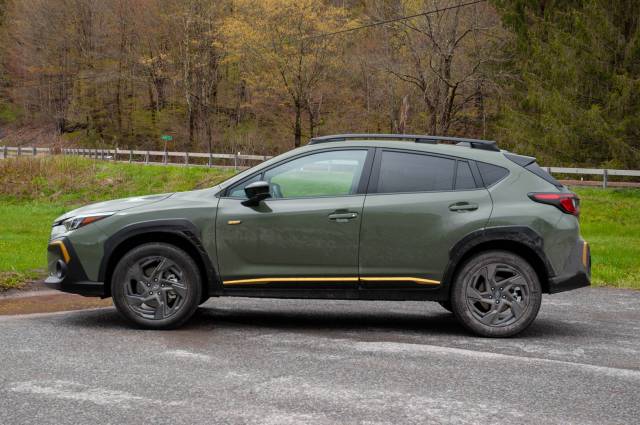 2924 Subaru Crosstrek
The Subaru Crosstrek is a value
Out the door the base 2024 Crosstrek costs $26,290 including $1,295 for destination. With standard adaptive LED lightning, all-wheel drive, and dual-zone climate control it's a straight value. For $4,000 more the Sport model seems like the sweet spot in the lineup with the larger engine and upgraded X-Mode, not to mention an 11.6-inch touchscreen with wireless Apple CarPlay and Android Auto.
Regardless of which Crosstrek buyers choose, the newfound refinement comes standard, and that's a win for the Kühl kids planning their weekend adventures.
Subaru paid for travel and lodging for The Car Connection to bring you this first-hand test drive.