GM now sells two newly revamped mid-size pickup trucks, but which one's better—the 2023 Chevrolet Colorado or the 2023 GMC Canyon?
To a casual observer, the trucks could pass for twins. That's because GM developed both trucks together and they share the same crew-cab design, 5-foot-2 bed, and 2.7-liter turbo-4 engine. The distinctions between the two mostly line up around cost: Chevy gets the less expensive versions, while GMC ladles on the Denali packages. Both cap their off-road ability with rut-running editions, the ZR2 and AT4X, respectively.
It's those differences that will matter to someone spending about $31,000 and more for a Colorado—or $40,000 and up for a '23 Canyon. Which truck comes out the winner as we tally up the TCC Rating points? Here's how these trucks stack up, head to head.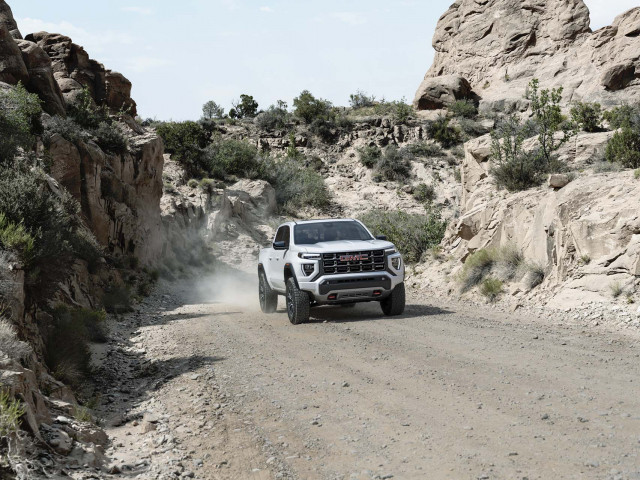 2023 GMC Canyon AT4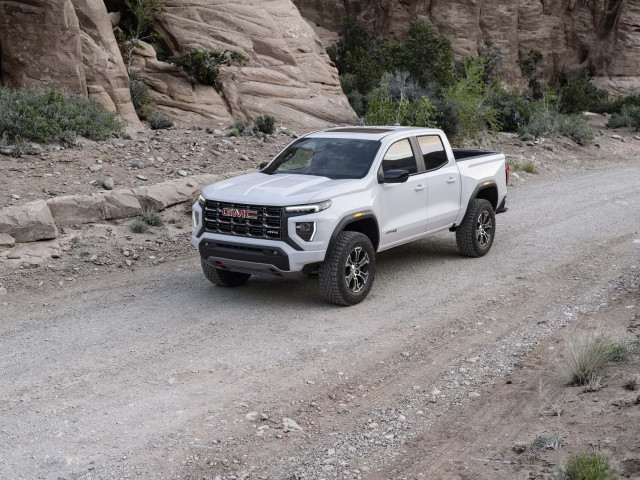 2023 GMC Canyon AT4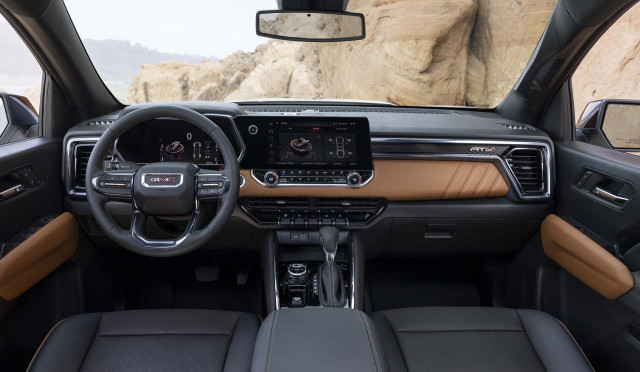 2023 GMC Canyon AT4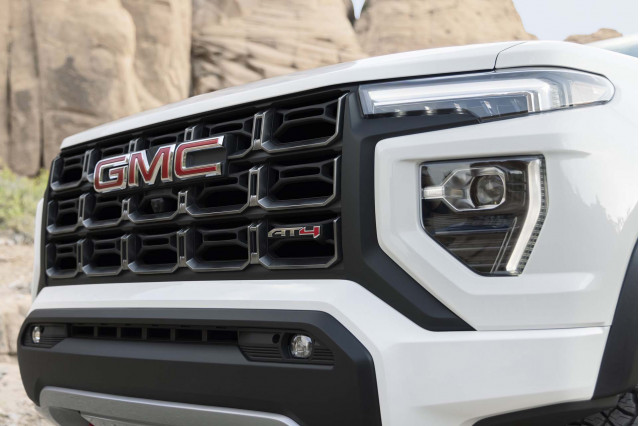 2023 GMC Canyon AT4
Chevy Colorado vs. GMC Canyon price and trims
Base Canyon costs about $40,000

Base Colorado costs about $31,000

Best picks: Colorado LT, Canyon AT4
Which 2023 GMC Canyon should I buy?
GMC sells the base rear-drive Canyon Elevation for $38,395. It's a lot more expensive than the last-generation truck, but it comes with digital gauges, an 11.3-inch touchscreen, and wireless Android Auto and Apple CarPlay. It's $3,300 for four-wheel drive; other options include Bose audio, a head-up display, and a 10-camera system with a waterproof underbody camera. Most drivers will want at least the $45,395 Canyon AT4 with its 18- or 20-inch wheels, 2.0-inch suspension lift, locking rear differential, and heated front seats. Its options include cooled power front seats, a power sunroof, leather upholstery, a wireless smartphone charger, and skid plates.
How much is a fully loaded 2023 GMC Canyon?
The pricey $52,495 Canyon Denali gets Bose audio, the head-up display, cooled front seats, side steps, and 20-inch wheels—but it's cheaper than the off-road specialist, the $56,995 Canyon AT4X, which gets 17-inch off-road tires, spool-valve dampers, a spray-in bedliner, and a front locking differential.
Which Chevrolet Colorado should I buy?
The 2023 Colorado comes in at $30,695 for the rear-drive LT; it's $33,995 with four-wheel drive. The 2WD Colorado LT has cloth seats, 17-inch steel wheels, power features, the 11.3-inch touchscreen, digital gauges, and wireless Apple CarPlay and Android Auto. The 4WD edition adds keyless start, carpeted floor mats, a center console, and a locking tailgate. Options include a power driver seat, heated front seats, remote start, and wireless smartphone charging, as well as rear parking sensors and blind-spot monitors.
A Trail Boss Colorado is the rough equivalent of the Canyon AT4, with its 1.6-inch lift, locking rear differential, drive modes, four-wheel drive, and 18-inch all-terrain tires.
How much is a fully loaded 2023 Chevy Colorado?
The $48,295 Chevy Colorado ZR2 is a talented off-roader thanks to its 2.8-inch suspension lift, front locking differential, and spool-valve dampers.
Both trucks carry a 3-year/36,000-mile warranty.
Advantage: The Colorado costs less, though the base Canyon skips the low-rent, low-output choices.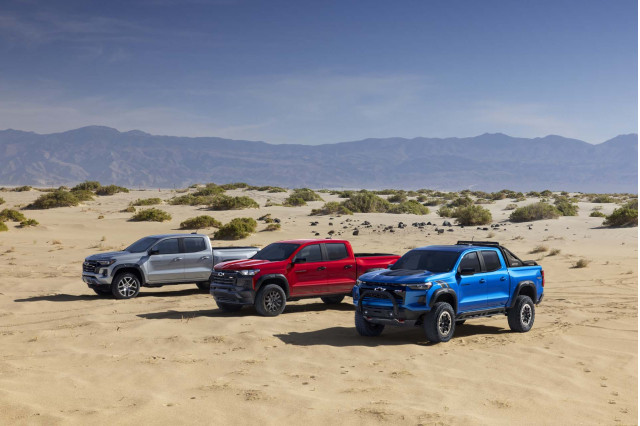 2023 Chevrolet Colorado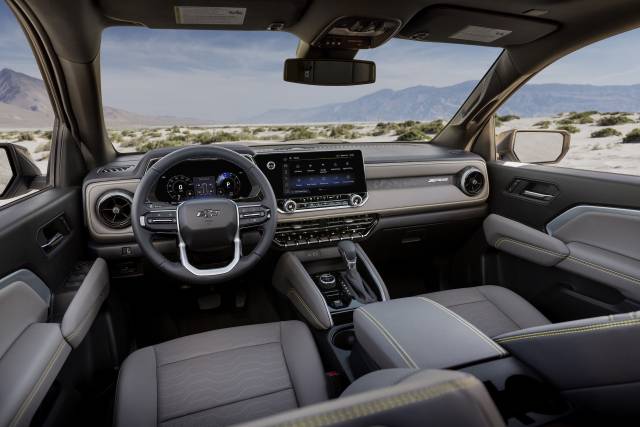 2023 Chevrolet Colorado ZR2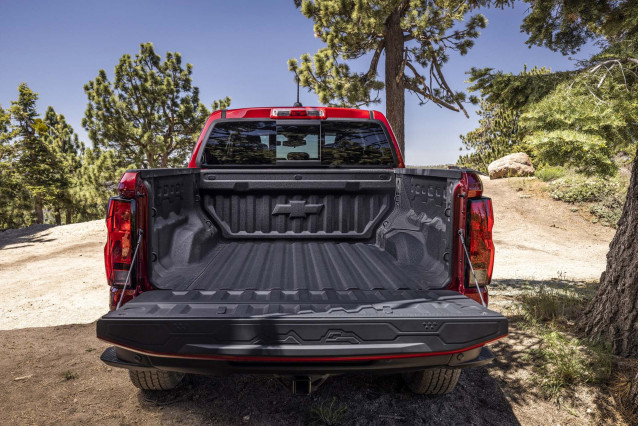 2023 Chevrolet Colorado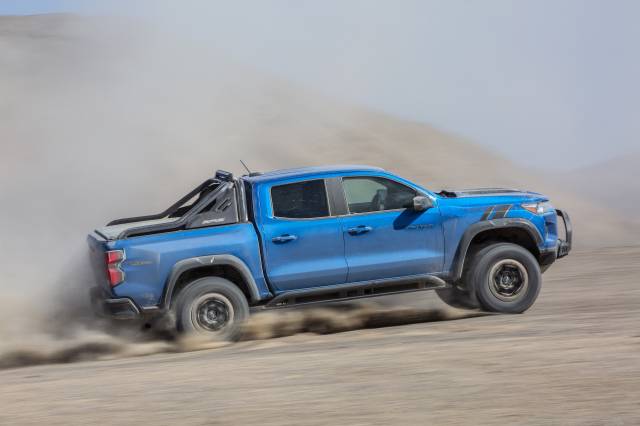 2023 Chevrolet Colorado ZR2
Chevy Colorado vs. GMC Canyon towing, off-road, and performance
Canyon's all in on power

The Colorado comes in three power outputs

Both off-road models reach new heights, literally
How fast is the GMC Canyon?
GMC and Chevy share a 2.7-liter turbo-4 between their trucks, but in the Canyon only the version with 310 hp and 430 lb-ft of torque is available. The Canyon weighs from 4,430 to 5,210 pounds, so it doesn't thrust forward with abandon, but it's strong. GM's excellent 8-speed automatic handles the shifting, but doesn't let drivers choose gears unless they're in Low. The Canyon offers a range of drive modes, from Normal to Off-Road and Terrain to Tow/Haul, which tailor traction and shifting to the need of the moment; the ATX4 has an additional Baja high-speed off-road mode.
Is the GMC Canyon 4WD?
The standard Canyon Elevation comes with rear-wheel drive, but has an option for four-wheel drive, which comes standard on all other versions. AT4 and Denali models have a locking rear differential. When it comes to off-road performance, the Canyon AT4 strikes the sweet spot, with 9.6 inches of ground clearance, 32-inch 265/65 tires, and good approach and departure angles coupled with the additional traction of the locking rear end. But it's the AT4X that runs amuck in the muck, with its 10.7 inches of ground clearance, Multimatic spool-valve shocks, 33-inch mud-terrain tires, and a Baja drive mode. It's tough to get the AT4X stuck anywhere.
On the road, the Canyon steers reasonably well, despite its leaf-spring rear end and wide track. Versions with smaller wheels and tires ride better; the Denali sits higher and has 20-inch wheels and it's all for the look, as it degrades the driving experience.
Most Canyons can tow 7,700 pounds—the AT4X can tug just 6,000 pounds due to its specialized off-road hardware.
Is the Chevrolet Colorado 4WD?
Like the Canyon it's rear-drive standard, but here that applies to most models. The more expensive versions can be fitted with a four-wheel-drive system with a 2-speed transfer case.
The Colorado's off-road prowess matches that of the Canyon, as the Colorado Trail Boss and Z71 line up almost exactly with the AT4, and the ZR2,with the AT4X. Chevy's versions get slightly less ground clearance save for the ZR2 that equals the AT4X's 10.7 inches—but the ZR2 has a superior approach angle of 38.3 degrees.
We've found all these Canyon and Colorado versions nearly identical in handling and trail-cutting skills. Best of all, the available off-road camera system gives a view from under the vehicle, making solo adventures more foolproof. Both the Canyon and Colorado even have off-road information displayed on their digital gauges, including g-force, altitude, pitch, and roll.
How fast is the Chevy Colorado?
It's less quick than the Canyon in most versions. Chevy fits a lower-output, 237-hp turbo-4 to its mid-size truck in base versions. On most Colorados, a 310-hp version offers dramatically quicker acceleration—and it's split in versions that twist out 390 or 430 lb-ft, the latter a little better for towing.
Base Colorado pickups can tow just 3,500 pounds with their low-power engine, but other models match the Canyon's 7,700 pounds. Payload capacity now reaches 1,684 pounds in either. Like the AT4X, the ZR2 tows 6,000 pounds.
Advantage: The Canyon, simply by skipping the base engines.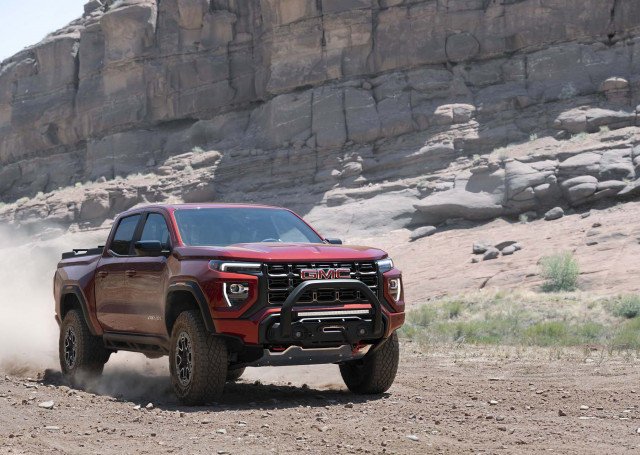 2023 GMC Canyon AT4X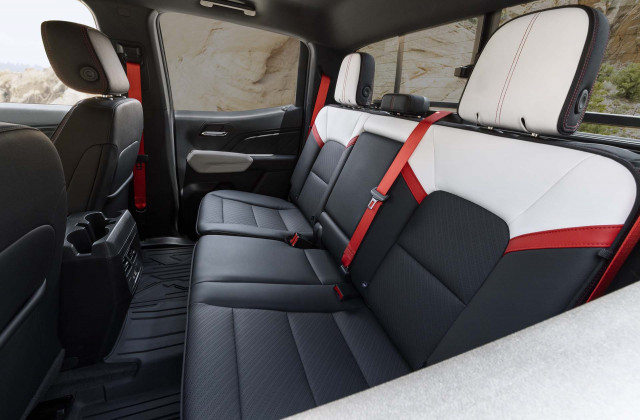 2023 GMC Canyon AT4X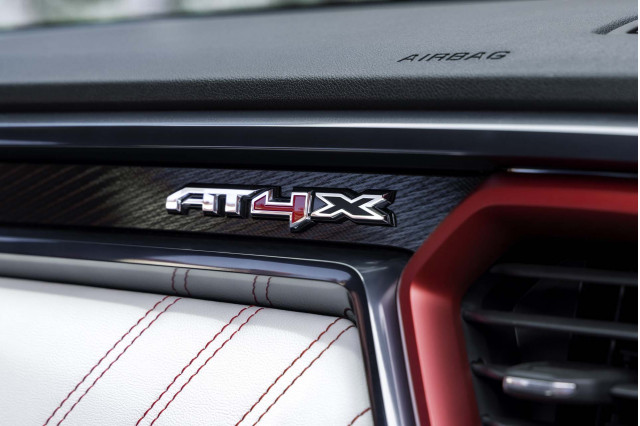 2023 GMC Canyon AT4X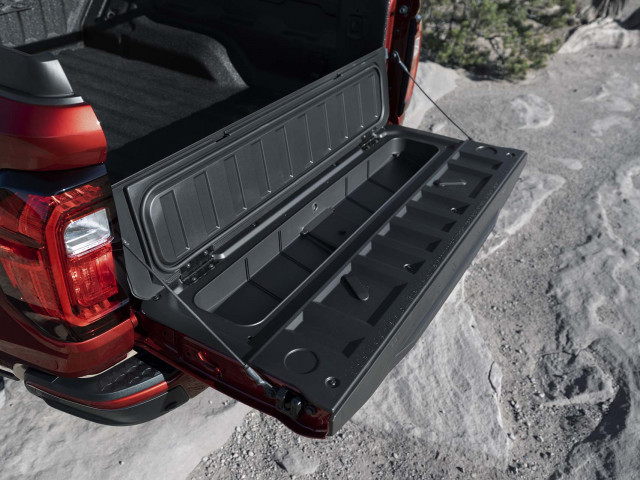 2023 GMC Canyon AT4X
GMC Canyon vs. Chevrolet Colorado size, comfort, and cargo capacity
Both trucks have grown longer and wider

Interior room hasn't increased much

On either, a 5-foot-2 bed is standard
How big is the GMC Canyon?
With its new Canyon, GMC has stretched the mid-size truck's wheelbase by 3.1 inches, to 131.4 inches. It's also about 10 inches wider, and stretches 213.2 inches long. Those numbers would have made for a fine full-size truck a couple decades ago.
Still, the interior space hasn't grown much. The driver and front passenger get well-shaped seats and are faced by a wide touchscreen with the latest Google-based infotainment system. The base Canyon Elevation wears somber black interior trim; AT4s get stitched dash trim, while Denalis have walnut and the AT4X, wild red and white leather trim. Wait, this is a truck?
In back the Canyon has a vertical seat cushion that limits comfort, though headroom is good. There's just 34.7 inches of legroom, which is less than in some compact GM crossovers. What matters most is the Canyon's 5-foot-2 bed, which gets up to 17 tie-downs, has stake pockets and indents in its bed for spare tires, and offers a trick tailgate with built-in storage and a mid-position detent that lets the Canyon haul up to 500 pounds of longer weight—lumber and such.
How big is the Chevy Colorado?
Since they're nearly identical, the space in the Colorado matches that in the Canyon. It comes down to fit and finish, and here the Colorado slips behind its sibling. Cloth covers the seats in all but the Z71 and ZR2 trucks, and the hard plastic trim touches the Trail Boss and LT editions more noticeably.
Advantage: The Canyon has the slight edge for its walnut-trimmed Denali edition.
2023 Chevrolet Colorado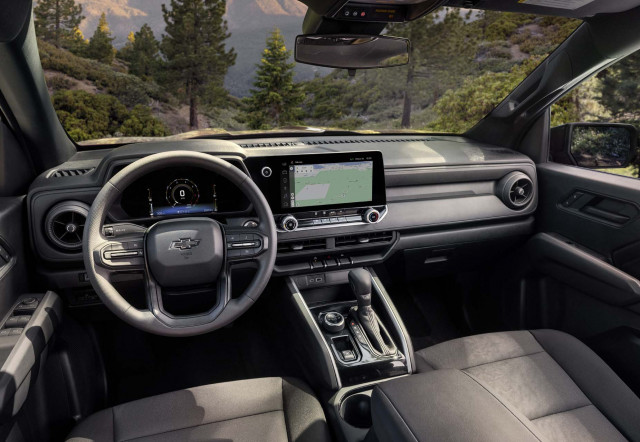 2023 Chevrolet Colorado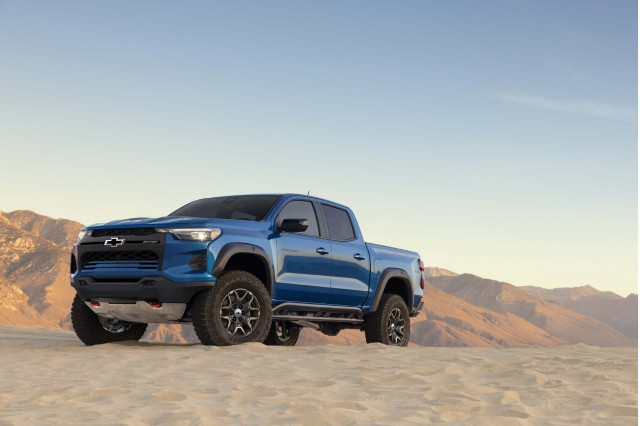 2023 Chevrolet Colorado
2023 Chevrolet Colorado
Canyon vs. Colorado interior and exterior design
The Canyon and Colorado look very similar

The look, either way: attractive but not groundbreaking

Denali has the richest look
Is the 2023 GMC Canyon a good-looking truck?
Without going in a radical new direction, the new Canyon's updated its style with a wide mask-like grille, thin LED running lights, and heavily sculpted doors that match the embossed tailgate. No matter which version, the Canyon's a ruggedly handsome vehicle, with less of the inexpensive bits and pieces and the narrow stance of the old version. Inside, the thrifty Elevation trim goes for a basic-black look, but AT4s and Denalis get stitched and padded trim, while Denalis and AT4Xs wear leather on their seats and have either laser-etched wood trim or white-and-red hashmarks, respectively. All versions get digital gauges and an 11.3-inch touchscreen that wakes up and splashes a huge GMC logo across both displays when the vehicle door is closed; the gauge screen can switch from a basic set of dials to a fussy view with myriad off-road indicators.
Is the 2023 Chevy Colorado a good-looking truck?
It's not much different from the Canyon, but the Colorado grille goes more for a horizontal effect, with WT editions stamped with a black plastic grille like a work-boot toe cap. Trail Boss and LT versions get street-ready details like faux skid plates and body-color trim in the grille, while the Z71 adds on a gloss black grille and black bumper and mirror caps. ZR2s get the real thing in the form of skid plates under the front end, and they wear a dumbbell-like dual black bar across the nose. The interiors of basic Colorados get more silver-painted trim and synthetic leather, paired with turbine-style air vents.
Advantage: Call it a draw.
2023 GMC Canyon Denali
Colorado vs. Canyon fuel economy
Is the 2023 GMC Canyon good on gas?
It's EPA-rated at 18 mpg city, 23 highway, 20 combined—so, no. That's best-case driving in the 2WD edition; the 4WD models start at 17/21/19 mpg and fall to 17/20/18 mpg in the AT4X.
Is the 2023 Chevy Colorado good on gas?
It's better. Base versions with the low-output engine get 22 mpg combined, while adding four-wheel drive, more torque, and off-road tires ratchets that number down to 18 mpg combined.
Advantage: The Colorado, by a couple of miles per gallon.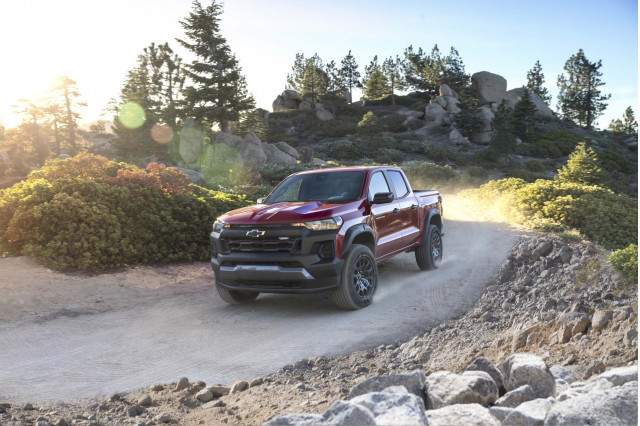 2023 Chevrolet Colorado
GMC Canyon vs. Chevy Colorado safety
Neither has been crash-tested yet

Both have automatic emergency braking

Off-road cameras are a boon
How safe is the GMC Canyon?
Neither the IIHS nor the NHTSA has crash-tested one yet, but it does have automatic emergency braking, as well as active lane control and automatic high beams. Adaptive cruise control, blind-spot monitors, and a surround-view camera system are options. The off-road camera system that provides under-body views of rocks and other obstacles feels like a must for anyone who uses it for that purpose; in our testing the cameras' spray-cleaning system wasn't quite powerful enough to knock off all the dirt.
How safe is the Chevy Colorado?
The Colorado's in the same testing boat as the canyon, and it gets the same hardware standard and on the options list.
Advantage: A stand-off, until we know more.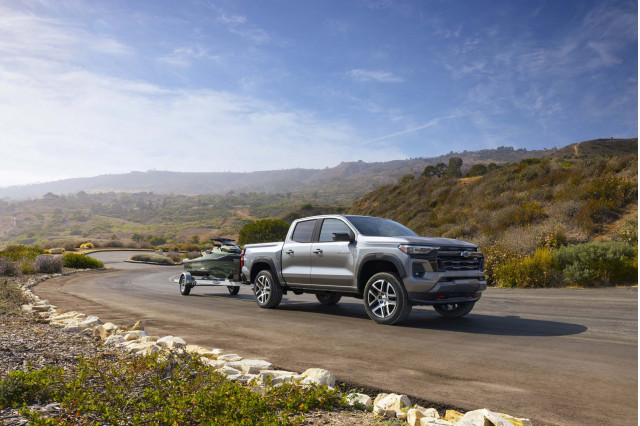 2023 Chevrolet Colorado
Which is better: Chevrolet Colorado or GMC Canyon?
GMC has given the Canyon a good start with more standard safety and convenience features. It earns a 5.4 out of 10, pending some safety scores. (Read more about how we rate cars.) The Colorado doesn't have crash-test data, either—but it does outscore the Canyon by one point thanks to its base engine. It earns a TCC Rating of 5.6 out of 10 here—and it takes the win by the slimmest of margins.
Winner: The Colorado, thanks to its more efficient base engine.