Chevrolet has a full lineup of utility vehicles, but at the smaller end of the spectrum, it's created some confusion. It used to sell the small Trailblazer (which had been a large SUV in the 1990s) and an even smaller Trax—but for 2024, the Trax has grown up, and now is larger than the Trailblazer.
Confused? No need to be, because some key things separate the 2024 Chevrolet Trax and the 2023 Chevy Trailblazer—including price and drivetrains. While the Trailblazer's more expensive and has all-wheel drive, the larger Trax is less expensive—and only comes with front-wheel drive.
One's more a raised-height economy car, the other's a whizzy turbo-AWD crossover. But which one proves better for drivers, day in and day out? Here's how the Chevy siblings stack up in the TCC Ratings.
Chevrolet Trax vs. Trailblazer price and trims
Base Trax costs $21,495
Base Trailblazer LS costs $23,395
Best picks: Trax LT, Trailblazer LS or LT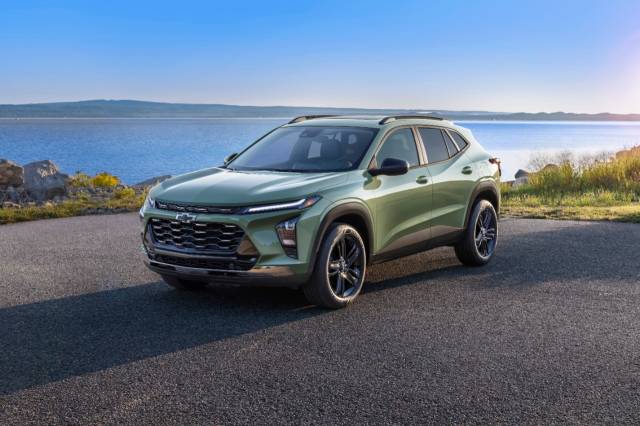 2024 Chevrolet Trax
Which Chevrolet Trax should I buy?
Chevy sells the Trax in LS, 1RS, LT, 2RS and Activ trims. The base model's well-stocked; for $21,495 the Trax LS gets an 8.0-inch touchscreen with wireless Android Auto and Apple CarPlay, LED headlights, cloth upholstery, cruise control, and 17-inch wheels. The $23,395 Trax LT offers the best value, thanks to its automatic climate control, rear-seat USB ports, and 11.0-inch touchscreen—so long as you add on the optional adaptive cruise control and wireless smartphone charging. It's hard to spend a lot on the Trax: the $24,995 Trax 2RS has heated front seats and 19-inch wheels, while the $24,995 Trax Activ can be topped up with a power sunroof, adaptive cruise control, and wireless smartphone charging to push its price just beyond $28,000.
Which Chevrolet Trailblazer should I buy?
Base Trailblazer LS crossovers come with automatic emergency braking, a 7.0-inch touchscreen, and alloy wheels, all for $23,395. Most drivers will want to spend up to the LT edition, which with either of its available engines, costs just less than $26,000 and gets options for adaptive cruise control and a color-contrasting roof.
All-wheel drive costs about $2,000 on most versions—it's at least available, unlike the Trax. But it's not difficult to spend about $33,000 on a fully equipped Trailblazer, which seems to be too much, given the larger and better-equipped vehicles on the market.
Advantage: The Trax has lower prices, but doesn't offer key features such as all-wheel drive.
2024 Chevrolet Trax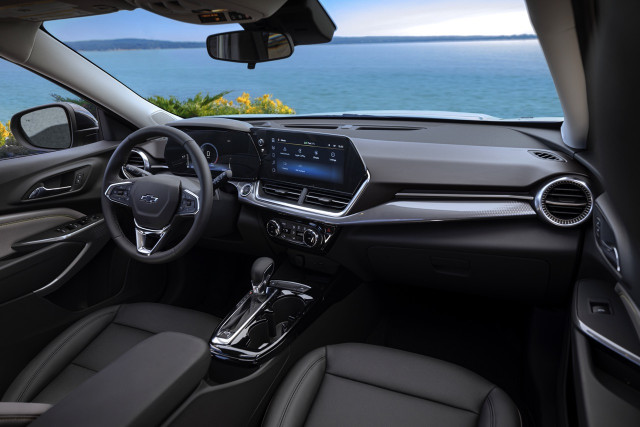 2024 Chevrolet Trax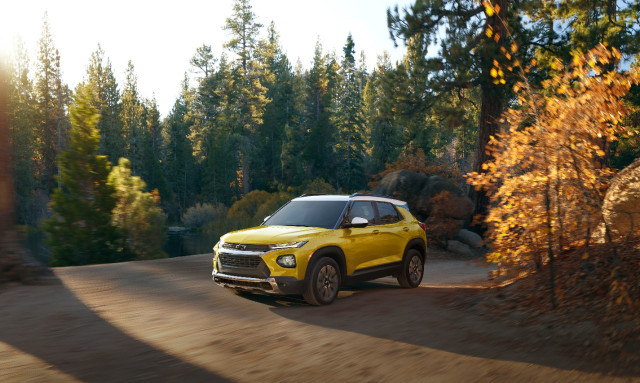 2023 Chevrolet Trailblazer
2023 Chevrolet Trailblazer
Chevy Trax vs. Trailblazer interior and exterior design
The Trax has sleek, athletic looks
The Trailblazer's a cute pocket crossover
Interior style gives the Trax the nod
Is the Chevrolet Trax a good-looking car?
It's an expressive shape with a handsome interior. The new Trax wears some of the lines coming to Chevy's inbound 2024 Equinox EV, with a banded mesh grille, trim LED lighting, and a swoopy tail that lifts up its shoulders at the rear end and underpins it with pointy LED taillights. The side sculpting lends the Trax an athletic look and feel that's a real high point for the vehicle.
The appeal carries over to the interior, where the Trax mingles digital gauges, a big touchscreen centrally located on the dash, round air vents, and angled control pods. It all compiles into a shapely cockpit that leaves no controls out of place, while still appealingly rendered in a good grade of economy-car plastics. The Trax RS, in particular, gets red-tinted highlights on the toggle switches and air vents and in its upholstery. Stop there: the Activ trim has a monochrome look outside that loses some of the crisp details, and the interior has a lot of glossy black trim that detracts from the look.
Is the Chevrolet Trailblazer a good-looking car?
The Trailblazer turned in its paper late, but still earned a good grade, when it was launched a few years back. With some lines that bear a strong resemblance to the Kia Seltos and the Nissan Kicks, the Trailblazer has a sharply angled hatchback shape that gives off a whiff of utility-vehicle vibe while it dons a small Chevy bowtie and an available contrasting roof that put some starch into its body panels. It's more angular and less showy than the Trax as a result, even with the RS version's wavy grille texture and deeper split-headlight effect.
The Trailblazer has a cleanly styled interior that's not as tightly composed as that in the Trax, but it works well enough even in the more somber black trim of the LS edition. RS and Activ models get more colorful trim and adventurous textures, which gives drivers of the pricey Trailblazers a bit more for their money.
Advantage: The Trax, by a good margin.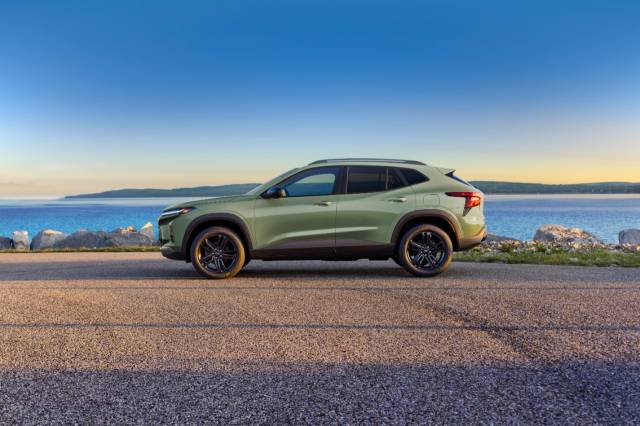 2024 Chevrolet Trax
2024 Chevrolet Trax
2023 Chevrolet Trailblazer
2023 Chevrolet Trailblazer
Chevy Trailblazer vs. Trax size, comfort, and cargo capacity
The Trax has slightly more passenger space than the Trailblazer
Both offer up to five seats
Cargo space is a draw
How big is the Chevrolet Trax?
It's bigger than ever before, and handily outscores the Trailblazer both for passengers and cargo. Versus the last-generation Trax, the new model's some four inches longer, with a wheelbase that's six inches longer. Its wheelbase has grown longer than that on the bestsellers in the segment, the Toyota RAV4 and the Honda CR-V.
All that newfound space means four 6-foot passengers fit well inside, with ample headroom and legroom all around. A fifth passenger can fit in the middle spot in the back seat, but it's a tight squeeze. The Trax could benefit from better lumbar support in the front seats—and while heating for those front seats can be had on most models, power adjustments for the driver seat don't come until the top Activ trim.
The back seat in the Trax feels so spacious, it's easy to see this becoming a favorite of ride-hailing drivers. The back doors open wide, it's easy to climb in given its ride height, and better yet, the Trax has lots of cargo space: some 25.6 cubic feet behind the rear seatbacks, or 54.1 cubic feet when they're folded down. The main qualm with the Trax comes with some interior trim that's shiny or, in the case of the mat-felt material that replaces carpeting in the footwells, just looks inexpensive. Given its price, it's a trade-off that seems well-made.
2023 Chevrolet Trailblazer
How big is the Chevy Trailblazer?
The Trailblazer has decent space and a decent grade of materials, but it's substantially smaller than the Trax in front-seat space.
The Trailblazer bests the Trax in rear-seat legroom by 0.7 inches. Its cargo space, however, nets out to 25.3 cubic feet behind the rear seats, and 54.4 cubic feet with the seats folded down—slightly smaller and larger than its sibling.
In front-seat space, the Trailblazer's an inch shy of the Trax. It's confusing for shoppers to see two vehicles in the same showroom so close in size, but in our testing, the Trax's cabin seemed more open and its cargo space more regularly shaped—perhaps because, overall, the Trax measures some five inches longer than the Trailblazer.
In front-seat comfort, the Trailblazer offers power-seat adjustment on more models, but its rear seat isn't as easy to access nor does it have as much shoulder room as the Trax.
The Trailblazer offers about the same interior trim quality as the Trax, too, and both have active noise cancellation to hush the noise that emanates from their turbo-3 engines.
Advantage: The Trax has slightly more room for front-seat passengers.
Chevrolet Trailblazer vs. Trax performance
It's a turbo-3, either/any way
Only the Trailblazer offers all-wheel drive
Neither car is quick
2024 Chevrolet Trax
How fast is the Chevrolet Trax? Does it have 4WD?
With its 137-hp 1.2-liter turbo-3, the Trax isn't quick. It churns out 162 lb-ft of torque and sends it to the front wheels through a 6-speed automatic transmission with a muted growl under full throttle, but without much excitement. It's able to merge into highway traffic, but uphill passes will take some planning and courage. One improvement within reach would be to make better manual control of its transmission available: Chevy puts a toggle switch on the shift lever but doesn't permit the driver to switch gears with it unless they're in Low.
The Trax has a simple strut-and-torsion-beam suspension, which means the athletic shape isn't backed up by edgy, crisp handling. Still, it's a reasonably responsive vehicle that doesn't pile on the weight of all-wheel drive, and takes direction through its electric power steering without too much fuss. Versions with the 18-inch wheels have a slightly more absorbent ride than those with 19-inch wheels.
No Trax offers all-wheel drive, but it does have 7.3 inches of ground clearance for clearing urban on-road hurdles.
2023 Chevrolet Trailblazer
How fast is the Chevrolet Trailblazer? Does it have 4WD?
Base Trailblazers have the same engine as the Trax, and carry about as much weight (roughly 3,000 pounds), so they're not quick either. What's worse, the Trailblazer sends its power to the front wheels through a CVT, which slides its pulleys and belts around to keep the engine in its powerband—where it's more noisy.
The optional 1.3-liter turbo-3 isn't much more powerful, with 155 hp, but it does have a 9-speed automatic for slightly better efficiency, as well as an option for all-wheel drive. Together they react more quickly, but they add weight while they boost power only slightly.
The Trailblazer handles reasonably well, given its size and price, and like the Trax it has responsive steering that doesn't pile on a lot of artificial heft. It rides decently, too, so long as you steer clear of the biggest wheels on the options list.
Advantage: The Trax has less power, but seems to do more with it thanks to its front-drive layout and fewer gears.
2024 Chevrolet Trax
Chevrolet Trax vs. Trailblazer fuel economy
Both check in around 30 mpg combined
The Trax fares slightly worse in city tests
The AWD Trailblazer has the lowest ratings
Is the Chevrolet Trax good on gas?
It's fine, with EPA ratings of 28 mpg city, 32 highway, 30 mpg. No hybrid version is offered.
Is the Chevrolet Trailblazer good on gas?
It's both better and worse than the Trax. The Trailblazer starts with good EPA ratings of 29/33/31 mpg with its 1.3-liter engine, and 29/31/30 mpg with the base turbo-3. AWD versions check in at 26/30/28 mpg.
Advantage: We'll call it a draw.
2023 Chevrolet Trailblazer
Chevy Trailblazer vs. Trax safety
The Trailblazer scores five NHTSA stars and an IIHS Top Safety Pick+
Automatic emergency braking comes standard on both
The Trax hasn't yet been tested
How safe is the Chevrolet Trax?
Neither the IIHS nor the NHTSA has crash-tested it yet, but all models have active lane control, automatic high beams, and automatic emergency braking. Rear parking sensors and blind-spot monitors can be fitted as options, while adaptive cruise control's an option on more expensive versions.
How safe is the Chevrolet Trailblazer?
The NHTSA gives it five stars overall, while the IIHS calls it a Top Safety Pick+. Chevy fits the Trailblazer with standard automatic emergency, too, while the Trailblazer LT and more expensive versions can be configured with adaptive cruise control.
Advantage: The Trailblazer, for now.
2024 Chevrolet Trax
Which is better: Chevy Trax or Trailblazer?
We give the 2024 Trax a TCC Rating of 6.0 out of 10. (Read more about how we rate cars.) It performs slightly better with similar running gear, and it's better-looking than the Trailblazer—admittedly, that's subjective—while it doesn't have a proven safety record yet. The Trailblazer earns a 5.7 out of 10, in part due to its higher sticker price and its less nifty shape.
Winner: The Trax.