New car owners have a lot more complaints than in years past about everything from the latest in-car tech to door handles, according to the latest Initial Quality Survey (IQS) released on Thursday from the automotive research firm J.D. Power.
The number of complaints reported by new owners and lessees in the first 90 days of ownership has increased to 192 problems per 100 vehicles, or PP100. That's an increase of 12 problems from last year, and 30 over the past two years, which marks a record increase in the 37 years of the IQS.
"The automotive industry is facing a wide range of quality problems," Frank Hanley, senior director of auto benchmarking at J.D. Power, said in a statement. "From persistent problems carrying over from years past to an increase in new types of problems, today's new vehicles are more complex—offering new and exciting technology—but not always satisfying owners."
Certainly adding to the frustration is new car shoppers continue to pay near record-high transaction prices for these feature-laden new cars. Of the nine categories of the 223-question survey answered by more than 93,000 respondents, the "features, controls, and displays" category recorded the largest increase in complaints, followed by the "infotainment" category.
This is nothing new. The 2022 IQS found that dropped connections with Apple CarPlay was the number one problem. This year, one of the biggest increase in reported problems was with wireless smartphone charging. This reflects the growing number of convenience features rolling out into new cars, and a missed opportunity for automakers, according to J.D. Power.
"This is the area where manufacturers really have the opportunity to delight customers with this convenience, but instead are creating a problem for them," Hanley said.
This applies to driver-assist technology, which has become standard on more and more new cars and was included on 80% of respondents' cars. The safety features include automatic emergency braking, active lane control, and blind-spot monitors. The first two safety systems were especially problematic, but that could be unfamiliarity with the systems and their corresponding alerts as much as the efficacy of them.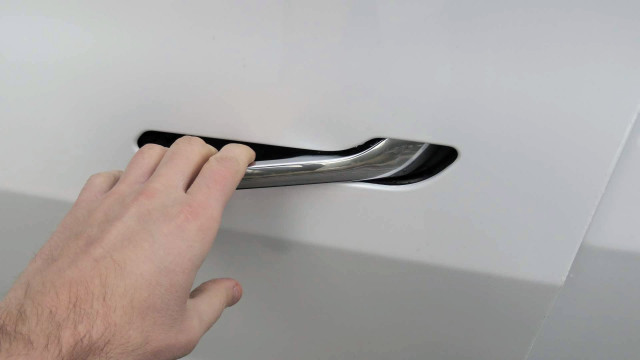 Tesla Model 3 door handle
Other problems seem unnecessary, such as cupholders that "don't serve their purpose" and newfangled door handles that don't seem to serve a purpose to owners. This is especially true on electric vehicles, where designers often make them flush with the body or add buttons and other pop-out features to improve its coefficient of drag and efficiency. Seven of the 10 most problematic models in this complaint were battery electric vehicles, Power found.
On the brighter side, more owners reported satisfaction with automaker apps, though electric vehicle owners, who are more reliant on the app for charging status, preconditioning, and other features not available with apps on internal-combustion cars, had more complaints than other users.
A higher IQS, which reflects more reported problems, doesn't mean the car is worse. It more likely reflects newer cars with newer technologies, and the kinks that need sorting out based on real world ownership and usage. That's a phenomenon as old as internal combustion.
2023 Initial Quality Survey brand ranking from J.D. Power
It follows then that vehicles that carry over unchanged, or brands with small model lineups that largely remained the same year over year, had fewer reported problems. That explains why Dodge ranks highest in Initial Quality, with the fewest reported problems of any brand at 140 problems for every 100 vehicles. That's much lower than the industry average 192 PPV.
But Dodge has effectively discontinued its entire lineup at the end of this year and the brand's newest model, the Dodge Hornet, has not been on sale long enough to be considered for this year's IQS.
Similar situations could be found for Ram (141 PP100) and Alfa Romeo (143 PP100). Buick (162 PP100), Chevy (166 PP100), and GMC (167 PP100) take the next three spots, and Porsche has the fewest complaints of any luxury brand that sells more than three models at 167 PP100.
Electric automakers Tesla (257), Rivian (282), Polestar (313), and Lucid (340) brought up the rear, but first-timers Lucid and Rivian have a very small sample size. The data is extrapolated and not holistic, however. Those four automakers don't allow J.D. Power to survey owners in states where authorization is required, so it's based on data from owners in the other states.