Compact crossover SUVs have become the new family car paradigm. They're useful, flexible, economical (usually), and serve many buyers as well as two or three cars combined.
The 2023 Toyota RAV4 tops the compact-SUV charts. The bestseller was redesigned in 2019, and comes in a range of choices from thrifty Hybrid and plug-in hybrid Prime versions, to the more rugged Adventure and TRD Off-Road editions. In all, we're charmed by the look and the utility—and the Prime rocks out semi-scorching acceleration, to boot.
The 2023 Subaru Forester offers altogether more prosaic virtues. It's not particularly fast or handsome, but it's spacious beyond belief, has lots of ground clearance and standard all-wheel drive, and tops it off with a safety reputation with few equals. It's also a previous winner of our Best Car To Buy award.
Both vehicles have other tough competition in their niche, ranging from the Honda CR-V, to the Hyundai Tucson and the Nissan Rogue. Between all of them—particularly these two—there are clear choices to be made. When it comes down to the numbers, which one's better? Here's how it shakes out.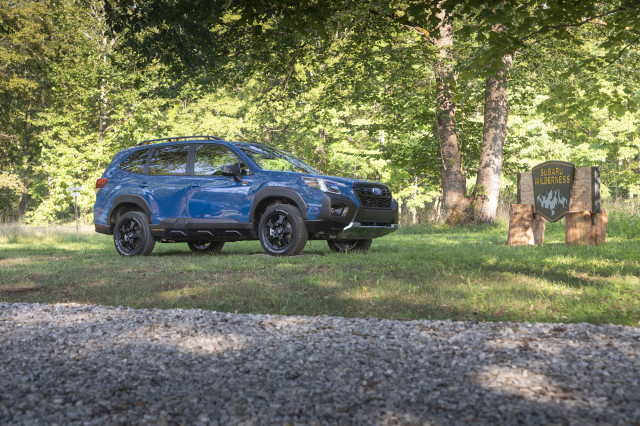 2023 Subaru Forester
Toyota RAV4 vs. Subaru Forester prices and features
The base Forester costs $27,620

A base RAV4 costs $29,310

Best picks: RAV4 XLE Hybrid, Tiguan SE
How much is a Toyota RAV4?
Toyota sells more than a dozen versions of the RAV4, starting from about $30,000. That base RAV4 LE offers a lot of standard equipment, including 17-inch wheels, a 7.0-inch touchscreen with Android Auto and Apple CarPlay, and cloth upholstery. All RAV4 crossovers get an average 3-year/36,000-mile basic warranty.
That's a great value, but for a bit more, the RAV4 XLE brings on hybrid power and more features. It's priced from just over $30,000 in Hybrid spec, which brings standard all-wheel drive, as well as keyless start and a power driver seat—with options for a bigger touchscreen and heated front seats. Of course, for about $45,000 the RAV4 Prime caps the lineup with plug-in hybrid power and a long list of features that include a larger touchscreen and a sport-tuned suspension. It's a superb iteration of the RAV4's basic concept, but it's extremely hard to find for anywhere near MSRP.
How much is a Subaru Forester?
Subaru also stocks its base Forester with a lot of features—and cuts a bigger deal on the sticker price. For $27,620, the base Forester gets a 6.5-inch touchscreen with Android Auto and Apple CarPlay, a CD player, steel wheels, and lots of safety equipment. Roof rails and alloy wheels cost another $625. A 3-year/36,00-mile warranty is included.
Skip that base model and spend about $31,000 for the Forester Premium, which gets the roof rails and alloy wheels as well as a panoramic sunroof, a power driver seat, heated front seats, and a leather-wrapped steering wheel. For another $1,165, the Forester gains a power tailgate and blind-spot monitors.
We like the $35,245 Forester Wilderness, which has a lifted suspension, rugged upholstery, and a stouter roof rack—but most drivers won't need its toughened hardware. Nor will they need the $37,720 Forester Touring's leather upholstery, power passenger seat, 18-inch wheels, or Harman/Kardon audio with navigation. Those are just nice things to have.
Advantage: The Forester's cheaper, but the RAV4 has more to offer.
2023 Toyota RAV4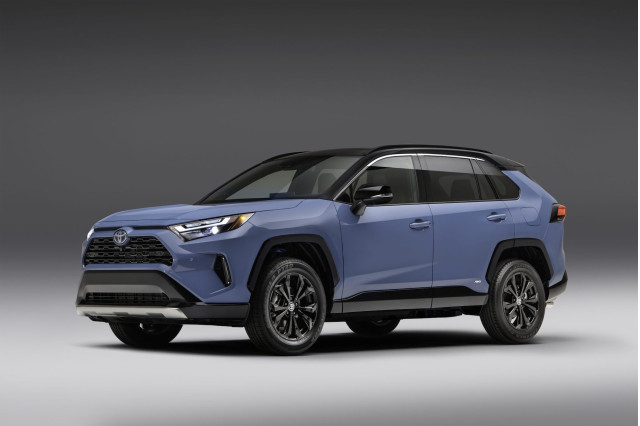 2023 Toyota RAV4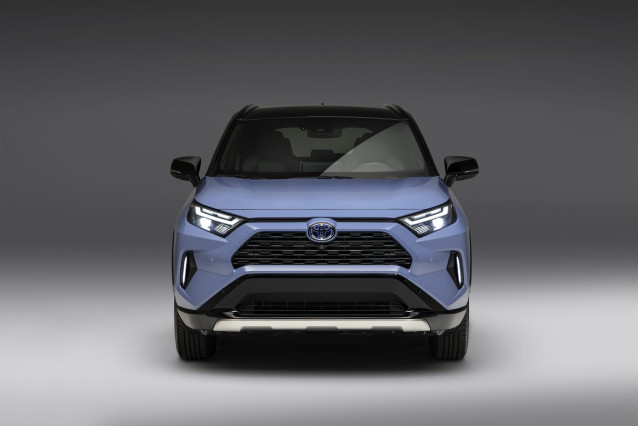 2023 Toyota RAV4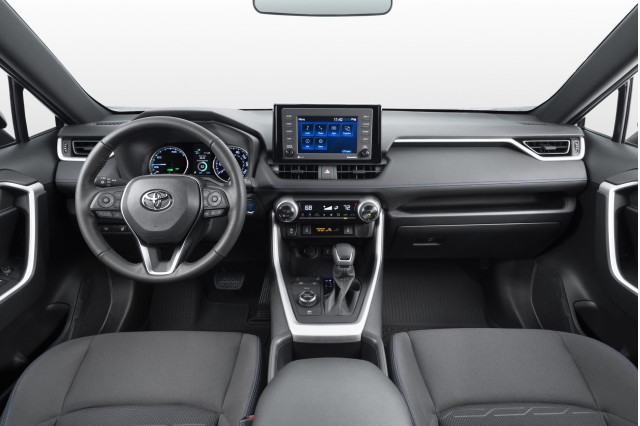 2023 Toyota RAV4
Forester vs. RAV4 performance
RAV4 Prime shoots its shot

Forester taps pedestrian power

Both can have all-weather AWD traction
How fast is the Subaru Forester? Is the Subaru Forester 4WD?
Subaru offers all-wheel drive on every Forester; it has off-road traction control on all but the base model, too. A half-inch more suspension travel and a half-inch taller body help the Forester Wilderness live up to its name. For when the going gets tough, there's an aluminum skid plate up front.
Across the board, there's no emphasis on speed in the Forester. Powered by a 2.5-liter flat-4 that snarls and thrums at idle, the 2023 Forester makes 182 horsepower. It tries to keep revs low in normal driving, but highway on-ramps and passing require a deep stab of the throttle that results in more underhood rumble along with the increased forward motion. For hilly terrain, paddle shifters maximize the CVT's potential, but in routine commuting, the transmission disappears into the background.
One of the Forester's best assets is its ride quality. Subaru has tuned the latest version to smooth out bigger bumps; it's better than any Forester before it, and yet it still can slither down a twisty road with composure thanks to its light, quick-witted steering. But just as important is the Forester's actual off-road ability, generated by its 8.7 inches of ground clearance, standard all-wheel drive, and ruggedized exterior and interior trim. It doesn't mind getting dirty, in other words. The Forester's capable, adventurous—and calm, which remains its biggest improvement over its predecessors and a real advantage in this niche.
How fast is the Toyota RAV4? Is the Toyota RAV4 AWD?
Toyota's deep RAV4 bench starts with the slowest models, all of which are powered by a 2.5-liter inline-4 with 203 hp. An 8-speed automatic handles shifting, and does the most with the acceptable horsepower—but the engine's thrashy and loud from the mid-range on toward redline.
The RAV4 Hybrid gets our nod here. It teams a rear-wheel electric motor with a 4-cylinder engine and a battery pack to yield lots of low-end torque, smooth launch power, and attentive shifts through a planetary hybrid transmission. In all, the 219-hp Hybrid checks in a tenth or two slower than the stock RAV4 in 0-60 mph runs, but in perception it's both quieter and quicker.
Still, for the best RAV4 experience, the Prime suffers no fools. It gets a large 18.1-kwh battery pack that grants it up to 42 miles of all-electric driving—and its net output of 302 hp lights a fire under the crossover from a stoplight start. It can reach 60 mph in 5.7 seconds, Toyota says, with the ineffably slick acceleration of a part-time EV.
All RAV4s handle pretty well—a compliment, given Toyota's lackluster history in ride and handling. Primes get the most sporting suspension tune, but all versions have enough compliance to soften the road and quick, progressive steering that's reasonably well weighted.
Advantage: The RAV4, especially the Hybrid and Prime.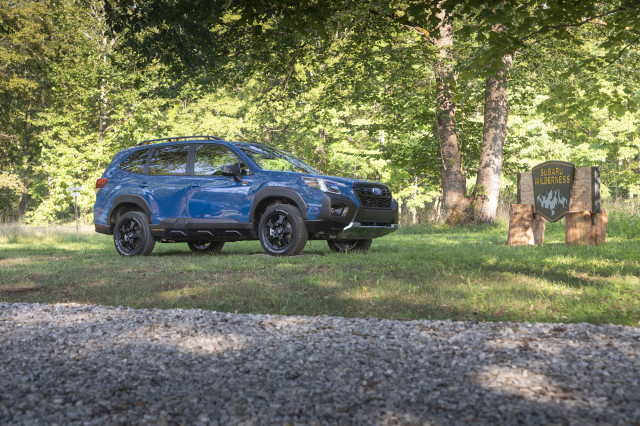 2023 Subaru Forester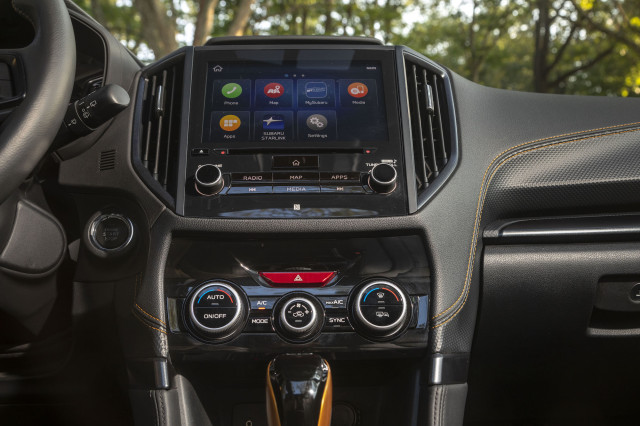 2023 Subaru Forester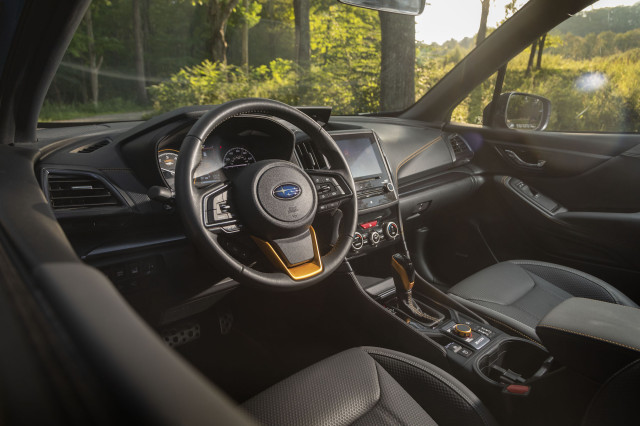 2023 Subaru Forester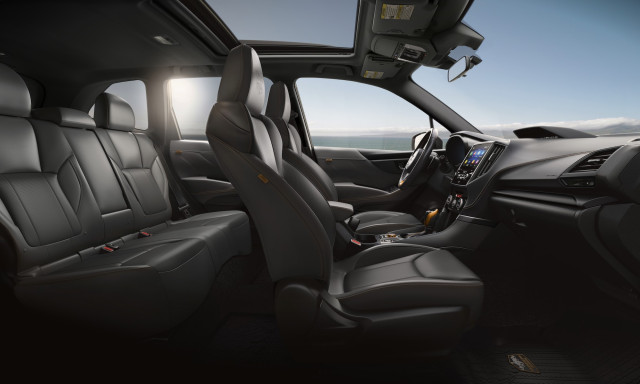 2023 Subaru Forester
RAV4 vs. Forester specs, seating, and cargo space
The Toyota RAV4 skimps on headroom

The Subaru Forester's slimmer pillars give it great outward vision

The Forester's cargo hold outpoints that in the RAV4
How big is the Subaru Forester?
It has a compact footprint, but the Subaru Forester carves out a comfortable and very useful interior from that foundation. Five people can fit inside, along with their luggage, and with all the accompaniments of daily modern life: pets, smartphones, water bottles, and charging cables.
Subaru stuffs the Forester with well-designed front seats that get power adjustment as the trim price increases. Some versions sport leather upholstery, but that seems counter to the Subaru aesthetic, which is sort of not having an aesthetic. In back, Subaru offers rear-seat passengers about 40 inches of legroom, as much as a CR-V or some mid-size SUVs. The seats themselves have good firm padding, and there's enough headroom for 6-foot-tall people to relax without slouching. With those rear seatbacks up, the Forester can tote 35.4 cubic feet of cargo—a figure that more than doubles when the seats are folded down, to 76.1 cubic feet.
How big is the Toyota RAV4?
The RAV4 can also seat five, but its packaging makes more noticeable compromises. The front seats have even better sculpting, we think, than those in the Subaru—but there's less padding, which makes the seats feel firmer and less comfortable on long trips. Toyota molds in lots of storage around the cockpit, though, and a nice smartphone shelf awaits the front passenger—for the rare moments when said smartphone leaves their hands.
Row two in the RAV4 offers up less legroom than in the Forester, but more noticeable is the headroom—which comes up shy in front, too. Toyota fits higher-profile seats and that leaves less space for taller passengers in any position than in the Forester.
In cargo space, the 37 cubic feet behind the rear seats in the RAV4 expands to 69.8 cubic feet when those seatbacks get folded down. In both, the cargo floor sits at a reasonable height: neither has the punishing floor height of a full-size SUV like a Suburban.
Advantage: The Forester has more headroom and cargo space.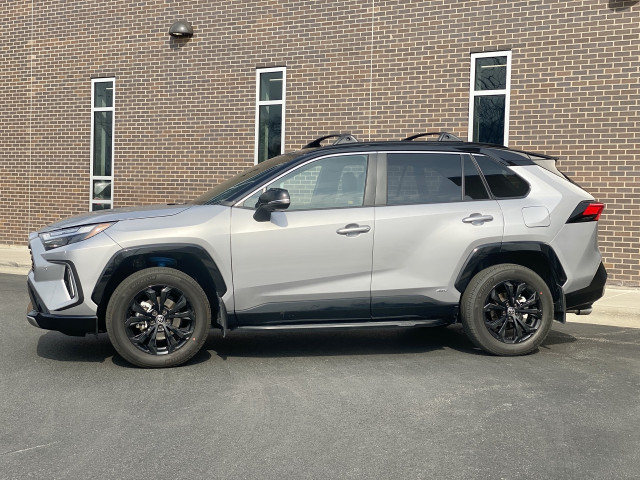 2023 Toyota RAV4 Hybrid XSE AWD
Subaru Forester vs. Toyota RAV4 fuel economy
The Forester tops out at 29 mpg combined

Standard RAV4s can deliver 30 mpg combined

RAV4 Hybrids and Primes are gas-mileage rock stars
Even the base RAV4 gets as much as 30 mpg combined, but most RAV4 drivers do far better. Toyota sells a lot of hybrid RAV4s, and fuel economy for those drivers checks in at a fantastic 40 mpg combined. It's the best reason to buy a RAV4—except for the Prime plug-in hybrid, which powers up strong acceleration to go with its 42 miles of all-electric driving.
Is the Subaru Forester good on gas?
It's not bad, but the best figure for the all-wheel-drive Forester is the base model's 29 mpg combined. That's far off the RAV4's stellar marks, and pricey Foresters like the Wilderness manage just 26 mpg combined, thanks to less efficient tires and aerodynamics.
Advantage: Toyota RAV4, even in its base versions.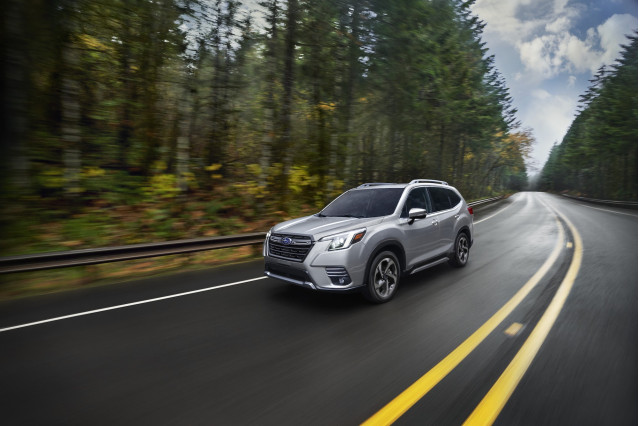 2023 Subaru Forester
Forester vs. RAV4 safety
Both earn top crash-test scores

Both come with automatic emergency braking

The Forester has better outward vision
How safe is the Toyota RAV4?
It's very safe. The IIHS calls it a Top Safety Pick, and it earned a five-star rating from the NHTSA. It comes with automatic emergency braking, adaptive cruise control, active lane control, and automatic high beams—but blind-spot monitors cost extra on some models. The RAV4 has thick rear roof pillars, which clouds the view over the driver's shoulders.
How safe is the Subaru Forester?
It's even better, with top marks from the IIHS and the NHTSA, as well as standard automatic emergency braking, active lane control, and adaptive cruise control. Blind-spot monitors cost extra here, too—but the Forester's slim roof pillars and high driver's seat grant it a view to the rear quarters that's unparalleled in its class.
Advantage: Both get top crash-tests scores, but the Forester's view is better.
2023 Toyota RAV4
2023 Toyota RAV4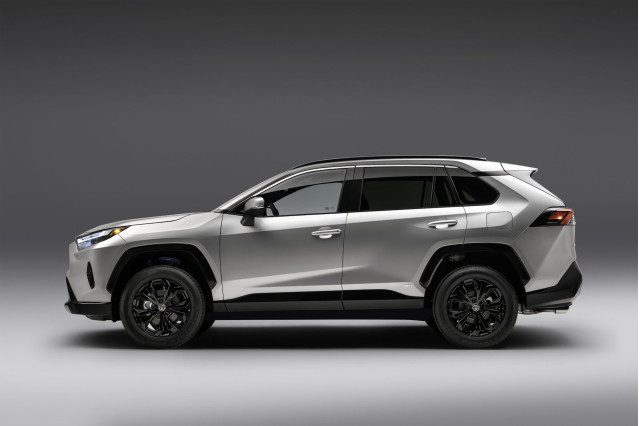 2023 Toyota RAV4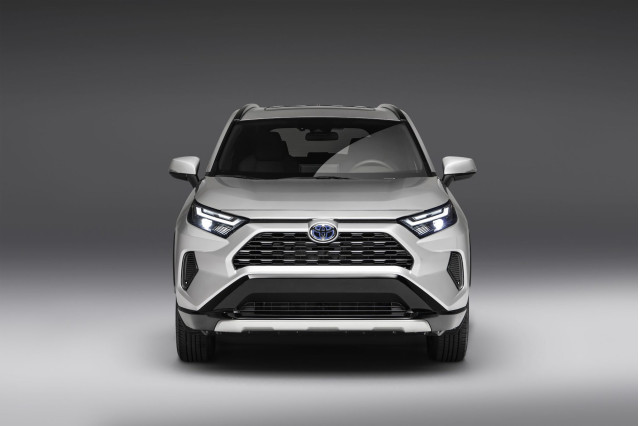 2023 Toyota RAV4
Toyota RAV4 vs. Subaru Forester styling
We like the angular, adventurous RAV4

The Forester's more prosaic, inside and out

Each has their own brand of casual chic
Is the Toyota RAV-4 a good-looking car?
With its angled roofline and pronounced fender flares, the RAV4 has grown into an adventuresome style that plays well on the road or on the lightly graveled trail. Toyota adapted some of the best cues of its trucks to the compact crossover—and they play well years later, thanks to a balanced, wedgy stance and the good sense to back off of the wacky themes Toyota's tripped over with recent models. The RAV4's cabin takes a simple horizontal tack and makes it work across inexpensive and high-end grades alike, thanks to additions of a 9.0-inch touchscreen, synthetic leather, and metallic trim.
Is the Subaru Forester a good-looking car?
It's better than the homely Foresters of the past—which we still gave the thumbs-up. The Forester embodies a more practical take for a more practical crowd, and even though the latest version wears more curves and classier interior trim, it's still pointed at drivers who care more about crash-test scores and durability than in flashy looks.
Where it makes a difference is in the Forester's glassy greenhouse and its bulldog front end, which serve practical purposes—granting better vision and maneuverability on the moderately difficult trails it can tackle. LED lights and unpainted plastic bumpers serve the same goal: the pseudo-rugged looks of other SUVs get backed up here with actual ability. Inside, the Forester wraps the controls and surfaces in high-functioning materials, and dresses up a bit in Wilderness editions with brightly colored accents and in the Touring with a rich-looking brown leather.
Advantage: The RAV4's more engaging, from the outside in.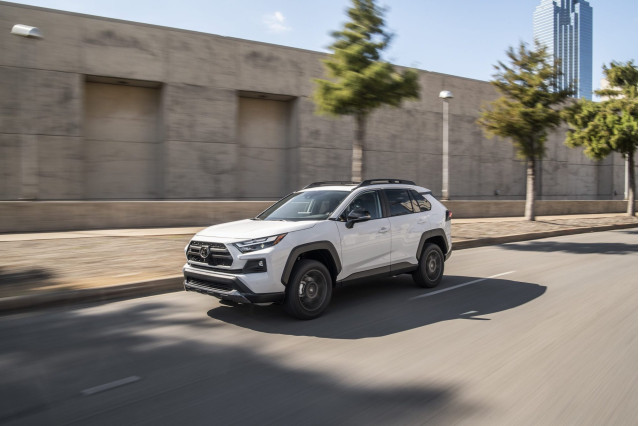 2023 Toyota RAV4
Which is better: Subaru Forester or Toyota RAV4?
Toyota scores a TCC Rating of 6.5 out of 10, but the RAV4 Hybrid or Prime would nudge higher thanks to its great acceleration and fuel economy. (Read more about how we rate cars.) The Forester, meanwhile, earns a 6.5 out of 10, thanks to its strong safety record and its spacious cabin. Both represent the difficult choices presented to crossover buyers: when everything's good, what's best? Given the choice, we'd spend more for the RAV4 Hybrid, and that's why it ekes out the win here.
Winner: It's the Toyota RAV4, with a shout-out to the Hybrid and Prime.