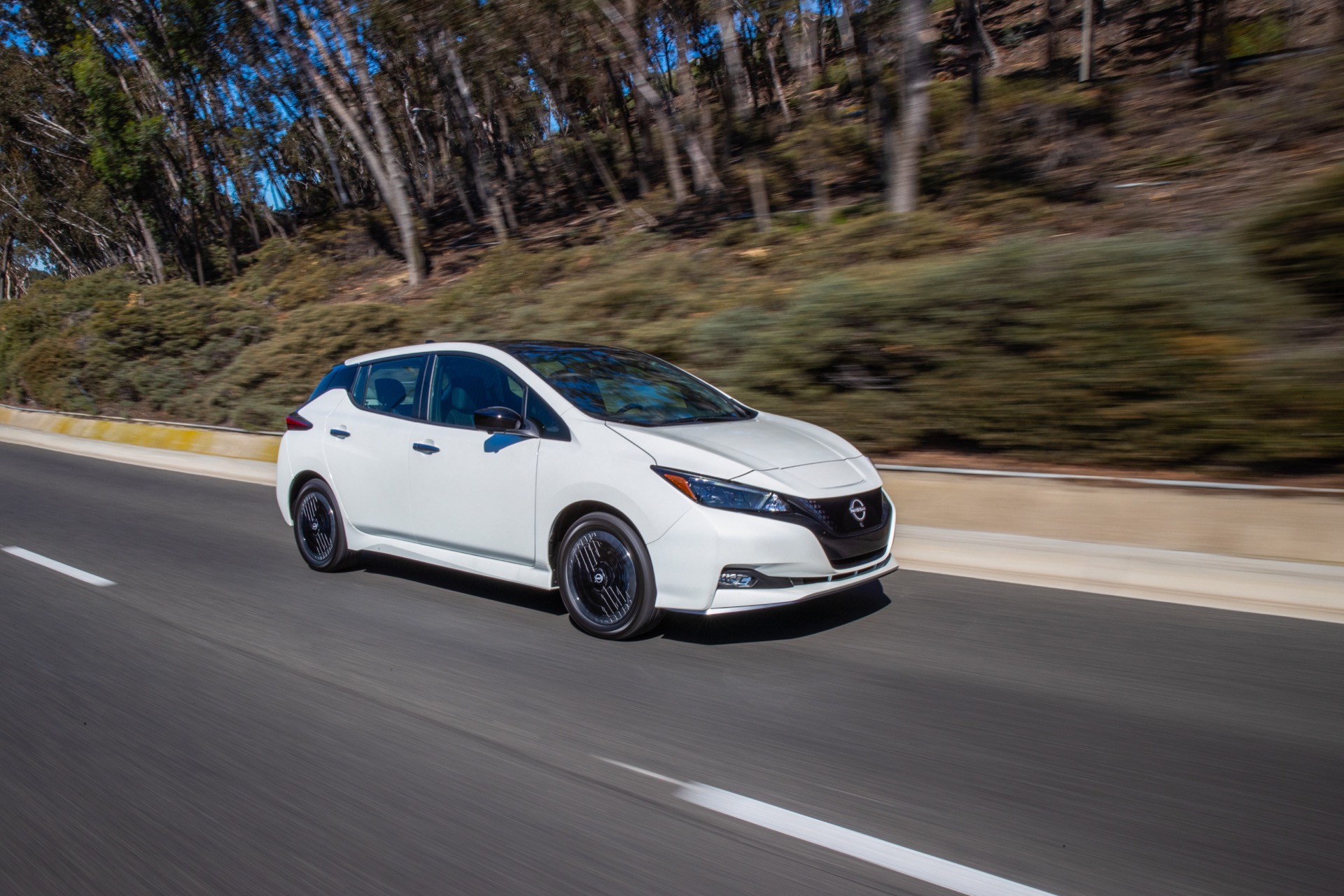 Nissan hasn't turned over a new leaf yet when it comes to its entry-level electric vehicle. The 2024 Nissan Leaf arrives for the new model year with no changes except for a minor price increase of $100 on the base Leaf S and $150 on the top Leaf SV Plus compared to existing prices for the 2023 Nissan Leaf, Nissan announced Friday.
Nissan had raised the price of the refreshed 2023 model by $340 mid-year. The Leaf S with the small 40-kwh battery pack and a range of 149 miles costs $29,235 this year. In addition to Nissan's standard safety suite that includes automatic emergency braking, active lane control, and blind-spot monitors, the Leaf S also comes with 16-inch alloy wheels, cloth seating, and an 8.0-inch touchscreen display with Android Auto and Apple CarPlay compatibility.
The Leaf SV Plus costs $37,285 this year. It has a 60-kwh battery pack with a range of up to 212 miles. It adds adaptive cruise control, navigation, a heated steering wheel and heated mirrors, fog lamps, and hands-free driver assistance.
Since it launched in late 2010 as the first mass-produced EV, the Nissan Leaf electric hatchback has been one of the more affordable electric cars. That was until Chevy last year slashed prices on the Bolt EV and Bolt EUV. The 2023 Chevrolet Bolt remains the most affordable electric vehicle with a starting price of $27,495, including destination.
The Chevy has more range, too.The 2023 Bolt EV and Bolt EUV are powered by a 200-hp electric motor at the front wheels, with a 65-kwh battery pack affording a range of 259 miles for the Bolt EV or 247 miles for the Bolt EUV. Unlike the Nissan Leaf, the Bolt still qualifies for up to $7,500 of the new federal EV tax credit, bringing its price closer to $20,000, depending on owners' tax liabilities.
The 2024 Nissan Leaf is on sale now, alongside the 2023 Nissan Ariya electric crossover that launched new last year with an 87-kwh battery pack and a range of 304 miles.