Although the 2023 Chevy Equinox and 2024 GMC Terrain are assembled in the same plant, share similar powertrains, and may even share the same floor space at the dealership, these two compact crossovers from General Motors have more than just daylight separating them.
The two compact crossovers have mass appeal. They're both tall-riding, five-passenger crossovers with touchscreens inside and a long list of upgrades that aims for hearts, minds, and importantly, wallets.
The two are stylistically separate but share nearly identical skeletons underneath. But there's more. There's always more.
Which is worth your money? That question begs more questions. Naturally, we'll try to answer them here.
What do the GMC Terrain and Chevy Equinox compare to?
Rivals for both vehicles include the Honda CR-V, Subaru Forester, and Nissan Rogue.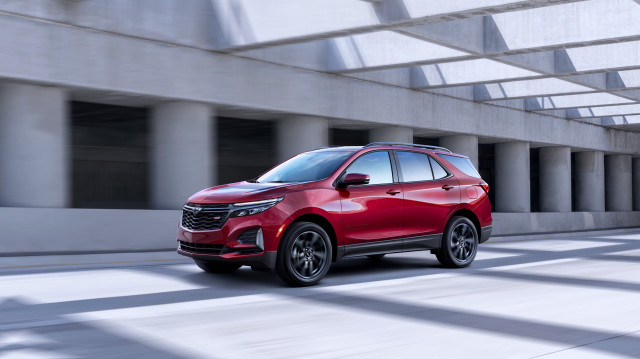 2023 Chevrolet Equinox
GMC Terrain vs. Chevy Equinox size, comfort, and cargo space
Both are compact crossover SUVs

Both have between 30 and 64 cubic feet of cargo space

The Terrain's bolder styling gets the nod
The Terrain and Equinox may look strikingly different, but they're very close in terms of interior space and comfort.
Is the GMC Terrain a good-looking car?
We like the modern look, with its references to bigger, brawnier GMC vehicles. The octagonal grille gets clamped into place with C-shaped running lights, and the side windows taper in an interesting way.
Inside, the Terrain has a blocky theme, with knobs and switches that are common to some other GM products—save for a transmission that uses toggles instead of a shift lever. It takes a minute to get used to. The Terrain has high-end trim in its Denali edition, and it almost justifies a higher price tag.
Is Terrain or Equinox bigger?
They're both about the same size, but the Terrain delivers more for the dollar in terms of comfort. It has front seats that wear leather or cloth, and have manual adjustment or power, depending on the trim level. The seats have good support and the Terrain offers good storage for smartphones and the like.
In back, the rear doors open wide to accommodate tall passengers, who also get about 40 inches of legroom. It's good for two large people, not three—it's not wide enough for that. The cargo hold expands from about 30 to 63.3 cubic feet with the back seats folded down. In general the Terrain has finer interior trim than the bargain-oriented Equinox.
Is the Chevrolet Equinox a good-looking car?
It's unexciting at best. It's been facelifted and tweaked since it was new, and it's at least cohesive in its appearance—but all it takes is one look at the upcoming Equinox EV that may eventually replace it to see that today's gas-powered Equinox corners the market on frumpy. At least its broad grille wears a politely sized Chevy bowtie. Inside the Equinox has a 7.0- or optional 8.0-inch touchscreen and some touches of metallic trim. Otherwise, it too is a somewhat sterile experience, aside from the Premier edition's stitched interior surfaces.
Interior space is where the bargain-priced Equinox shines. Like the Terrain, it has about 64 cubic feet of cargo space behind the front seats. The manual seats and chintzy upholstery in the base LS are skip-worthy; the LT and higher get a power driver seat. This Equinox has done away with the sliding second-row seat that made the first-generation Equinox a useful SUV, though the back seat still has nearly 40 inches of legroom and enough space for two big people.
Advantage: Terrain.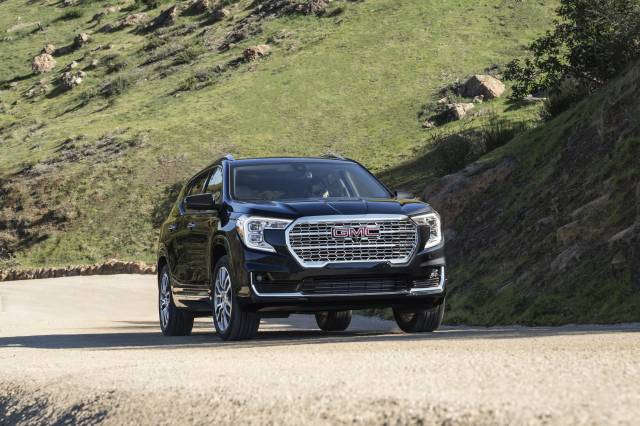 2024 GMC Terrain
Equinox vs. Terrain performance and towing
A 170-hp turbo-4 powers both

The Terrain's transmission has more gears

Towing's a low 1,500 pounds on either
Both the Terrain and Equinox have a turbo-4 engine, but the GMC's better transmission gets the nod here.
Is the Chevrolet Equinox 4WD?
Chevy sells all-wheel drive as an option, but the low-riding crossover isn't really meant for off-roading. It's a basic system that must be engaged with a console-mounted switch, too.
It's better on the road, anyway, with its comfort-oriented suspension. The Equinox absorbs bumps readily, even with the available 19-inch wheels, and has well-weighted steering that imparts some confidence for what's really an economy car on stilts. Stick with the smaller wheels and tires if the pavement's sketchy and patchy where you drive.
How fast is the Chevrolet Equinox?
Not very. Chevy offers a 1.5-liter turbo-4 with 170 hp and 203 lb-ft of torque, and ships power to the front or all four wheels through a 6-speed automatic transmission. It's adequate for the job at hand, and the transmission doesn't fiddle around to find the right gear as some of its rivals might—but it lacks the extra gears that might give it better fuel economy, too.
Is the GMC Terrain 4WD?
Higher-spec versions offer all-wheel drive as an option—but the AWD Terrain still defaults to front-wheel drive. It doesn't have an auto mode and requires the driver to click a switch to engage it. It's not user-friendly—and that makes its rugged-looking AT4 edition more of an appearance package, despite the beefy tires.
How fast is the GMC Terrain?
It's the same output as the Equinox's 1.5-liter turbo-4, but the Terrain has a more sophisticated 9-speed automatic that has more gears from which to choose. That can be a mixed blessing, as the Terrain shifts a lot to keep speed on inclines.
Like the Equinox, the Terrain's rated to tow just 1,500 pounds; with a full load of passengers, it's only capable of hitching up a small trailer.
The Terrain does a better job of delivering quick and responsive steering and a polished ride. It feels nimble, even though it (and the Equinox) can weigh in at about 3,500 pounds or more.
Advantage: Terrain.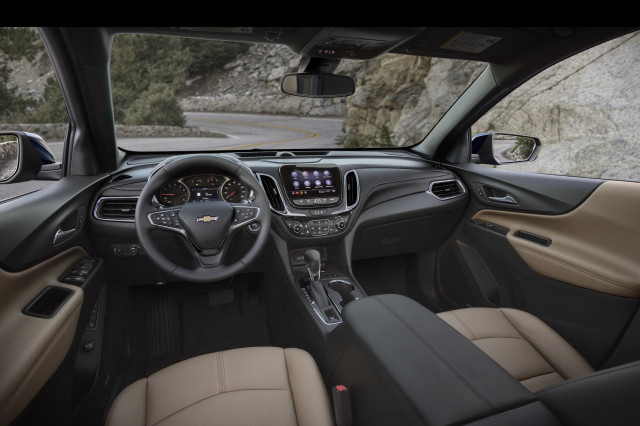 2023 Chevrolet Equinox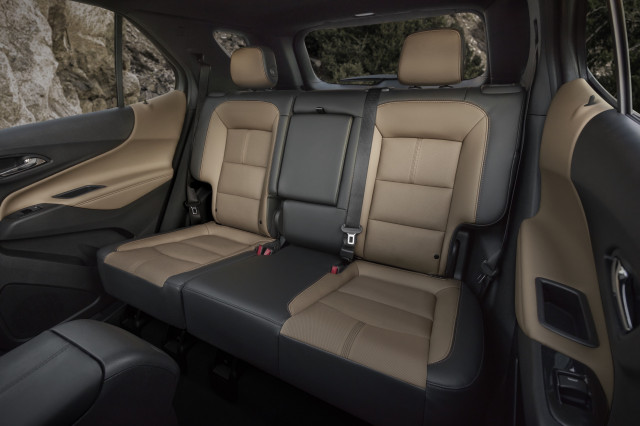 2023 Chevrolet Equinox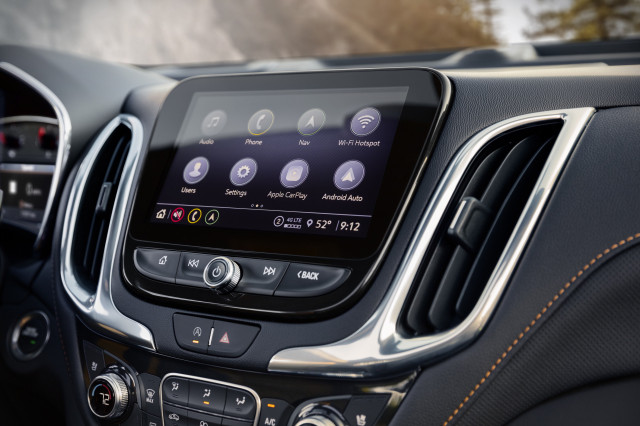 2023 Chevrolet Equinox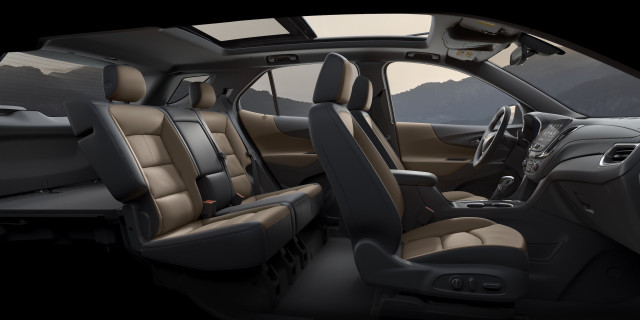 2023 Chevrolet Equinox
GMC Terrain vs. Chevy Equinox price, trims, and features
The Equinox leads in value

The Terrain Denali passes $45,000

Best bets: GMC Terrain SLT, Chevy Equinox LT
Given their performance and the relative age of the underpinnings, it makes more sense to spend less on both of these crossovers. That's a bit more difficult with the GMC Terrain. The base SLE trim costs about $32,000 and comes with cloth seats, 17-inch wheels, a 7.0-inch touchscreen with Apple CarPlay and Android Auto, and a 3-year/36,000-mile warranty.
Which GMC Terrain should I buy?
We prefer the Terrain SLT, which costs about $4,000 more but includes an 8.0-inch touchscreen, a power tailgate, leather upholstery, and a heated steering wheel.
How much is a fully loaded GMC Terrain?
While the Terrain AT4 costs about $38,000, it does come with the all-wheel-drive system that's about $2,000 extra on lesser models. But the Denali hits Terrain peak, at about $45,000 for its upgraded trim.
Which Chevrolet Equinox should I buy?
The base Equinox costs about $28,000 in front-drive form, about $30,000 with all-wheel drive. Its standard gear mirrors the GMC's. Spend a little more for the Equinox LT and it gains a power driver seat and tinted rear window glass, but that trim level unlocks options from a power tailgate to adaptive cruise control.
How much is a fully loaded Chevrolet Equinox?
Skip the Equinox RS at more than $32,000 and, if you must, get the $33,195 Premier if you're intent on spending a lot.
Advantage: Equinox.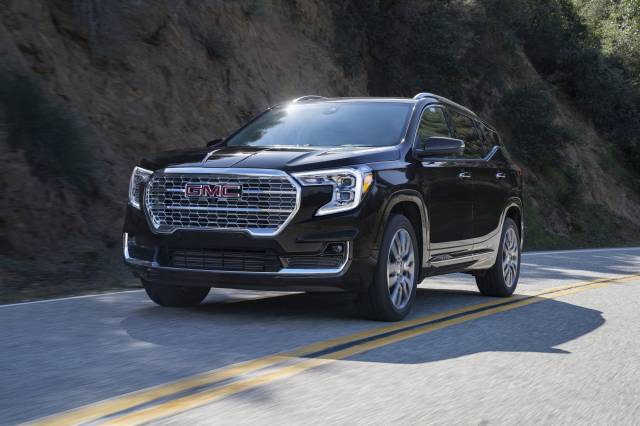 2024 GMC Terrain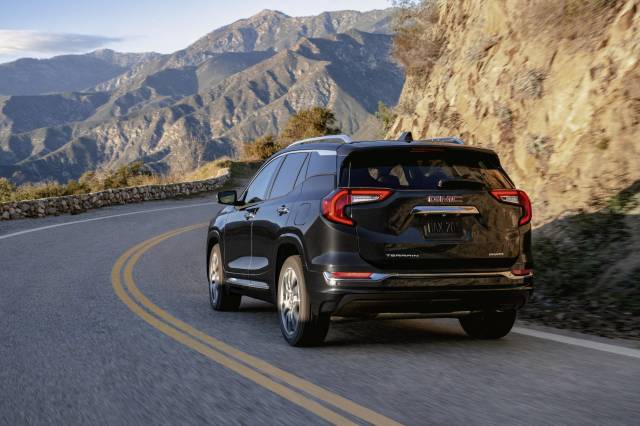 2024 GMC Terrain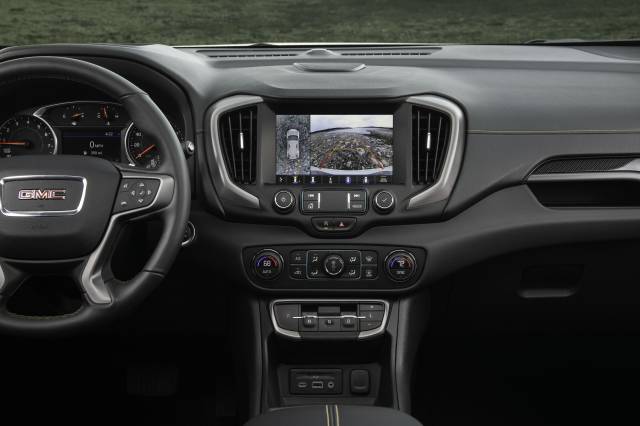 2024 GMC Terrain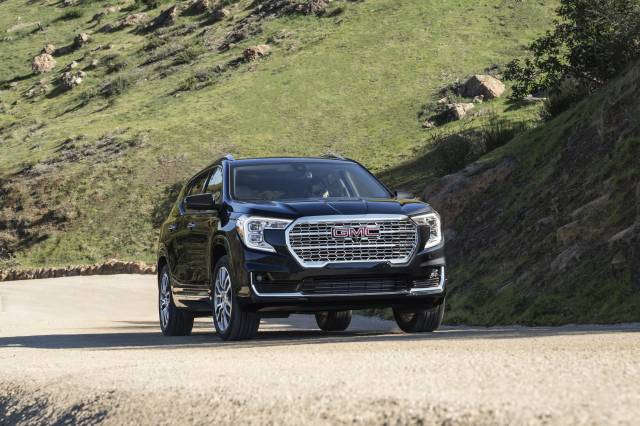 2024 GMC Terrain
Equinox vs. Terrain safety features
Both have standard automatic emergency braking

A head-up display's an option on the Terrain

Crash scores have been mixed
How safe is the GMC Terrain?
The NHTSA gives it five stars overall, but the IIHS' tests are incomplete. The Terrain has standard automatic emergency braking, active lane control, and automatic high-beam headlights. The AT4 gets standard adaptive cruise control—but oddly, it costs extra on the Denali.
How safe is the Chevrolet Equinox?
It has the same five-star NHTSA rating as the Terrain, but the IIHS dubs the Equinox's side-impact safety as "Marginal." Chevy charges extra for a surround-view camera system, parking sensors, and adaptive cruise control.
Advantage: A draw.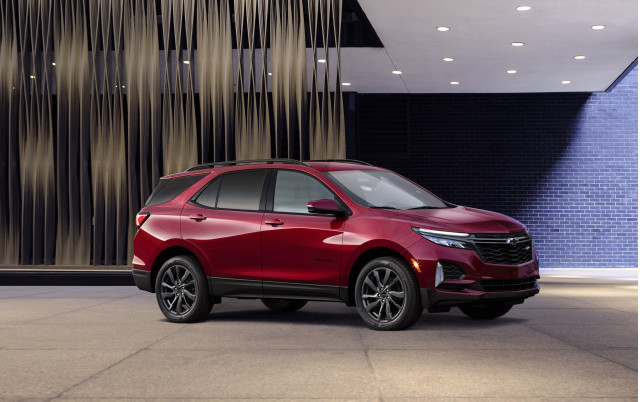 2023 Chevrolet Equinox
Chevy Equinox vs. GMC Terrain gas mileage
Terrain gets up to 26 mpg combined

Equinox earns up to 28 mpg combined

Neither has a hybrid option
Is the GMC Terrain good on gas?
It's passable, at up to 26 mpg combined with all-wheel drive.
Is the Chevrolet Equinox good on gas?
It's better than the Terrain, in part due to less equipment and smaller tires. It's rated at up to 28 mpg combined with front-wheel drive, or 27 mpg with all-wheel drive.
Advantage: Equinox.
2024 GMC Terrain
Which is better, GMC Terrain or Chevy Equinox?
We give the Terrain the nod here, though its gas mileage ratings suffer in comparison.
Is the 2024 GMC Terrain a good SUV?
It's a decent overall choice, though it's not quick and has a user-unfriendly all-wheel-drive system. It's a 6.0 on the TCC scale. (Read more about how we rate cars.)
Is the 2023 Chevrolet Equinox a good SUV?
The bump in fuel economy ratings can't make up for the Equinox's styling shortcomings. It's a value by absolute standards, but not when shopped against more stylish, quicker rivals. It rates 5.7 out of 10 on the TCC scale.