The Honda CR-V and Mazda CX-50 share more in common than trying to unseat the bestselling Toyota RAV4. These compact crossovers lead their brands in the most popular vehicle segment on American roads and driveways.
The redesigned Honda CR-V remains Honda's most popular and subsequently, most important model. The hybrid version is that much more important since Honda expects it to account for the majority of CR-V sales.
The new Mazda CX-50 represents Mazda's right-sized approach to the American market. It's larger, roomier, and roughens up the urbane style of the CX-5 that has been Mazda's bestseller for years. The CX-50 will likely replace it, as the CX-30 replaced the CX-3 and the CX-90 will replace the CX-9.
But how does the upstart compare with one of the most common vehicles on roads today? Is the CR-V Sport—the hybrid edition—that much better or will the off-road elements of the CX-50 grab more eyes and more sales?
Here's how they compare.
2023 Honda CR-V Hybrid
Mazda CX-50 vs. Honda CR-V price and trims
Mazda CX-50 starts at $29,000 and climbs to nearly $45,000

CX-50 comes standard with AWD; Honda charges $1,500

CR-V starts at $31,000 and runs just above $40,000 for Sport Touring

CR-V Sport (hybrid) starts at nearly $35,000

Best picks: CX-50 2.5S Premium, CR-V Sport (hybrid)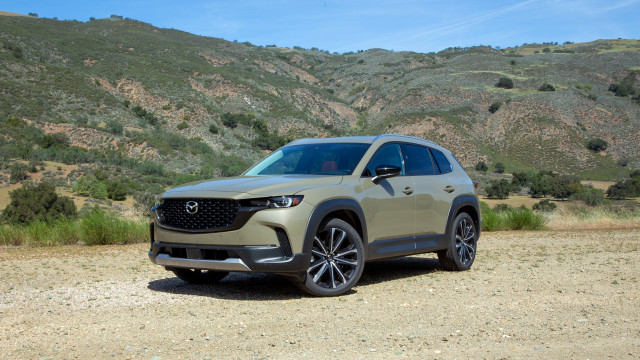 2023 Mazda CX-50
How much is a Mazda CX-50? Which CX-50 should I buy?
Mazda offers much more choice than Honda for its compact crossover, spanning a price delta from the entry level to the premium segment. Two powertrain options span 10 similar-sounding trim levels in the CX-50. Standard all-wheel drive gives it an advantage over the CR-V.
Both CX-50 and CR-V base models come with good driver-assist tech, cloth upholstery, and smartphone compatibility, as well as a 3-year/36,000-mile basic warranty.
But the CX-50 2.5 S makes Apple CarPlay wireless and adds an 8.8-inch infotainment screen. Mazda insists on a console-mounted controller dial as the main interface with it or the larger yet still far-to-reach 10.3-inch touchscreen. It can take at least three functions to change audio or other simple tasks. Honda's interface relies on larger icons, a simpler layout, and mostly one-touch functions.
Options such as a 10-speaker Bose audio system, leather seats, heated front power seats and a panoramic sunroof come on our recommended pick, the $37,000 2.5S Premium.
We're tempted to spend $2,000 more for the more potent turbocharged engine in the 2.5 Turbo.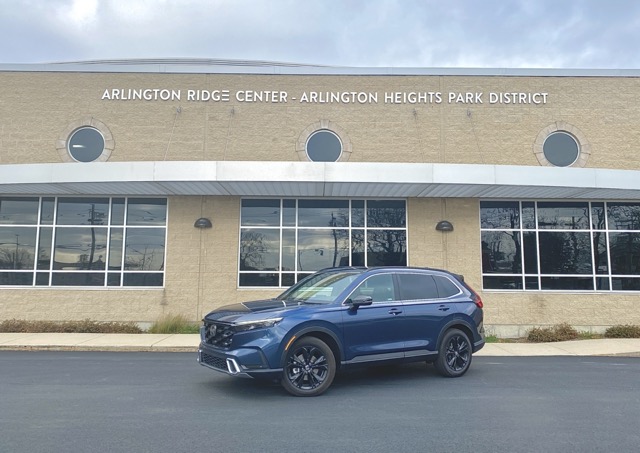 2023 Honda CR-V Hybrid
How much is a Honda CR-V? Which Honda CR-V should I buy?
That $41,000 price is about what the most expensive Honda CR-V costs. The Sport Touring Hybrid comes with all-wheel drive and Honda's nicest features, which is about the same as what you get on the CX-50 2.5 Turbo. It includes a 9.0-inch touchscreen with wireless Android Auto and Apple CarPlay and charging, leather upholstery, 19-inch wheels, a Bose 12-speaker audio, navigation, and a wifi hotspot.
That's a pretty good value, and only $10,000 more than the base CR-V LX and its 7.0-inch touchscreen, 7.0-inch digital instrument cluster standard throughout the lineup, keyless start, and LED headlights.
We recommend the $33,695 Sport and its standard hybrid powertrain. The EPA estimates you'll recoup in fuel savings the $1,300 upcharge over the similarly equipped CR-V EX in about three years. The Sport grade adds blacked-out trim pieces, black 18-inch wheels, and a leather-wrapped steering wheel and shift knob. A power driver's seat, heated front seats, a sunnroof, and blind-spot monitors are also included on the entry level CR-V hybrid.
Advantage: CX-50 for AWD shoppers, CR-V Hybrid for efficiency-minded shoppers.
2023 Honda CR-V
CR-V vs. CX-50 performance and specs
CX-50 taps a 2.5-liter inline-4 that makes 187 hp and 186 lb-ft

CX-50 Turbo models use a 2.5-liter turbo-4 making 227 hp and 310 lb-ft

Honda CR-V's 1.5-liter turbo-4 kicks out 190 hp and 179 lb-ft

Honda CR-V Sport models (the hybrids) make 204 hp and 247 lb-ft
2023 Mazda CX-50
How does the Mazda CX-50 drive?
The CX-50's drivetrain is a mixed bag. A 6-speed automatic lets the standard 2.5-liter inline-4 rev higher, so there's more power available once you're up and running, but it also infuses the cabin with noise. Sport mode makes the throttle response more sensitive, while Off-road mode dulls it so there's more torque available at low speeds. It's fine, but the Mazda's charm is in its excellent steering and poised handling.
It cruises in comfort, and its front strut and torsion beam rear suspension keeps it just right, neither too firm nor too soft. It's not meant for hard cornering, and it'll respond like a slap to the jowls. But it's shorter and closer to the ground, so it doesn't lean as much into turns as the CR-V. The electric-assist steering also keeps the CX-50 true without the need for frequent corrections.
The available 2.5-liter turbo-4 accentuates those Mazda traits even more (opt for 93-octane and output increases to 256 hp and 320 lb-ft). It pairs with the 6-speed for an all around sportier ride, but the turbo still lags from a stop, even in Sport mode. From about 2,000 rpm and up, it packs a satisfying punch that turns on-ramps and merging into something fun.
2024 Honda CR-V preview
How does the Honda CR-V drive?
Either CR-V prioritizes efficiency over power, which makes the "Sport" designation exclusive to hybrid models a misnomer. Sport, Sport-L, and Sport Touring grades marry a 2.0-liter 4-cylinder engine that runs on the Atkinson cycle to a pair of electric motors. Under low speeds with a light foot, the 1.4-kwh battery pack feeds the motors for electric drive, but the transfer between engine and motor power is so quiet in Eco and Normal modes as to be unnoticeable. Simulated gear shifts drop revs and Sport mode dials in simulated engine noise, but most of the time the engine acts as an onboard generator except for when it gets clutched in at cruising speeds. It handles with more bounding and leaning than the CX-50, but it feels more in tune with the road than the standard CR-V.
Honda equips the turbo-4 with a turbocharger that lowers the peak torque from 2,000 to 1,700 rpm, and it's a tad quicker off the line and lacks the turbo lag of the CX-50 Turbo. The turbo-4 bands with a CVT that makes the engine whine when pushed hard, but it's predictable and quiet around town.
Advantage: CX-50 Turbo for power, CR-V hybrid for everything else.
2023 Honda CR-V Hybrid
CR-V vs. CX-50 fuel economy
CR-V turbo-4 rates at 28 mpg city, 34 highway, 30 combined; AWD loses 1 mpg

CR-V Hybrid gets 43/36/40 mpg with FWD; it's 40/34/37 mpg with AWD

CX-50 2.5-liter gets 24/30/27 mpg with AWD

CX-50 Turbo gets 23/29/25 mpg with AWD

Mazda's 6-speed automatic hurts efficiency
Advantage: Honda CR-V.
2023 Mazda CX-50 Turbo Premium
2023 Mazda CX-50 Turbo Premium
2023 Mazda CX-50 Turbo Premium
CR-V vs. CX-50 size and specs
CX-50 is larger than the Mazda CX-5 and the CR-V, yet the CR-V is roomier

CR-V has 39.2 cubic feet of cargo space vs the CX-50's 31.4 cubic feet

CR-V has 41 inches of rear legroom vs 39.8 inches in CX-50

CR-V hybrid battery pack is beneath the cargo floor, sacrificing nothing to gas models
2023 Honda CR-V Hybrid
2023 Honda CR-V Hybrid
2023 Honda CR-V Hybrid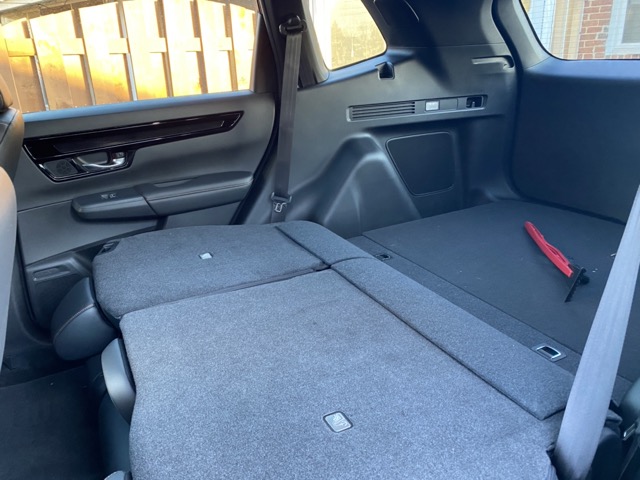 2023 Honda CR-V Hybrid
How big is the Honda CR-V?
Both models seat four adults in comfort, and the middle seat fifth can be used as a pinch. The interior differences represent how well Honda optimizes its interiors for space. At 184.8 inches long, it's an inch shorter than the Mazda CX-50 yet the CX-50 has a wheelbase that stretches 4.5 inches longer than the CR-V. That typically translates to a roomier interior, but Honda buffs out the CR-V by making it a half-inch wider and about three inches taller.
The space within that space is optimized to stow the detritus of the modern hustler, with a deep center console, large door pockets, and a tiered cargo floor on gas-only models. Skip the base LX for heated front seats with power adjustments for the driver, but deep seat bottoms can swallow change as well as posteriors.
The big difference between it and the CX-50 expands behind the front seats, where legroom and headroom of the CR-V outsizes the Mazda. The CR-V's 41 inches of rear legroom is one of the largest in the class, resulting in one of the roomier interiors overall.
The vertical advantage also benefits cargo volume, with the reclining 60/40-split rear seats carving out 39.3 cubic feet of space. With the seats folded, it holds 76.5 cubic feet but it's not a flat floor as the rear seats stack up higher than the cargo floor.
2023 Mazda CX-50
2023 Mazda CX-50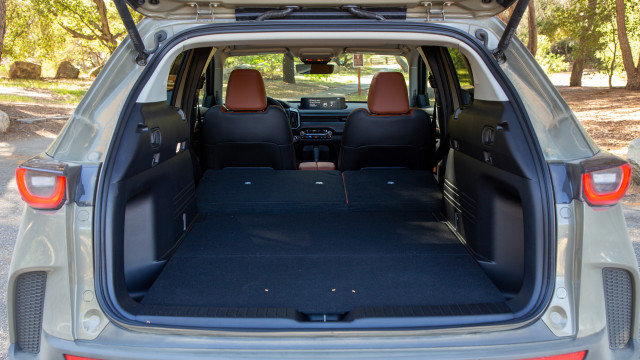 2023 Mazda CX-50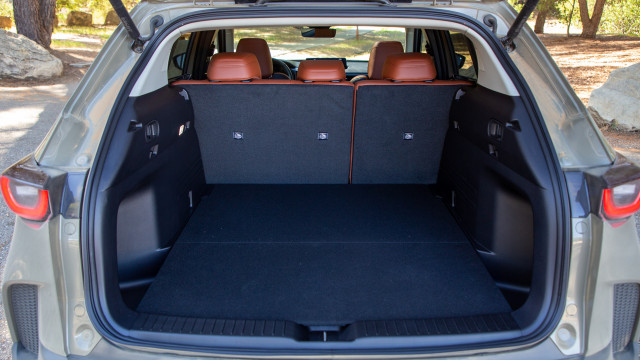 2023 Mazda CX-50
How big is the Mazda CX-50?
Mazda finishes the CX-50 nicer than the CR-V, with the plastic dash pieces offset by leather upholstery, stylish cross-stitching, and overall more refined materials on all grades. Yet, on the highway it lets in a good amount of tire and wind noise. The CX-50 was designed to be larger than the Mazda CX-5 for American audiences, and though it's larger and roomier than the Toyota RAV4, it can't match the cargo and passenger room of the CR-V.
The front seats support all frames, and most models have power adjustments and seat heaters. The rear seats have 39.8 inches of legroom, but the headroom of 37.5 inches is 0.7 inch less than the CR-V, when both are equipped with sunroofs. Cargo volume shrinks away from the CR-V, even without battery packaging, measuring at 31.4 cubic feet behind the rear seats or 56.3 with the rear seats down.
Advantage: Honda CR-V.
2023 Honda CR-V Hybrid
2023 Honda CR-V Hybrid
2023 Honda CR-V Hybrid
Mazda CX-50 vs. Honda CR-V safety
Both models earn a Top Safety Pick+ award

Both models have not been tested by the NHTSA

Both models come standard with automatic emergency braking, active lane control, and adaptive cruise control
How safe is the Mazda CX-50?
It's very safe based on the standard driver-assist tech and crash ratings mentioned above. Outward vision to the rear is not so good, though, so consider the available surround-view camera system and parking sensors.
How safe is the Honda CR-V?
It has almost identical driver-assist tech and crash ratings as the CX-50, except Mazda includes blind-spot monitors as standard; they're extra on the CR-V. Honda compensates with a rear-seat reminder and a driver attention monitor as standard. Rear vision is slightly better, but not enough for an advantage and it lacks the driver-assist options of the CX-50.
Advantage: Draw.
2023 Mazda CX-50
CX-50 vs. CR-V styling
CX-50 tries to look more rugged than the CX-5

Honda's Sport designation for hybrids is a reach

The CX-50 has more interior refinement
Is the Mazda CX-50 a good-looking car?
The CX-50 sheds the smooth skin of the CX-5 for a boxier, bolder, more conventionally SUV take that's popular with the American market. With its broad grille, cladded bulging fenders, fake air intakes, and squared off ends, it fits in with other compact crossovers pretending to an SUV heritage.
The interior features a removed center screen sticking out of the center of the dash, but the rest remains uncluttered and clean. Available leather upholstery with tasteful contrast stitching make its mark.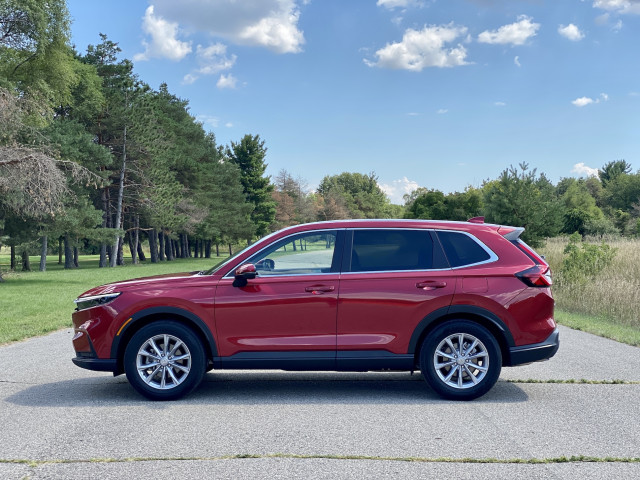 2023 Honda CR-V
Is the Honda CR-V a good-looking car?
The CR-V is a mishmash of influences. The sedate LX and EX trims could easily be mistaken for the Volkswagen Tiguan with its flat body panels and high-ridged hood. A broader front grille channels the mid-size Passport, while thin A-pillars nod to the latest Civic. The Sport hybrid models add some pop with black wheels and dark exterior trim elements.
The Civic's influence shines inside, with a mesh vent panel and tasteful accents that instill a sense of calm. A mechanical gear shifter occupies the center console, and the available 9.0-inch touchscreen sticks out of the top of the dash front and center. Even the cheap plastic parts get some flair, with carbon fiber-like trim on the door panels.
Advantage: Draw.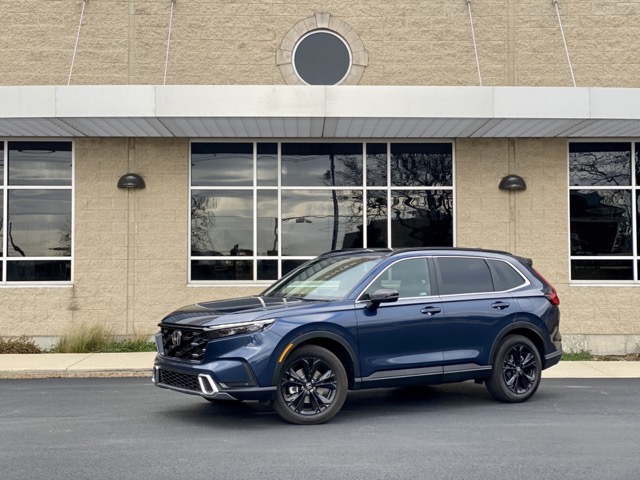 2023 Honda CR-V Hybrid
Which is better: Mazda CX-50 or Honda CR-V?
Since the most popular CR-Vs are the hybrid models, it gets an edge in the TCC Rating system over the Mazda CX-50. (Read more about how we rate cars.) Its calmer, quieter ride quality also gives it a boost to a 7.0 out of 10. The CX-50 comes better equipped and the base engine is more affordable than the CR-V, but the lack of electrification discharges it to a 6.5 out of 10.
Winner: Honda CR-V Hybrid.