Toyota has a response to the larger Honda Pilot: a longer version of the Highlander dubbed the Grand Highlander. The 2024 Toyota Grand Highlander and 2023 Honda Pilot represent the latest redesigns in the popular three-row crossover SUV class, but they go about it differently.
The 2023 Honda Pilot channels a retro, rugged look and offers an off-road trim, while the 2024 Toyota Grand Highlander leans more toward upper-class sophistication. The 2024 Toyota Highlander largely carries over, but packages Sienna styling and drivetrains into a taller, boxier SUV package. Can the 2023 Honda Pilot stave off the two-pronged charge of the hybrid Highlanders?
The Highlanders have an edge for their hybrid options, but the Pilot has something both Highlanders lack: a V-6 engine and a soft-road advantage. Here's a breakdown of how the Pilot and Highlander measure up.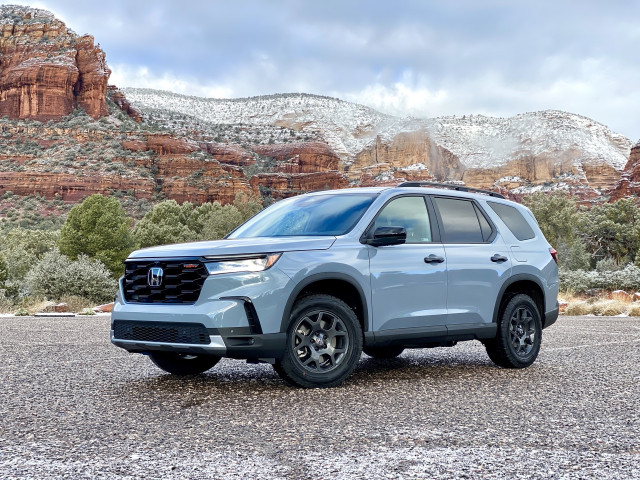 2023 Honda Pilot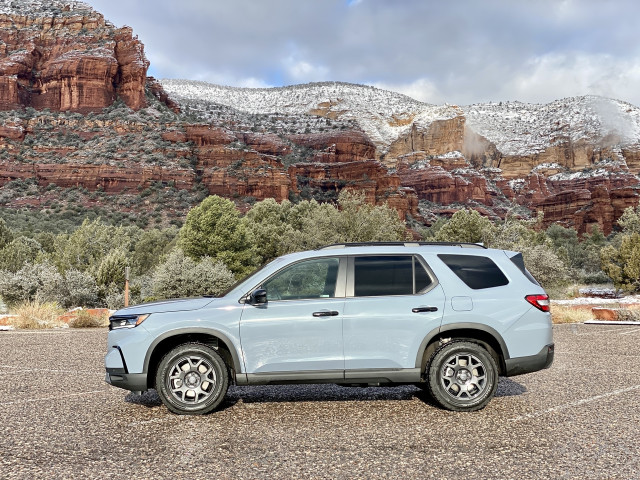 2023 Honda Pilot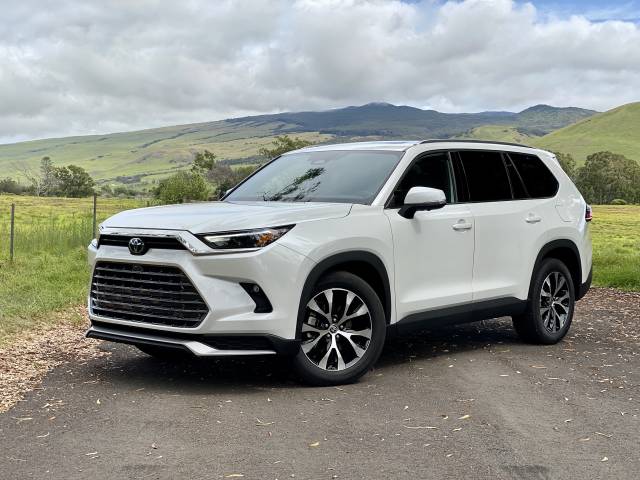 2024 Toyota Grand Highlander
2024 Toyota Grand Highlander
Honda Pilot vs. Toyota Highlander price and trims
Base Highlander and base Pilot cost about $38,000

Base Grand Highlander XLE costs about $44,500

Best picks: Honda Pilot EX-L for less than $44,000; Toyota Grand Highlander XLE for $44,500
Which Toyota Highlander should I buy?
Toyota Highlander comes in L, LE, XLE, XSE, Limited, and Platinum models

Toyota Grand Highlander offered in XLE, Limited, and Platinum trims
The $37,955 Highlander L (including destination fee) carries an 8.0-inch touchscreen with Apple CarPlay and Android Auto, a power driver seat, cloth upholstery, and 18-inch wheels. Toyota backs either Highlander with an average 3-year/36,000-mile warranty complemented by two years or 25,000 miles of scheduled service.
All-wheel drive adds $1,600. The hybrid option is available on the $40,000 LE and above grades for a $1,600 upcharge.
In either the Highlander or the larger Grand Highlander, the XLE trim strikes us as the best value. Riding on 18-inch wheels, it comes with a 12.3-inch touchscreen with wireless smartphone connectivity and a wireless smartphone charger, power front seats that are heated and covered in synthetic leather, blind-spot monitors, and a power tailgate. The Grand Highlander is only a grand more than the standard Highlander XLE, making it well worth the upcharge.
But limited to just three trims, and with the potent hybrid engine, the Grand Highlander nears $60,000, which might be too much for most Highlander intenders. The Platinum Hybrid Max has a panoramic sunroof, heated and cooled front and second-row seats, a surround-view camera system, and a head-up display.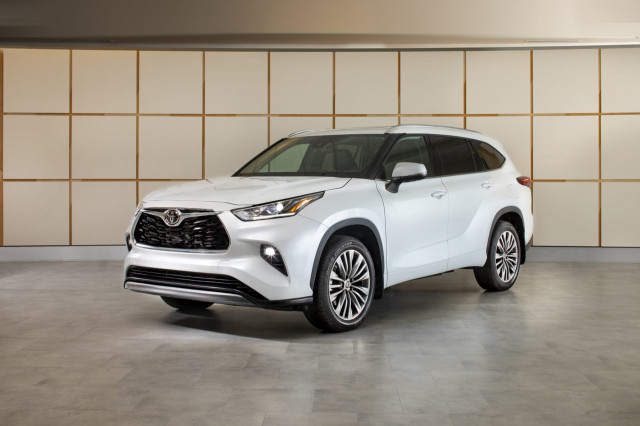 2023 Toyota Highlander
2023 Toyota Highlander
2024 Toyota Grand Highlander
2024 Toyota Grand Highlander
Which Honda Pilot should I buy?
Honda Pilot comes in LX, Sport, EX-L, TrailSport, Touring, and Elite trims
For $37,295, the entry-level 2023 Honda Pilot comes with eight seats, four USB ports, power features, and a 7.0-inch touchscreen with Android and Apple smartphone compatibility. Honda's 3-year/36,000-mile warranty lacks any scheduled maintenance.
All-wheel drive adds $2,100, except on the $49,695 TrailSport and $53,375 Elite grades, where it is standard.
We'd opt for the $43,295 Pilot EX-L. It has leather upholstery, wireless smartphone charging, a 9.0-inch touchscreen, a power tailgate, and for $300, swaps its middle bench seat for captain's chairs. The TrailSport could tempt with its off-road gear and attitude.
The Pilot Elite tops the list with navigation, 20-inch wheels, a removable second-row middle seat, and 12-speaker Bose audio as well as a 10.2-inch digital instrument display, a surround-view camera system, and a head-up display.
Advantage: Toyota Highlander.
2024 Toyota Grand Highlander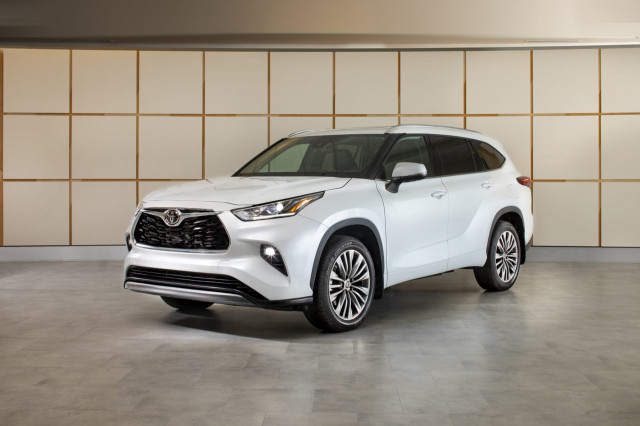 2023 Toyota Highlander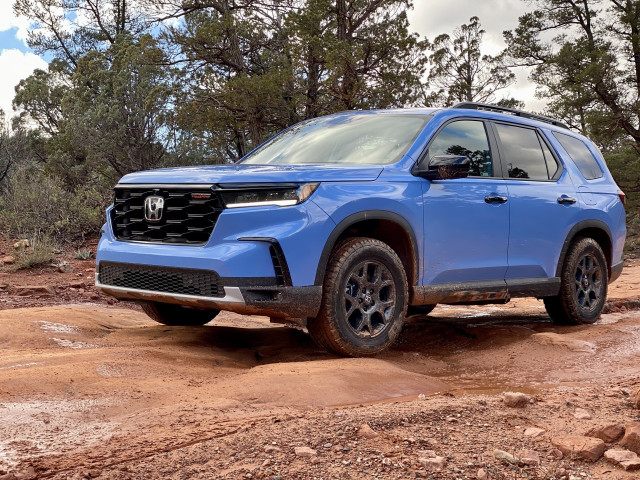 2023 Honda Pilot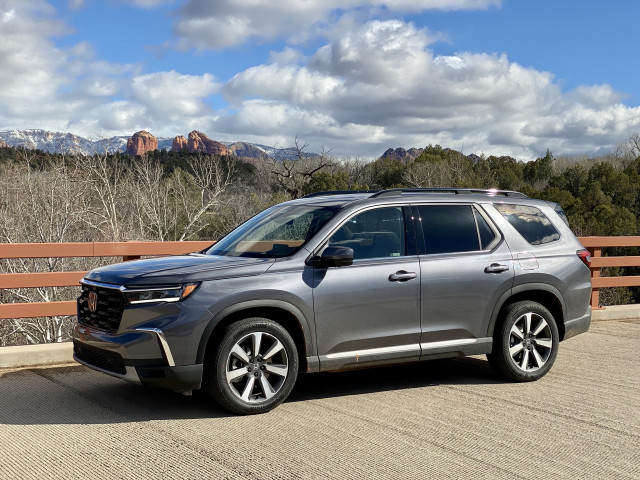 2023 Honda Pilot
Highlander vs. Pilot interior and exterior design
The Pilot's a bit of a throwback

The Highlander comes in two distinct body styles

The utilitarian Pilot lacks the Highlander's large touchscreen, but that's OK
Is the Toyota Highlander a good-looking SUV?
If choices are attractive, then yes, it can be a handsome SUV. The standard Highlander has a body bulge that swoops up over the rear fender, same as in the Sienna minivan but without the sliding doors. Its brash upper and lower grilles pout as if expressing displeasure in rearview mirrors.
Measuring 6.5 inches longer, 2.3 inches wider, and 2.0 inches taller than the Highlander, the Grand Highlander doesn't try as hard to assert itself in the homogenous bloat of three-row crossover SUVs. Size must matter after all. Its smooth body sides, boxy fenders, and calmer front fascia project sophistication and lean more toward the Lexus side of style.
Inside, the siblings prioritize smart storage spaces such as a passenger shelf for smartphones above the glove box. The Grand Highlander benefits from newness with an open bridge console for more storage space and an electronic gear shifter that takes up a lot less space than the mechanical shifter in the Highlander. Either model can be equipped with a 12.3-inch touchscreen that dominates the dash. Size isn't necessarily better after all.
Is the Honda Pilot a good-looking car?
Redesigned for 2023, the Honda Pilot embraces some rugged retro style to make it emerge from the bloated segment we referenced above. Longer and wider than its predecessor, the Pilot has a honeycomb grille and wedgy, thin LED headlights supported by C-shaped air intakes. The grille blends into beefy fenders that lead to an upturned pair of rear pillars that evoke the original Honda Passport and Isuzu Rodeo. TrailSport grades ride a little higher and sport all-terrain tires wrapped around 18-inch wheels as well as roof rails. It's a good look.
The Pilot interior takes a clean approach to design that's more subdued than the Highlander, in part because the touchscreen maxes out at 9.0 inches. Honda sprinkles buttons and knobs for audio and climate in an about-face from its predecessor. Pockets for smartphones, a wireless charging pad, and twin-needle stitching dress up various versions. At first glance it might not seem so different from the previous version, but it's been streamlined into a more user-friendly interface.
Advantage: We'd rank 'em Pilot TrailSport> Grand Highlander> Pilot> Highlander.
Pilot vs. Highlander size, seating comfort, and cargo capacity
All three have three rows of seats for eight passengers

The Grand Highlander is the roomiest

The Pilot's removable middle seat adds some flexibility
If size is the key consideration, consider the Grand Highlander first as it is the roomiest and most spacious for passengers. But the Honda Pilot has greater slide and fold flexibility, as well as a removable middle seat in the second row, and its second- and third-row seats are easier to fold down. All three models have three seats in the third row.
2024 Toyota Grand Highlander
2024 Toyota Grand Highlander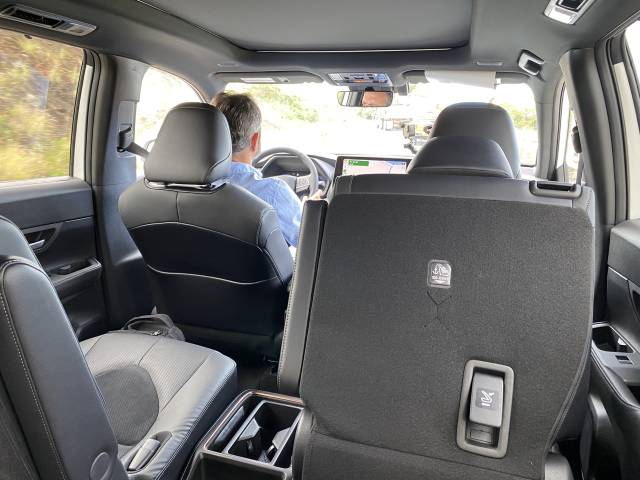 2024 Toyota Grand Highlander
How big is the Toyota Highlander?
Grand Highlander is 201.4 inches long, with a 116.1-inch wheelbase

Highlander is 194.9 inches long, with a 112.2-inch wheelbase

Grand Highlander cargo room measures 20.6 cubic feet behind the third row, 57.9 cubic feet behind the second row, 97.5 cubic feet with both rear rows flat

Highlander cargo space is 16.0/48.4/84.3 cubic feet
The big difference between the Highlander and Grand Highlander comes down to interior space. Either can seat eight passengers, but the Grand Highlander comes standard with captain's chairs; Toyota lets you opt for a mid-row bench at no cost. The difference in second-row roomines is negligible, with 41 inches of legroom in the second row in Highlander models, but 39.5 inches in the Grand Highlander. In the third row, it's more pronounced, with the Grand Highlander offering 33.5 inches of rear legroom compared to 27.7 inches in the standard Highlander.
Whether in hybrid or gas-only models, the second-row seats sit about four inches higher than the floor and that extends to the third-row floor. In the wayback, passengers' knees sit higher and it could tire out hips and legs more easily on long road trips.
Pull straps that collapse the headrest from the cargo area make folding the 60/40-split third row easy, but the latches on the top of the second-row seats could be a challenge for smaller hands, especially compared to the simple push-button operation of the Pilot. Two lower levers slide or collapse the seats.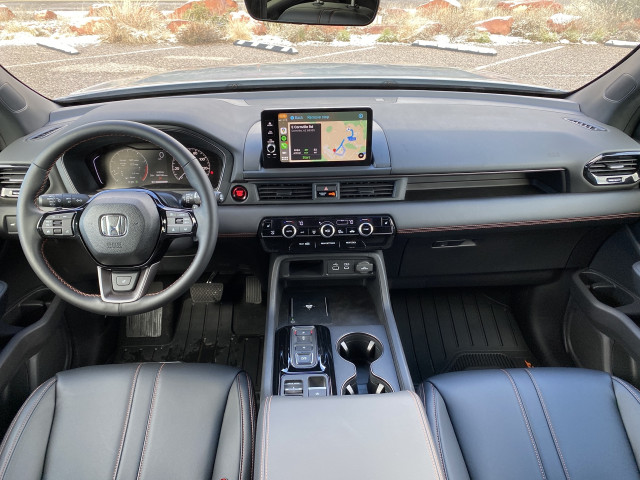 2023 Honda Pilot
2023 Honda Pilot
2023 Honda Pilot
How big is the Honda Pilot?
Honda Pilot stretches out to 199.9 inches long, with a 113.8-inch wheelbase

Cargo space measures out to 18.6/48.5/87.0 cubic feet

Second-row legroom is 40.8 inches

Third-row legroom is 32.5 inches
The 2023 Pilot can hold up to eight passengers, with a couple of pieces of luggage in tow. It's not quite as large as the Grand Highlander, but it's much roomier in all three rows than the standard Highlander.
Front passengers get supportive seats with power adjustment that, on all but the base version, also come with lumbar support and heating. Leather upholstery is available, and so is a wireless smartphone charger that sits ahead of the shift lever. Like the Highlander, the Pilot molds a storage shelf in front of the passenger for their smartphone and sunglasses.
In row two the Pilot offers a bench seat split into three sections, but on EX-L trims and above, twin captain's chairs can be had. Touring and Elite versions have a removable middle seat that either collapses into a console with cupholders or can be stowed in the cargo floor. It weighs about 25 pounds, and is not nearly as bulky as removing a seat from the Honda Odyssey minivan. It offers an alternate entrance to the rear seats by walking down the aisle instead of pushing the button on the seat tops to slide the second row forward. In back, two 6-foot passengers can fit in reasonable comfort with decent headroom and 32.5 inches of rear legroom.
Advantage: Grand Highlander.
2023 Honda Pilot
Toyota Highlander vs. Honda Pilot towing, off-road, and performance
Highlander has three engine options, including two hybrid choices

Pilot offers only a 285-hp V-6 that makes 262 lb-ft of torque

Towing maxes out at 5,000 pounds in both models
Is the Honda Pilot 4WD?
Front-wheel drive is standard on base models, but all-wheel drive can be had on every model. It's a new system that splits torque between the front and rear wheels, and then also splits it between rear wheels for more efficient and effective power delivery. The Pilot TrailSport uses its standard hill descent control to help control the vehicle on downhill treks. Though it's no Wrangler, the TrailSport does well on easy and moderate trails.
How fast is the Honda Pilot?
A revamped 3.5-liter V-6 produces less emissions but bumps output 5 hp to 285 hp. Coupled with a seamless 10-speed automatic that's so good it makes the paddle shifters a mere accessory, the Pilot delivers plenty of power. Expect a 0-60 mph time of less than seven seconds. The only knock? Downshifts can be jumpy in Sport mode, which is one of five modes (TrailSport and Elite grades add Trail and Sand mode). The Pilot handles almost any driving situation with good traction and with above-average acceleration.
Ride and handling are another Pilot plus. Its light steering feels responsive even on base 18-inch all-season tires, while the comforting ride doesn't get brittle when it's shod with the available 20-inchers.
2024 Toyota Grand Highlander
Is the Toyota Highlander 4WD?
The Highlander and Grand Highlander come standard with front-wheel drive, while the Grand Highlander Hybrid Max comes standard with all-wheel drive. The basic setup splits off half the power to the rear wheels when slip happens for all-wheel drive on demand. Limited and Platinum gas Highlanders have torque vectoring across the rear axle for more precise power delivery and better handling. Hybrid models with AWD add a third motor powering the rear axle when called upon.
The hybridpowertrain exclusive to the Grand Highlander uses a full-time all-wheel-drive system that shifts the torque between the axle based on driver inputs and modes: Sport mode has more rear axle torque for better takeoff, and Snow or Rock & Dirt modes have low-speed torque more evenly apportioned for more traction to climb or dislodge.
How fast is the Toyota Highlander?
It depends. The 2.5-liter inline-4 hybrid with two front motor generators is the pokiest but most efficient. Making 243 hp and 175 lb-ft, it gets to 60 mph in 7.9 seconds. It can run in EV mode at speeds up to about 15 mph, but the powertrain can strain uphill or when demanded. Towing is limited to 3,500 pounds.
Base versions of both Highlanders share a 2.4-liter turbo-4 that makes 265 hp and 310 lb-ft of torque. In the larger Grand Highlander, the 0-60 mph is 7.5 seconds. Paired with an 8-speed automatic in front- or available all-wheel drive, it's louder than the hybrids but all that torque comes on early to give it plenty of grunt for passing moves. It acts a lot like the Pilot's V-6, but the Pilot's 10-speed automatic earns the advantage here.
The Hybrid Max powertrain pairs the 2.4-liter turbo-4 with two motors supplementing power to the front and rear axle via a 6-speed automatic transmission and a mechanical driveshaft. Making 362 hp and 400 lb-ft, it prioritizes power as well as efficiency, and gives the Grand Highlander some muscle lacking in other Highlanders. It hits 60 mph in 6.3 seconds.
Advantage: Draw. The Pilot's smoother but the Grand Highlander has much more power.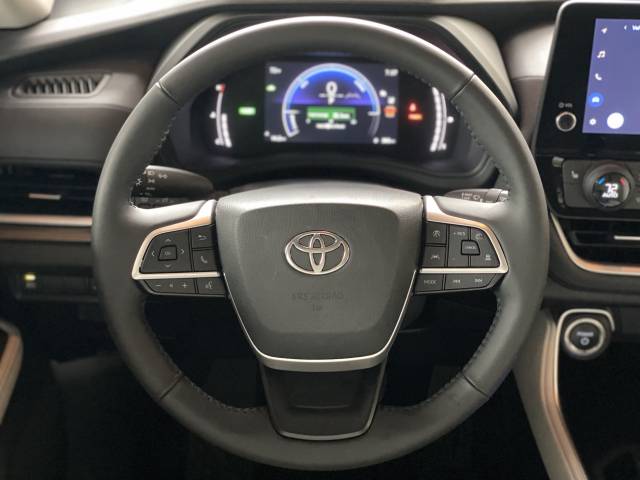 2024 Toyota Grand Highlander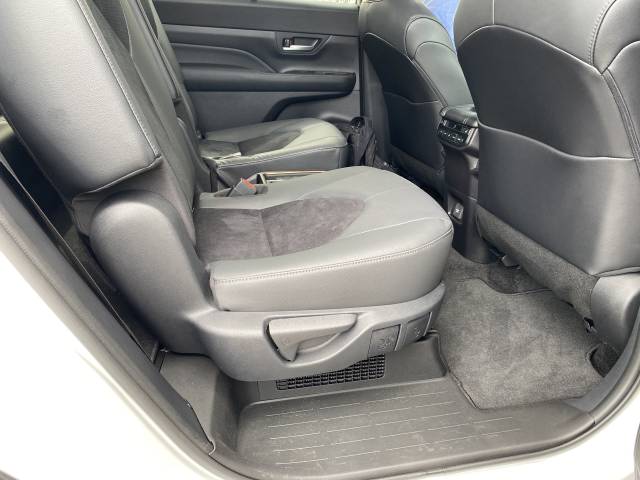 2024 Toyota Grand Highlander
2023 Honda Pilot
2023 Honda Pilot
Honda Pilot vs. Highlander fuel economy
Highlander hybrid tops out at 36 mpg combined or 35 mpg with AWD

Grand Highlander hybrid checks in at 34 mpg combined

Grand Highlander Hybrid Max aspires for 27 mpg combined

The Honda Pilot maxes out at 22 mpg combined
Is the Toyota Highlander good on gas?
In every form, it's more efficient than the Pilot, with the base turbo-4 rated at 22 mpg city, 29 highway, 25 combined with front-wheel drive, or 21/28/24 mpg in AWD.
In hybrid form, the Highlander is the most efficient three-row crossover without a plug. Front-wheel-drive hybrids earn EPA ratings of 36/35/36 mpg, or 35/35/35 mpg with all-wheel drive. The larger Grand Highlander rates at 36/32/34 mpg, regardless of FWD or AWD.
With standard AWD, the Grand Highlander Hybrid Max maxes out at 26/27/27 mpg. Our testing failed to meet it, however, and resulted with a rating more in line with the Highlander turbo-4.
Is the 2023 Honda Pilot good on gas?
It's worse than the previous Pilot—despite the more refined transmission—with an EPA rating of 19/27/22 mpg with FWD or 19/25/21 mpg with all-wheel drive. The TrailSport model and its all-terrain tires lower it to 20 mpg combined.
Advantage: The Highlander, across the board.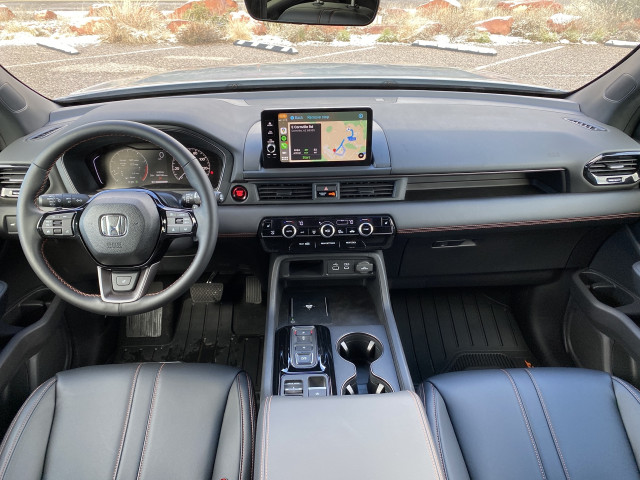 2023 Honda Pilot
2023 Honda Pilot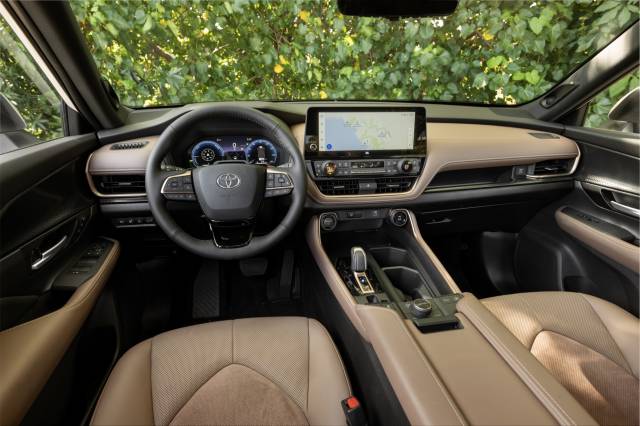 2024 Toyota Grand Highlander
2024 Toyota Grand Highlander
Highlander vs. Pilot safety
Neither the new Pilot nor the new Highlander have crash-test ratings yet

Standard driver-assist tech on both includes automatic emergency braking with pedestrian detection, active lane control, and adaptive cruise control

Grand Highlander can be equipped with a hands-free system operational in traffic jam situations
How safe is the Toyota Highlander?
In addition to the standard safety features mentioned above, Highlander XLE and above models get blind-spot monitors, and most versions can be upgraded with parking sensors, a head-up display, and a surround-view camera system. A limited hands-free driving system for stop-and-go traffic at speeds under 25 mph will be offered via subscription on the Grand Highlander.
How safe is the Honda Pilot?
Neither the IIHS nor the NHTSA has checked in with ratings yet, but the Pilot has been a consistent top scorer. All versions have automatic emergency braking, adaptive cruise control, active lane control, and automatic high beams. Base models lack blind-spot monitors, and the base LX and the Sport version also don't get parking sensors.
Advantage: Draw.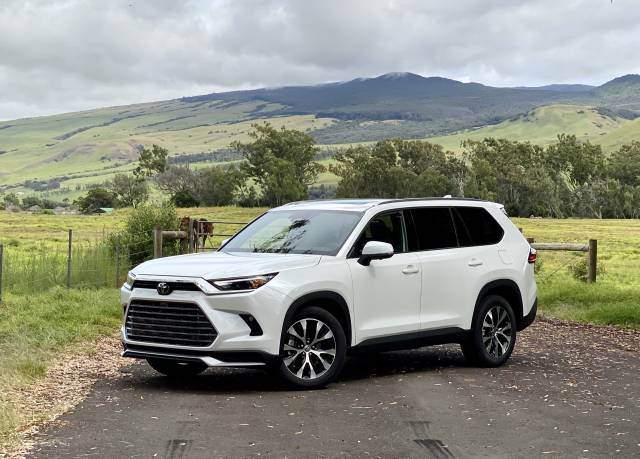 2024 Toyota Grand Highlander
Which is better: Honda Pilot or Toyota Highlander?
The tale of two Highlanders results in a split that sandwiches the Honda Pilot. The Grand Highlander's larger size and roomier cabin stands above the standard Highlander, but the two hybrid options give both models an edge over the Honda Pilot with a TCC Rating of 7.0 out of 10.
Limited to just a V-6 option, the Pilot can't match the efficient options of the Highlander, but it's similarly well equipped. The seats are more flexible, and the TrailSport model offers something lacking in the expansive Highlander lineup. It's just a shade off, earning a TCC Rating of 6.6 out of 10. (Read more about how we rate cars.) It's much better than the standard Highlander, which has not been updated since 2020.
Winner: The Toyota Grand Highlander.