Hybrid or hatchback? Value-driven commuter or fun-to-drive compact? These are the choices confronting shoppers of two of the most popular and engaging compact sedans, in the Hyundai Elantra and the Mazda 3. Most models come as compact four-doors, but the Mazda 3 can be optioned as a hatchback with a powerful turbocharged engine. Hyundai swings the other way, with a cost-conscious hybrid option.
The differences run much deeper. The 2024 Mazda 3 costs about $3,000 more than the 2024 Hyundai Elantra, but it doesn't come that much better equipped. They both lean heavily into styling, but with vastly different outcomes so they could never be mistaken for each other. Both have performance-oriented trims, but overall the Mazda runs more smoothly, even though the Elantra has more interior space.
It's close between two compelling compacts. Here's how they break down by section to help you assess what's best for you.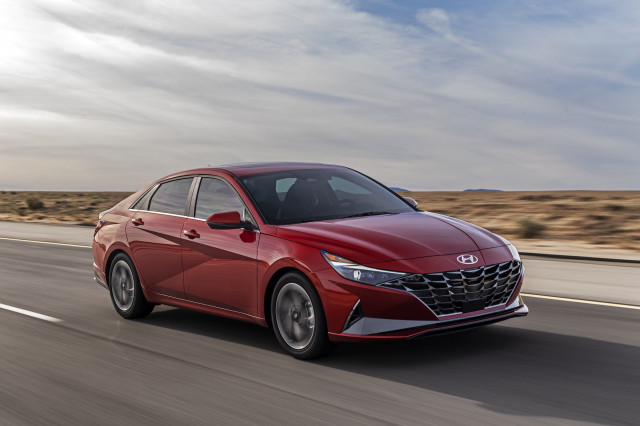 2023 Hyundai Elantra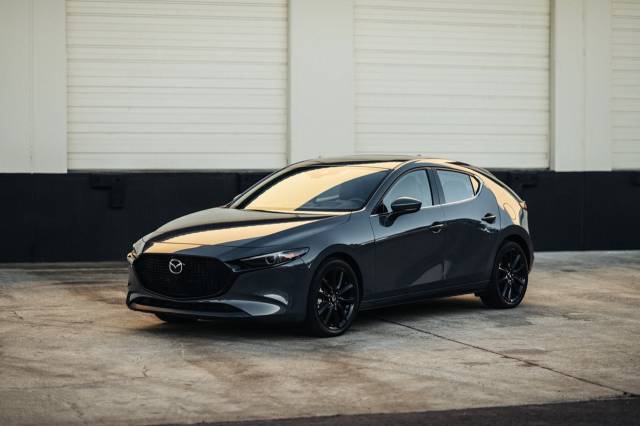 2024 Mazda 3
Mazda 3 vs. Elantra price
The Elantra costs about $22,000 for the SE model; prices rise to about $30,000 for the Limited Hybrid; the Elantra N reaches $34,000

The Mazda 3 costs at least $25,000, but the top turbo hatchback hits $38,000

Mazda 3 hatchback costs about $1,200 more than the sedan

Elantra SEL with the Convenience package is the same price as the base Mazda 3, but it's much better equipped

Best picks: Hyundai Elantra Hybrid Blue, Mazda 3 2.5 S Preferred
2024 Mazda 3
How much is a Mazda 3? Which Mazda 3 should I buy?
The Mazda 3's confusing naming and pricing structure starts with the base 2.5 S sedan at $25,335, including a $1,165 destination fee. Standard convenience features include driver-assist tech, cloth upholstery, 16-inch wheels, keyless start, as well as a tedious 8.8-inch infotainment display with Apple CarPlay and Android Auto.
The $25,855 2.5 S Select Sport adds synthetic leather seats, a leather-wrapped steering wheel and shift knob, and it rides on 18-inch aluminum alloy wheels. It also serves as the entry point for hatchback models at $26,855.
We like the 2.5 S Preferred for $27,355 or $1,200 more with the hatchback. Standard features include a sunroof, synthetic leather, heated front seats, and a power driver seat.
The top-of-the line 2.5 Turbo Premium Plus costs $36,615 for the sedan and $37,815 for the hatchback. Standard features include a Bose 12-speaker sound system, a surround-view camera system, rear parking sensors, navigation, and traffic sign recognition.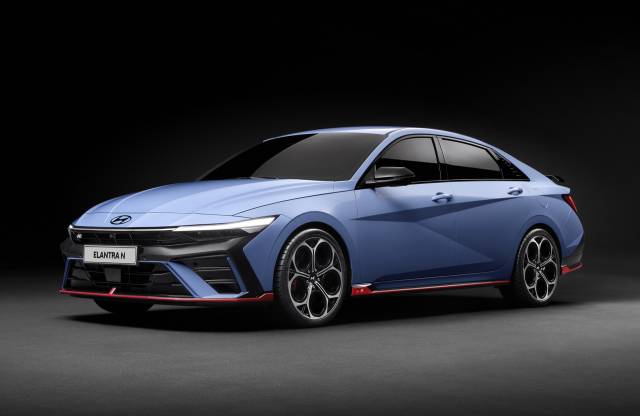 2024 Hyundai Elantra N
How much is a Hyundai Elantra? Which Elantra should I buy?
Every Elantra sedan comes with an expansive suite of driver-assist technology and standard features such as cloth upholstery, 15-inch wheels, power windows and locks, and an 8.0-inch touchscreen with wireless Android Auto and Apple CarPlay. That's a good get for about $22,000.
But the best feature might be peace of mind: a 5-year/60,000-mile warranty and 3 years/36,000 miles of free scheduled service is included.
The $23,500 Elantra SEL adds automatic climate control, 16-inch wheels, and satellite radio. A $1,900 Convenience package adds a 10.3-inch touchscreen, 10.3-inch instrument cluster, heated front seats, wireless smartphone charging, and 17-inch wheels. That's about the same price as the base Mazda 3 and way better equipped.
But, at $26,000, the entry-level Hybrid Elantra Blue presents the lowest cost of ownership proposition with a remarkable 54 mpg combined. Thrift propels us to recommend that model.
The Elantra N sits at the other end of the spectrum, as a $34,000 performance model. It's not as poised as the discontinued Veloster N hatchback, but it's still a hoot on a budget. We'd take it over the Mazda 3 2.5T.
Advantage: Hyundai Elantra, with its low price and excellent warranty.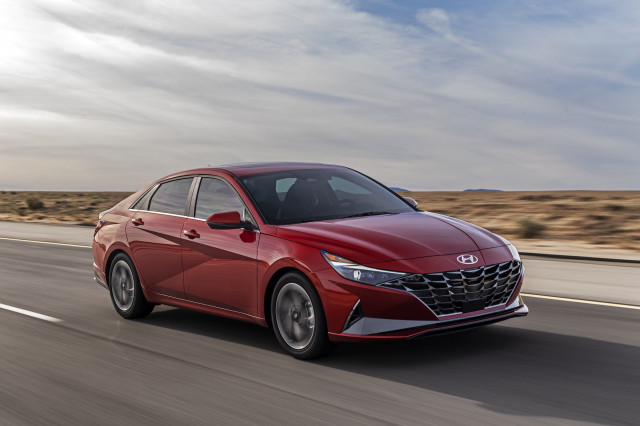 2023 Hyundai Elantra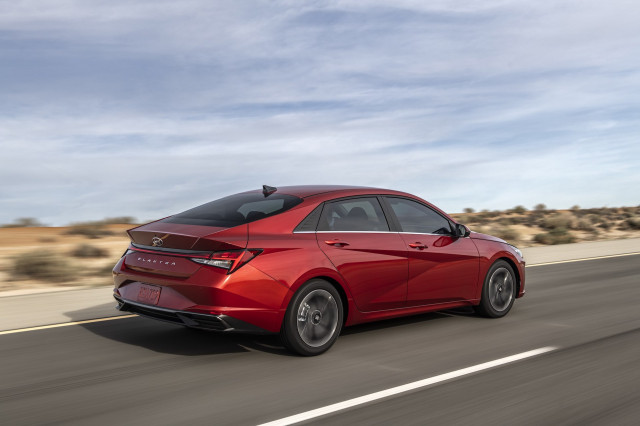 2023 Hyundai Elantra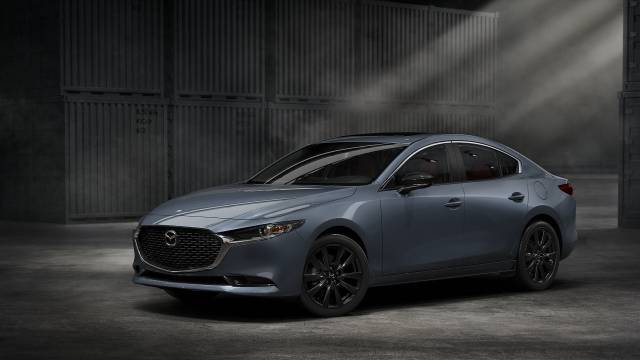 2024 Mazda 3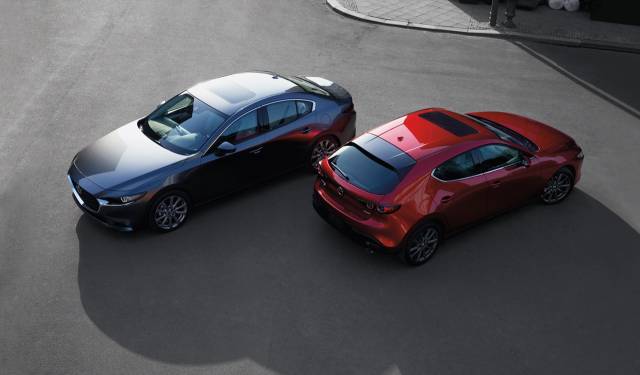 2024 Mazda 3
Mazda 3 vs. Hyundai Elantra exterior and interior design
Creased and distinct, the Elantra stands out until the uninspired interior

The Mazda 3 sedan dresses with elegance that's matched inside

The Mazda 3 hatchback has an odd rear end
The Mazda 3 looks like two different cars, and not just because it can be a sedan or hatchback. A broad grille in the shape of a shield leans forward, leading the long nose and short overhangs into a sporty profile. But from the rear pillar back, the two diverge, and the sedan's smooth elegance becomes a question mark on the bulbous hatch. We're not sure what they're going for. Inside, it's clearer as Mazda aims to go upscale with a refined interior and clean dash ruined by a clunky infotainment display.
The Elantra goes for youthful spunk, with a wasp-waisted body creased out like origami to the front and back ends. It's distinctive and promises to age well, but linger too long and it can be dizzying in a less pleasant way. It doesn't appear to be a budget car until the inside, where the plain plastic interior relies on a large digital instrument cluster and large touchscreen on most trims as its most visually compelling feature.
Advantage: The Mazda 3 sedan.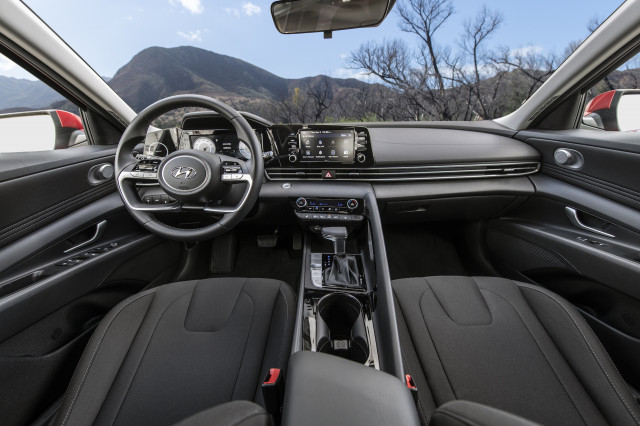 2023 Hyundai Elantra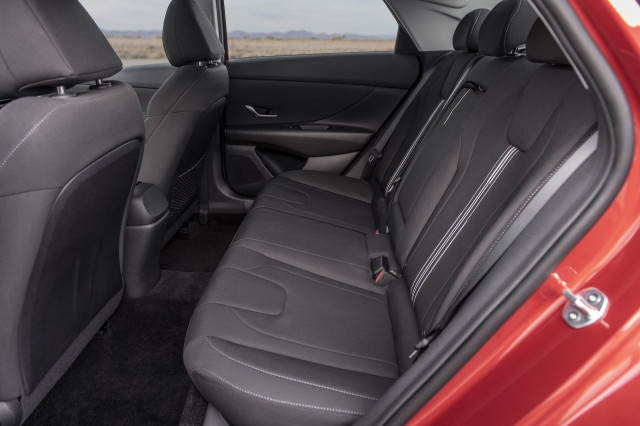 2023 Hyundai Elantra
2023 Mazda 3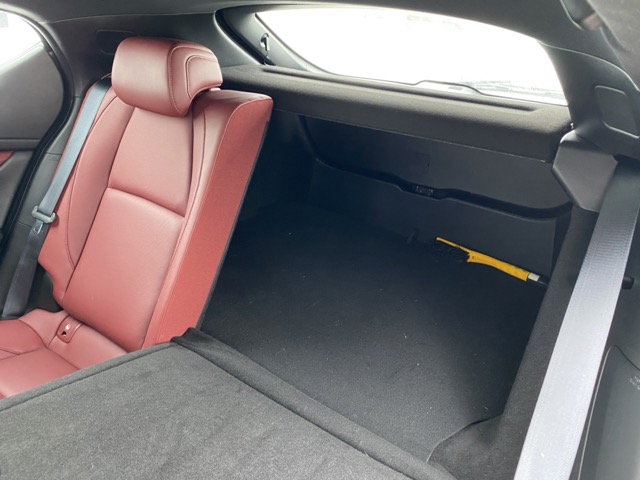 2023 Mazda 3
Hyundai Elantra vs. Mazda 3: size, dimensions, and trunk space
The Elantra is roomier inside than the Mazda 3 sedan and hatchback

The Mazda 3 hatchback has more cargo room than the Elantra

Trunk space is a close win for the Elantra
How big is the Mazda 3?
Sedan trunk is 13.2 cubic feet

Hatchback cargo area measures 20.1 cubic feet

Rear legroom stretches is 35.1 inches

Rear headroom reaches 37.3 inches, but the moonroof shaves off 0.6 inch
The advantage of the Mazda 3 is the premium feel of the fit and finish, elevating it above budget rivals. That favorable impression erodes as the price rises into the premium segment, however. The supportive front seats are near best in class, with most trims having power adjustments and seat heaters. In back, the Mazda 3 exposes its shortcomings with cramped rear legroom at 35.1 inches and an available moonroof that might crimp the flow of 6-foot riders front or back. It sits low to the ground, so getting out will be more of an exercise than in crossovers. The 60/40-split rear seats fold down in either model, but the hatchback has much more cargo room at 20.1 cubic feet versus 13.2 cubes in the sedan.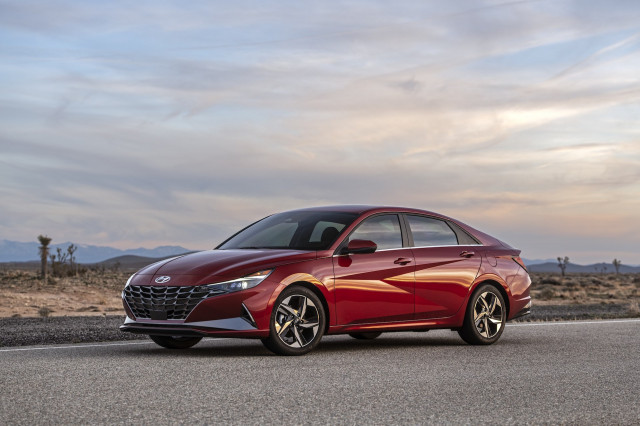 How big is the Hyundai Elantra?
Trunk space measures out to 14.2 cubic feet

Rear legroom stretches to 38 inches

Rear headroom reaches 37.3 inches
Growing into near mid-size dimensions, the Elantra offers much more passenger space than the Mazda 3, so four adults can fit fine, and squeezing in one more won't ruin the college road trip or holiday home. Taller passengers should get the front seats, as the racy roofline trims rear headroom similarly to the Mazda 3. Its thinner seats aren't so forgiving though, and they sit low. Ordinary materials could improve matters all around: with more padding and more graining on the cabin finishes, the Elantra interior would better match its daring exterior vibe. The 14.2 cubic feet of trunk space is large for the class, and the 60/40-split rear seatbacks fold down for more utility. It's much roomier than the Mazda 3 sedan, but the Mazda 3 hatch opens up to larger, odd-shaped gear in back.
Advantage: Elantra for passengers, Mazda 3 hatch for cargo.
Mazda 3 vs. Hyundai Elantra performance
The Hyundai Elantra offers four powertrains, but only in front-wheel drive

The Mazda 3 has two powertrain options, and AWD is a $1,400 option

Mazda 3 2.5T turbo-4 models have AWD standard

Most Elantras outperform the Mazda 3
How fast is the Mazda 3?
The Mazda 3's strengths reside in its planted handling and communicative steering. Power is not its jam, nor is speed as in, it's no Mazdaspeed 3. The base 2.5-liter inline-4 makes 191 hp and 186 lb-ft of torque, so it's no slouch. The 6-speed automatic transmission lets it dig deep in the rev range, but the cabin can get loud and it's a few gears short of being efficient. A lovely 6-speed manual can be had with the 2.5 S Premium, but it only comes with front-wheel drive and it doesn't come with the performance-oriented turbo-4.
The 2.5T uses a 2.5-liter turbo-4 generating 227 hp and 310 lb-ft (250 hp and 320 lb-ft with 93 octane) that can go from 0-60 mph in less than six seconds. Those models also get the 6-speed, but it comes standard with all-wheel drive.
With this generation, Mazda ditched the multi-link rear suspension in favor of a less expensive torsion beam, but the 3 still feels planted especially in hatchback versions that flow with the road.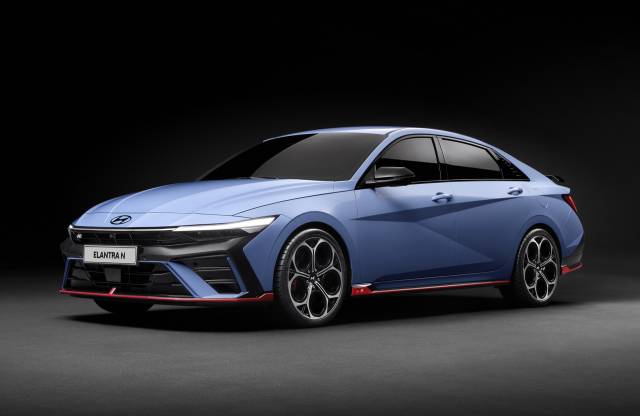 2024 Hyundai Elantra N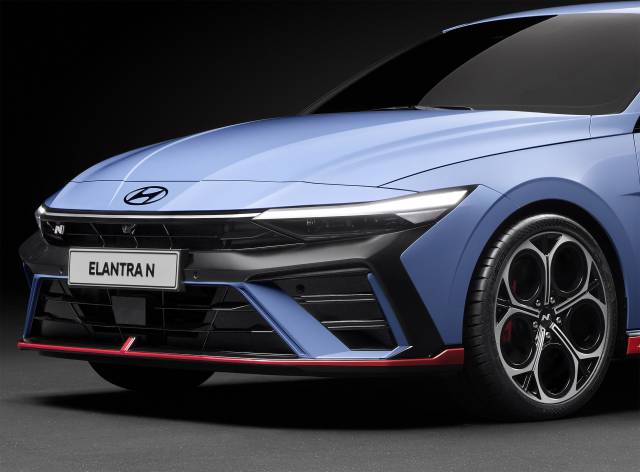 2024 Hyundai Elantra N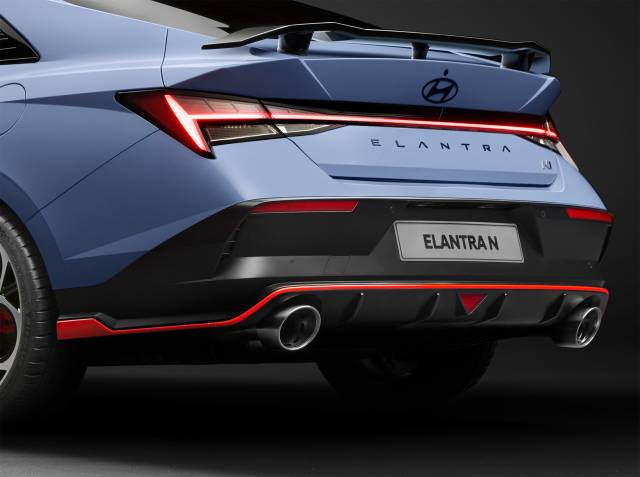 2024 Hyundai Elantra N
How fast is the Hyundai Elantra?
Base Elantra uses a 147-hp 2.0-liter inline-4 and CVT

Elantra Hybrid pairs a small motor with a 1.6-liter inline-4 to make 139 hp

Elantra N-Line uses a 201-hp 1.6-liter turbo-4 with a 7-speed dual-clutch automatic transmission

Elantra N has a 276-hp 2.0-liter turbo-4 with an 8-speed dual-clutch or 6-speed manual and a 0-60 mph time of about five seconds with the automatic

Front-wheel drive only
Base Elantras offer a 147-hp 2.0-liter inline-4 and a CVT that sends power to the front wheels in a package best described as proletariat. It gets the job done without thrills.
A tad slower, the Elantra Hybrid employs 1.6-liter inline-4 with a small motor fed by a 1.3-kwh battery pack and a 6-speed dual-clutch transmission. It's smoother in power delivery, quieter, and a better commuter.
The Elantra N Line takes the Hybrid's smaller-displacement engine and turbocharges it for a net 201 hp, teamed to a 7-speed dual-clutch transmission. With 0-60 mph times of about seven seconds, the N Line hits a vibrant note. It's quick, and has the right transmission to respond swiftly to the driver's inputs
The full-steam Elantra N overcomes some low-end turbo lag to shoot to 60 mph in 5.0 seconds with the precise 8-speed dual-clutch automatic. Add a three-mode adjustable set of dampers, an electronic limited-slip differential, and Michelin Pro Pilot Sport 4S summer tires, the Elantra N makes the most of stiffer tuning, quicker steering, and sport bucket seats to breathe new life into the compact-car nameplate. It outperforms the top Mazda 3 2.5 Turbo.
In general, the other Elantras can't match the steering of the Mazda 3, but it rides stiffly and handles well, particularly with the Hybrid and N-Line models' rear multi-link suspension, versus the torsion-beam setup on the base Elantra and Mazda 3.
Advantage: The base Mazda 3 hatch over the base Elantra, but the Elantra everywhere else.
Hyundai Elantra vs. Mazda 3 fuel efficiency
With four powertrain options and front-wheel drive only, the Elantra is more efficient than the Mazda 3 in all but the Elantra N model. Mazda sticks with its 6-speed automatic (and one model with a manual transmission) that can't keep up with more gears that allow the engines to run most efficiently. It also lacks a hybrid option, unlike the Elantra Hybrid Blue and its remarkable 54 mpg combined. Here they are by the numbers.
2023 Hyundai Elantra
Elantra mpg
The Elantra Hybrid Blue maxes out at 53 mpg city, 56 highway, 54 mpg combined

The Elantra Hybrid Limited reaches 49/52/50 mpg

The base Elantra rates at 33/42/37 mpg or 30/40/34 mpg on higher trims

The Elantra N Line rates at 28/36/31 mpg

The Elantra N hits 22/31/25 mpg with the manual, and bottoms out at 20/3023 mpg with the automatic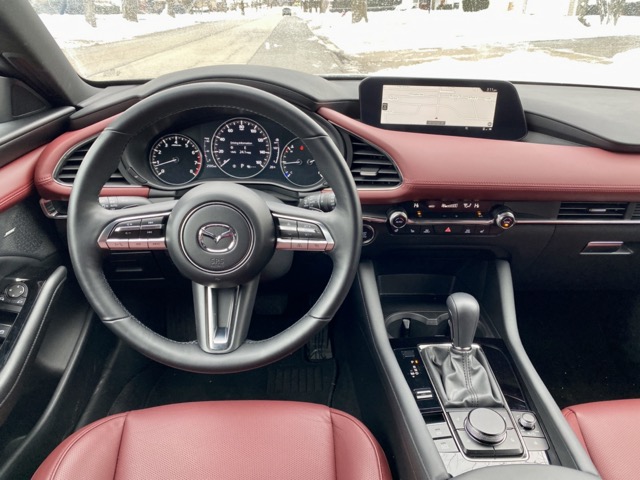 2023 Mazda 3
Mazda 3 mpg
Base Mazda 3 sedan with front-wheel drive rates 28 city, 37 highway, 31 mpg combined; the hatchback loses 1 mpg

All-wheel drive drops the sedan to 26/35/30 mpg and the hatch to 26/33/29 mpg

2.5T sedan with AWD hits 23/32/27 mpg

2.5T hatchback with AWD is 23/31/26 mpg
Advantage: Elantra.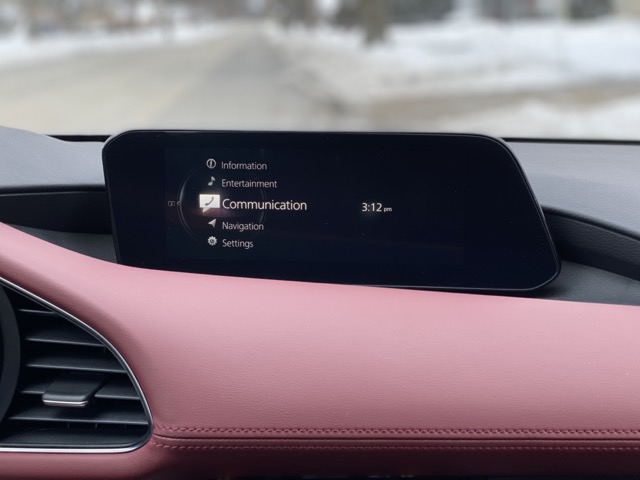 2023 Mazda 3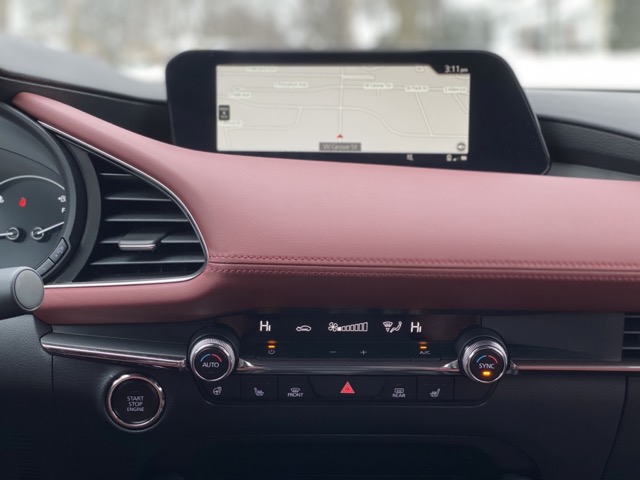 2023 Mazda 3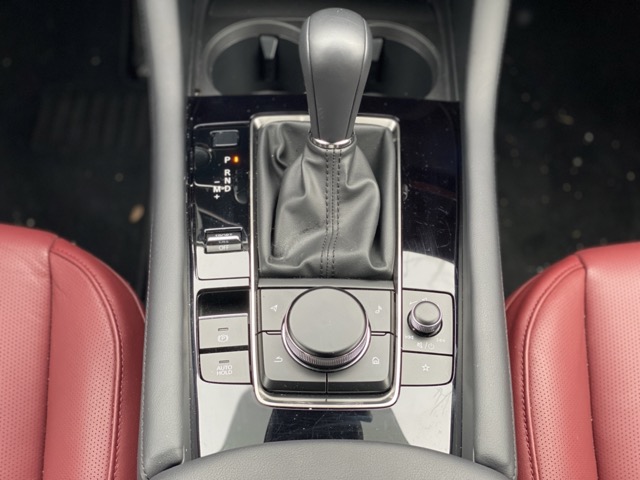 2023 Mazda 3
Elantra vs. Mazda 3 safety
Both vehicles earn five stars from the NHTSA

The Mazda 3 earns a Top Safety Pick+ from the IIHS

The Elantra could use better headlights
How safe is the Mazda 3?
It's as safe as a compact car can get, with top crash-test ratings from both the NHTSA and the more rigorous IIHS. Standard safety features include automatic emergency braking, automatic high beams, active lane control, and adaptive cruise control. Options include blind-spot monitors, front and rear parking sensors, adaptive headlights, and a surround-view camera system. The emphasis on safety can be overwrought, such as needing to unlock the doors to open the fuel door or hatch.
How safe is the Hyundai Elantra?
The five-star NHTSA rating is good, but the IIHS limits its Top Safety Pick to the top Limited models with premium LED headlights. The other grades rate at "Poor" for nighttime illumination. All Elantra sedans come with automatic high beams, active lane control, and automatic emergency braking; adaptive cruise control and blind-spot monitors are widely available.
Advantage: Mazda 3.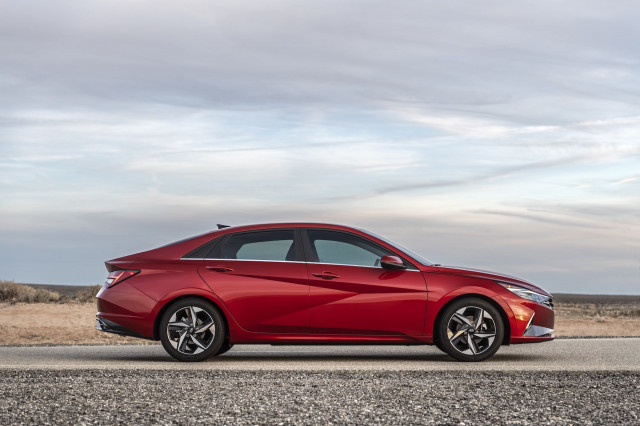 2023 Hyundai Elantra
Which car is better: Hyundai Elantra or Mazda 3?
It's hard to beat the range and the value across the wide Hyundai Elantra lineup, with a super efficient hybrid model and a whip-sharp N performance line that would elevate its TCC Rating of 6.5 out of 10. The Mazda 3 has style and handling on its side to earn a 6.3 out of 10, but the kludgy infotainment and cramped rear seat dull the appeal, as do the premium prices expected by Mazda. (Read more about how we rate cars.)
Winner: The Hyundai Elantra's value takes the win.