The Jeep Wrangler is the automotive icon that helped America through World War II and spawned the off-road-oriented SUV. Several pickup truck variants have been introduced in the jeep's 80-plus years of service, with the latest being the Jeep Gladiator, which competes with mid-size pickups.
Like the Wrangler, the Gladiator is an off-roader. Introduced as a 2019 model, the Gladiator soldiers on with a design drawn from the JK-generation Wrangler, while the Wrangler itself gets an update of the JL generation for the 2024 model year. It's mostly cosmetic changes, though, so the Gladiator isn't too far behind the Wrangler's technology.
The biggest difference between the two is obvious. It's the 5-foot bed that hangs off the back of the Gladiator. To make room for that bed, Jeep engineers had to lengthen the wheelbase of the four-door Wrangler almost 20 inches. However, like the Wrangler, the Gladiator is a convertible with removable doors and a fold-down windshield.
Rivals for the duo range from the Toyota Tacoma and Chevy Colorado to the Ford Bronco and Land Rover Defender. But if you're in the market for an off-roader with classic Jeep style and capability, which is right for you? Let's find out.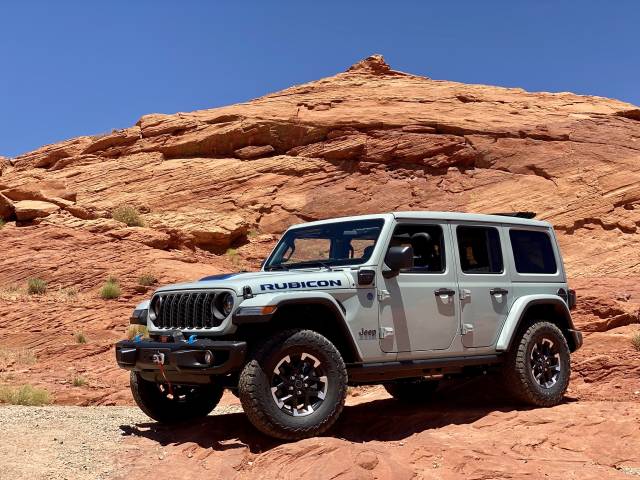 2024 Jeep Wrangler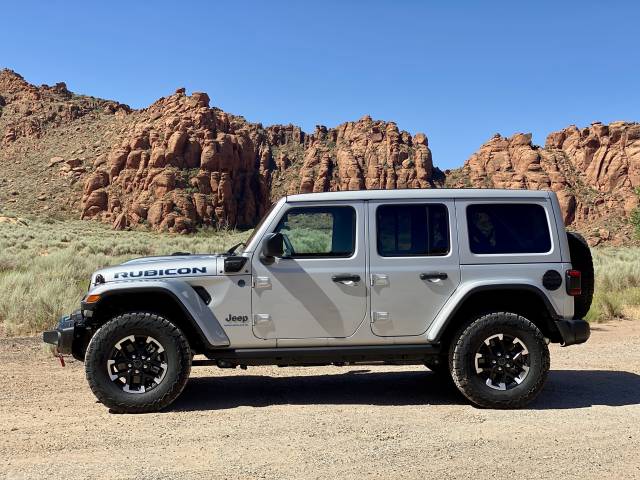 2024 Jeep Wrangler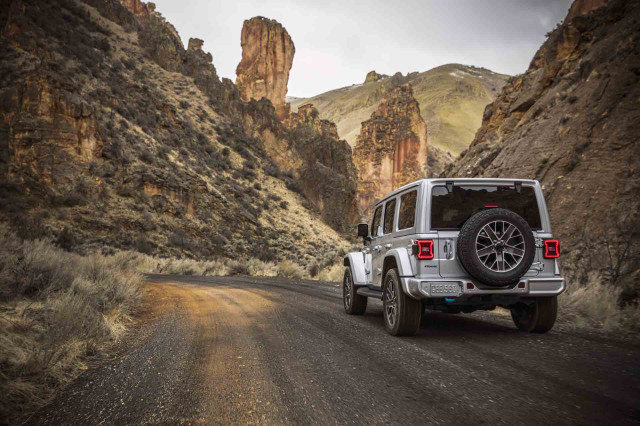 2024 Jeep Wrangler
Gladiator vs. Wrangler prices and features
Base Wrangler costs about $34,000

Base Gladiator costs about $41,000

Best picks: Gladiator Rubicon, Gladiator Mojave, Wrangler 4xe, Wrangler Rubicon
How much is a Jeep Gladiator?
Jeep sells the Gladiator in Sport, Overland, Rubicon, and Mojave models, plus a range of style editions. All have premium prices compared to other mid-size pickups.
Starting at around $41,000, the Sport's standard equipment includes manual windows and door locks, cloth upholstery, a soft convertible top, a 7.0-inch infotainment touchscreen, two tow hooks up front and one in the rear, fuel tank and transfer case skid plates, and 32-inch all-season tires on 17-inch steel wheels.
Buyers who move up to the Overland, which costs about $49,000, get power windows and locks, satellite radio, an Alpine 9-speaker audio system, an 8.4-inch touchscreen, and 18-inch alloy wheels.
The Rubicon and Mojave models sit at the top of the lineup and both cost about $53,000. Both are purpose-built off-roaders, and the Rubicon excels at lower speeds while the Mojave is made for faster desert running.
All Gladiators come with a 3-year/36,000-mile warranty that includes three years of scheduled maintenance.
How much is a Jeep Wrangler?
The Wrangler gets Sport, Willys, Sahara, High Altitude, Rubicon, and Rubicon 392 models, as well as some sub-models aimed at styling. The base Wrangler Sport starts near $34,000 and comes standard with manual windows and locks, cloth upholstery, a soft top, a 12.3-inch touchscreen, and 17-inch steel wheels. That's for the two-door variant; the four-door adds $4,000, the Sahara and Rubicon 392 are only offered as four-doors.
The Wrangler gets the same warranty as the Gladiator.
We recommend at least three versions based on how buyers will use their Wranglers. For those who want to drive their Wranglers on the road and save money at the pump, we recommend opting for a plug-in hybrid 4xe. It starts at almost $52,000 for a Sport S model, and it adds power doors and locks, keyless entry, automatic headlights, and a tougher, lighter Gorilla glass windshield to the base equipment.
At about $41,000, the Willys grade is the next best thing to a Rubicon. It gets a 10.8-inch ground clearance (versus the standard 9.7 inches), rock rails, a locking rear differential, a trailer tow package, LED headlights and fog lights, all-weather floor mats, and 33-inch all-terrain tires.
We also can't fault anyone for going for full off-road capability with the Rubicon, which starts around $52,000 as well.
At the top of the lineup sits the bonkers Wrangler Rubicon 392 for about $89,000.
Advantage: Jeep Wrangler for the lower price of entry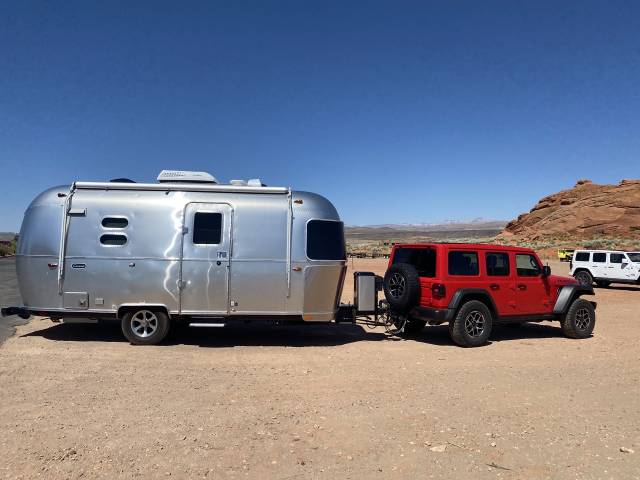 2024 Jeep Wrangler
Gladiator vs. Wrangler performance, fuel economy, towing, and payload
Both use the same 3.6-liter V-6 base engine

Gladiator has a diesel option

Wrangler has a turbo-4, a V-8, and a plug-in hybrid
The Wrangler and Gladiator have the same base engine, a 3.6-liter V-6 that makes 285 hp and comes with a 6-speed manual transmission. The engine offers decent pep, though the manual gearshift has long throws and a numb feel. Jeep charges $2,000 all the way to $4,500 for a smooth-shifting, responsive 8-speed automatic.
Gladiator buyers can spend another $4,000 to get a 3.0-liter inline-6 turbodiesel that grinds out 260 hp and 442 lb-ft of torque. It's not quicker than the V-6, but the extra torque makes it strong in the mid-range and improves fuel economy from a high of 16 city, 23 highway, 19 combined (with the manual transmission, 17/22/19 mpg with the automatic) for the gas engine to 22/28/24 mpg; the diesel comes only with the automatic.
The Wrangler's expanded engine offerings start with a 2.0-liter turbo-4 that makes 270 hp and 295 lb-ft of torque compared to 260 lb-ft for the V-6. It's a stronger overall choice, and while fuel economy ratings aren't yet available, they should be slightly better than those of the V-6.
Next up is our favorite, the 4xe plug-in hybrid powertrain that teams the turbo-4 with a 134-hp electric motor to conjure 370 hp and 475 lb-ft. It has the twin benefits of much stronger acceleration and improved efficiency, including about 22 miles of electric driving.
Enthusiasts will appreciate the 6.4-liter V-8 that lays down 470 hp and an equal 470 lb-ft. It posts a 0-60 mph time of just 4.5 seconds, but it feels faster in a tall, short vehicle that is meant to crawl over rocks, not win stoplight drag races.
The Gladiator can tow up to 7,700 pounds with the V-6 or 6,500 pounds with the diesel and carry up to 1,710 pounds of payload with the gas engine or 1,325 pounds with the diesel.
The Wrangler isn't as capable in that regard. Changes for 2024 allow it to tow up to 5,000 pounds with the Rubicon model, but other models top out at 3,500 pounds.
Ride and handling aren't strengths for either of these vehicles. The Gladiator is essentially a stretched Wrangler on a body-on-frame platform with solid axles at both ends. The suspension creates a jiggly ride on uneven pavement, though the Gladiator can smooth over some of that with its longer wheelbase. The recirculating-ball steering is vague on center and requires lots of corrections at highway speeds. A tall ground clearance with a minimum of 9.7 inches contributes to excess body lean.
Advantage: Jeep Wrangler for more engine choices, including a plug-in hybrid.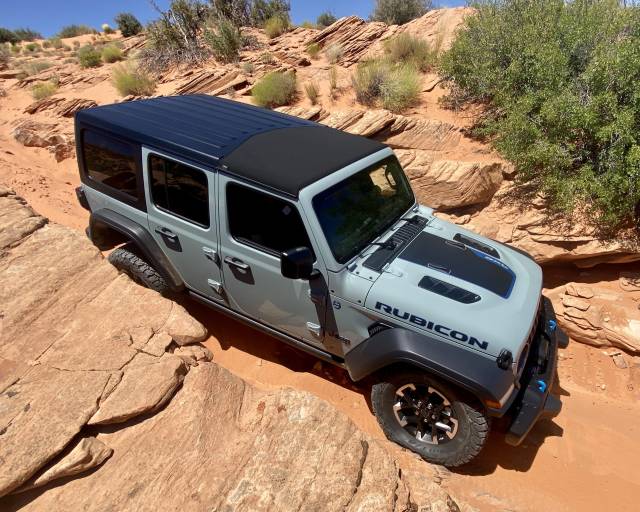 2024 Jeep Wrangler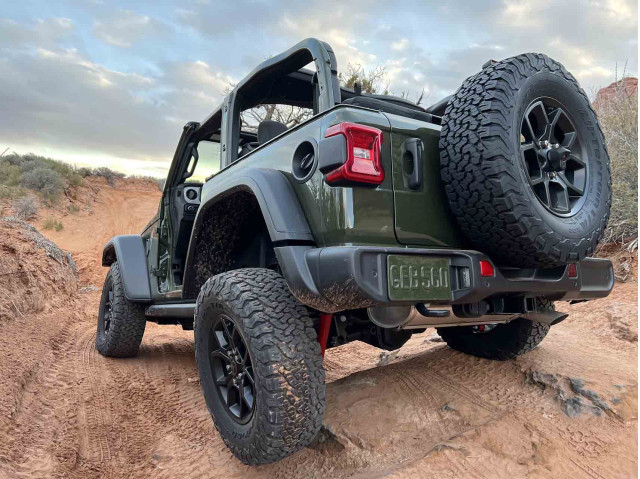 2024 Jeep Wrangler
2023 Jeep Gladiator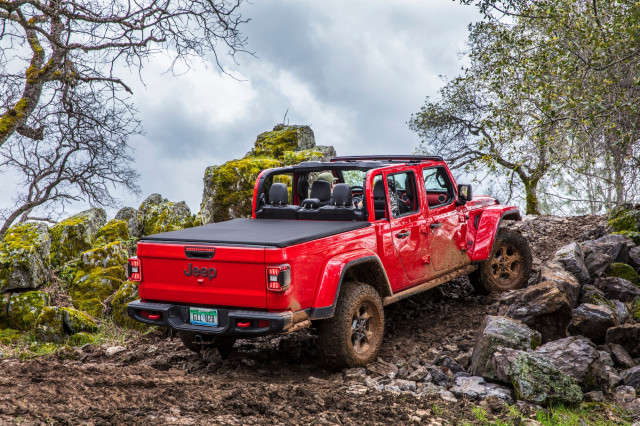 2023 Jeep Gladiator
Gladiator vs. Tacoma off-road and 4×4 systems
Both offer three four-wheel-drive systems

Gladiator Mojave made for high-speed off-roading

Rubicon models are off-road leaders
Both Jeeps come standard with a part-time four-wheel-drive system called Command-Trac. A Selec-Trac version works full time and adds a 2-speed transfer case for low-range gearing, and a Rock-Trac version has the Selec-Trac features though with even lower range gearing. Rock-Trac also comes with a disconnecting front sway bar and 17-inch aluminum wheels with 33-inch BFGoodrich all-terrain tires. The Wrangler Rubicon has a new full-float rear axle that spreads the vehicle weight along the solid axle tube instead of just the axle shaft, which makes its main function to send power to the rear wheel hubs.
All Gladiators are good off-road, but the Rubicon and Mojave models take it a step beyond. The Rubicon is a more traditional low-speed off-roader, while the Mojave is for high-speed adventures. Both have standard Dana heavy-duty front and rear axles, and both come with rock rails, locking front differentials, a front skid plate, and 17-inch alloy wheels that mount 33-inch all-terrain tires. The Rubicon gets a disconnecting front stabilizer bar, while the Mojave has Fox internal bypass shocks and an Off-Road+ mode that shuts off traction control and keeps the powertrain on high alert to keep the truck moving through sand and dirt.
The Gladiator Mojave carves out its own spot here, but the Wrangler is the better off-roader for traditional low-speed off-roading. Its shorter wheelbase gives it a better breakover angle, and its shorter length helps it fit where the Gladiator can't. It also boasts better approach and departure angles.
Advantage: Jeep Wrangler. It's the off-roading benchmark.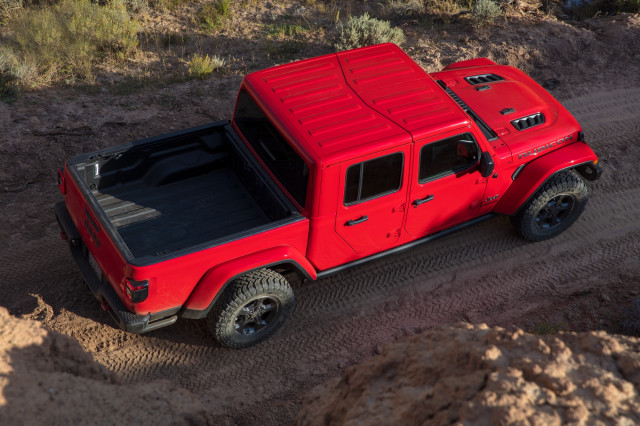 2023 Jeep Gladiator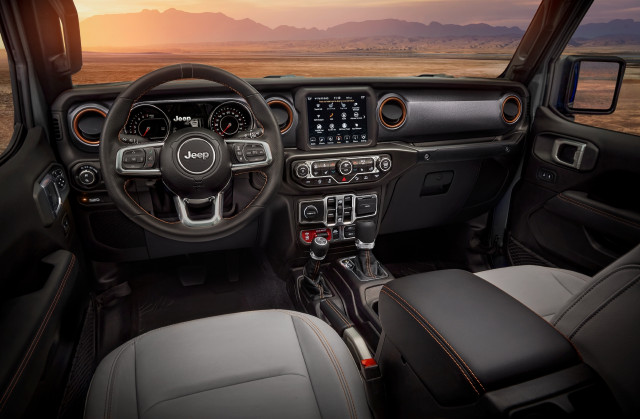 2022 Jeep Gladiator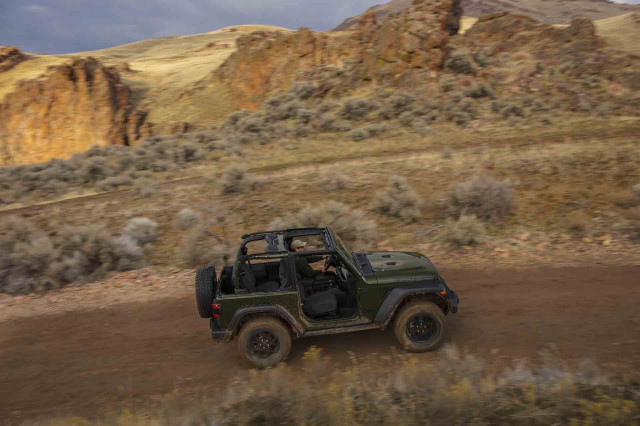 2024 Jeep Wrangler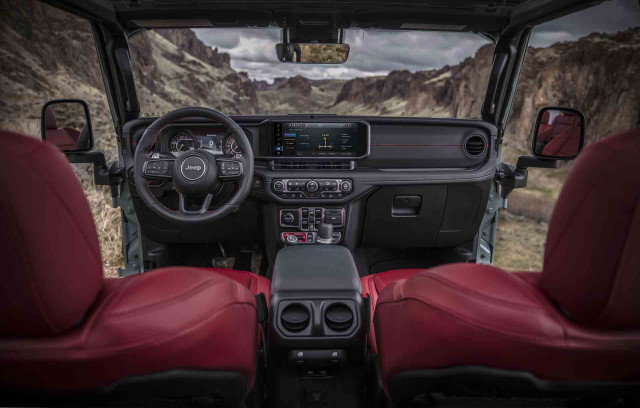 2024 Jeep Wrangler
Gladiator vs. Wrangler size, seating capacity, and bed space
Front passenger space is identical

Wrangler two-door has tight rear legroom

Gladiator bed adds versatility
How big is the Jeep Wrangler?
The Wrangler two-door stretches 166.8 inches long on a 96.8-inch wheelbase, while the four-door is 188.4 inches long on a 118.4-inch wheelbase. Front legroom is the same 41.2 inches no matter if it's a Wrangler two-door, four-door, or Gladiator. Rear legroom checks in at a tight 35.3 inches for the Wrangler two-door, but both the four-door and Gladiator have a spacious 38.3 inches in which to stretch your legs. Similarly, the two-door fits only two in the back, while the four-door and Gladiator can accommodate three. Both Wrangler body styles have good cargo capacity, with 31.7 cubic feet behind the rear seats, and 71.4 cubes with the rear seats folded down.
How big is the Jeep Gladiator?
The Gladiator stretches the overall length to 218.0 inches and rides a wheelbase 137.3 inches long. The longer wheelbase makes room for a 5-foot bed. Jeep outfits the bed with standard cargo lights, but the optional rail-based adjustable tie-down system, 115-volt power outlet spray-in bedliner, and tonneau cover make it more practical.
Advantage: Gladiator for the versatility of its bed.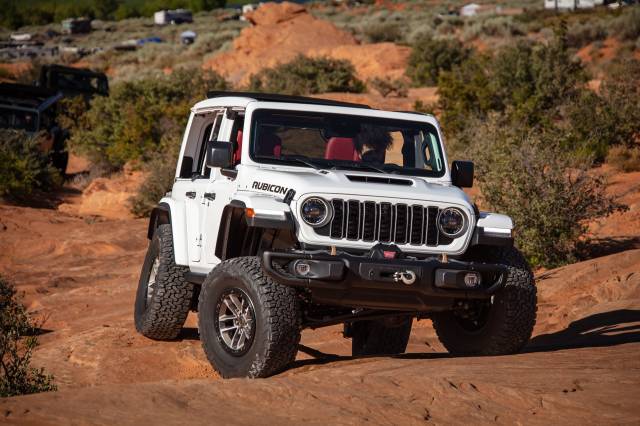 2024 Jeep Wrangler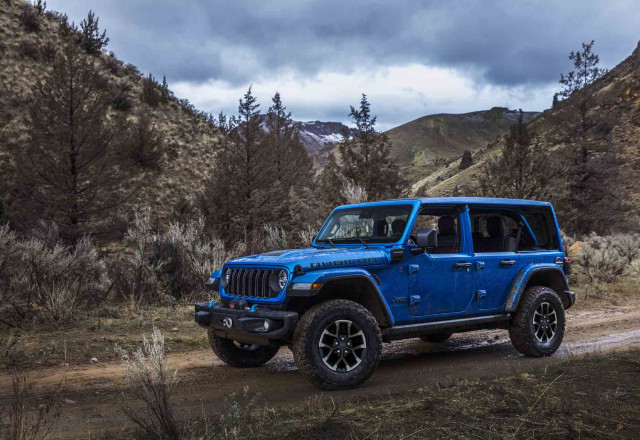 2024 Jeep Wrangler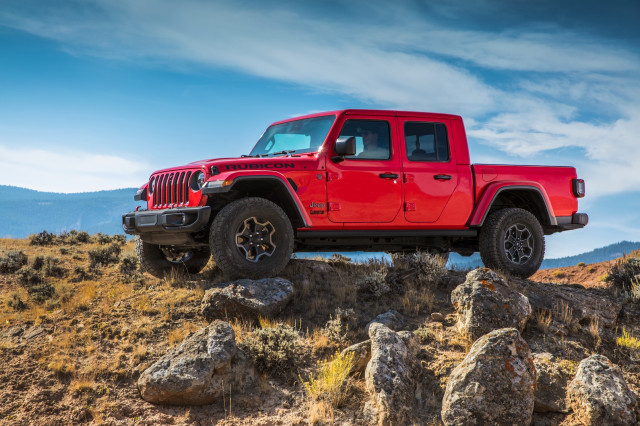 2022 Jeep Gladiator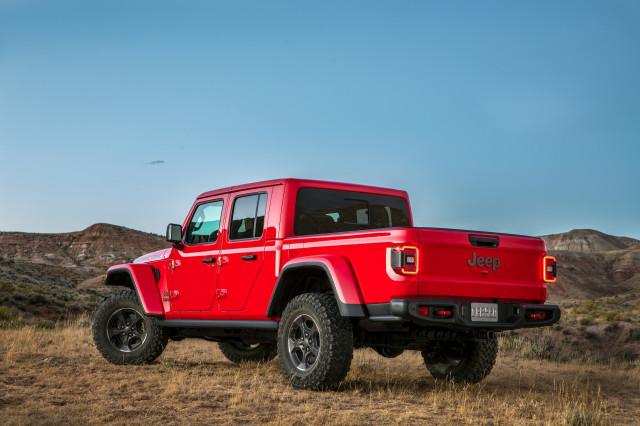 2022 Jeep Gladiator
Gladiator vs. Tacoma styling
Gladiator branches off from Wrangler

Both have strong retro cues

Interiors are utilitarian
Is the Gladiator a good-looking truck?
Though it's unique among mid-size pickups, the Gladiator's look isn't so different in this comparison. The two vehicles are essentially the same from the rear doors forward. It has what is now a taller version of the signature Jeep seven-slot grille, as well as the rounded hood, circular headlights, and separate front fenders Jeep is known for. It also wears the same slab sides and prominent rear wheel flares, and the rear door openings are unnecessarily angled at the rear, which intrudes upon entry and exit. From there back, however, it's different, as a squared-off bed sits behind the crew cab. It's a classic look with clear roots all the way back to WWII jeeps.
Jeep offers a variety of graphics, the fenders and grille can be black or body color, and the wheel sizes range from 17 to 20 inches.
The Gladiator is the only convertible pickup truck on the market. It's available with a choice of two soft tops or a three-piece modular hard top. Like the Wrangler, owners can also fold down the windshield, remove the doors, and order half doors.
Inside, the Gladiator's stylized dash sports retro cues that include and round air vents and dual levers for the shifter and four-wheel-drive system. A touchscreen, either 7.0 or 8.4 inches adds a modern element to the dash that also wears a lot of plastic. Plastic and other basic materials make it possible to wash out the cabin after off-roading.
Is the Jeep Wrangler a good-looking SUV?
It's the very definition of iconic, and that has plenty of appeal. The newly updated Wrangler has a different, shorter take on the seven-slot grille to fit an available factory-installed Warn winch on the nose. Like the Gladiator, the Wrangler is available in several models with a variety of graphics, and its grille and bumpers can be dark or body color.
The Wrangler's cabin is an evolution of the Gladiator's. It's more modern with a new 12.3-inch touchscreen. The shape of the instrument cluster is also slightly revised, but it keeps analog gauges that flank a digital center screen. Otherwise, it's just as plasticky and utilitarian as the Gladiator.
Advantage: Jeep Wrangler for its tidier look.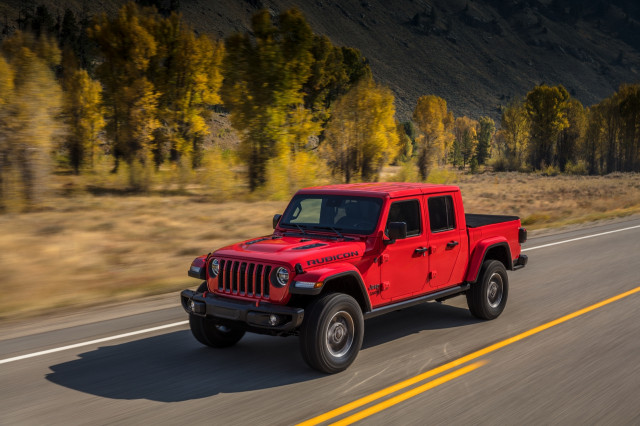 2022 Jeep Gladiator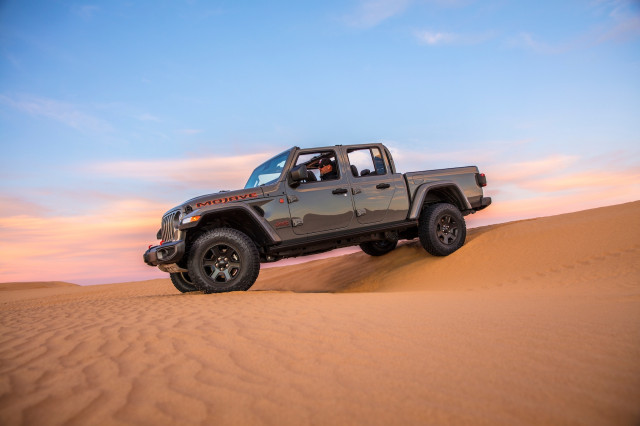 2022 Jeep Gladiator
2022 Jeep Gladiator
Gladiator vs. Wrangler safety
Safety isn't the strong suit for either

Automatic emergency braking isn't standard on either

Both await full crash-test scores
How safe is the Jeep Gladiator?
The Gladiator doesn't come standard with automatic emergency braking, which is rare these days and a sign of penny pinching on Jeep's part. The only safety features it offers are optional. They consist of automatic emergency braking, adaptive cruise control, blind-spot monitors, and rear parking sensors.
Crash-test scores also haven't been good. It earned mediocre ratings from the IIHS, with a "Marginal" score in the small front overlap test, and a "Marginal" rating at best for its headlights. It did score the top "Good" ratings for the moderate front overlap and roof strength tests, though. The NHTSA gave it four out of five stars for front crash performance and an even worse three stars for rollover resistance, though it doesn't have an overall rating.
How safe is the Jeep Wrangler?
It's no safer than the Gladiator, and its shorter wheelbase may make it more prone to rollover crashes. The Wrangler has no crash-test scores yet, but it should perform about the same as the outgoing model, which is effectively the same as the Gladiator.
The good news is Jeep adds side curtain airbags for both seating rows, which will help in rollovers. Like the Gladiator, though, the same set of safety features is optional or standard as you move up the model range.
Advantage: Draw.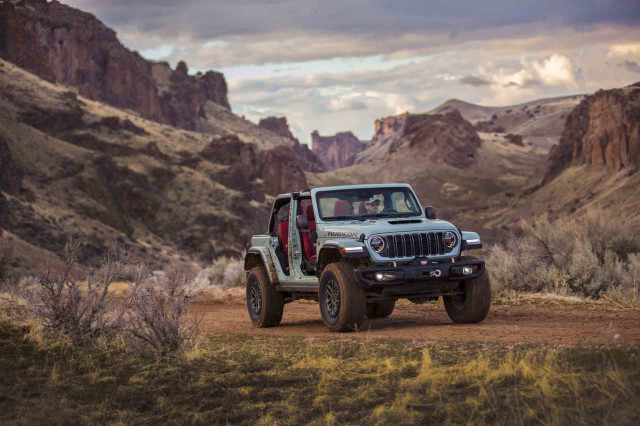 2024 Jeep Wrangler
Which is better: Gladiator or Wrangler?
Two sides of the same coin, the Wrangler and Gladiator have similar strengths: cool retro styling, off-road prowess, open-air fun, and a variety of models to choose from to fit your purpose. They're also both inefficient with their base engine (among others), have poor safety scores, and lack key standard safety equipment. However, each offers a more efficient powertrain, and at least the basic safety features are available. It's no surprise, then, that they post similar scores. The Gladiator earns a TCC Rating of 4.8 out of 10 and the Wrangler comes out on top with a 5.0 rating. (Read more about how we rate cars.)
Both are lifestyle vehicles, and the final decision on which you choose should come down to those considerations. Do you want the Gladiator's bed? Is low-speed or high-speed off-roading more important? And do you want a diesel engine, a big V-8, or a plug-in hybrid? No matter which one you choose, be sure to use it as intended: take off the top and doors and explore the trail where the road ends.
Winner: Jeep Wrangler, but barely.