Kia now sells a full lineup of crossover SUVs, and two of its most popular offerings are its largest: the two-row Kia Sorento and the three-row Kia Telluride.
The Telluride was new in 2020, and gained instant acclaim thanks to its pitch-perfect style, its spacious cabin, and its all-around utility. With the Sorento, Kia tacked into a different wind: the two-row SUV sports some edgy styling cues and offers hybrid and plug-in hybrid editions absent from the bigger crossover.
Which one works better for you? In the TCC Ratings breakdown, there's a clear winner—but your choice might vary, based on fuel economy and value. Let's take a closer look.
2023 Kia Sorento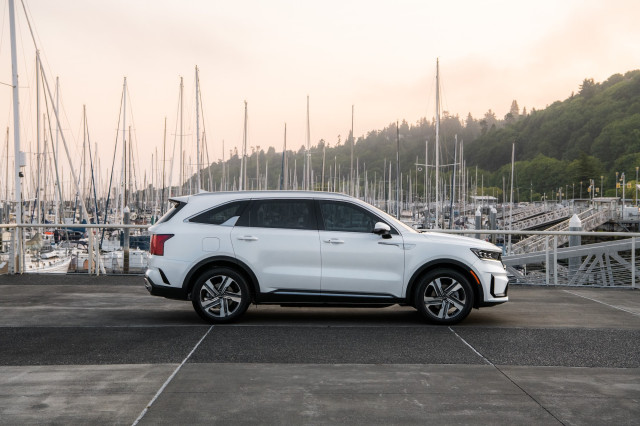 2023 Kia Sorento
2023 Kia Sorento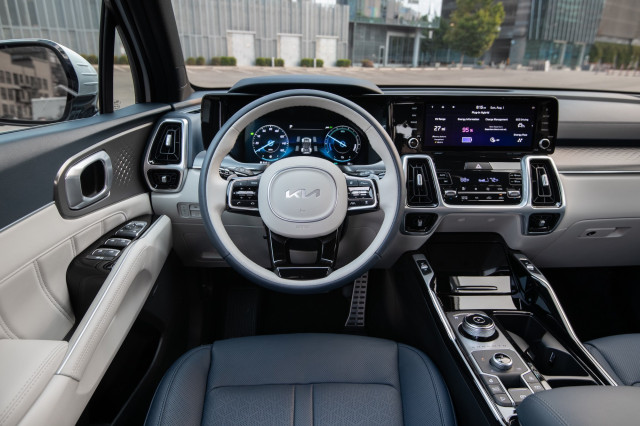 2023 Kia Sorento
Kia Sorento vs. Telluride prices and features
The base Sorento costs about $32,000

A base Telluride costs around $38,000

Best picks: Kia Sorento EX Hybrid, Kia Telluride EX
Which Kia Sorento should I buy? How much is a fully loaded Kia Sorento?
The Sorento comes in a lot of different trims, but all of them come with good infotainment, a swell list of standard features, and an excellent 5-year/60,000-mile warranty. A base Sorento LX costs $31,415 and comes with cloth seats, 17-inch alloy wheels, and an 8.0-inch touchscreen with wireless Android Auto and Apple CarPlay.
We'd spend up to about $40,000 to get the Sorento EX Hybrid, which adds heated front seats, synthetic leather upholstery, second-row captain's chairs, and blind-spot monitors into the mix, with all-wheel drive tossed in for good measure.
The Sorento Plug-In Hybrid costs about $52,000—a lot, for its size and even for its 32 miles of electric driving range, but it does start in SX Prestige trim, which includes Bose audio, 14-way power front seats, and cooled front seats.
Which Kia Telluride should I buy? How much is a fully loaded Kia Telluride?
The bigger Telluride earns similar kudos, from its warranty to its value. It starts with the $37,355 Telluride LX, which has 18-inch wheels, LED headlights, a 12.3-inch touchscreen, Apple CarPlay and Android Auto, and synthetic leather upholstery. For $2,000 Kia adds all-wheel drive. It's $39,225 for a Telluride S with a power driver's seat, heated front seats, 20-inch wheels, wireless smartphone charging, and second-row captain's chairs.
Spend up to the $42,955 Telluride EX, which has leather, wood trim, a hands-free power tailgate, and heated front seats—and you'll be able to add the X-Line package, with its all-wheel drive, roof rails, heated steering wheel, and increased ground clearance of 8.4 inches.
It's a lot—at least $54,450—for the top Telluride SX-Prestige X-Pro, but it does come with Harman Kardon audio, nappa leather upholstery, heated and cooled second-row seats, a sunroof, a head-up display, and a surround-view camera system.
Advantage: The Sorento's a stronger value.
2024 Kia Telluride
2024 Kia Telluride
2024 Kia Telluride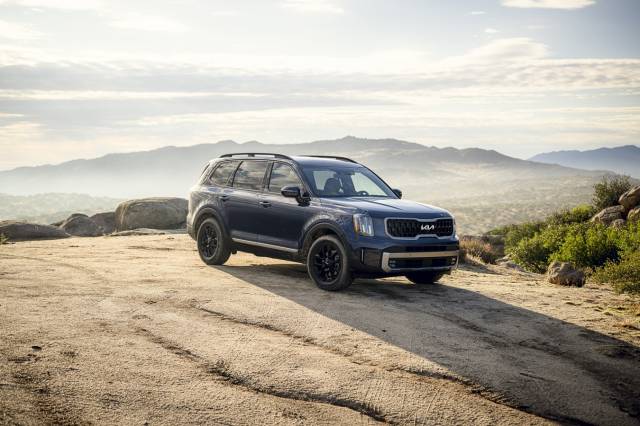 2024 Kia Telluride
Kia Sorento vs. Telluride performance specs and towing
The Sorento sports a range of 4-cylinders

The Telluride's V-6 has 291 hp

AWD can be fitted on any of these
Is the Kia Telluride 4WD? How fast is the Kia Telluride?
The Telluride has front-wheel drive, but all-wheel drive can be fitted to any version. The system splits power equally between the front and rear ends at speeds of up to 40 mph when locked. To get the X-Line and X-Pro packages, AWD is mandatory; those add-ons change the front and rear end appearance to let the Telluride approach and depart from obstacles with greater ease.
With a 291-hp V-6 burbling away under the hood and an 8-speed automatic changing gears with confidence, the Telluride putters along pleasantly, but it's not truly fast. It has to lug around more than 4,100 pounds at a minimum, before people, stuff, and hardware get added to that tally. It's a refined powertrain, if not the quickest in its class—and with X-Pro kit, it can tow up to 5,500 pounds.
The Telluride fares better in ride quality. Though it lacks the adaptive damping of more pricey SUVs, it smooths over pavement seams and speed bumps, and quells ride noise with lots of sound-damping material. It steers well enough for the mission, too. Its prime attraction is all of the above: the Telluride's performance gels in a way that the Sorento lacks.
Is the Kia Sorento 4WD? How fast is the Kia Sorento?
It's front-wheel drive, with available all-wheel drive across the lineup, except on the Plug-In Hybrid, where Kia fits it as standard equipment.
Power isn't the base Sorento's calling card. It taps a 191-hp inline-4 that's dull and somewhat noisy, so consider the base engine the 281-hp turbo-4. Coupled to an 8-speed dual-clutch automatic, it gets considerably stronger acceleration through its driveline, but the transmission jerks and fusses at low speeds. When locked into the right gear, it's an enthusiastic performer—but getting into the right gear takes some time and patience.
Our pick in the Sorento lineup is the 227-hp Hybrid, which pairs a 1.6-liter turbo-4 and an electric motor, all connected to a battery pack. Kia knits this package together with much more seamless drivetrain operation; the battery power fills in the torque gap generated by the turbo engine and the dual-clutch gearbox. It's more authoritative off the line than the base engine, and smoother than either other offering. Plug-In Hybrids take that fundamentally good setup and fit a bigger battery pack and electric motor that spins out 261 hp, for a marginally quicker trip to 60 mph—they add a lot of weight, too.
That weight tilts our opinion here to the Hybrid, which cuts through the clutter of performance and fuel economy. It doesn't bump up handling, though—the Sorento has a softly tuned ride that swallows bigger bumps, but transmits a lot of thumping sounds and vibrations into the cabin. It's more noticeable in Hybrids, which can shut off the engine and lean into motor power at speed. The Sorento's steering doesn't add any excitement, either. By the numbers it's a decent performer, but those numbers don't translate into a particularly engaging vehicle.
Advantage: The Telluride gets the ride-and-handling balance right; the Sorento Hybrid has the powertrain we want, though.
2024 Kia Telluride
Kia Telluride vs. Sorento size and cargo space
The Sorento seats seven, in theory

…but the Telluride's actually the right car for that job

The Sorento interior lacks the Telluride's panache

Cargo space gives the Telluride a big advantage
Though Kia fits seven seat belts to the Sorento cabin, the third-row seat it offers is less useful than the one in the longer, wider Telluride. The Sorento's also less richly finished and has less supportive seats.
Its front and second-row seats, however, have a lot of space, thanks to an overall length of 189.4 inches. The front chairs are supportive enough, and gain power adjustment and leather as the trim levels get fancier. Second-row legroom measures 41 inches, and headroom doesn't get sacrificed to the sloping roofline, either. But the third row has low-mounted seats and 29.6 inches of legroom, so it's better used—we think—to convert the Sorento's 12.6 cubic feet of cargo space to 40.5 cubic feet behind row two. The Sorento maxes out at 75.5 cubic feet of space behind the front seats.
The Telluride, meanwhile, offers up 87 cubic feet of space behind the front seats, and 21 cubic feet behind its third-row bench, which can fit three small passengers. It's a third row worth having. The Telluride's second-row bench can be traded out for captain's chairs that are cruise-worthy for long distances, thanks to ample headroom and legroom.
In the front seats, the Telluride has manual seats in the base edition, but all other versions sport at least a power driver seat. Synthetic leather turns into real leather in the most expensive versions; there's a marked difference in the luxury feel above the EX trim, but all Tellurides have a nicely finished cabin, with attractive materials that get upgraded to soft leather and convincing woodgrain in the top SX-Prestige edition. Second-row seat heating and cooling are even on the features list.
Advantage: Telluride, and it's not particularly close.
2023 Kia Sorento Hybrid
2023 Kia Sorento Hybrid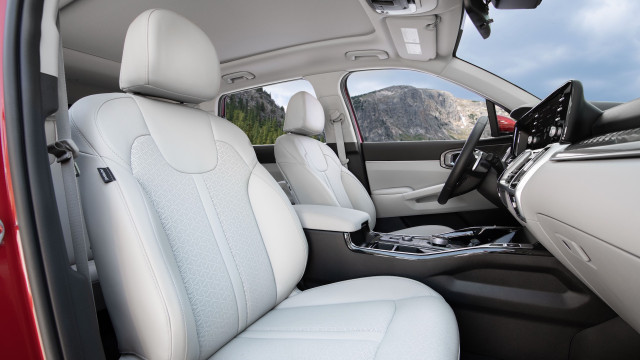 2023 Kia Sorento Hybrid
2023 Kia Sorento Hybrid
Kia Sorento vs. Kia Telluride gas mileage
The Telluride gets an EPA-rated 22 mpg combined

The Sorento Hybrid scores 37 mpg combined

Sorento plug-ins have 32 miles of range
Is the Kia Telluride good on gas?
The EPA rates it at 20 mpg city, 26 highway, 22 combined with front-wheel drive, and at 20 mpg combined with all-wheel drive.
Is the Kia Sorento good on gas?
It's best as a hybrid. The EPA scores the base gas model at 24 mpg city, 29 highway, 26 combined, which drops to 24 mpg combined with all-wheel drive. The turbo-4 version checks in at 25 mpg or 24 mpg combined, with FWD and AWD, respectively.
The stars are the Hybrid, which gets up to 37 mpg with front-wheel drive, and the Plug-In Hybrid, which can run for 32 miles on a full charge of its battery pack.
Advantage: The Sorento, with a plug-in hybrid to boot.
2024 Kia Telluride
Kia Telluride vs. Kia Sorento safety
The Telluride gets impressive crash-test scores

The Sorento has some NHTSA issues

Both have standard automatic emergency braking

Options include adaptive cruise control and surround-view camera systems
How safe is the Kia Telluride?
The IIHS dubs the Telluride a Top Safety Pick+. The NHTSA gives it five stars overall. Pretty flawless—and it comes with standard automatic emergency braking, blind-spot monitors, adaptive cruise control, and active lane control. The top SX-Prestige edition also sports parking sensors, a surround-view camera system, and automatic lane-change capability.
How safe is the Kia Sorento?
The IIHS gives the Sorento a Top Safety Pick award, but only when equipped with the better LED headlights on the SX versions. The NHTSA, however, gives it just four stars overall. It comes with active lane control and automatic emergency braking, and adaptive cruise control and blind-spot monitors are available, as is a surround-view camera system.
Advantage: Telluride.
2023 Kia Sorento Hybrid
2023 Kia Sorento Hybrid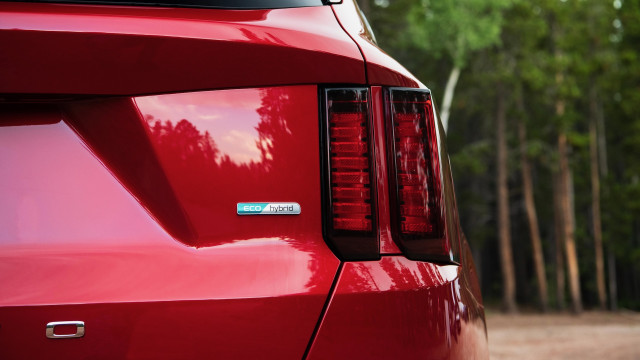 2023 Kia Sorento Hybrid
2023 Kia Sorento Hybrid
Sorento vs. Kia Telluride styling
A luxurious interior caps the stylish Telluride

The Sorento's exterior doesn't come off as unified

The interior in the Sorento makes some odd styling choices
Is the Kia Sorento a good-looking car?
It's overstyled. The exterior takes on a lot of cues in its quest to look different, but it could lose two or three of them. In front, it has its most cohesive look, with LED headlights that flank a chunky grille. Down the sides, the roofline drops toward the rear end but doesn't wear much sculpting—instead, it tacks on fake air vents. At the rear, its twin taillights take on a muscle car tinge, but as a whole the Sorento could be any brand's mid-size crossover.
Inside, Kia runs wild with a multitude of surfaces, shapes, and lines. It's not captivating, just confusing. A central pod looks like a gaming controller or a tie fighter; it sits above a console draped in glossy black plastic, reflecting and showing every spec of dust. There's a functionally fine interior here behind the exaggerated air vents and shapes, and it needs to chill a little.
Is the Kia Telluride a good-looking car?
The Telluride can show the Sorento the way when it comes to balance and grace. It starts with the bigger SUV's clean and elegant shape, which weaves in some styling influences from old-school SUV names like GMC with Kia's own sense of styling confidence—hence, the honeycomb grille and the new double light pipes that serve as headlights. The rest of the Telluride's body can be seen as derivative, but it's also balanced, while it's just distinct enough to not get lost in an SUV crowd.
The Telluride cabin is where Kia distances its three-row crossover from the pack. A newly standard 12.3-inch touchscreen cantilevers over a simple, straightforward dash that's organized along thin horizontal strips of controls, some rendered in metallic-painted plastic, others in gloss black, all capped with a strip of pseudo-wood that looks good. It doesn't need the gamer come-ons to win over the driver and front passenger—it has a subdued atmosphere to woo them, especially with the SX-Prestige's nappa leather seats giving great support.
Advantage: The Telluride, clearly and cleanly.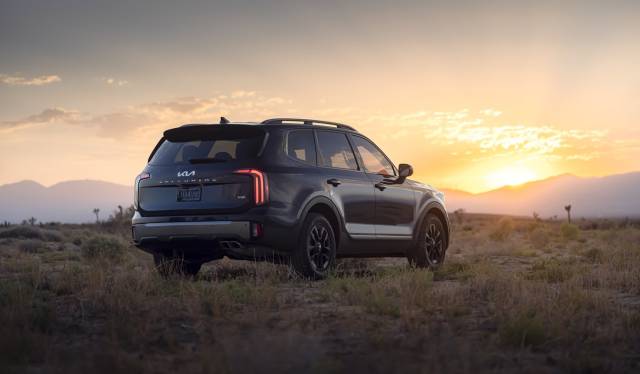 2024 Kia Telluride
Which is better: Kia Sorento or Telluride?
It's a thirsty SUV, but the Kia Telluride has just about everything we'd ask for in a three-row SUV. It's good-looking and has flexible interior accommodations, plenty of storage space, and high-end trim in the more upscale editions. We give it a 7.2 out of 10 on the TCC scale. (Read more about how we rate cars.) The Sorento earns a 6.3; it's smaller, less finely finished, more awkward from its shape to its dual-clutch shifts. It's not just smaller; it's lesser.
Winner: The Kia Telluride.