The 2024 Honda CR-V and 2023 Nissan Rogue offer the kind of compact-crossover utility that's wildly popular. But neither has managed to unseat the bestselling class champion, the Toyota RAV4. Both have been redesigned recently—so which one has the better chance of besting that sales leader?
With the latest CR-V, Honda has boosted fuel efficiency while it has increased passenger comfort and safety offerings. A more user-friendly infotainment system? That's part of a very good bargain.
The Nissan Rogue promises much of the same, with excellent crash-test performance and a comfortable cabin, though it's not offered in plug-in or hybrid forms. The bets it places come from big value and a more brash sense of style.
Which one earns the higher TCC Rating? It comes down to stronger performance in a couple of categories—including, unexpectedly, performance. Here's how they compare.
2023 Nissan Rogue
2023 Nissan Rogue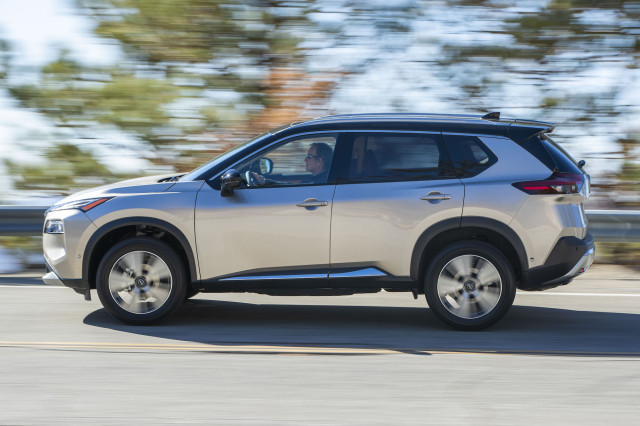 2023 Nissan Rogue
2023 Nissan Rogue
Nissan Rogue vs. Honda CR-V price and trims
Nissan Rogue starts from about $30,000

CR-V starts at $31,000; it's more than $40,000 for Sport Touring

CR-V Sport (hybrid) starts at nearly $35,000

Best picks: Nissan Rogue SV, CR-V Sport (hybrid)
How much is a Nissan Rogue? Which Nissan Rogue should I buy?
The latest Rogue costs less than $30,000 and has a host of standard features that make it a great value. The $28,655 Rogue S has LED headlights, 17-inch alloy wheels, manual cloth seats, and an 8.0-inch touchscreen with Android Auto and Apple CarPlay. Add $1,500 for all-wheel drive.
We'd step up to the $30,345 Rogue SV, which gains a power driver seat, adaptive cruise control, and bigger wheels. Another $2,660 buys a package that includes a panoramic sunroof and heated front seats. Stop there: $42,000 buys a Rogue Platinum with a head-up display, nappa leather, 20-inch alloy wheels and Bose audio, but it also buys a Volvo XC60, for one.
How much is a Honda CR-V? Which Honda CR-V should I buy?
A base Honda CR-V LX costs about $31,000 and comes with a smaller 7.0-inch touchscreen than the Rogue, while it also offers digital gauges, LED headlights, and keyless start.
Spend up for the $33,695 Honda CR-V Sport, which gets a standard hybrid powertrain that pays itself back in fuel costs in three years. It wears black 18-inch wheels, blacked-out trim, and a leather-wrapped steering wheel and shift knob—and gets blind-spot monitors, a power driver seat, heated front seats, and a sunroof.
Stop before you spend $41,000 on the CR-V Sport Touring. We like all-wheel drive, leather, 19-inch wheels, and Bose audio as much as anyone, but these vehicles perform best when they're paid off in five years.
Both vehicles carry an average 3-year/36,000-mile warranty.
Advantage: Nissan Rogue for penny-pinchers, CR-V Sport Hybrid for those who can spend a little more.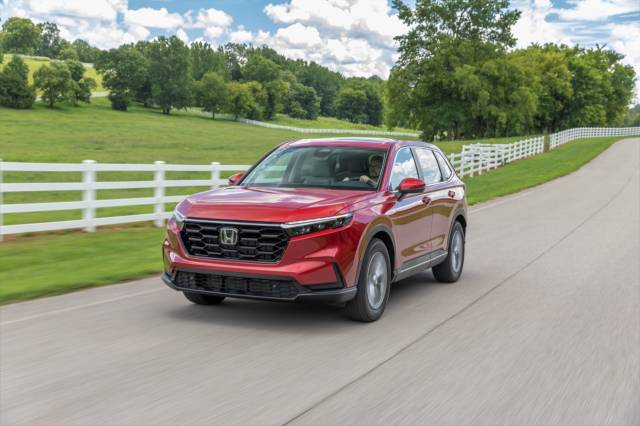 2024 Honda CR-V
2024 Honda CR-V
2024 Honda CR-V fuel-cell vehicle, underhood
2024 Honda CR-V
CR-V vs. Rogue performance and specs
The Rogue churns out 201 hp from a turbo-3

Rogue's CVT saps all the fun, though

The CR-V's 1.5-liter turbo-4 spins out 190 hp

Honda CR-V Sport hybrids peak at 204 hp
How does the Honda CR-V drive?
It's quick enough for any daily-duty drive you can imagine, but it's the CR-V's ride and composure that get the kudos. Base CR-V crossovers sport a 1.5-liter turbo-4 with 190 hp, teamed to a CVT for acceptable acceleration that's accompanied by a fair amount of powertrain noise. It's not Honda's strongest powertrain, but it's still better than some. (More on that in a moment.)
How fast is the Honda CR-V?
Honda's CVT responds quickly enough to change its ratios and to deliver a stronger pulse to pass in traffic—but we'd still rather have the CR-V hybrid. It carries a 2.0-liter 4-cylinder coupled to two electric motors, augmented by a 1.4-kwh battery pack. The seamless setup has more off-the-line urge than the turbo-4 and hits 60 mph sooner, too. The simulated gear changes in its CVT feel more natural—and they're quieter, too, unless you select Sport mode, which pumps in more simulated drivetrain noise.
Either CR-V has soft but well-damped ride motions and responsive steering. It's as if Honda felt zero urge to dial the CR-V in for enthusiasts—and for that they deserve a high-five. The CR-V's highly composed at speeds, its steering just heavy enough to track on center, and it has an overall feel of integration in all its systems that puts any driver at ease from the first mile.
Is the Honda CR-V 4WD?
Honda offers all-wheel drive on every model of the CR-V.
2023 Nissan Rogue
How does the Nissan Rogue drive?
The Rogue also pitches poise as its prime virtue—but it's slower than either Honda.
Is the Nissan Rogue 4WD?
Nissan sells all-wheel drive for $1,500 on any Rogue, but it's front-wheel drive in base spec.
How fast is the Nissan Rogue?
Not very. The spec sheet says it's rated at 201 hp from its 1.5-liter turbo-3, but Nissan saddles it with a CVT that responds slowly to throttle inputs. The Rogue's turbo also takes a while to spool up and pitch in power. Passing and merging become more of a struggle than a request, and it's worse when more than one person sits inside.
While it loses face for its powertrain, the Rogue butters us up with its softly sprung ride. With the base 17- or even the top 19-inch wheels, it's an absorbent companion with impressive damping—without any pretense about being sporty. Its steering has less weight and feedback than Honda's, but its sluggish acceleration snuffs any need for it to respond more crisply.
Advantage: The CR-V, especially the Sport hybrid.
2023 Nissan Rogue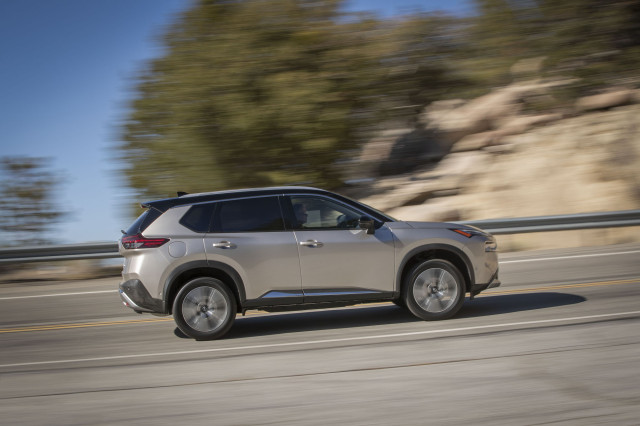 2023 Nissan Rogue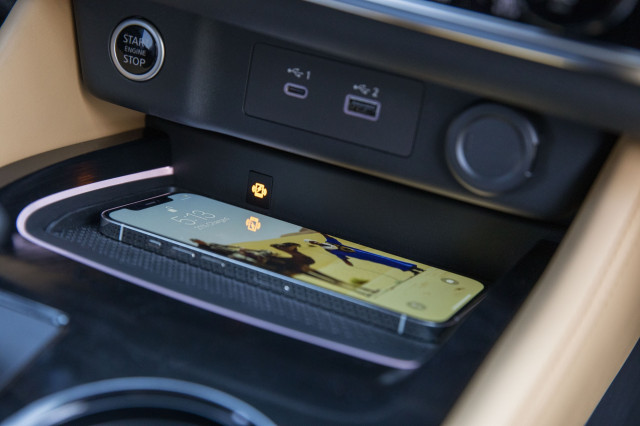 2023 Nissan Rogue
2023 Nissan Rogue
Honda CR-V vs. Nissan Rogue fuel economy
The front-drive CR-V turbo-4 gets EPA-rated at 30 mpg combined

Front-drive CR-V Sport hybrids peak at 40 mpg combined

The best Rogue caps the lineup at 33 mpg combined
Is the Honda CR-V good on gas?
When it's a hybrid it is. The EPA rates the CR-V Sport with front-wheel drive at 43 mpg city, 36 highway, 40 combined. All-wheel drive sends those figures south, to 40/34/37 mpg. With the turbo-4, the CR-V gets an EPA rating of 28/34/30 mpg; it's 29 mpg combined with the AWD turbo-4.
Is the Nissan Rogue good on gas?
The best Rogue fuel economy comes in the base trim with front-wheel drive. That's scored by the EPA at 30 mpg city, 37 highway, 33 combined. With all-wheel drive, the base versions earn 28/35/31 mpg.
With more features and bigger wheels, the Rogue SL and Platinum slip to 29/36/32 mpg with front-wheel drive and 26/33/29 mpg with all-wheel drive.
Advantage: Honda CR-V.
2024 Honda CR-V
2024 Honda CR-V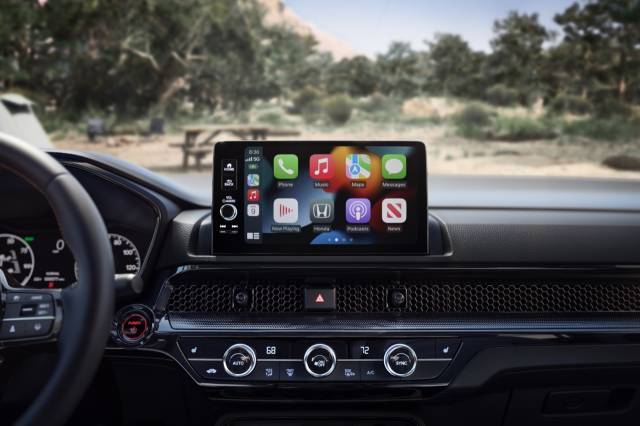 2024 Honda CR-V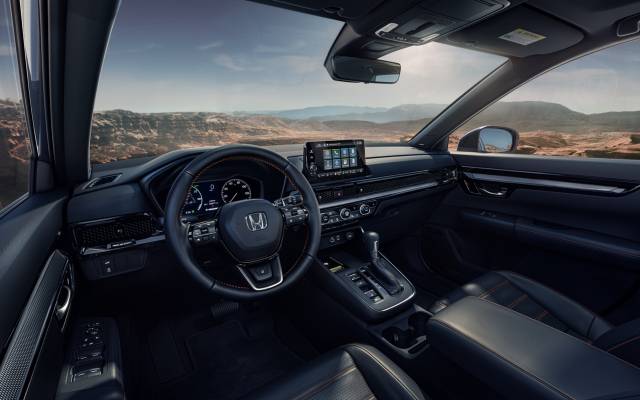 2024 Honda CR-V
Nissan Rogue vs. Honda CR-V size and dimensions
The Rogue and CR-V look close on the spec sheet

Honda's seats have superior comfort

The CR-V has the rear-legroom edge

Tall, wide doors are a boon to passengers in both
How big is the Honda CR-V?
Honda shows off its expert hand in carving out passenger space with the CR-V. By the numbers its interior isn't much bigger than that of the Rogue, but the way it's arranged makes it seem more spacious and more welcoming.
In front, the CR-V has some of the deepest, best-bolstered seats of any crossover SUV. Some smaller drivers might find them too deep, but the adjustable ranges of the seat and steering wheel can be tailored to most. Honda stocks the front space with plenty of storage for smartphones and Miir tumblers, and dresses it with mesh-metallic trim and a big touchscreen that grants the CR-V a simple but high-quality look.
The second-row seat shines in the CR-V, with about 41 inches of legroom and doors cut so tall, even 6-foot passengers can get in without brushing their heads on the frame. A third passenger fits better in here than in most compact crossovers, because the CR-V really is closer to mid-size—and because Honda makes flatter and wider bench seats with thinner doors that extract more usable space.
The CR-V's fold-down back seats boost cargo space from 39.3 cubic feet to 76.5 cubic feet of storage space. It's not a perfectly flat bin, but it's the largest among its key rivals.
How big is the Nissan Rogue?
Nissan carves out almost as much interior space from the Rogue's body. It can seat four adults easily, plus all their gear.
Those in front have the better seats, trimmed in cloth, synthetic leather, real leather, or soft semi-aniline leather trim, depending on the model. On all but the base Rogue S, the driver seat gets power adjustment; the top trims add passenger power adjustment. Nissan's seats have thick padding but less bolstering than Honda's; we've still found them all-day road-trippers.
In back, the Rogue doles out 38.5 inches of legroom, noticeably less than the Honda. Still, tall and wide door openings grant easy access to the available space, and headroom suits 6-footers fine.
The Rogue's cargo hold expands from nearly 40 cubic feet to 74 cubic feet when the rear seatbacks have been folded down. Nissan also forms lots of small-item storage into the Rogue's deep front console and door pockets. The interior, while of a high quality, undergoes a more dramatic transformation from base to best than in the Honda, which starts off with a finer grade of materials.
Advantage: Honda CR-V.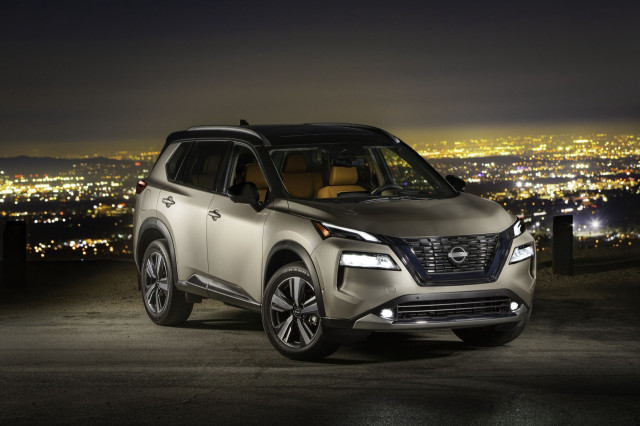 2023 Nissan Rogue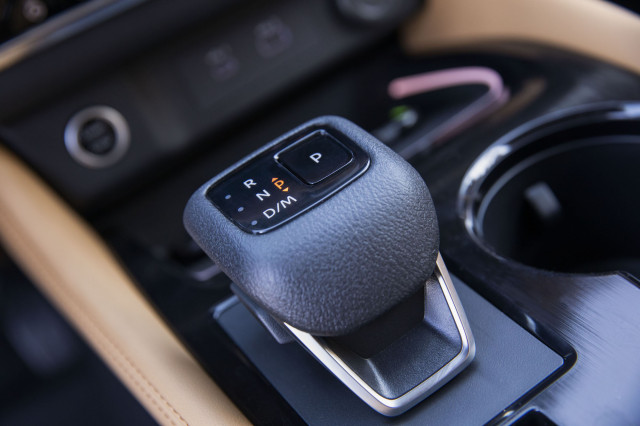 2023 Nissan Rogue
2023 Nissan Rogue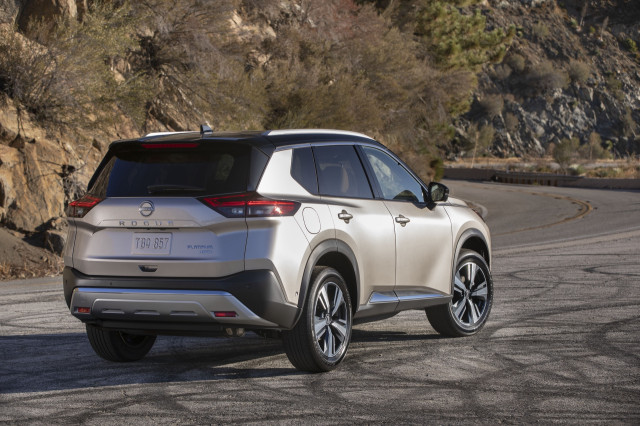 2023 Nissan Rogue
CR-V vs. Rogue safety
Both models carry a Top Safety Pick+ designation

The CR-V has not yet been tested by the NHTSA

Both models come standard with automatic emergency braking
How safe is the Nissan Rogue?
It's very safe, though some of its individual test scores bear scrutiny. The NHTSA gives the Rogue five stars overall, but its front-impact scores check in at four stars; it gets rounded up thanks to strong side-impact results. The IIHS calls the Rogue a Top Safety Pick+, however, in its tougher test regimen. Every Rogue has blind-spot monitors, automatic high beams, and automatic emergency braking—and Nissan offers ProPilot, its hands-free driver assistance that we've found effective but overly attentive with its warning chimes.
How safe is the Honda CR-V?
The CR-V has earned the IIHS's Top Safety Pick+ designation, thanks to its "Good" crash test results and LED headlights, but the NHTSA hasn't finished testing it. Honda fits automatic emergency braking and active lane control to the CR-V even in base trim, but charges for blind-spot monitors on the LX. A surround-view camera system can be fitted, but Honda's driver-assistance features are somewhat less ambitious and less refined at lane centering than the system in the Rogue.
Advantage: The Rogue, for now.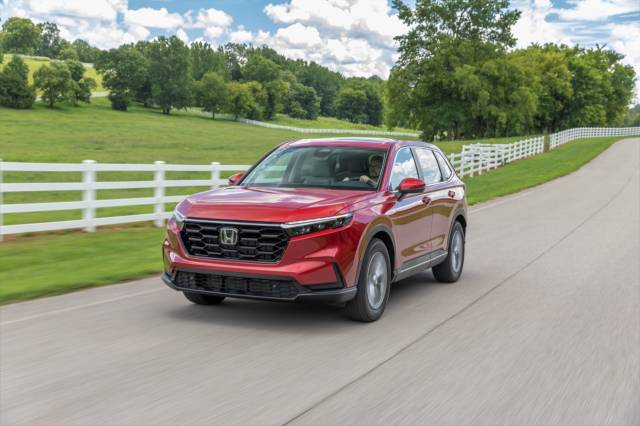 2024 Honda CR-V
Nissan Rogue vs. Honda CR-V styling
The Rogue's more rugged in its stance and details

The CR-V has a derivative rear end, but gets better on the inside

The choice: upscale or outgoing?
Is the Nissan Rogue a good-looking car?
With its semi-tough details and a two-tone roof option, the Rogue has some visual interest to cloak its ordinary crossover outline. The front end gets busy—perhaps a little too busy—with its V-necked grille and the pucker formed by its split LED headlights. It works better as it nears the rear, where the straight shoulder lines and wedged profile give it a BMW-like stance, and where the angled rear pillar plays off the rugged details from past Nissan SUVs.
Inside, the Rogue has a softly bowed dash capped by a touchscreen and dressed in plain black materials in base versions. The low dash and smartly arranged controls break no new ground, but rise in appeal in the Rogue's upper trims, where quilted leather and brighter beige trim become available.
Is the Honda CR-V a good-looking car?
The CR-V mixes the conventional rear end of an SUV that could have come from Volkswagen with a crisp front end adorned with slim LED headlights, a mesh grille, and a balance of design that looks richer and more polished than that of the Rogue. Sport hybrid models get a pop of black at the wheels and around the body with dark exterior trim. If only the rear stood out more: the attractive vertical taillights bring out the interest in what's otherwise a pastiche of premium-luxury SUV cues. It works, but it doesn't stand out.
Where the CR-V excels is inside, with its tasteful accents of metallic trim and a cross-dash band of mesh that hides its joystick-controlled vents. The touchscreen on the dash gets bigger on higher-end models—up to 9.0 inches—but doesn't overwhelm the subtle ambiance. Neither does the discreet finish applied to some of the plastic trim; it's meant to look like carbon fiber, if carbon fiber went to finishing school.
Advantage: Draw.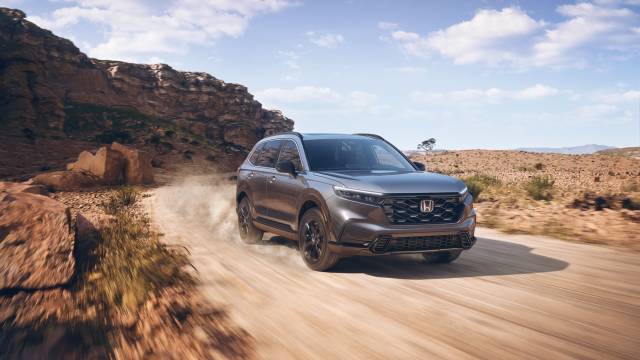 2024 Honda CR-V
Which is better: Honda CR-V or Nissan Rogue?
We give the latest Honda CR-V a TCC Rating of 7.2 out of 10, and that's before all its crash test scores have come in. The combination of its ride and its effortlessly smooth hybrid system has a calming effect on drivers, and its infotainment and safety technology are at least on par for the class, if not better. (Read more about how we rate cars.) The Rogue gets a 6.5 out of 10, with a higher features score but lower figures in fuel economy and performance. It's a great value, its sluggish CVT notwithstanding.
Winner: Honda CR-V, in Sport hybrid trim.