The Jeep Gladiator is an anomaly among mid-size pickup trucks. Based on the Wrangler, it's meant to be an off-roader. The Toyota Tacoma has off-road models as well, but it also does a better job of mainstream customers who drive their trucks every day.
The Gladiator arrived in 2019. As an enthusiast model, it costs considerably more. The Toyota Tacoma's design dates back to the 2016 model year, but it remains the bestselling mid-size truck, so it obviously still appeals to plenty of truck fans.
Rivals for both include the Chevrolet Colorado, Ford Ranger, and Honda Ridgeline. But if you've narrowed your choice down to the bestseller or the truck version of the Wrangler, which is the best choice?
2020 Toyota Tacoma TRD Pro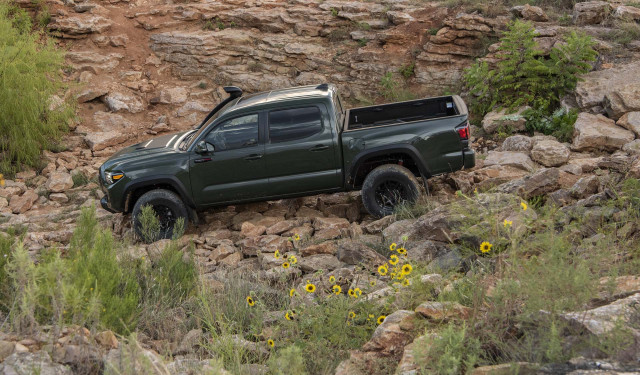 2020 Toyota Tacoma TRD Pro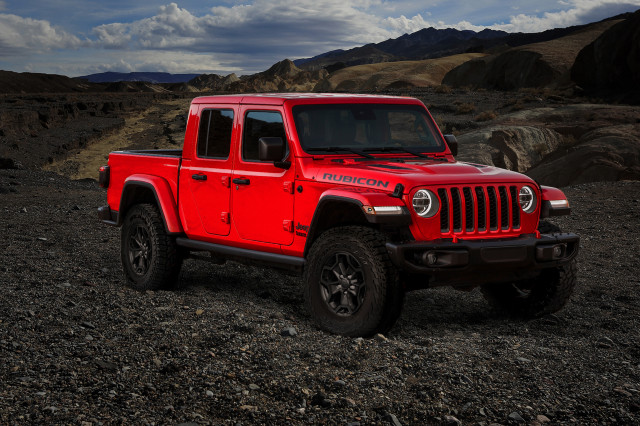 2020 Jeep Gladiator Rubicon Launch Edition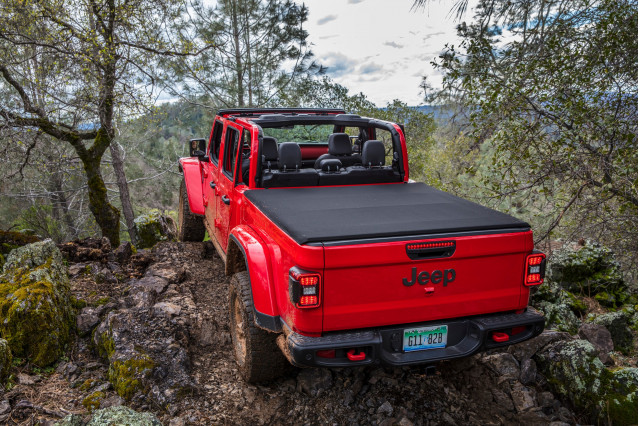 2020 Jeep Gladiator
Gladiator vs. Tacoma prices and features
Base Tacoma costs about $29,000
Base Gladiator costs about $41,000
Best picks: Gladiator Rubicon, Gladiator Mojave, Tacoma SR5, Tacoma TRD Pro
How much is a Jeep Gladiator?
The Gladiator comes in Sport, Overland, Rubicon, and Mojave models, plus a variety of style editions. Like the Wrangler upon which it's based, the Gladiator carries premium prices. The Sport starts just below $41,000. It comes standard with four-wheel drive, cloth upholstery, manual windows and door locks, a 7.0-inch touchscreen infotainment system, a soft top, two front tow hooks and one rear, skid plates for the fuel tank and transfer case, and 17-inch wheels with 32-inch all-season tires.
The Overland approaches $49,000 and gets power windows and locks, an 8.4-inch touchscreen, satellite radio, an Alpine 9-speaker audio system, and 18-inch wheels.
The Rubicon and Mojave models top the line at more than $53,000. They come with the off-road equipment outlined in the "Gladiator vs. Tacoma off-road and 4×4" section.
Jeep backs the Gladiator with a basic 3-year/36,000-mile warranty.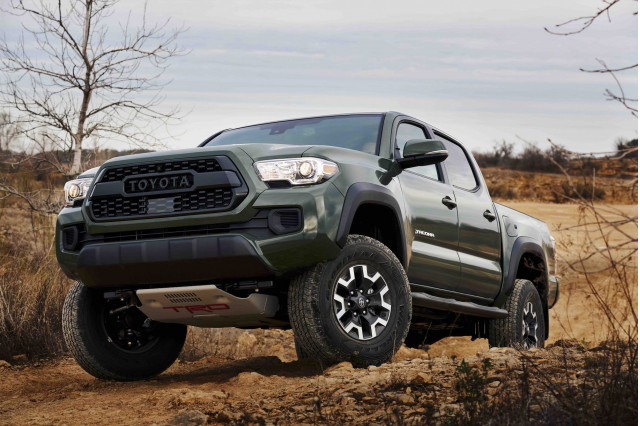 2023 Toyota Tacoma
How much is a Toyota Tacoma?
The Tacoma comes in SR, SR5, TRD Sport, TRD Off-Road, Limited, Trail Sport Edition, and TRD Pro models.
The Tacoma is much more affordable than the Gladiator, though that starts to even out at the top of the lineup. The base Tacoma SR model starts at about $29,000, and it comes standard with engine and front suspension skid plates, cloth upholstery, power windows and doors, a sliding rear window, a 7.0-inch infotainment, Apple CarPlay and Android Auto, and Amazon Alexa connectivity. Four-wheel drive is a $3,000 option and the crew cab body style adds $800. The Tacoma has the same warranty as the Gladiator.
We recommend opting for the extra equipment of the SR5 model, which costs roughly $31,000. It upgrades to an 8.0-inch touchscreen, and adds fog lights, alloy wheels, and keyless entry, plus it opens access to more options packages.
The off-road-oriented TRD Pro runs about $48,000. It comes only as the crew cab with a short bed, four-wheel drive, and the V-6 engine. Off-road goodies include an electronically controlled locking rear differential, an off-road camera system, and 16-inch alloy wheels with all-terrain tires. It also gets more amenities with power-adjustable seats, leather upholstery, navigation, wireless smartphone charging, a premium audio system, LED headlights, and a sunroof.
Advantage: Toyota Tacoma, for its much lower prices.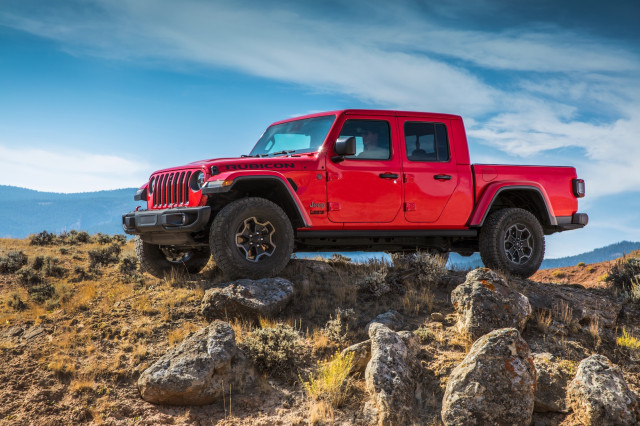 2023 Jeep Gladiator
Gladiator vs. Tacoma performance, fuel economy, towing, and payload
Base Tacoma engine is weak
Gladiator has a strong V-6
Gladiator offers a diesel option
The Tacoma comes with a weak base engine, a 2.7-liter inline-4 that makes an anemic 159 hp. It will get to 60 mph, eventually, and won't even be efficient doing it. It gets the same 21 mpg combined that the V-6 gets. Don't bother.
The better choice is the 278-hp 3.5-liter V-6, which adds about $2,300 to models where it's optional. While it's much stronger than the inline-4, its 6-speed automatic transmission is tuned to shift up quickly for fuel economy's sake, so a heavy throttle foot is needed to get the best power out of the engine. An available 6-speed manual lets drivers determine how to best tap into the power, but long throws take some of the fun out of it.
The base Gladiator engine is comparable to the Tacoma's V-6. It's a 285-hp 3.6-liter V-6 that offers good, but not great power. It comes with either a 6-speed manual transmission that also has long throws or a well-tuned 8-speed automatic. Buyers can also opt for a 3.0-liter inline-6 turbodiesel that makes 260 hp and 442 lb-ft of torque. It doesn't make the Gladiator any faster, but it's torquier and more efficient.
The diesel adds a substantial $4,000 to the price, so it won't pay off in fuel savings, even though it gets 24 mpg combined compared to 19 mpg combined for the gas engine.
The Tacoma is more controlled in everyday driving. Its ride can be choppy due to a solid rear axle and leaf springs, but that's par for the course for mid-size body-on-frame pickups. The Gladiator irons out most bumps with its long wheelbase, but a solid front axle and recirculating ball steering make the steering vague and lead to numerous corrections on the highway.
Towing and hauling are wins for the Gladiator. It can tow up to 7,650 pounds, and carry up to 1,710 pounds of payload. The Tacoma maxes out at 6,800 pounds of towing capacity with its V-6 and 1,685 pounds of payload capacity.
Advantage: Jeep Gladiator for its better engines and greater capability.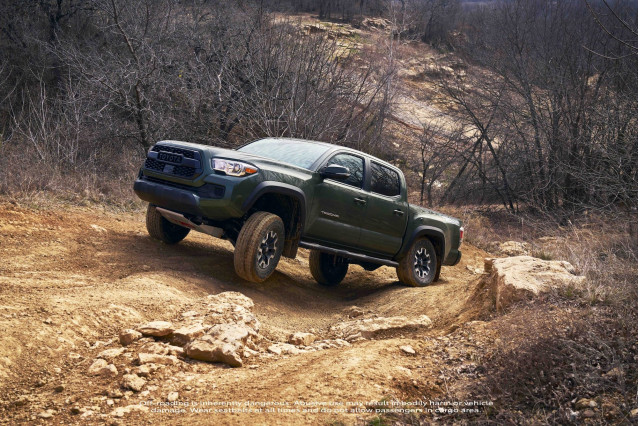 2023 Toyota Tacoma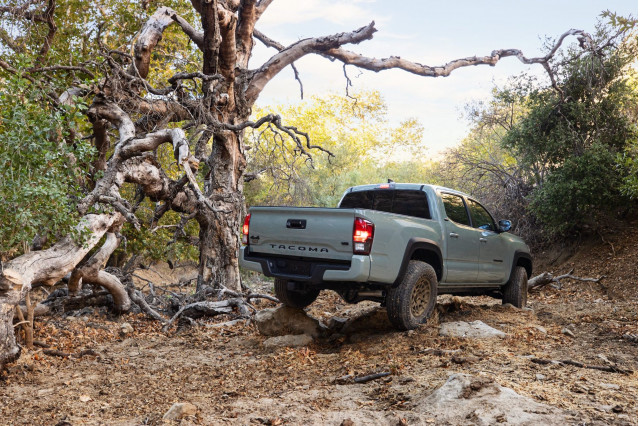 2023 Toyota Tacoma
2023 Jeep Gladiator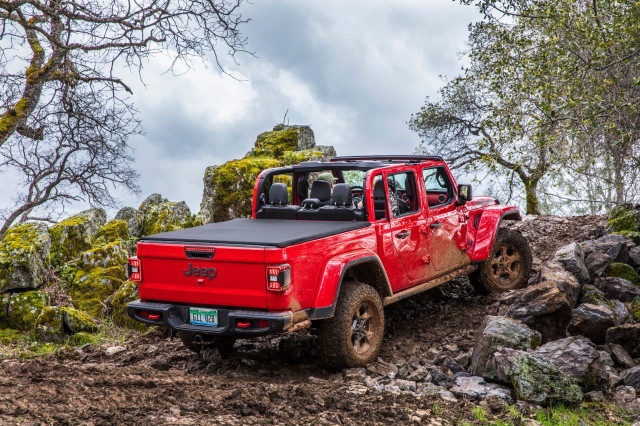 2023 Jeep Gladiator
Gladiator vs. Tacoma off-road and 4×4 systems
Every Gladiator is meant for off-roading
The Tacoma TRD Pro is the way to go
Four-wheel drive is optional on the Tacoma, standard on the Gladiator
The Jeep Gladiator has part-time four-wheel drive standard. A system with low-range gearing is standard on the Rubicon and a full-time version is optional for the Rubicon. The Rubicon is built for low-speed off-roading and the Mojave for high-speed off-roading. Both come standard with Dana heavy-duty front and rear axles that widen the track, a front skid plate, rock rails, and 33-inch all-terrain tires on 17-inch wheels. The Rubicon adds an electronic locking front differential and a disconnecting front anti-roll bar for greater wheel articulation, while the Mojave gets electronic locking front and rear differentials and Fox internal bypass shock to soften the pounding at high speeds off-road. The Mojave also has an Off-Road+ mode that quickens throttle response, holds gears longer, and shuts off traction control to maintain momentum in the dirt. That's some serious off-road equipment.
The Tacoma's available four-wheel-drive system works part time, and Toyota offers three off-road-oriented models. Also offered are a locking rear diff, numerous traction control modes for various surfaces, and off-road cruise control that keeps the truck moving slowly and steadily in tough conditions, like going up or down a steep hill. At the top of the lineup, the TRD Pro has sturdier skid plates, more ground clearance, and Fox shocks of its own.
Both trucks are very capable off-road when properly equipped. The Tacoma TRD Pro has a better breakover angle and a slightly better departure angle, but the Gladiator has a much better approach angle and more ground clearance. It also comes with more off-road variants and more overall capability.
Advantage: Jeep Gladiator. It's a Wrangler pickup, for criminy sakes.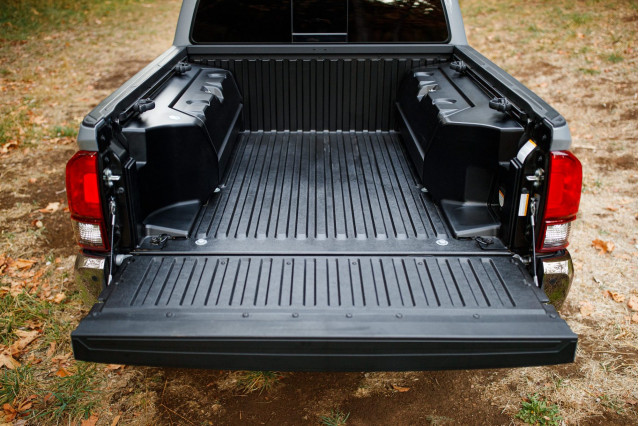 2023 Toyota Tacoma
Gladiator vs. Tacoma size, seating capacity, and bed space
Gladiator has larger rear seats
Tacoma has a second, larger bed option
Gladiator comes as a convertible
How big is the Toyota Tacoma?
Toyota offers the Tacoma as a more traditional pickup truck, with an extended cab with a 6-foot bed or a crew cab with a 5-foot bed. The crew cab is 225.5 inches long, making it 7.5 inches longer than the Gladiator.
The Tacoma's front seat has more legroom than the Gladiator's, but both are spacious. The rear seat can't match the Gladiator's in either the extended cab body style, which has just 24.6 inches of rear legroom, or the crew cab, which has 32.6 inches of rear legroom. Rear headroom is also down by 2-3 inches depending on body style.
The Tacoma has a sliding rear window that the Gladiator doesn't offer, but the Tacoma doesn't come as a convertible. Toyota gives the Tacoma's bed four standard tie-downs on a rail system and a composite bedliner, and offers a tonneau cover and a 120-volt power outlet.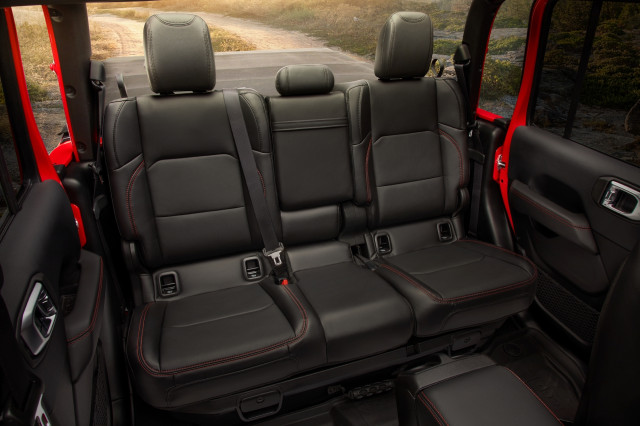 2023 Jeep Gladiator
How big is the Jeep Gladiator?
The Gladiator comes with a 5-foot bed and a 218.0-inch overall length. All models are crew cabs with a convertible top that's offered in two soft top varieties and one modular three-piece hard top. Owners can also take off the doors and order half doors.
Inside, the Gladiator has good headroom and legroom in both seating rows, with the rear seat offering 38.3 inches of legroom and up to 42.8 inches of headroom. Four can be quite comfortable in the Gladiator, and a fifth will work, too.
The Gladiator's bed has cargo lights, and offers a spray-in bedliner, a tonneau cover, a 115-volt power outlet, and a rail-based adjustable tie-down system.
Advantage: Gladiator for more interior versatility, though the Taco has more useful beds.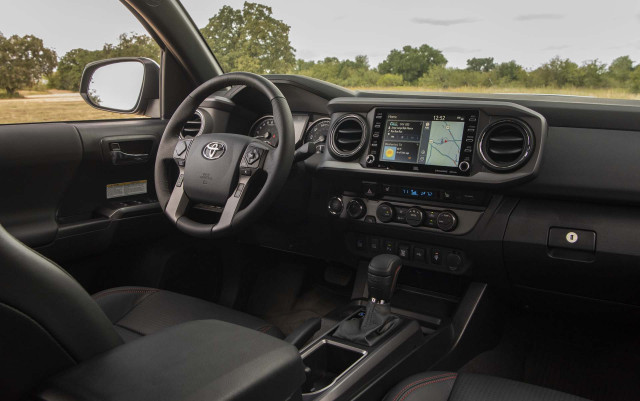 2020 Toyota Tacoma TRD Pro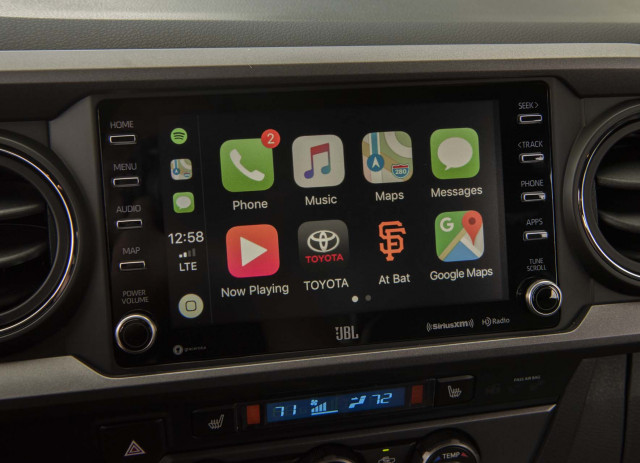 2020 Toyota Tacoma TRD Pro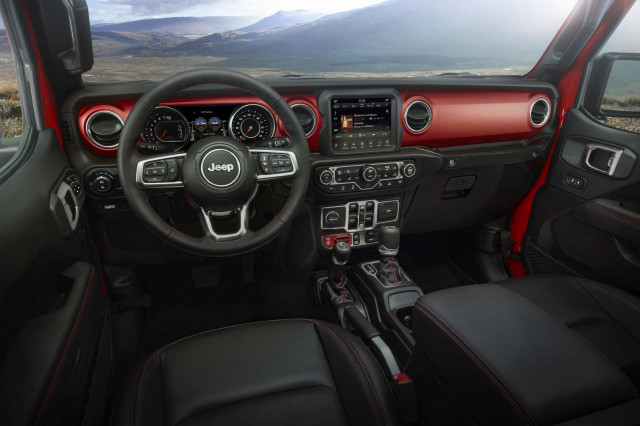 2020 Jeep Gladiator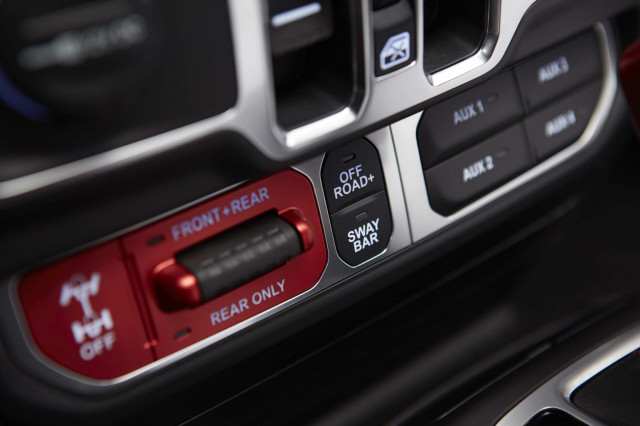 2020 Jeep Gladiator
Gladiator vs. Tacoma styling
Tacoma has traditional styling
Gladiator looks like a Wrangler pickup
Plasticky interiors
Is the Gladiator a good-looking truck?
The Gladiator's looks are unique among mid-size pickups, in part because it's a convertible and in part because it looks like a lengthened Jeep Wrangler. It sports the signature Jeep seven-slot grille up front, round headlights, and a hood that widens to meet a slab-sided body accented by wide fender flares front and rear. In all, the Gladiator is 19 inches longer than a four-door Wrangler, but its rear doors still have an angled cutout at the rear that's not necessary and impedes entry and exit.
A cloth top is standard, and a three-piece hard top is available. Various models have unique parts and graphics to highlight their purpose. The fenders and bumpers can be black or body color, and wheel sizes range from 17 to 20 inches. The overall look isn't elegant, but it's purpose-built and appealing as an enthusiast vehicle.
Inside, the Gladiator has a dash stylized with retro cues including round air vents. The center screen and available digital instrument cluster provide the tech among a plethora of knobs and switches. A pair of levers, one for the shifter, the other for the four-wheel-drive system, highlight how important off-roading is for this vehicle. The materials consist of lots of plastic, and even leather upholstery doesn't provide an upscale ambience, but that's because the Gladiator's interior is made for easy clean after off-roading rather than serenity and luxury.
Is the Toyota Tacoma a good-looking truck?
The Toyota, on the other hand, looks like a more traditional mid-size pickup. It has a large six-pointed grille, wide-set headlights, and round fog lights up front, topped off with a hood scoop. The overall design is blocky but sculpted, with prominent wheel flares, and a strong character line that starts at the rear bumper, draws the body in at the waist, and extends to the front wheels.
Inside, the Tacoma is also plasticky and features larger round vents. The center touchscreen is part of a large bezel that juts out from the middle of the dash. Chunky controls and dials are appropriate for work gloves.
Advantage: Jeep Gladiator for an iconic look.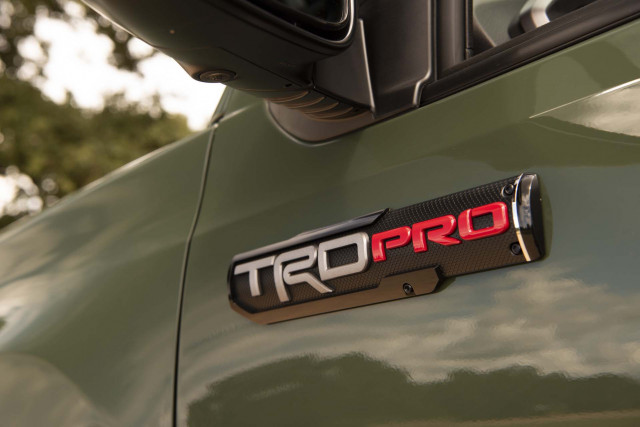 Toyota Tacoma TRD Pro
Gladiator vs. Tacoma safety
Tacoma awarded four stars from the NHTSA
Automatic emergency braking not standard on Gladiator
Tacoma has more standard safety equipment
How safe is the Jeep Gladiator?
The Gladiator is one of very few vehicles on the market that doesn't come standard with automatic emergency braking, which is egregious given the price and competitive environment. All of its safety features are optional. They consist of automatic emergency braking, blind-spot monitors, rear parking sensors, and adaptive cruise control.
The Gladiator also didn't perform well in the few crash tests it has undergone. The NHTSA gives it a four-star rating out of five for front crash performance and a three-star rating for rollover resistance, but doesn't provide an overall rating. Similarly, it earns subpar ratings from the IIHS, with "Good" ratings for the moderate front overlap and roof strength tests, a "Marginal" for the small front overlap test, and "Marginal" at best for its headlights.
How safe is the Toyota Tacoma?
Much safer than the Gladiator.
The Tacoma has complete crash-test scores. It beats the Gladiator with four stars in the rollover test and four stars overall from the NHTSA. In IIHS testing it gets mostly "Good" scores, except the passenger side front overlap test where it gets an "Acceptable" rating, the updated side test where it earns a "Marginal" rating, and a "Marginal" rating for its optional headlights.
To Toyota's credit, the Tacoma comes standard with automatic emergency braking, adaptive cruise control, lane-departure warnings, and automatic high beams. Buyers can also get blind-spot monitors, rear parking sensors, and a surround-view camera system.
Advantage: The Tacoma by a mile.
2023 Jeep Gladiator
Which is better: Gladiator or Tacoma?
It couldn't get any closer between these two. The Gladiator has more off-road capability, isn't saddled with a weak base engine, tows more, and it's the lone convertible in the class. The Tacoma, however, is more affordable and far safer. Both earn a TCC Rating of 4.8 out of 10. (Read more about how we rate cars.)
The Gladiator is the better lifestyle choice. Buy it if you're going to take the top off and/or hit the trails. The Tacoma works better as an everyday driver, with better safety, more useful beds, and more affordable prices. In the end, we don't make a recommendation, and leave it up to the buyer's priorities for which one to choose.
Winner: Draw.