I have two teenagers, a boy and a girl. One tallish, one smallish; one bookish, one jockish; in most things they are opposites. Except in their shared appreciation for the 2023 Hyundai Santa Cruz small pickup truck.
Save my soul, they are both driving age and they share a desire to not have a boring car. Don't quit on this generation yet. They keep talking about the Santa Cruz, more so than any other car and despite my steering them towards the Ford Maverick hybrid.
"I can throw my stuff in the back and lock it," my daughter said about the built-in tonneau cover and her stinky hockey gear.
"It just looks cool," my son said.
"Cooler than 37 mpg combined?" I retorted in reference to the ongoing Maverick versus Santa Cruz debate.
"This one has AWD."
He was right. And my pointing out the 22 mpg combined on the Santa Cruz AWD tester didn't dissuade either of them from the coolness factor that lingered long after my week-long loan of a top 2023 Hyundai Santa Cruz Limited AWD.
Here were the main points of debate.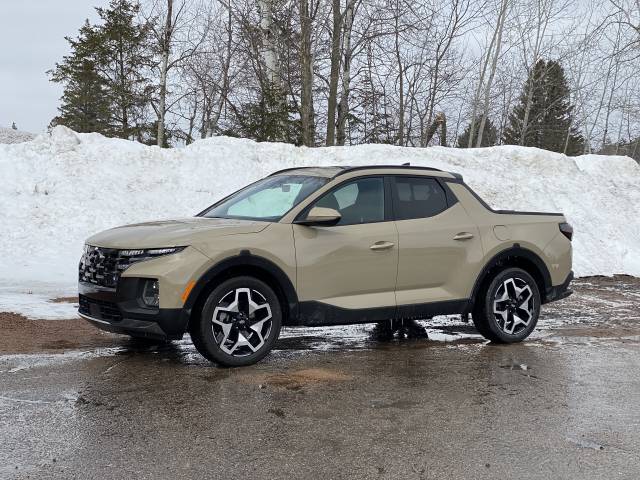 2023 Hyundai Santa Cruz
Pro: It just looks cool
I can't get more out of them on this. Is it the Tucson's winged grille tipped with daytime running lights? The chunky headlight housings, the black cladding, the pentagram running-man wheels? Or is it just an antidote to all the boring crossover SUVs, which itself was an antidote to the boring minivans I grew up with? They're not nearly as enamored of El Caminos. And a neighbor swapped out her Nissan Murano Cross Cabriolet for a Santa Cruz. I had to mention it. Whatever the case, different is cool, and the Santa Cruz has it.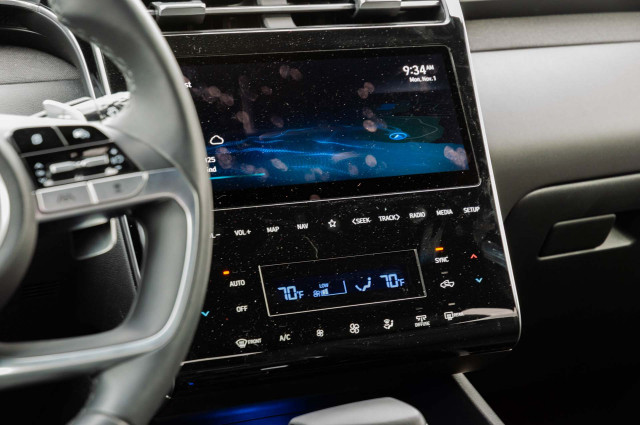 2022 Hyundai Santa Cruz Limited AWD
Con: Crime scene touchscreen
The Santa Cruz shares more than just a platform with the Hyundai Tucson. The one downside of that is the reliance on shiny gloss black plastic on the entire center stack, from the 10.3-inch touchscreen to the touch-sensitive climate panel below it. It holds dust and fingerprint smudges like a crime scene, and when sunlight hits it, germophobes must look away. I might as well add to the chorus of complaints about Hyundai's larger touchscreens' incompatibility with wireless Apple CarPlay and Android Auto, despite the tester's wireless smartphone charger.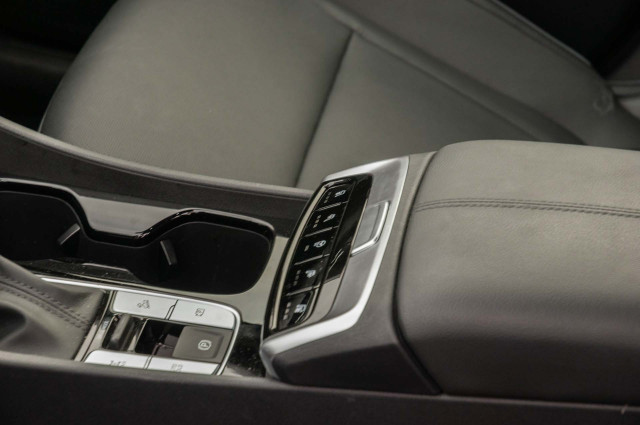 2022 Hyundai Santa Cruz Limited AWD
Pro: Control layout
On the Limited trim, the center console armrest has a diving board edge for the heated and cooled seat buttons. They're not hidden in the touchscreen or crammed in a crowded panel of smudgeable climate buttons. You don't even have to move your arm to change the setting.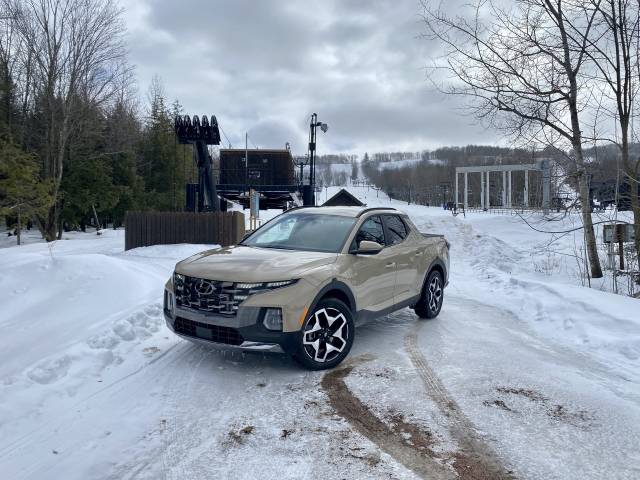 2023 Hyundai Santa Cruz
Con: Relatively inefficient
The Santa Cruz can be had with one of two powertrains carried over from the Tucson, but neither of them is a hybrid or a plug-in hybrid. The base inline-4 with front-wheel drive has an EPA rating of 22 mpg city, 26 highway, 23 combined. The tester's turbo-4 with all-wheel drive has a 19/27/22 mpg rating. A hybrid option would make it stand strong against the Maverick.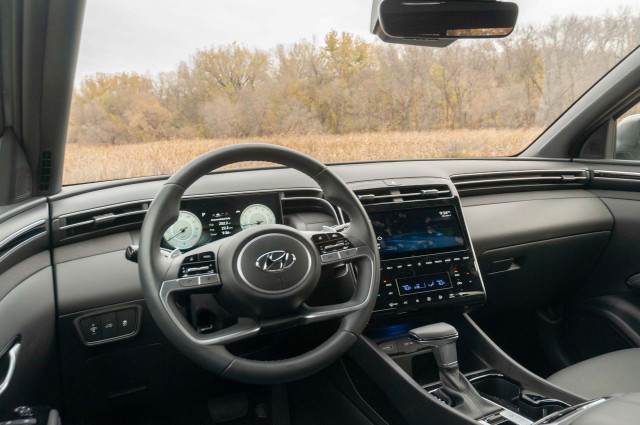 2022 Hyundai Santa Cruz Limited AWD
Pro: Drives like a crossover
Hyundai equips the Santa Cruz with a self-leveling rear suspension shared with the larger Hyundai Palisade that detects vehicle load and ratchets up the stiffness when the bed is loaded. When it's unloaded, it rides as quiet and comfy as a crossover thanks in part to its independent suspension and unibody design. From inside, the only tell that it has a bed comes from the available power sliding rear window.
I still haven't tested the standard 2.5-liter inline-4 that makes 191 hp and 181 lb-ft. I might prefer it for my teens over the 2.5-liter turbo-4 that makes 281 hp and 311 lb-ft. It's a sporting choice I love, but I don't want them testing a 60-mph sprint in the sub-seven-second range.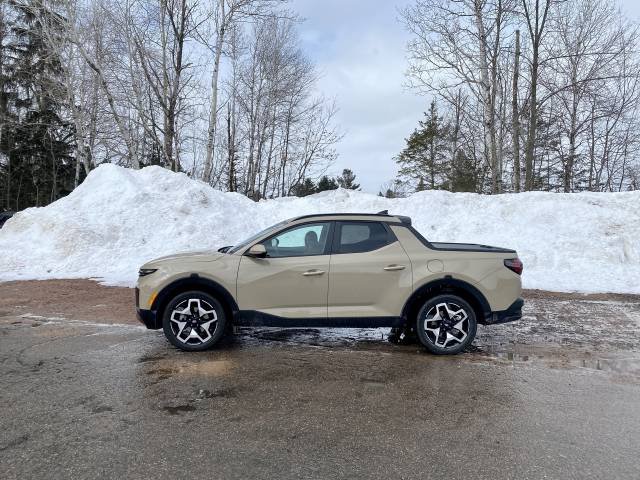 2023 Hyundai Santa Cruz
Pro: Parks like a crossover
More than a foot longer than the Tucson and 1.6 inches wider, the Santa Cruz poses a problem I never thought of until I had teen drivers: the perils of the high school parking lot. I've heard at least half a dozen stories from friends whose teens scraped a pole or a bumper in a lot full of bad judgment. But it's 4.0 inches shorter than a Ford Maverick, so it's somewhat easier to negotiate tight spots.
It also comes standard with automatic emergency braking and blind-spot monitors and rear cross-traffic avoidance that automatically hits the brakes if it detects a vehicle moving perpendicular in the path of a Santa Cruz that's backing up.
Con: Expensive
The base SE starts at about $27,000, which is about $2,000 more than the Maverick hybrid. AWD adds $1,500, which is reasonable. There's no way I would get them a Limited like my tester that exceeded $41,000. The Santa Cruz is too new to be affordable as a used car, so if anyone can spare the winning Lotto numbers, hit me up.
Pro: 5-year/60,000-mile basic warranty
And it comes with three years or 36,000 miles worth of scheduled maintenance.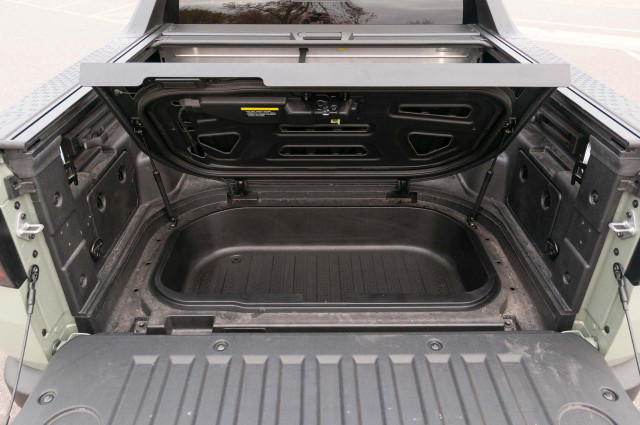 2022 Hyundai Santa Cruz Limited AWD
Con: Small, bowed bed
The bed is hardly a con, but it's smaller than the Maverick's. It measures out to 48.4 inches at the top, and wider at the bottom. Sure, sheets of plywood will fit over the wheel wells with straps, and the gate set at a mid-setting, but this bed is more for play than work with a 660-pound payload.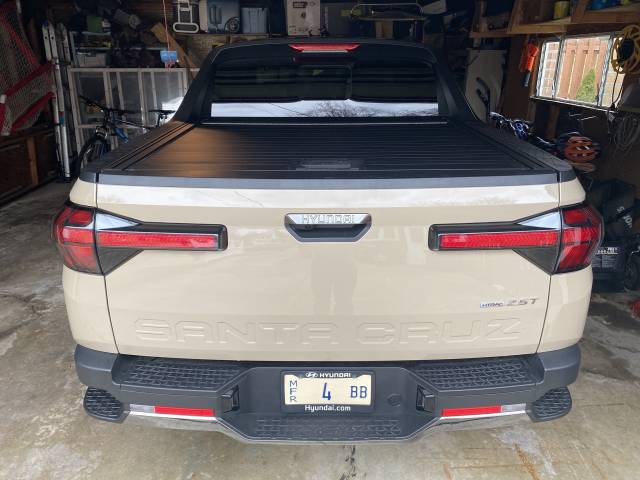 2023 Hyundai Santa Cruz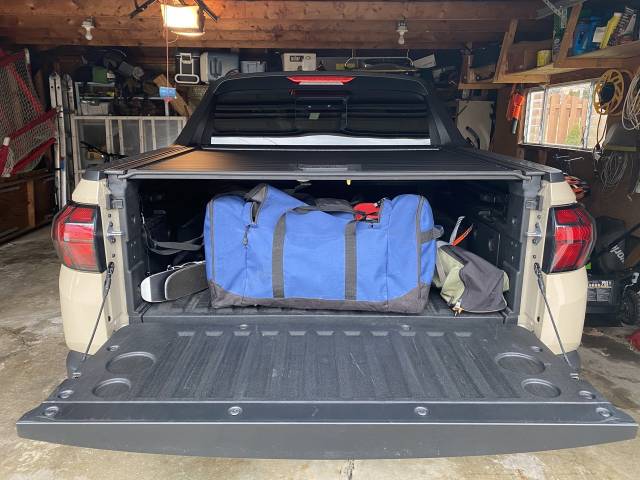 2023 Hyundai Santa Cruz
2023 Hyundai Santa Cruz
Pro: Lockable tonneau cover
On most Santa Cruz trims, a built-in tonneau cover with a lock comes standard. We hauled stinky hockey goalie stuff back there, and fit two pairs of snow skis diagonally in ski bags, but the longest measured only 173 cm. Taller skiers might need a rack, or to leave the tonneau cover in the half open position. To lock it, give a 90-degree turn to the small turnkey on the underside of the cover; it won't lock even though the power tailgate opens and locks with the fob.
The cover remains within reach from the tailgate by a strap attached to the bed wall with a carabiner, which seems like an afterthought, and like many other tonneau covers, if someone really wanted to break in, they could bust through it. A locking cargo floor doubles up on security.
Overall, the lockable tonneau is a great feature to have straight from the factory, and it keeps contents safe from the weather and out of view from fools.
The kids are alright and the kids are right when it comes to the Santa Cruz. Let's see how much the summer jobs help.
_______________________________________
2023 Hyundai Santa Cruz Limited AWD
Base price: SE costs $26,595 including $1,295 destination
Price as tested: $41,825
Drivetrain: 281-hp 2.5-liter turbo-4 with an 8-speed dual-clutch automatic and all-wheel drive
EPA fuel economy: 19/27/22 mpg
Pros: Cool bod, good ride, bed storage and functions, excellent warranty
Cons: Price, bed shape, smudgy stack, no hybrid option