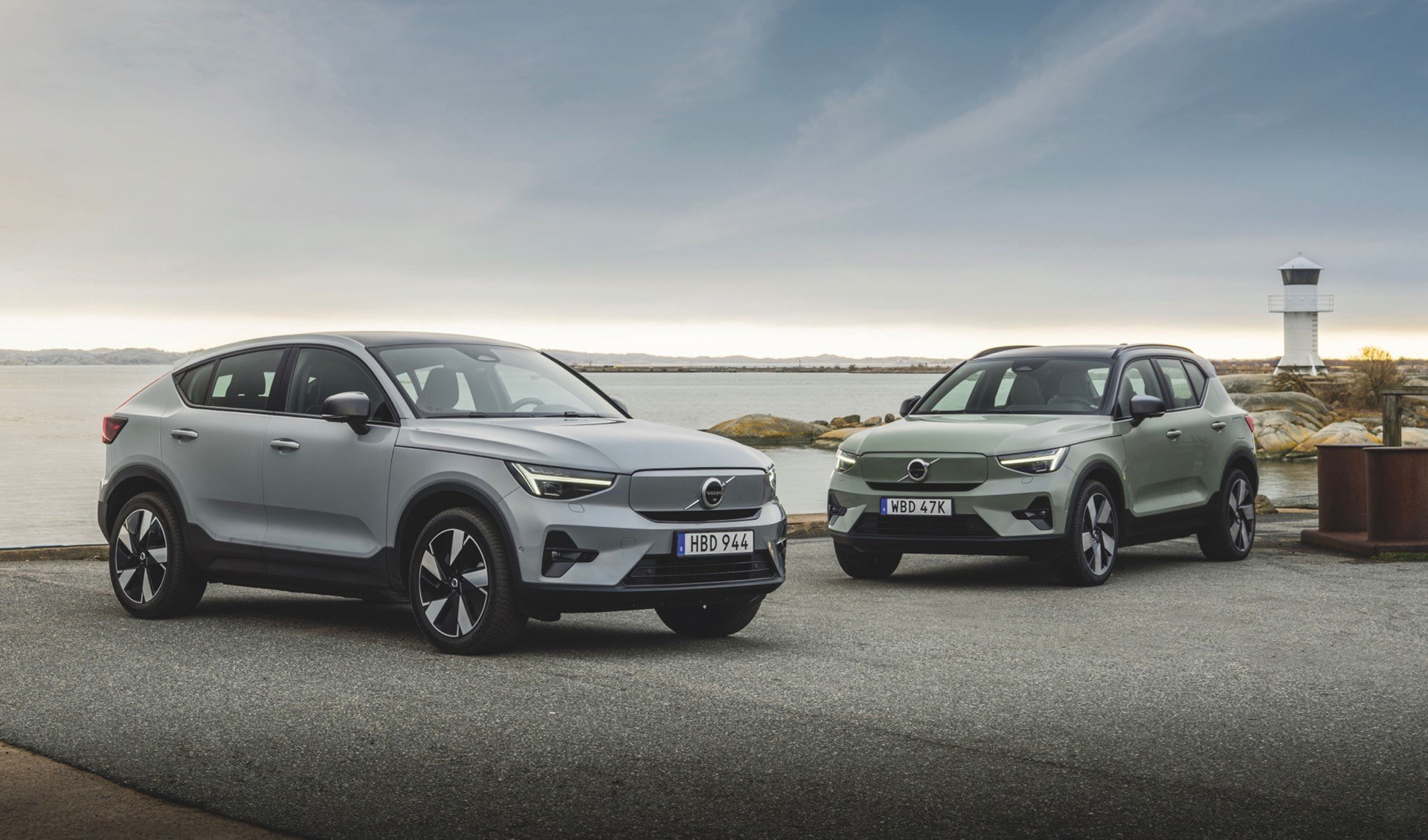 The 2024 Volvo XC40 Recharge and C40 Recharge ring in the new model year with increased range, larger motors, and a rear-wheel-drive option, Volvo announced this week. The small electric crossovers also point the brand in a clear direction on its march to exclusively making battery electric vehicles by 2030.
The biggest development for Volvo's electric cars is the introduction of a rear-wheel-drive option. Volvo says it's the first time in 25 years that a rear-wheel-drive Volvo has been offered in the U.S. As a harbinger of its 2030 plan, the permanent magnet motor driving the rear axle has been developed in-house by Volvo, instead of sourced from another company.
"These updates are another big step in our work towards becoming a fully electric car maker by 2030," Javier Varela, chief operating officer at Volvo Cars said in a statement.
The extended-range, rear-drive variants of the C40 Recharge and XC40 Recharge now use a 248-hp motor fed by a larger 82-kwh battery pack. The combination affords an EPA-estimated range of 297 miles for the curvier C40 and 293 miles for the blockier XC40. That's a big difference compared the dual-motor models that launched in 2021 with 226 and 223 miles, respectively. We expect them to be cheaper, too, when pricing is announced this summer.
The larger battery pack can be DC fast charged at a rate of 200 kw, resulting in a 10-80% charge in just 28 minutes, according to Volvo.
The dual-motor models also get upgrades. The 78-kwh battery pack remains the same, but it feeds larger motors, with a Volvo-made rear motor rated at 255 hp and a new asynchronous front motor that makes 147 hp. The front motor can be decoupled from the rear to allow for a more rear-wheel-drive character and to use less energy. That contributes to a range boost from 223 miles in the 2023 Volvo XC40 to 254 miles, and from 226 miles in the 2023 Volvo C40 to 257 miles.
More details, including pricing and trim levels, will be announced soon.