When the Hyundai Palisade launched for 2020, finally giving the brand a proper three-row crossover SUV, it was nearly 20 years after Toyota launched the Highlander. It learned some things from Toyota's family hauler benchmark, with a roomier third row and luxury leaning features and design. Now Toyota is learning from Hyundai.
It launched a larger, more luxurious version dubbed the Grand Highlander for 2024. Meanwhile, Hyundai refreshed the Palisade in 2023 with upgraded standard features and an off-road adjacent XRT trim.
Toyota still sells nearly three times as many Highlanders as Hyundai sells of the Palisade, but the gap in the highly competitive three-row crossover SUV segment has been narrowing. Toyota aims to reverse that trend with two Highlander models to choose from, as well as two hybrid powertrain options.
Is it enough to subdue the Palisade, and keep shoppers coming to Toyota? The Palisade remains an alluring value but for the first time, the Grand Highlander offers a roomier third row and more cargo room.
Here's how the two measure up in size, price, driving feel, efficiency, roominess, safety, and other factors critical to shoppers.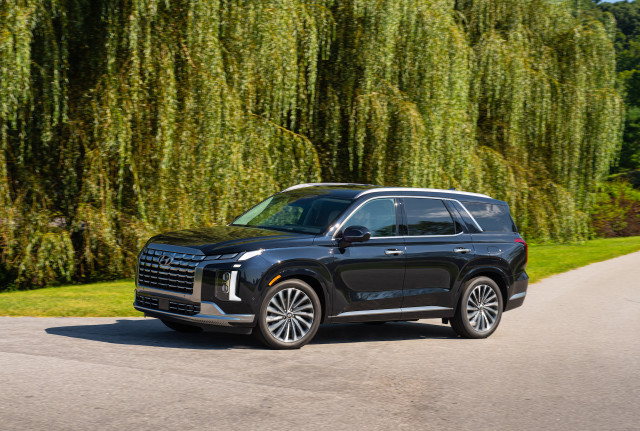 2024 Hyundai Palisade preview
2024 Toyota Grand Highlander
Hyundai Palisade vs. Toyota Highlander price and trims
Highlander and Palisade cost between $38,000-$54,000

Grand Highlander XLE costs about $44,500-$60,000

Highlander comes in L, LE, XLE, XSE, Limited, and Platinum models

Grand Highlander sold in XLE, Limited, and Platinum trims

Palisade offered in SE, SEL, XRT, Limited, and Calligraphy grades

Best picks: Hyundai Palisade SEL for less than $41,000; Toyota Grand Highlander XLE for $44,500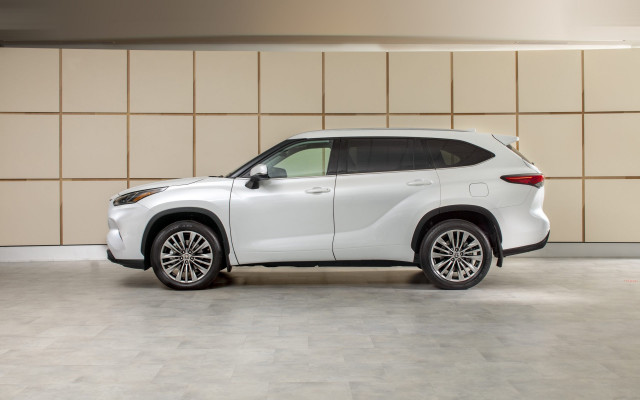 2023 Toyota Highlander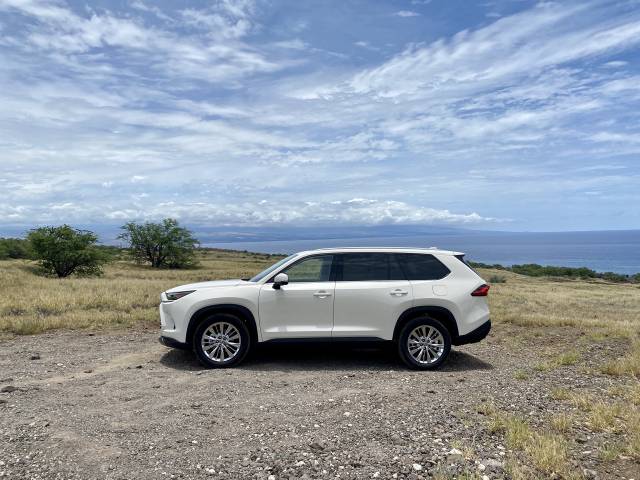 2024 Toyota Grand Highlander
Which Toyota Highlander should I buy?
The $37,955 Highlander L (including a $1,335 destination fee) comes with an 8.0-inch touchscreen with Apple CarPlay and Android Auto, a power driver seat, cloth upholstery, and 18-inch wheels. All Highlanders get an average 3-year/36,000-mile warranty, though Toyota throws in two years or 25,000 miles of scheduled service.
All-wheel drive costs between $1,600-$1,950, with the higher price tacked on to higher trims. The hybrid option is available on the $40,000 LE and above grades for a reasonable $1,600 upcharge.
The Grand Highlander starts at the XLE grade for $44,500, and the XLE trim appeals as the best value in both Highlanders. Equipment includes power front seats that are heated and covered in synthetic leather, a 12.3-inch touchscreen with wireless smartphone connectivity and a wireless smartphone charger, a power tailgate, and blind-spot monitors. A relative deal, the Grand Highlander only costs an extra grand more than the standard Highlander XLE.
From there, Toyota gets grandiose with the Grand Highlander in Limited and especially the top Platinum trim. That model comes standard with the most potent hybrid engine for nearly $60,000. Fitting into the premium segment in price and features, it includes a panoramic sunroof, heated and cooled front and second-row seats, a surround-view camera system, and a head-up display.
We'd stick with the Grand Highlander XLE for the extra space and good feature set.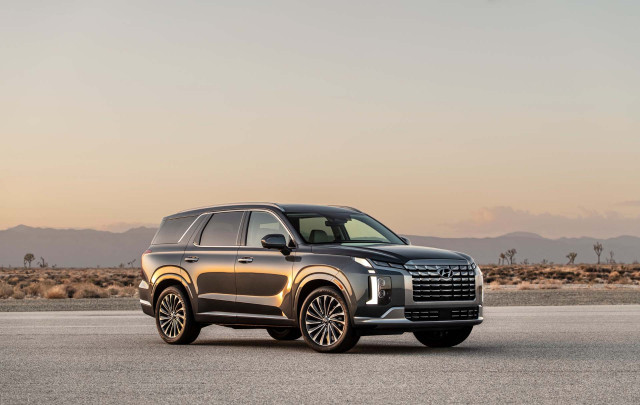 Which Hyundai Palisade should I buy?
Consider the base SE but give in to the SEL.
The Palisade has the same exact $1,335 destination fee, but starts at about $700 less to $37,235 for the Palisade SE. It's cheaper and better equipped, including a 12.3-inch touchscreen with navigation but it still requires wired smartphone connectivity. USB ports in the first two rows and three-zone climate control keep it family friendly, as do power second-row seats. The whole family might not appreciate it except for the ones controlling the pursestrings, but Hyundai's industry-leading 5-year/60,000-mile warranty includes three years or 36,000 miles' worth of scheduled maintenance. That itself could be a dealmaker.
All-wheel drive adds $1,900 across the board.
For $3,000 more, the SEL adds synthetic leather seats, power front seats that are heated, second-row captain's chairs, a wireless smartphone charger, and a power tailgate.
The $4,950 Premium Package tempts with 20-inch wheels, a 12.3-inch digital instrument cluster, front parking sensors, a surround-view camera system, a sunroof, memory for the driver's seat, a heated steering wheel, heated second-row seats, cooled front/middle row seats, a blind-spot camera, plus the automaker's more advanced adaptive cruise control system. That brings the total to just over $45,000, and it's better equipped than the Highlander XLE models.
Advantage: Hyundai Palisade.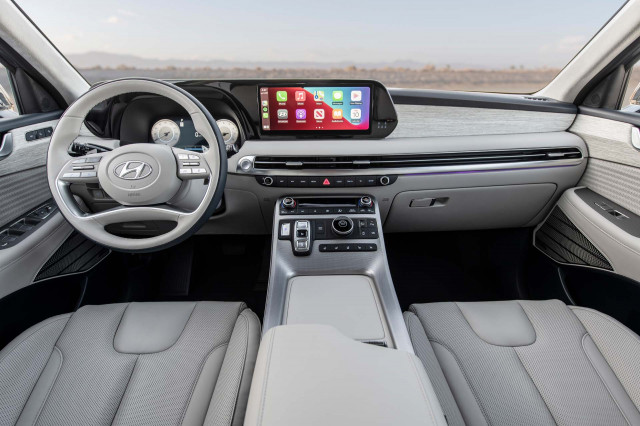 2023 Hyundai Palisade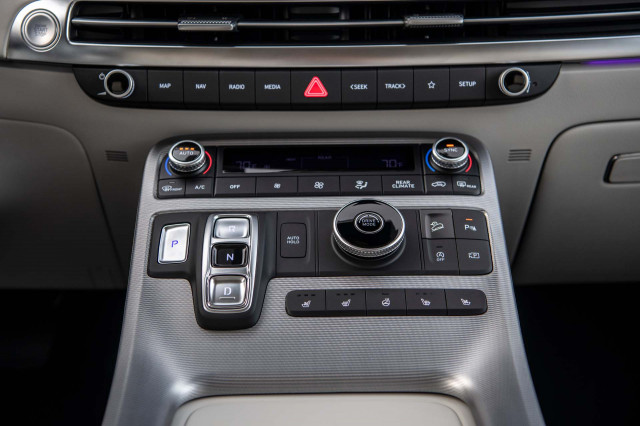 2023 Hyundai Palisade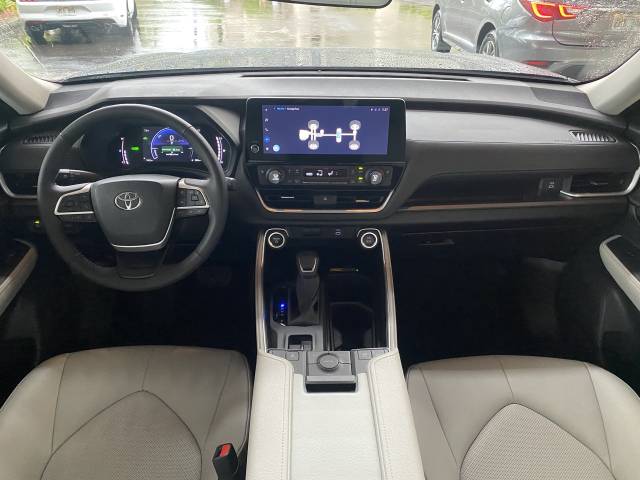 2024 Toyota Grand Highlander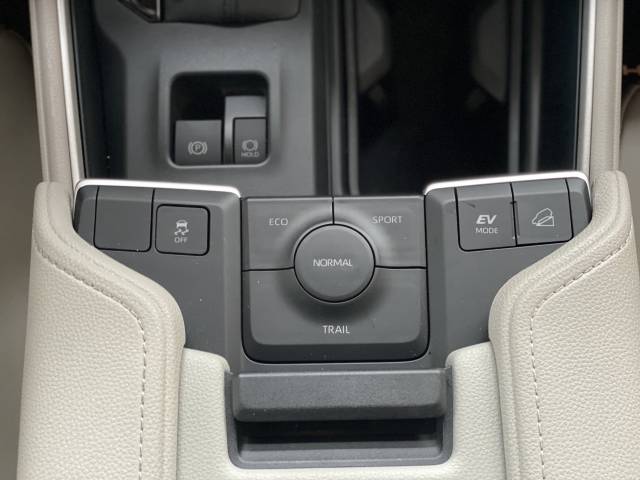 2024 Toyota Grand Highlander
Highlander vs. Palisade interior and exterior design
The Palisade may not pop like the Kia Telluride, but it's handsome enough

The Highlander carries over, the Grand Highlander stands out

The Palisade cabin outshines the Grand Highlander's
Is the Toyota Highlander a good-looking SUV?
It depends. The Grand Highlander dwarfs the carryover Highlander that appears dated in comparison. The ends of the standard Highlander have gotten sharper, giving it an edge, but it still wears the same body bulge that rises over the rear fender as in the Sienna minivan.
Not only is the Grand Highlander 6.5 inches longer, 2.3 inches wider, and 2.0 inches taller than the Highlander, it's smoother and more sophisticated than the Highlander. The vertical face and scalloped rocker panels look more like the Palisade than the Highlander, but Toyota wraps the backend in a more cohesive package than the Hyundai.
The Grand Highlander benefits from newness inside with an available 12.3-inch touchscreen that fits better in the dash, even if it sticks up like a digital thumb. Storage spaces abound in either model, with a smart shelf above the glove box highlighting the space optimization. An electronic gear shifter that takes up a lot less space than the mechanical shifter in the Highlander.
Is the Hyundai Palisade a good-looking car?
Refreshed for 2023, the Hyundai Palisade gets busy on the outside with a wide cascading grille plated like a printing press, and tipped with indicator lights. The DRLs stand upright, flanking stacked headlight housings. It projects either assertiveness or confusion. It would be harder to argue the merits of the chrome band that splits the C-pillar and separates the rear quarter window from the rest of the greenhouse. The XRT model has dark trim elements, fake skid plates, black roof rails, black 20-inch alloy wheels, power sunroof, and black synthetic leather inside.
Hyundai smoothed out the Palisade's interior, starting with a standard 12.3-inch touchscreen housed under the same curving piece of glass as the instrument cluster. A slim band of vents underlines the screen, which itself is underscored by a thin panel of climate and menu controls. It combines to give the dash a low, horizontal profile that evokes roominess. The console holds an electronic gear dial and has a welcome blend of hidden storage compartments and soft-touch surfaces lined with metal trim.
Advantage: Grand Highlander exterior, Palisade interior.
Palisade vs. Highlander size, seating comfort, and cargo capacity
All three have three rows of seats for eight passengers

Grand Highlander is 201.4 inches long, with a 116.1-inch wheelbase

Highlander is 194.9 inches long, with a 112.2-inch wheelbase

Palisade is 196.7 inches long, with a 114.2-inch wheelbase

Palisade splits the difference in size between the Highlanders
The Grand Highlander outsizes both the Palisade and the standard Highlander first as it is the roomiest and most spacious for passengers. But the Hyundai Palisade simplifies seat folding. All three models have three seats in the third row and available captain's chairs in the second row.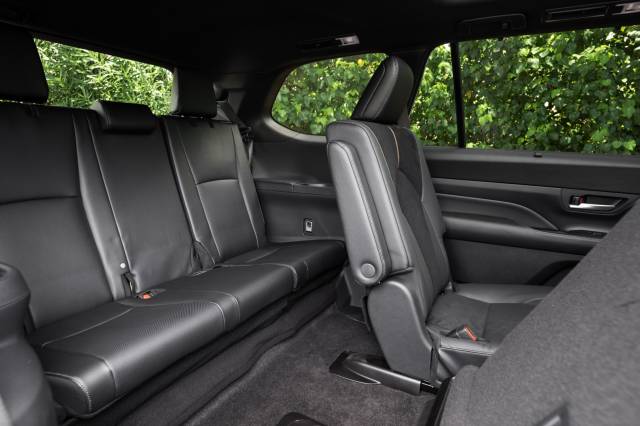 2024 Toyota Grand Highlander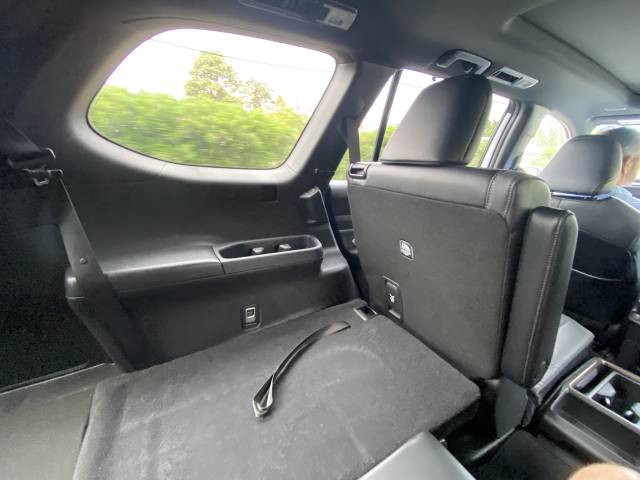 2024 Toyota Grand Highlander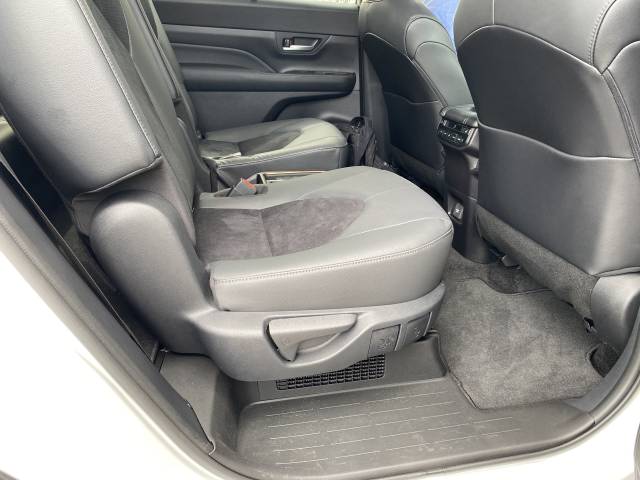 2024 Toyota Grand Highlander
How big is the Toyota Highlander?
Grand Highlander cargo room measures 20.6 cubic feet behind the third row, 57.9 cubic feet behind the second row, 97.5 cubic feet with both rear rows flat

Highlander cargo space is 16.0/48.4/84.3 cubic feet

Grand Highlander third-row legroom is 33.5 inches, compared to 27.7 inches in the standard Highlander
Consistent with their sizes, the Hyundai Palisade splits the difference in roominess and cargo space between the Grand Highlander and the standard Highlander. All three can seat eight passengers, but the Grand Highlander does it best.
It comes standard with captain's chairs and seating for seven, though Toyota offers a mid-row bench at no cost. The Grand Highlander has 1.5 inches less second-row legroom than the standard Highlander at 41.0 inches, and the seats sit on a shelf that's about four inches high to make room for the hybrid battery pack. The shelf is there on gas or hybrid Grands, and the floor stays elevated in the third row, so your knees ride a bit higher.
With 33.5 inches of rear legroom, and built-in dual cupholders above the wheel wells, it's roomy enough back there even with the panoramic sunroof to fit two adults as long as the mid-row passengers slide their seats up halfway to allow for more toeroom.
From the cargo area, pull straps collapse the wayback seats and their headrests, simplifying folding of the 60/40-split third row. Levers on the side of the seats and latches on the top of the second-row seats could be a challenge for smaller hands, especially compared to the push-button second-row seats standard on the Palisade.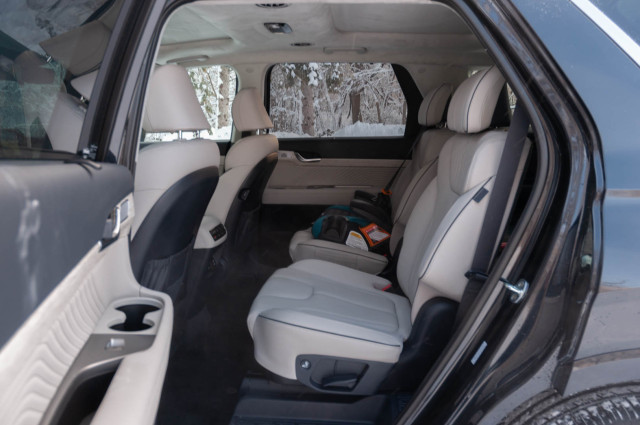 2023 Hyundai Palisade
2023 Hyundai Palisade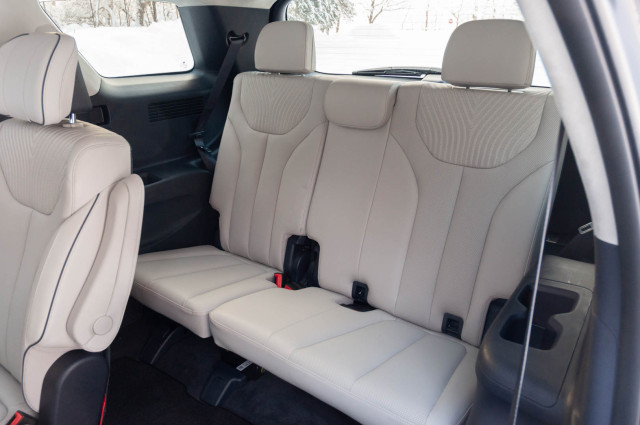 2023 Hyundai Palisade
How big is the Hyundai Palisade?
Cargo space measures out to 18.0/45.8/86.4 cubic feet

Second-row legroom is 42.4 inches

Third-row legroom is 31.4 inches
The Palisade's rear seats are easier to operate for the whole spectrum of potential passengers than those in either Highlander. One finger press slides the second row forward for easy egress to the third row, and getting out is just as easy. The third row reclines, and also has cupholders and USB ports in most grades, while top trims have heated and cooled seats, as well as power folding functions. The 31.4 inches of rear legroom is above average for the third-row class.
Front-seat occupants get the comfiest thrones, with power adjustments and heating on all but the base model. Plenty of bolstering and lumbar support, as well as pillowy cushions, provide enough comfort to ignore most of the bickering from the rear rows on road trips.
There's enough room in back behind the third row for everyone to stow a rollaboard for each passenger.
Advantage: Grand Highlander space, Palisade seats.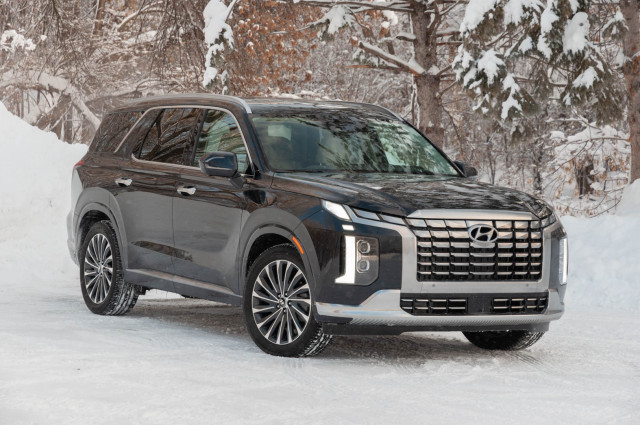 2023 Hyundai Palisade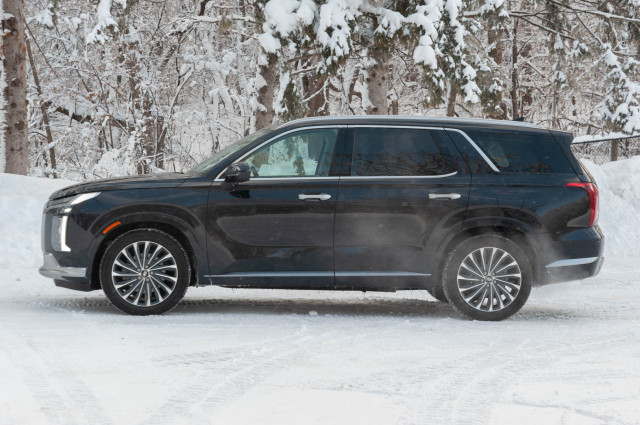 2023 Hyundai Palisade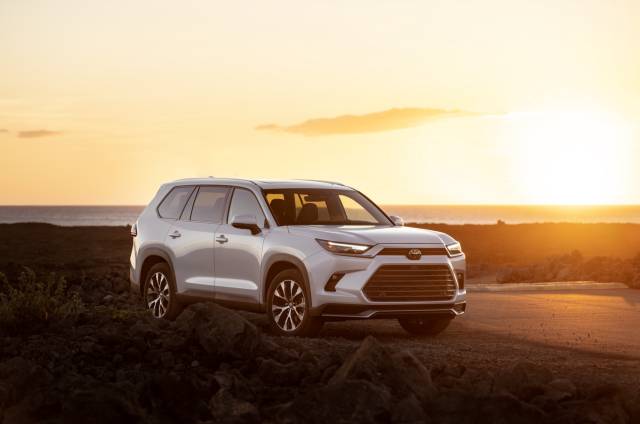 2024 Toyota Grand Highlander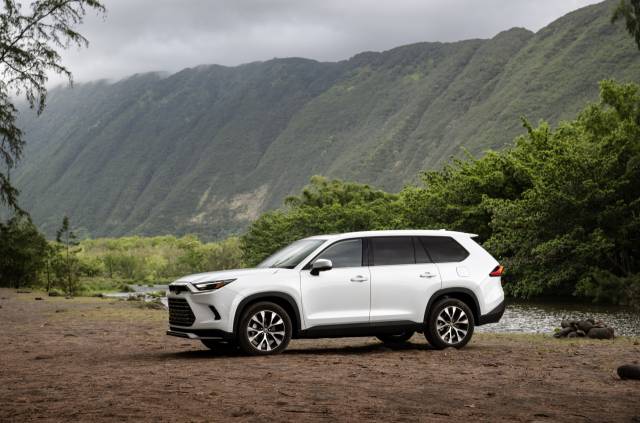 2024 Toyota Grand Highlander
Toyota Highlander vs. Hyundai Palisade towing, off-road, and performance
Highlander has three engine options, including two hybrid choices

Palisade presents only a 291-hp V-6 that makes 262 lb-ft of torque

Towing maxes out at 5,000 pounds in both models
Is the Hyundai Palisade 4WD?
It can be, for an extra $1,900. Front-wheel drive comes standard, but AWD models add a locking center differential with additional Snow and Tow modes. The locking center diff splits the torque evenly between the axles under 40 mph for better traction on slick or muddy surfaces.
The Palisade is built for comfort, not speed or climbing ability. It rides soft, and handles like it'd rather not be pushed, and that's fine, as it does a good job insulating the road from the driver. It has a self-leveling rear suspension that keeps it balanced instead of sagging while towing up to 5,000 pounds.
How fast is the Hyundai Palisade?
The 291-hp 3.8-liter V-6 pairs with an 8-speed automatic that has good power off the line, and it downshifts quick enough or can be overridden with paddle shifters to hustle the bulky SUV on passing moves. Four drive modes (Smart, Sport, Eco, and Comfort) change the throttle mapping, so the pedal is mushier in Eco mode and springier in Sport mode, but it's best left alone in Smart mode. It lacks the grunt of the Grand Highlander Hybrid Max, but packs a much bigger punch than the Highlander hybrid.
Is the Toyota Highlander 4WD?
Both Highlanders come with front-wheel drive, while AWD will add between $1,600-$1,950 depending on trim. The basic setup splits off half the power to the rear wheels when slip happens for all-wheel drive on demand. Limited and Platinum gas Highlanders have torque vectoring across the rear axle for more precise power delivery and better handling. The AWD hybrid adds a third motor powering the rear axle when called upon.
The hybrid powertrain exclusive to the Grand Highlander uses a full-time all-wheel-drive system that routes torque based on driver inputs and modes: Sport mode has more rear axle torque for better takeoff, and Snow or Rock & Dirt modes have low-speed torque more evenly apportioned for more traction.
How fast is the Toyota Highlander?
It ranges from pokey, to punchy, to palpable.
The 2.5-liter inline-4 hybrid with two front motor generators available on both Highlander models makes 243 hp and 175 lb-ft and gets around to 60 mph in 7.9 seconds. With a light foot and the right circumstances, it runs in silent EV mode up to about 15 mph; a heavy foot or an uphill climb might make it protest. Its charm is in efficiency, not assertiveness. Towing is limited to 3,500 pounds.
Base versions of both Highlanders share a 2.4-liter turbo-4 that makes 265 hp and 310 lb-ft of torque. It has a bit more gusto than the Palisade. Paired with an 8-speed automatic in front- or available all-wheel drive, it's louder than the hybrids but all that torque comes on early to give it plenty of grunt for passing moves. It goes from 0-60 mph in 7.5 seconds in the larger Grand Highlander.
The Grand Highlander's Hybrid Max powertrain pairs the 2.4-liter turbo-4 with a motor at either axle bound together by a 6-speed automatic transmission. Total output reaches 362 hp and 400 lb-ft, good for a 0-60 mph of 6.3 seconds that seems quicker behind the wheel of a large vehicle. It's the most powerful powertrain here, and it's more efficient than the Palisade's V-6.
Advantage: Grand Highlander.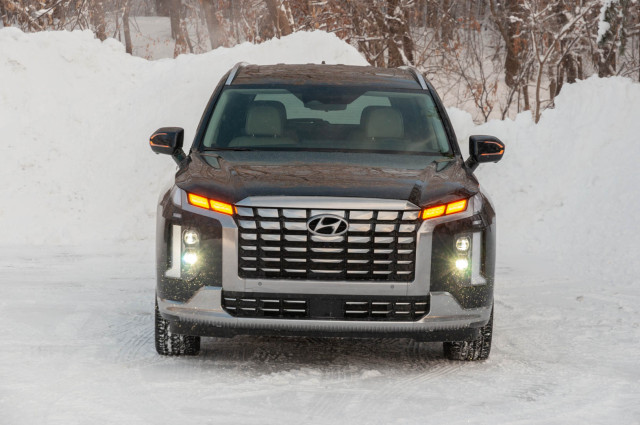 2023 Hyundai Palisade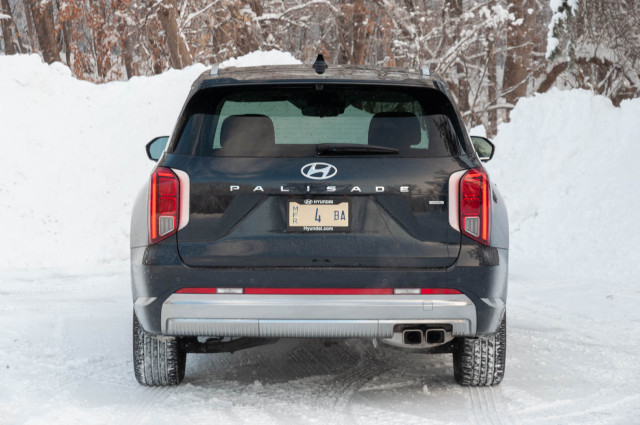 2023 Hyundai Palisade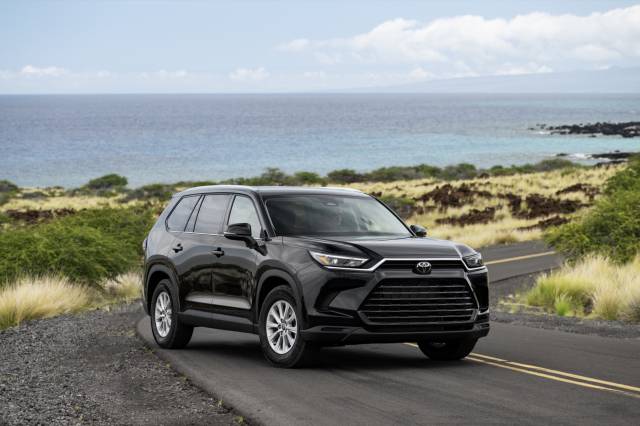 2024 Toyota Grand Highlander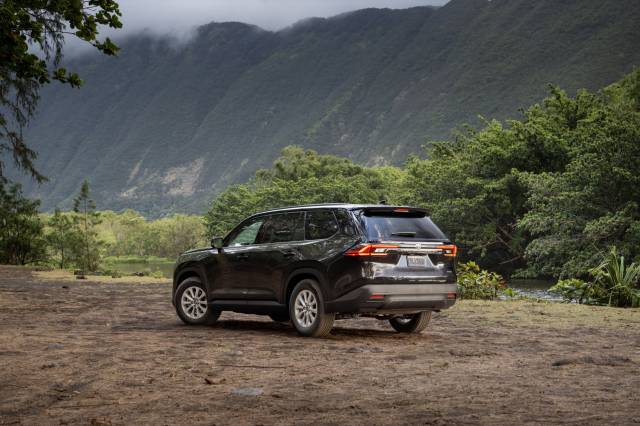 2024 Toyota Grand Highlander
Hyundai Palisade vs. Highlander fuel economy
The Hyundai Palisade has an EPA rating of 19 mpg city, 27 highway, 22 combined; AWD rates at 19/25/21 mpg

Highlander turbo-4 rates at 22/29/25 mpg or 21/28/24 mpg with AWD; the Grand Highlander loses 1 mpg combined

Highlander hybrid rates at 36/35/36 mpg with FWD, or 35/35/35 mpg with AWD

Grand Highlander hybrid is 36/32/34 mpg in FWD and AWD

Grand Highlander Hybrid Max maxes out at 26/27/27 mpg
Advantage: The Highlander, across the board.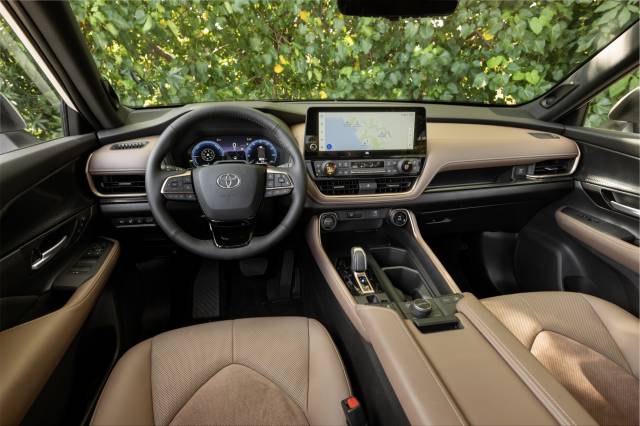 2024 Toyota Grand Highlander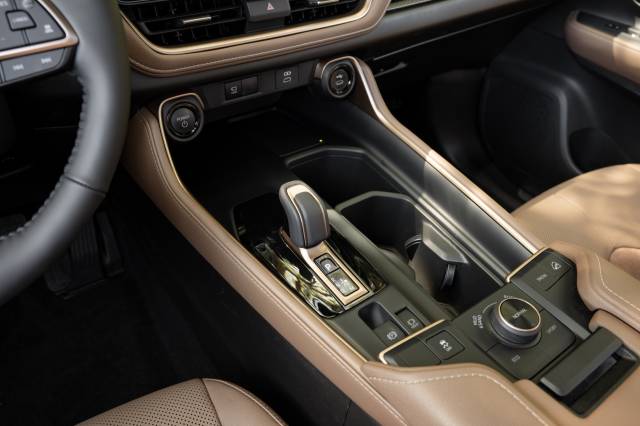 2024 Toyota Grand Highlander
2023 Hyundai Palisade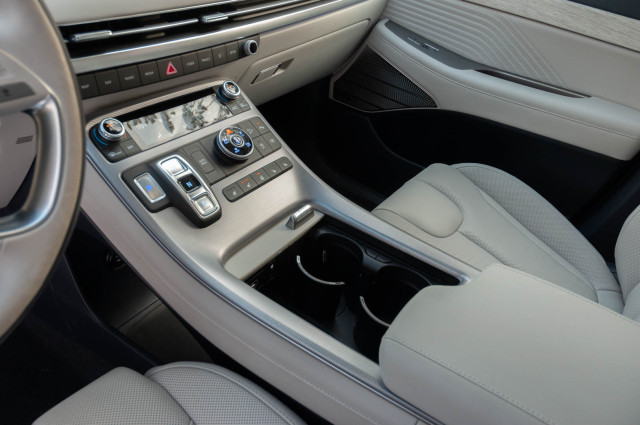 2023 Hyundai Palisade
Highlander vs. Palisade safety
The Palisade earned a Top Safety Pick+ and a five-star NHTSA rating

The Grand Highlander hasn't been crash tested yet

All three models come standard with automatic emergency braking with pedestrian detection, active lane control, and adaptive cruise control
How safe is the Toyota Highlander?
The Grand Highlander hasn't been crashed yet by the IIHS or the NHTSA, but the IIHS rates the standard Highlander as a Top Safety Pick+, and the NHTSA ascribes it five stars.
Highlander XLE and above models add blind-spot monitors to the standard driver-assist tech mentioned above, and most versions can be upgraded with parking sensors, a head-up display, and a surround-view camera system. A limited hands-free driving system for stop-and-go traffic at speeds under 25 mph will be offered via subscription on the Grand Highlander.
How safe is the Hyundai Palisade?
The Palisade aces crash tests. It earns a five-star rating from the NHTSA and a Top Safety Pick+ from the IIHS. A new front crash test launched this year to measure rear-seat protection challenged the Palisade, however.
Hyundai equips the Palisade with more standard driver assistance tech than the Highlander, due to its standard blind-spot monitors. High-end versions have front parking sensors plus a more advanced automatic emergency braking system that can react to potential collisions at intersections. A surround-view camera system and blind-spot cameras that project images in the instrument cluster are noteworthy options.
Advantage: Palisade.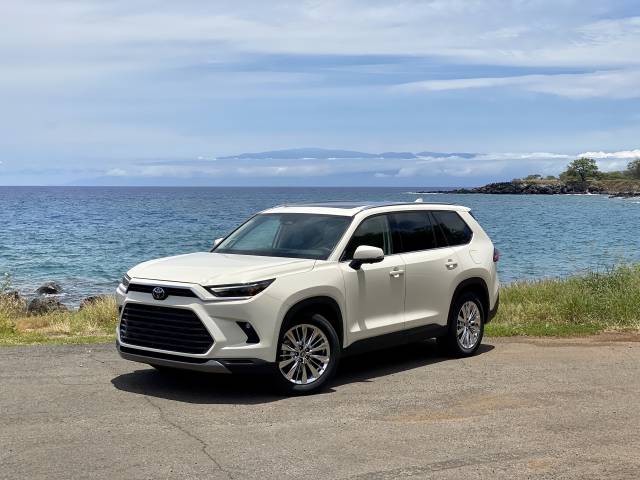 2024 Toyota Grand Highlander
Which is better: Hyundai Palisade or Toyota Highlander?
Elevated by the new Grand Highlander, the Toyota Highlander matches the Hyundai Palisade's high TCC Rating of 7.0 out of 10. (Read more about how we rate cars.) Its more sophisticated design, as well as the larger size and roomier cabin stands above the standard Highlander. If measured alone against the Palisade, the Grand Highlander slightly outranks the Hyundai due to its more cohesive exterior design and hybrid powertrain options. Yet the Palisade has more value baked into it than the Grand Highlander, which narrows the already small gap between the two.
Winner: The Toyota Grand Highlander.